The 10 best towns to visit this fall in Southwest Michigan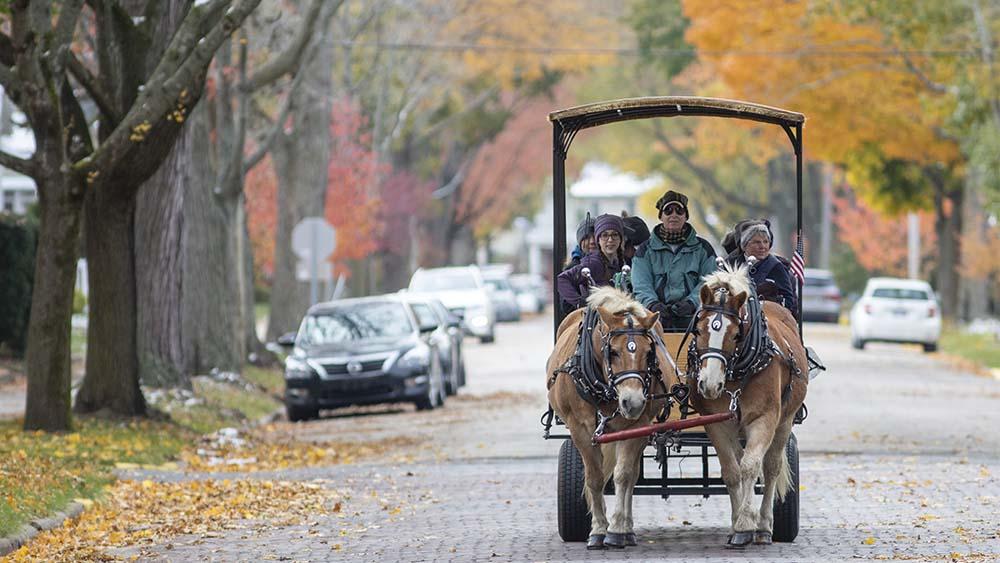 Taking a fall color tour along Southwest Michigan's gorgeous Lake Michigan shoreline and into its rolling countryside is certainly a feast for your eyes. But don't cruise by when you see welcome signs to these 10 communities. Pull into a parking spot and walk around.
Each town lines its sidewalks and fills its storefront windows with harvest cheer from tiny to giant pumpkins, rustling corn stalks, golden straw bales and mums in an array of colors. As you walk by, take photos of your favorites and tag us at #swmichigan.
Making your way through each town, look inside the shops to find the latest cool-weather fashions and fall holiday decor. Then take a tasting tour trying steamy cups of hot chocolate and fresh-brewed coffees, sipping glasses of locally crafted wines, beers, ciders and cocktails, and satisfying your hunger with harvest soups, salads, entrees and sweet treats. All of these towns have fun-to-do autumn activities nearby too.
These fun fall towns are just minutes from each other in Southwest Michigan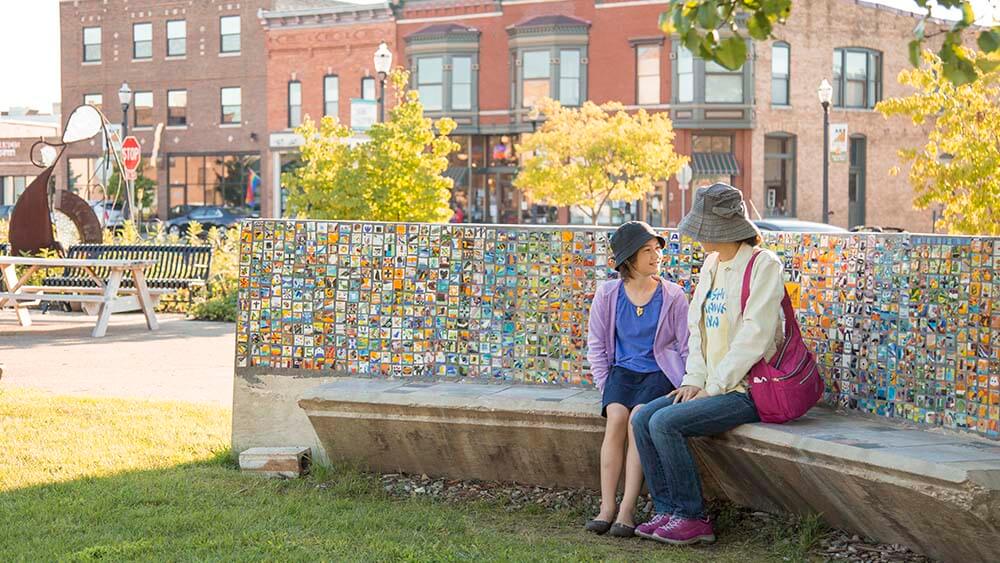 Benton Harbor Arts District
There is always something new to see, experience, learn and taste in the Benton Harbor Arts District, but fall is especially fun. Located in the heart of Benton Harbor, this walkable, multi-block area has been at the forefront of the exciting revival of the city center. Art galleries and working studios, local favorite restaurants, a black box theater, dance, music, craft beer, fantastic pizza and much more will bring you back all four seasons. One must-stop is Water Street Glass Works to pick a one-of-a-kind, blown-glass pumpkin!
Learn more about this artsy fall experience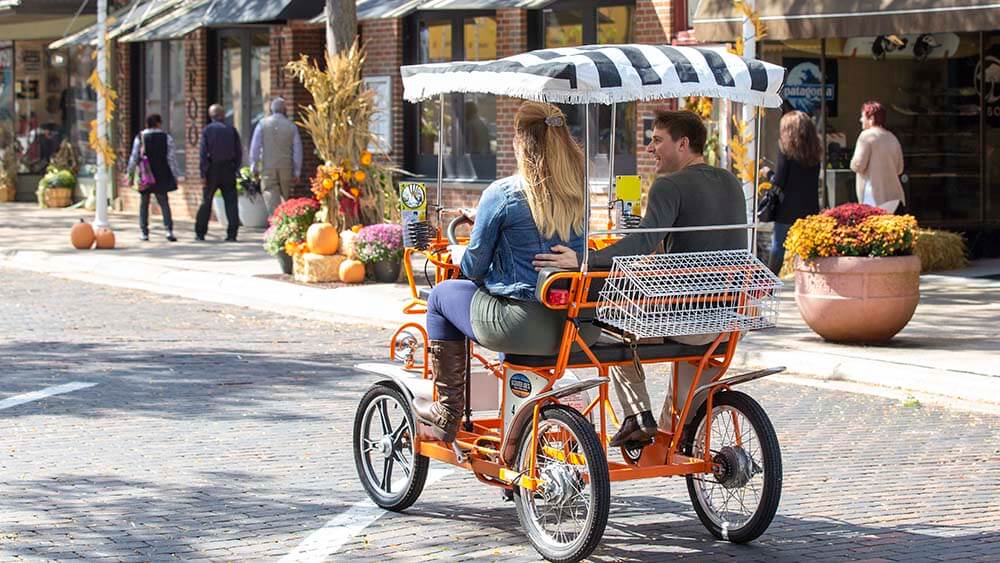 St. Joseph
This historic city loves decorating its Victorian-era downtown for fall. A walkable destination, St. Joseph boasts lots of boutique shops, toy and book stores, wine and beer tasting rooms, and restaurants that serve up fall favorites, many made from locally harvested ingredients. It also has great views of Lake Michigan, the St. Joseph River and sunsets from its bluff park and it's an easy walk or bike ride to beaches and the riverfront. You'll also want to wander St. Joseph's historic neighborhoods (yes, some of the houses have ghost stories). And be sure to cross Main Street to see all the shops and food choices in The Market. Before you come, check the events page for what's happening in this vibrant town while you are here.
Visit St. Joseph Today for more ideas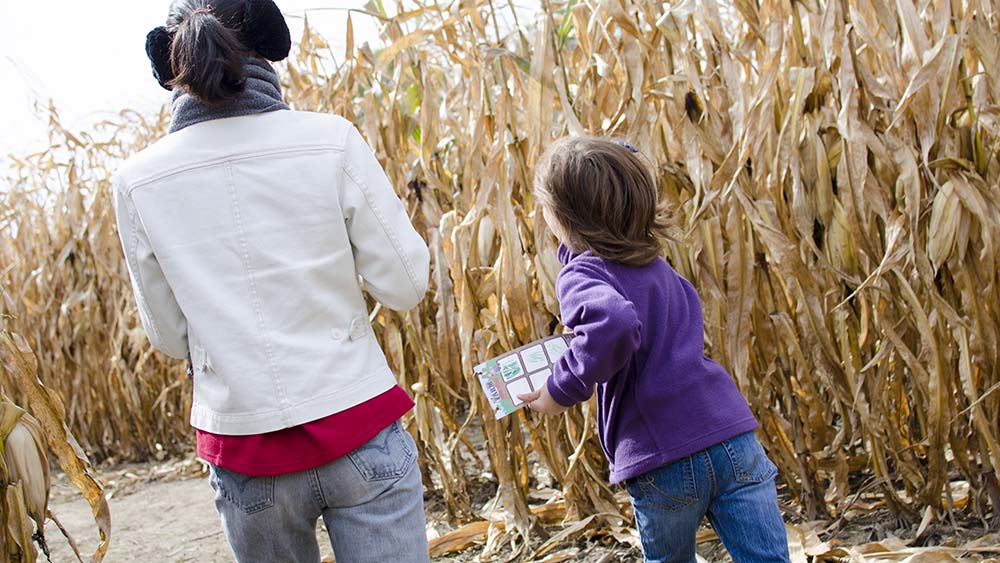 Stevensville
This village is located five miles south of St. Joseph. A popular watering hole and live music venue is Watermark Brewing Co. There are a few nearby cafes, too. A little farther afield are several favorite fall destinations. Barbott Farm & Greenhouse offers the ultimate corn maze from September through the first week of November as well as autumn flowers and decorations. College football fans have known for decades that two of the best places to go post-game are Tosi's for its authentic Northern Italian cuisine and wine list and Grande Mere Inn with its cozy cottage-style dining room and Lake Michigan sunsets (you'll often hear from diners that you can't find a better plate of lake perch for miles).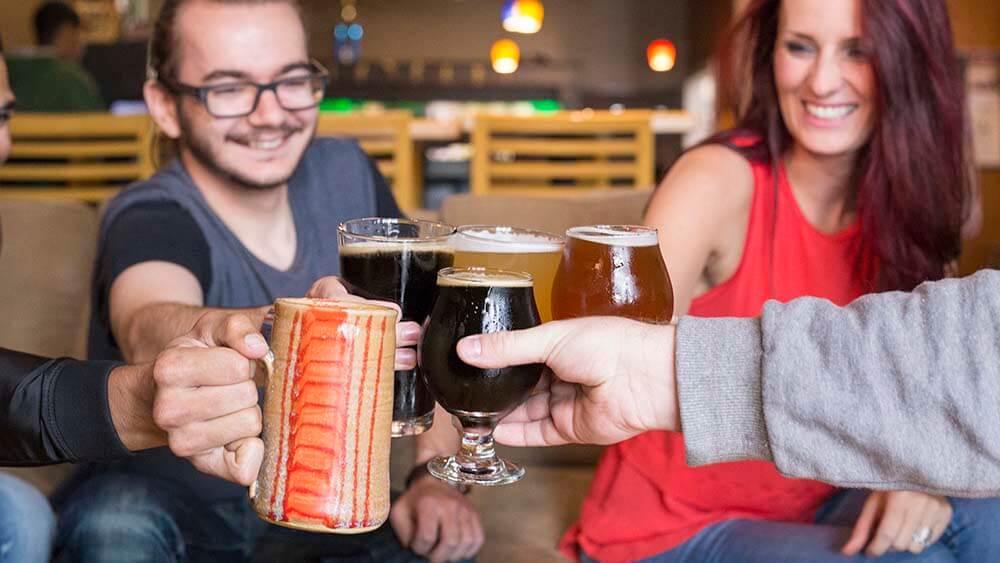 Bridgman
Lake Street is your destination in this resort town where you can find everything from gifts and yarn at the Sandpiper to a variety of grab-a-bite-to-eat places such as Lake Street Eats, Rochefort's Next Generation and Small Town Grounds. If you like trying craft brews and wines, local standouts are Lazy Ballerina Winery Tasting Room, Tapistry Brewing and Transient Artisan Ales. While in the neighborhood, drive a few miles to Warren Dunes State Park or Weko Beach for exhilarating Lake Michigan scenery. Or stop by Haymarket Taproom on Red Arrow Highway. It brews its on-tap beers and people drive miles for the wood-fired pizzas.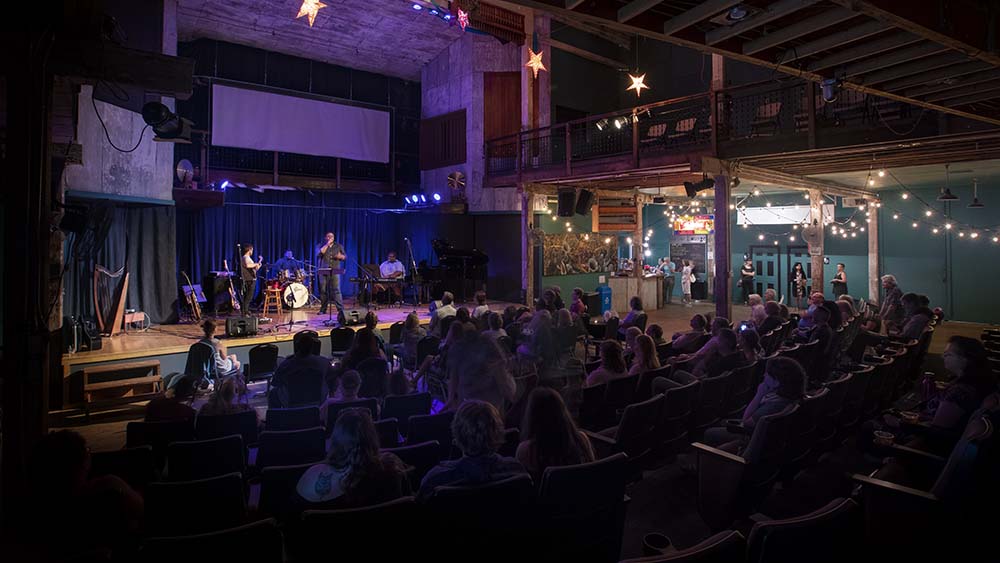 Three Oaks
Add this charming town close to Lake Michigan to your fall stroll itinerary. It's best known for being home to Journeyman Distillery and Staymaker Restaurant. Come for the handcrafted whiskeys, vodka, gin, or cocktails, distillery tours, the chef's twist on classic lunch and dinner offerings or for a wee piece of Scotland playing on Welter's Folly putting course.
Another place you can satiate your hunger is Froehlich's Bakery and Kitchen & Pantry. Their homemade bagels and house-roasted coffee are a good way to start any day. Locals also know that for sausages, bratwurst, bacon or their Famous Baloney, Drier's Meat Market is where to go to add flavor to your fall meals.
Before coming downtown, check what is showing at The Acorn. This funky-industrial-chic venue is getting wider acclaim for attracting incomparable talent to perform rock, folk, indie, jazz, opera, open mics, drama and comedy.
Annually, after the autumn equinox, bicyclists arrive for Three Oaks' Apple Cider Century rides. And holiday film enthusiasts like to see where the 1989 movie Prancer was shot.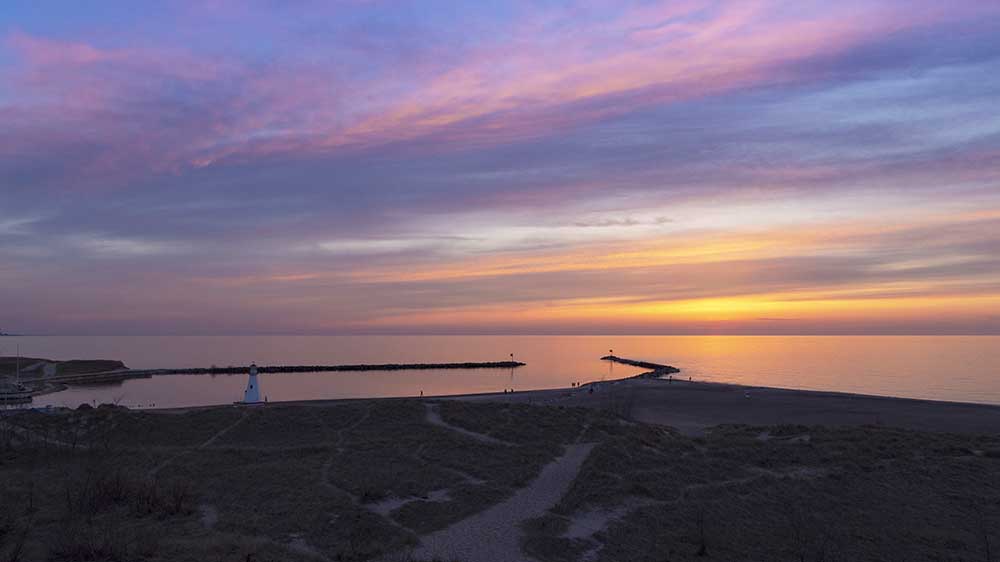 New Buffalo
Drive north over the Indiana state line and you are within minutes of one of Southwestern Michigan's premier beach towns. Shops, restaurants and more will entertain you for hours. Stop in Beer Church Brewing Company's Civil War-era iconic church to try its small batch brews (only available here) and Neapolitan-style pizzas. Drive a few miles out of town and you can get your game on and enjoy big-name shows at Four Winds Casino Resort. Or sip beers with pub foods at Ghost Isle Brewery, Bar & Restaurant (ask them to tell the ghost story). And for a gorgeous fall hike, head to Galien River County Park (it's free) or paddle the river.
A New Buffalo landmark since 2003, The Stray Dog is a popular family dining spot hosting guests from across the country year after year. The inviting, beachy space accommodates groups of all sizes with a menu rich in Midwestern guilty pleasure, plus the perfect microbrew to wash it down. Don't miss Stray Dog's 21-and-over lake-view rooftop either! Make sure to grab a t-shirt from their gift shop. These can often be spotted throughout the country.
Once you're done there, grab a treat at Oink's Dutch Treat — if you can pick from 53 flavors! This local joint serves up Ashby's ice cream with a healthy dose of kitsch and small-town pride. Take time to peruse their 3000+ collection of pig and ice cream memorabilia. If you're feeling hungry enough, dare to finish a very large 10-scoop sundae! There is also a candy shop with old-school favorites you may have been looking for for years. Be sure to visit the Sunday before Halloween in costume. The owners give out free blue moon ice cream to everyone dressed up.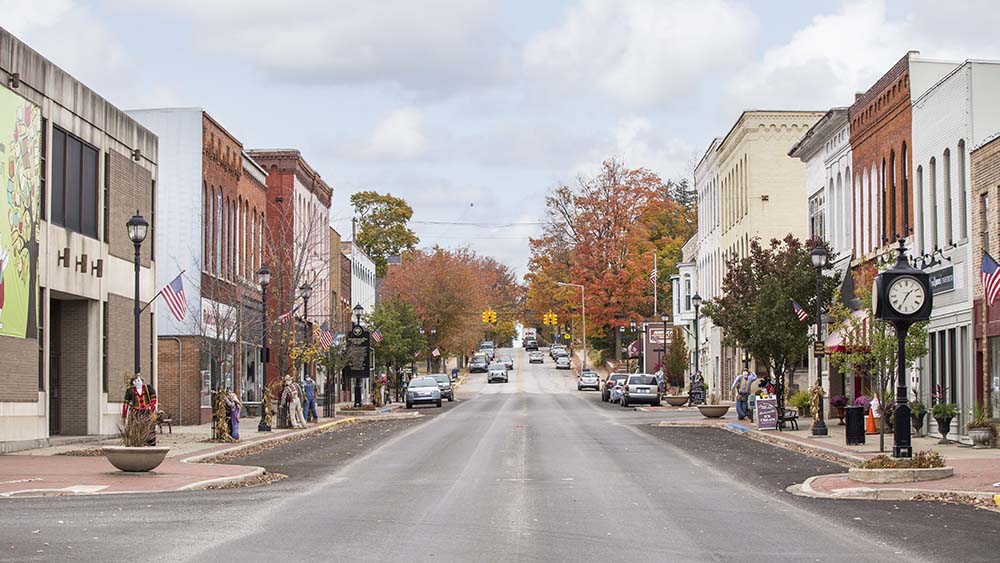 Buchanan
Another town that knows how to do fall right is Buchanan, named by Readers Digest as the "Nicest Place in America." An autumn highlight is the 200+ handmade scarecrows that line the streets and raise thousands of dollars for local schools and nonprofit organizations. Get out and enjoy the fall fresh air hiking McCoy Creek Trail through downtown, Spafford Woods and E.B. Clark Woods. (This trail is wheelchair, stroller and dog-friendly). If you are hungry and thirsty, visit Lehman's Farmhouse. To see regional art and plays, visit the Roti Roti Art Center of Buchanan and the historic Tin Shop Theater.
Buchanan's hottest new tourist attraction, which has earned the town its nickname, Bu-Cannabis, is its legal medical and recreational dispensaries. You can find five locations nearby each other. Learn more about cannabis in Southwest Michigan.
Some places that are a short drive from downtown, but perfect to see and relax at in the fall are Hickory Creek Winery, Fernwood Botanical Garden and Nature Preserve, nearby River Saint Joe Brewery and Mt. Tabor Trails between Tabor Hill Winery & Restaurant and Round Barn Estate.
More reasons to visit Buchanan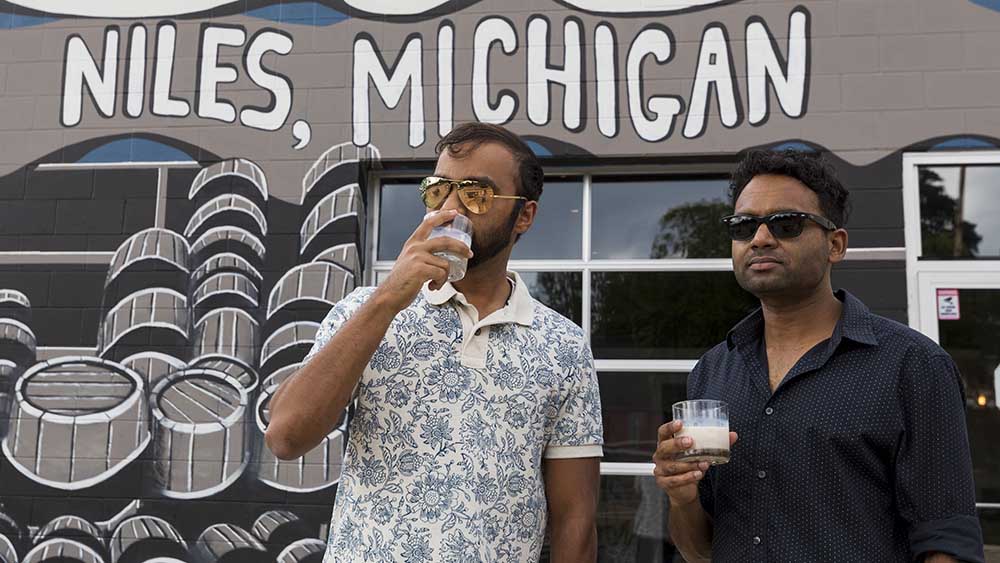 Niles
This southern town, just minutes from South Bend, Indiana, is another walkable town. Stop to sip and dine at the Iron Shoe Distillery, Niles Brewing Company or Create Bar & Grill, to name a few options.
Two places to enjoy an autumn-air walk from downtown are Riverfront Park and the Indiana-Michigan River Valley Trail. Take a short drive for a chance to play disc golf at Madeline Bertrand County Park.
If you love apples and fair-ride fun, come at the end of September for the annual Four Flags Apple Festival. And if you want to scare the yell out of you and your older children, don't miss the nationally acclaimed Niles Scream Park from September through early November.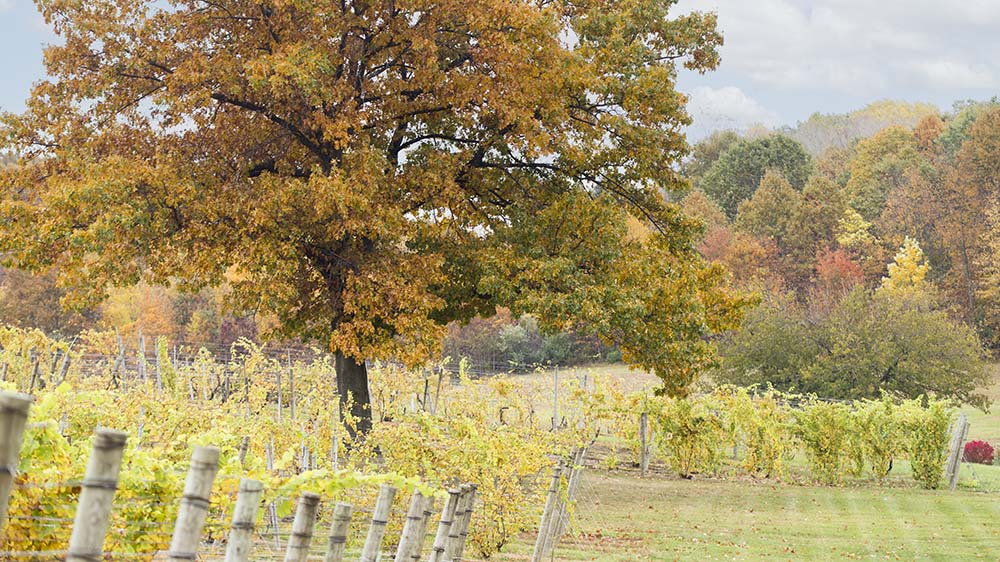 Baroda
This close-knit town is small but has a big, welcoming heart. While here, try the wines at Baroda Founders Wine Cellar. Locals will tell you that besides the Moersch family's beer, wine and cocktail selection at the Round Barn Brewery & Public House, their homemade beer cheese and pub chips are reasons to gather your friends here. Other must-visit wineries include Dablon Vineyards Winery & Tasting Room, Chill Hill Winery and Red Top Winery. Each setting promises unique offerings and aesthetics. For just about anything you need on your shopping list (including a leaf rake for back home), a visit to the Baroda City Mills store is a fun stop for all ages. Baroda is also a good starting point for fanning out in any direction to reach destinations on the Southwest Michigan Makers Trail, pick-your-own farms and markets and hiking trails. But, first, be sure to start your day with a delicious, hearty brunch at The Local. If we were breakfast, we would want to be served here!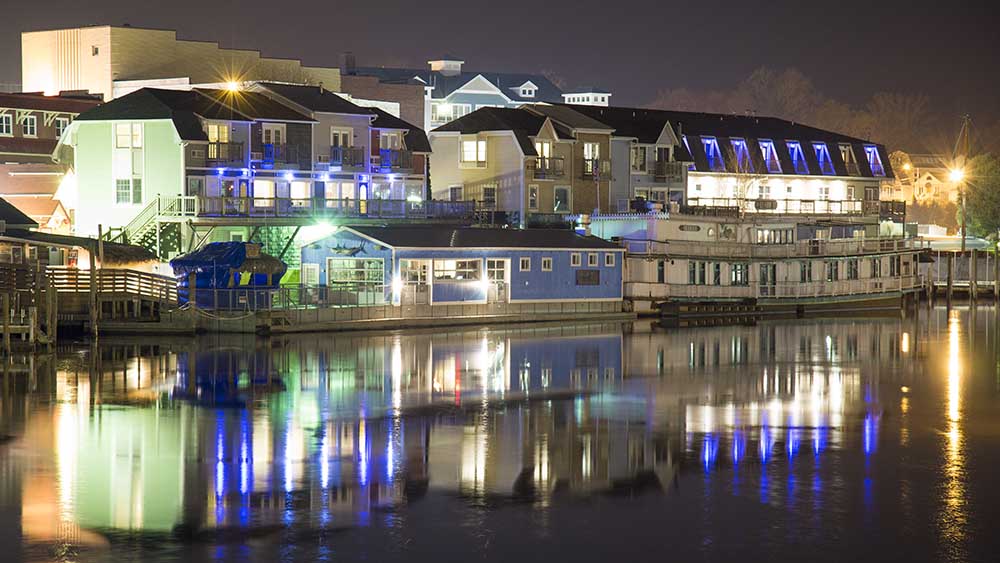 South Haven
Another popular year-round Lake Michigan harbor town, South Haven's downtown has a wide selection of shops and restaurants to choose from within blocks of the beach and riverfront. While it's hard to pick one eatery from your options, Clementine's has lots of food and drink choices. Walk off your meal on the pier to see the historic South Haven Lighthouse. Or learn more about the schooners and ships that sailed Lake Michigan's waters at the newly renovated Michigan Maritime Museum (there are even opportunities to ride a replica tall ship, Friends Good Will, and other restored boats).
Find more things to do in South Haven
Four Southwest Michigan social districts make fall drinking and eating even better
Ever find yourself wanting to try several restaurants or drinking establishments in a town, but know you have to narrow it to one choice? That's not a dilemma in Southwest Michigan! Within the social districts in St. Joseph, Bridgman, Buchanan and Niles, you can purchase food and alcoholic drinks from participating businesses and consume them in outdoor common areas.
Think of these designated areas as one big food court. You can grab a drink while you wait for your seat at a restaurant, or come with a group and each chooses a favorite food and drink, then reconvenes. It's a great way to sip, window shop or just share laughs and conversation.
Here's how social districts work
Earn cool Makers Trail Passport and Creative Connections Game prizes while you're wandering from town to town
Southwest Michigan offers two prize-earning incentives to visit this beautiful area as often as you can from fall through the next spring. Download our free app for the Makers Trail Passport and earn your way through three levels of prizes, plus a bonus prize and a chance to win the grand prize, too. The more participating wineries, breweries, cideries and distilleries you visit, the more stamps you can collect, and the more prizes you can earn (these are rewards you will want, too!)
You will also want to play our Creative Connections Game to discover the incredible talent that visits and lives in Southwest Michigan. The more live music and theater performances you see, art galleries you visit and cultural discoveries you make, the more stamps you get and prizes you can collect. Pick up a game card while you are in town.
Stay over and take in more stress-relieving fall beauty
A day getaway to any of these fun fall towns is certainly doable from most major cities in the Great Lakes area, but why not stretch out your downtime? Our local lodgings come with all the warm hospitality, amenities and rates you need for a true unwinding stay. Hope to see you around town relaxing beneath our gorgeous leaves soon!