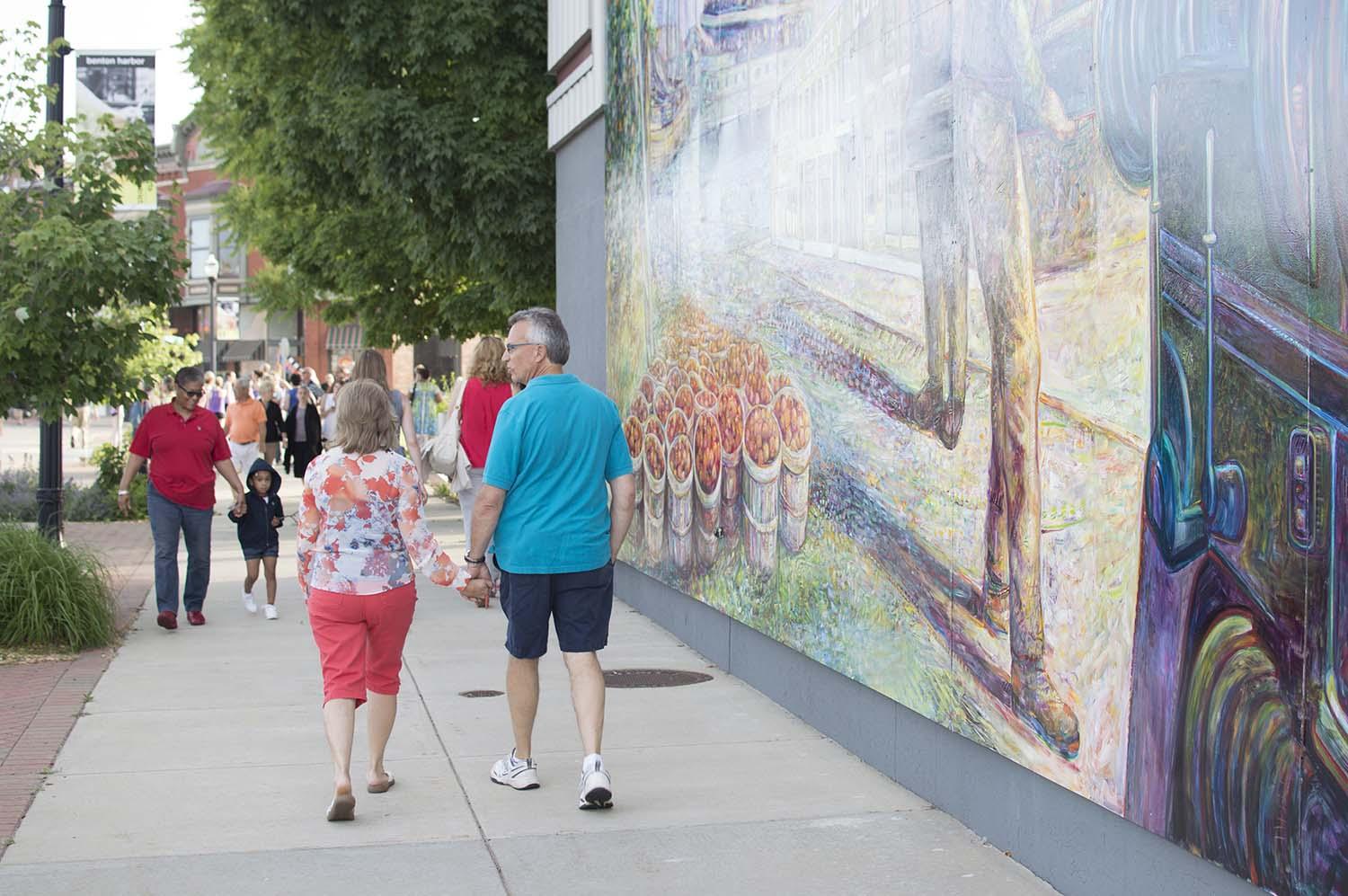 Benton Harbor
Art by the water
This Lake Michigan beach town wraps around the scenic Paw Paw and St. Joseph Rivers. It is renowned for its pristine beaches, vibrant arts community, championship golf courses and delicious fresh peaches, tomatoes, apples and more. Discover what awaits in Benton Harbor all four seasons.
Where is Benton Harbor
Benton Harbor and St. Joseph are often called the Twin Cities and are across the St. Joseph River from each other. As a hub for tourists, agriculture and manufacturing, Benton Harbor is easily accessible from I-94, I-196, U.S. 31 and M-63.
Places to stay
Benton Harbor has many nearby hotel choices with amenities and rates to fit your vacation needs. The Inn at Harbor Shores is the closest and its walking trails take you downtown to explore all this city has to offer. Choose your hotel today.
Delicious restaurants & craft beverages in Benton Harbor
The heart of the city has attracted amazing culinary artists. Many of Southwest Michigan's best eating experiences are in the Benton Harbor Arts District. Be sure to stop along Main Street where you can fill up on Happy Poochie Eatery's gourmet sandwiches and salads and Lark's Bar-B-Que's picnic-ready smoked meats and comfort sides. Prefer name-brand and ethnic food favorites? You will find them near M-139, Pipestone Road and Napier Avenue. Also, visit the popular craft breweries and wineries on Southwest Michigan's Makers Trail that call Benton Harbor home.
Top things to do in Benton Harbor
Gorgeous Lake Michigan beaches
Benton Harbor beaches are less crowded and arguably among the most beautiful in Southwest Michigan. You will find year-round outdoor fun and legendary sunsets whether you relax at the city's premier family beach, Jean Klock Park or beach comb at Rocky Gap Park.
Revitalizing arts & culture
The exciting vibe of Benton Harbor is traceable to its passion for the arts and local cultures. Explore Benton Harbor's intriguing story in its museums and the historic Eden Springs Park. Celebrate creativity in the Benton Harbor Arts District, and join locals at seasonal Art Hops and festivals. Watch acclaimed regional and national stage shows and concerts at The Mendel Center. You will go home revitalized.
Exhilarating recreation
This city is a playground for all ages. Launch your watercraft along the St. Joseph River to fish or cruise out to Lake Michigan. Rent or bring your kayaks, canoes and standup paddleboards and see the seasons unfold along the waterways. Hike, bike, workout or snowshoe on the 12-mile Harbor Shores Nature & Fitness Trail System or interact with nature at the nearby Sarett Nature Center.

Whatever your level of golf, experience the thrill of playing at Harbor Shores Golf Course. This 18-hole course is the biennial host of the KitchenAid® Senior PGA Championship held at the end of May. Or get tee times at Lake Michigan Hills Golf Club or Point o' Woods Golf & Country Club. The quality of play is rivaled only by the scenery.
In-town and outskirts shopping
The walkable Benton Harbor Arts District treats you to a variety of art galleries, jewelry makers and a must-browse music shop. If you prefer familiar name-brand stores, their locations are near M-139, Napier Avenue and Pipestone Road. In the summer, downtown has a weekly farm market and from spring through fall, you can get just-picked fruit and vegetable goodness at nearby Higbee's Farm, Piggott's Farm Market & Bakery and Sommerfeldt's Farm. Benton Harbor is also a thriving Green Zone with unique cannabis dispensaries offering medical and recreational products.
Fun ways to get around
Benton Harbor is easy to reach by car, boat, train, bus or private plane. But getting places is even more fun when you are here. On weekends between Memorial Day and Labor Day, take the free St. Joseph River water taxi to popular destinations or buy tickets to propel the Southwest Michigan Cycleboat up and down the harbor. There are also several tour wagons, shuttle buses and trolley services to take your group on Makers Trail and fall color tours, to-and-from wedding venues and other attractions.
Celebrate your wedding your style
Benton Harbor is your destination for a dream-come-true wedding or honeymoon. Whether your style is traditional, country chic, elegant urban, barefoot beach or secluded private, you will make many of your happiest memories here.
Benton Harbor Weather
You can enjoy this lakeside community all-year round, but for warm-weather activities, the best time to visit is late May through September
Winter is snowy and mostly cloudy; January is the snowiest month. Average temperatures: 20°F to 43°F.
Spring starts cold and windy and ends pleasantly warm and breezy. Average temperatures: 26°F to 72°F.
Summer is warm, humid and partly cloudy. Average temperatures: 51°F to 81°F.
Fall starts out warm and ends cold and windy. For peak fall color, visit late September to mid-October. Average temperatures: 31°F to 77°F.
Benton Harbor Resources
Discover more about Benton Harbor