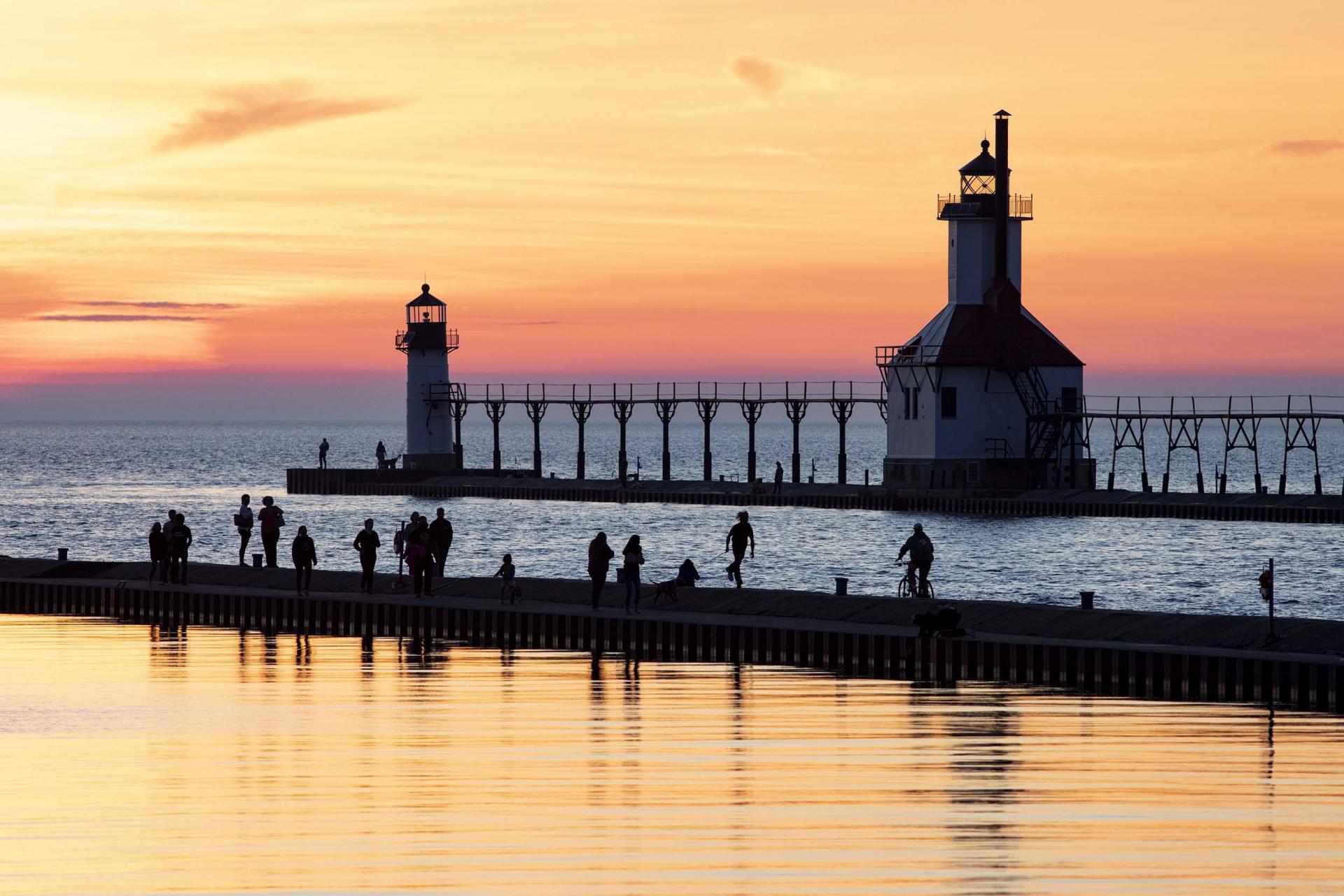 In Southwest Michigan, we celebrate the history of our lighthouses, preserving them for the next generation and the next group of visitors to walk in its path. This is evidenced by the nearly $2 million restoration completed in 2015, which preserved these icons to their 1932 appearance for generations to come. The round, cast-iron plate North Pier Outer Lighthouse has a 35-foot tower with a 10-sided round lantern and watch room. It has an elevated catwalk connecting to the Inner Lighthouse at the middle of the North Pier. The Inner Lighthouse has a 24-foot square steel structure with a pyramidal roof and octagonal tower. It also has a circular lantern room with helical bars.
Having a range light system helps incoming vessels to enter the channel safely. When the lights align, they know they are on target to enter into the St. Joseph River. The fourth and fifth order Fresnel lenses that were used in the lighthouses were removed in 2003 and 2012 and replaced with solar-powered modern optics. However, you can still see the Fresnel lens today at The Heritage Museum and Cultural Center.
Our lighthouses are extra special because they were featured on a postage stamp in 1995. Additionally, the St. Joseph lighthouse joins Grand Haven's as the only lighthouses on the Great Lakes to keep their range lights and catwalks.
The lighthouses are a great year-round view
Visitors and locals alike can enjoy the St. Joseph lighthouses in all seasons. Take a walk alongside them on the North Pier over a calm Lake Michigan in the summer, enjoy the sunset views from the Silver and Tiscornia Beach shorelines or the South Pier as waves crash against her each fall and spring, and watch her hibernate in the winter. Though they are tucked away in an ice casing each winter, their light still shines over the snow-covered, semi-frozen Lake Michigan. This nature-made architecture style photographs great, and, admittedly, it's Southwest Michigan's own version of Elsa's castle. We never want to let it go.
Plan your visit to the St. Joseph lighthouses
Don't take our word for it — see the St. Joseph Lighthouses for yourself with one of the North Pier Walking Tours. You'll have the chance to go inside the inner lighthouse and even look out onto Lake Michigan from the lantern house! Guided tours will run weather permitting on Fridays and Saturdays at 10 a.m. If you simply want to watch these structures from a distance, we recommend a sunset viewing spot from the South Pier.
Read more about our lighthouses, their predecessors and history in our blog. Then schedule your tour. Make sure to wear close-toed shoes and snap a few photos of these historical fixtures along our waterfront!