Berrien County Historical Association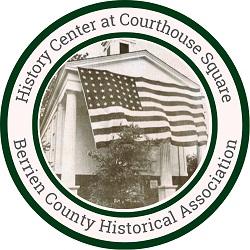 313 N Cass St
Berrien Springs, MI

Tel: 269-471-1202
The Berrien County Historical Association was established in 1968 to preserve the 1839 County Courthouse and serve as the heart of Berrien County's past.  Since then, the grounds have expanded to include four additional buildings and is now referred to as the History Center at Courthouse Square.  Today the Square and its environs are owned by Berrien County and are under the care of the Berrien County Parks Department while the BCHA continues its mission as stewards to the history of the past.
Beginning January 3, 2024, the History Center at Courthouse Square will charge admission to the museum and grounds.  It will be $5.00 per person and BCHA members, Berrien County Park pass holders, and children under 5 years old will receive free admission.
Please note during the winter months, the Murdoch Log Cabin and Bennett's Forge are not open when the temperature drops below 40* because these spaces are not regulated.
Contact: email
Member's Events
Member Gallery