Grande Mere Inn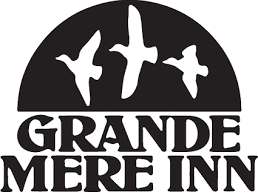 5800 Red Arrow Highway
Stevensville, MI

Tel: 269-429-3591
Grande Mere Inn is a family owned and operated restaurant that opened in 1980. We have a cozy, cottage style dining room that is perched atop the Covert Ridge in Stevensville, Michigan, with a stunning view of Lake Michigan and beautiful sunsets.
Our menu includes top quality steaks, lake perch, ribs, chicken, duck, and seafood, including Alaskan king crab legs, and African lobster tails. Soups, breads, dressings and sauces are made in house daily, and we avidly support and utilize the local farmers, wineries and breweries in the area. We have a very energetic, knowledgeable and committed staff that makes it possible for us to provide excellent service in a friendly and welcoming setting.
Wheelchair accessible.
Contact: email