Meeting & Convention Guide
Choose a meeting site where guests will want to come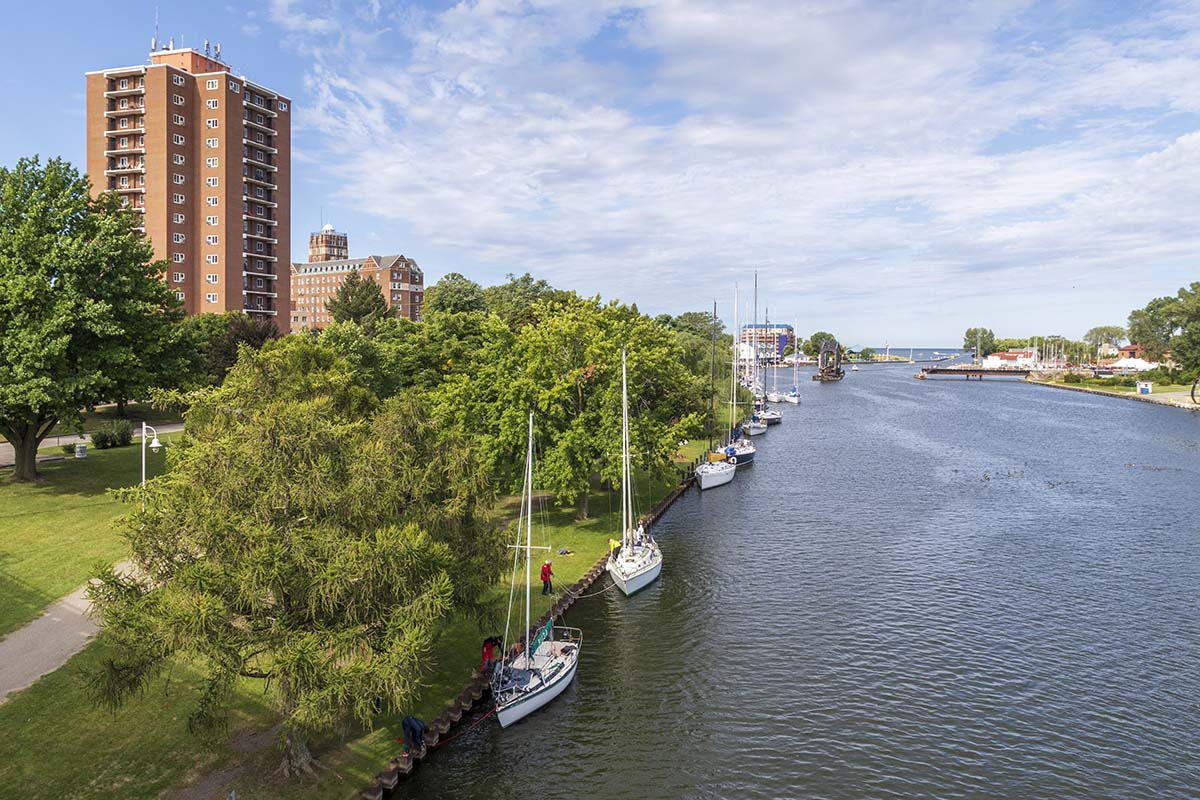 As you make plans to get together face-to-face, go where your guests will say, "Yes!" Host your next business or social gathering in Southwest Michigan.
You can effortlessly entice more attendees to come with Lake Michigan's golden sand beaches, our vibrant resort towns, championship golf courses, craft drinking establishments and mesmerizing sunsets.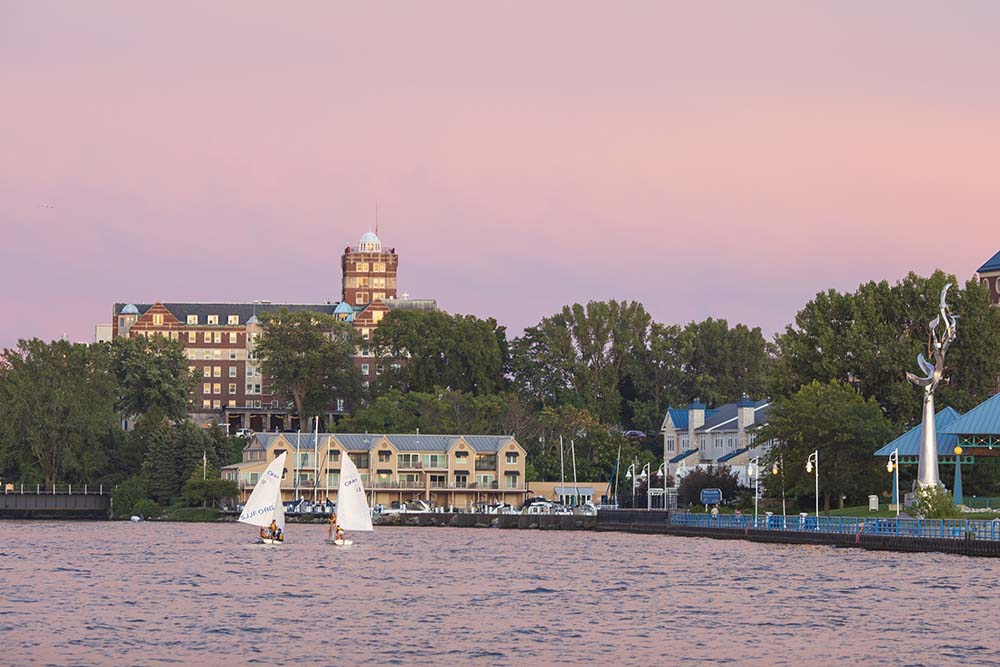 This is the perfect destination for your upcoming:
Strategy or brainstorming session
Board of directors, C-suite or personal retreat
Small-to-midsize convention, expo, trade show or festival
Legal deposition
Focus group
Workshop or class
Press conference
Recognition event, reception or party
Employee picnic or family reunion
Close to major cities | Lodgings to fit your budget | Meeting spaces | Team-building activities | Downtime fun | Free welcoming materials | Planning assistance
Enjoy a stress-free getaway close to major cities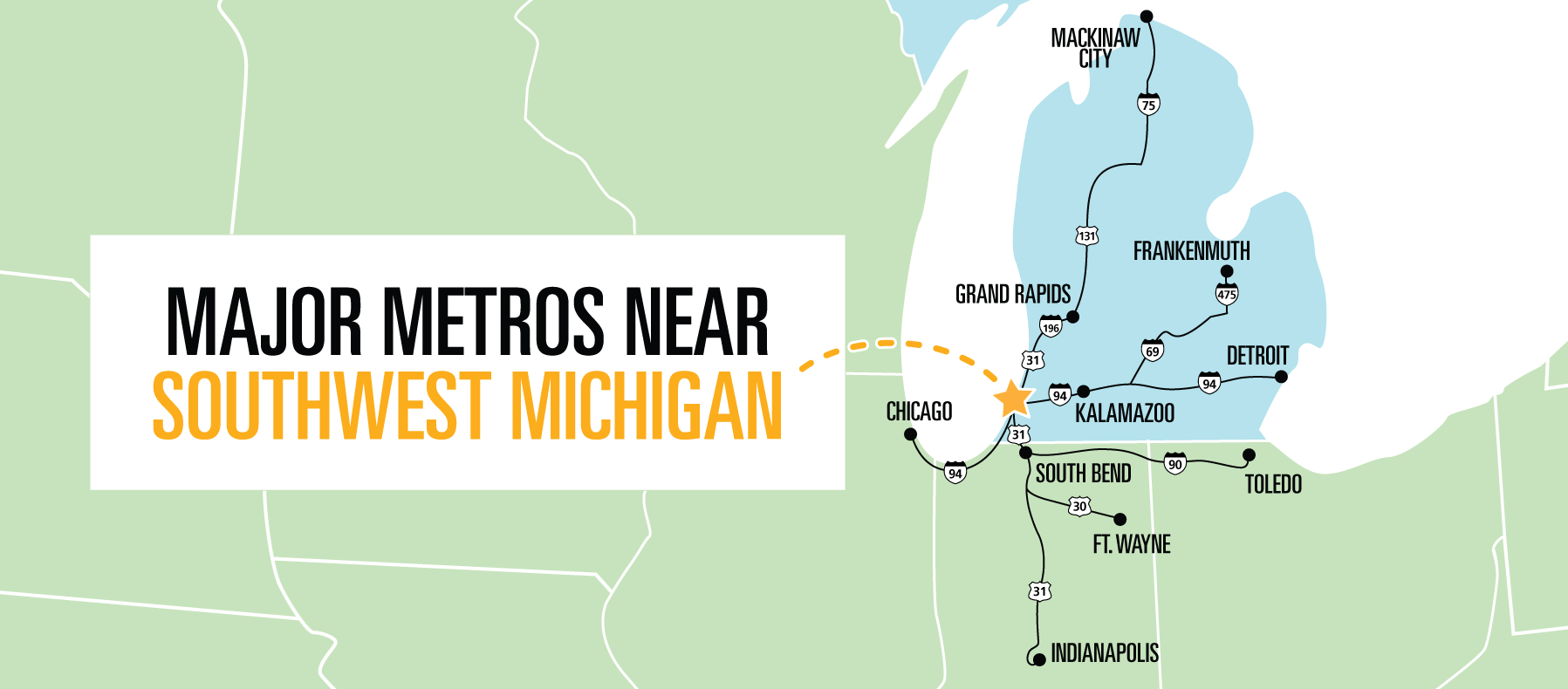 Southwest Michigan is easily accessible. You can arrive by:
Automobile on interstate highways that intersect Chicago, Illinois, Indianapolis, Indiana, and Grand Rapids or Detroit, Michigan.
Train using Amtrak. The Pere Marquette line offers daily stops from Grand Rapids and Chicago.
Air travel using a private or charter plane to Southwest Michigan Regional Airport in Benton Harbor or a commercial flight to nearby airports:
Boat via Lake Michigan. You can moor in the public slips at the St. Joseph West Basin Marina. Among the marina's many amenities are a free shuttle service to downtown St. Joseph during operating hours and free bicycles.
Once here, enjoy getting away from congested streets, expensive parking or large crowds.
Find lodging amenities and rates that fit your budget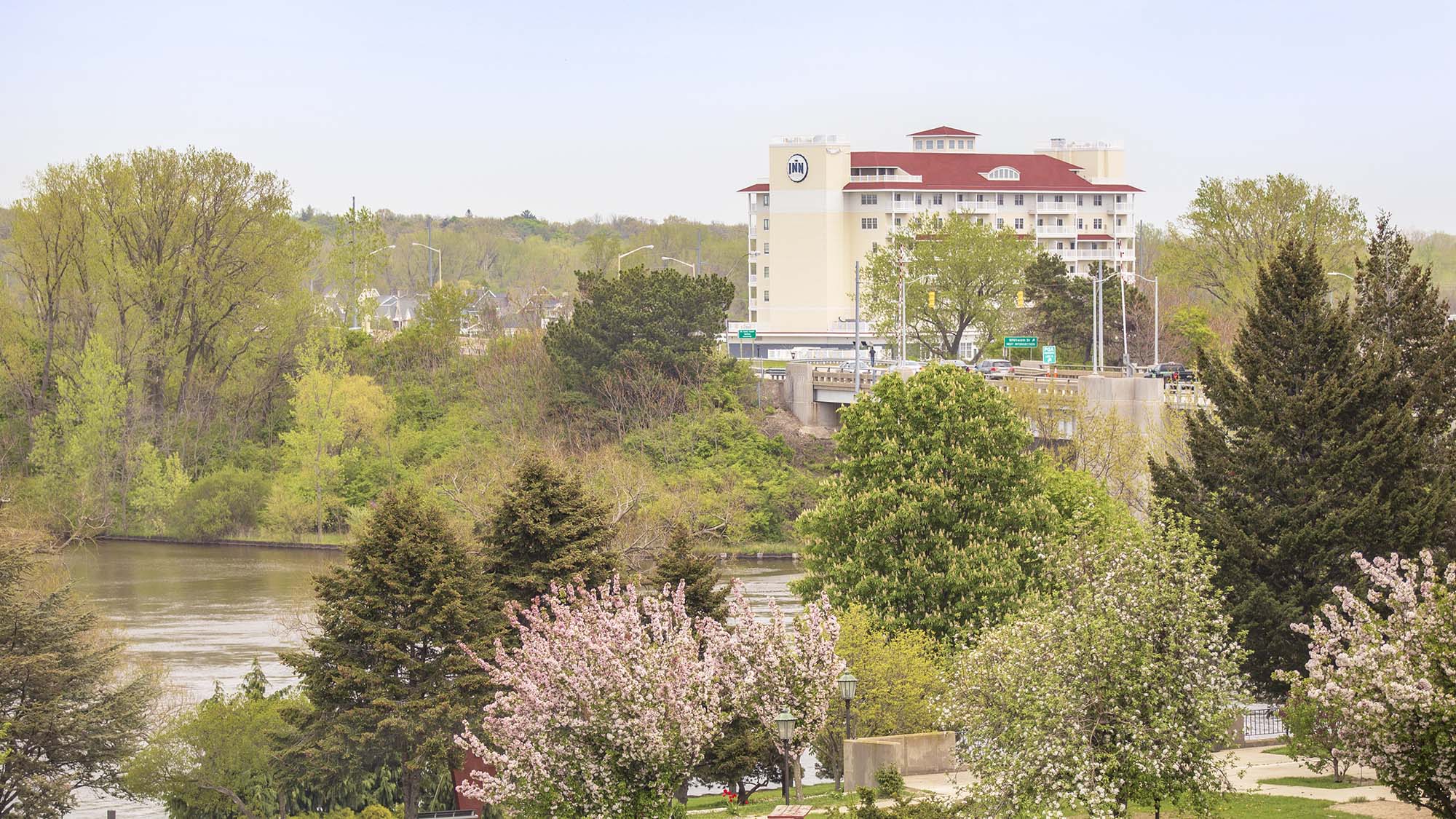 As a vacation destination, we specialize in hospitality. There are several new and updated hotels and resorts in Benton Harbor, St. Joseph and Stevensville — several with water views. Use our complimentary bid service for 10 or more rooms. We will get multiple quotes from our member hotels so you can zero in on the price and amenities you want. Or, use our Book a Room service to do your own comparisons.
Gather in small breakout rooms to convention halls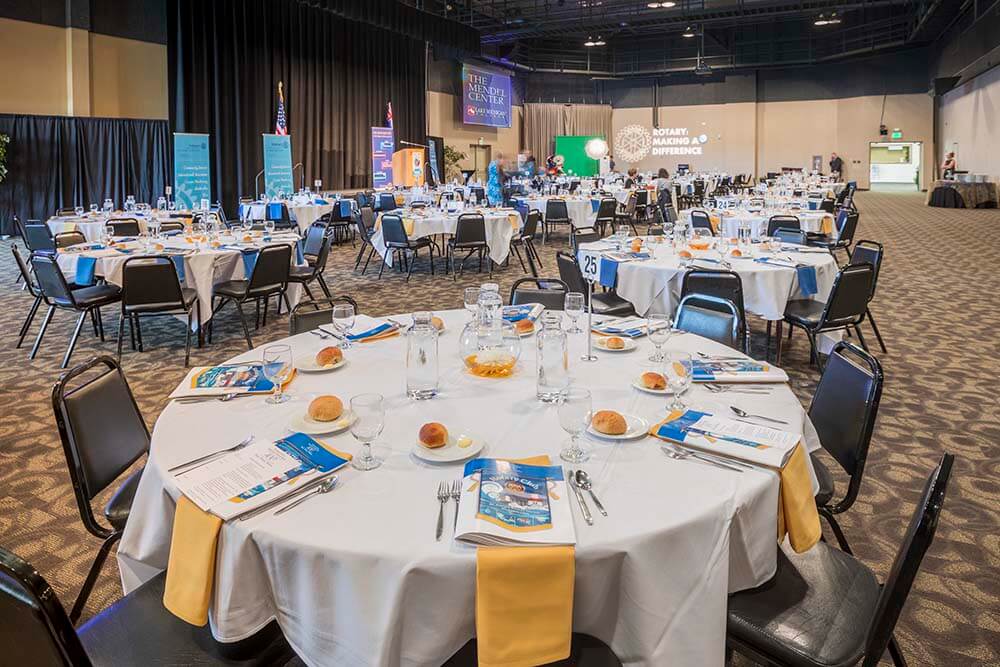 Our hotels and large meeting venues provide intimate space for up to 40 to banquet and theater seating for up to 2,400 attendees — all with free parking and Wi-Fi access. The Mendel Center, located less than five minutes from I-94 at Exit 30 is an excellent place for your small-to-midsize conventions, trade shows or large meetings. Its Grand Upton Hall is one of the largest indoor spaces in Southwest Michigan and offers 14,400 square feet of open floor space for your event.
Managers at each of our meeting sites will keep your event running smoothly from start to finish. They will assist you in arranging catering services, equipment and technology. Count on them to handle the details so you can focus on your agenda and guests.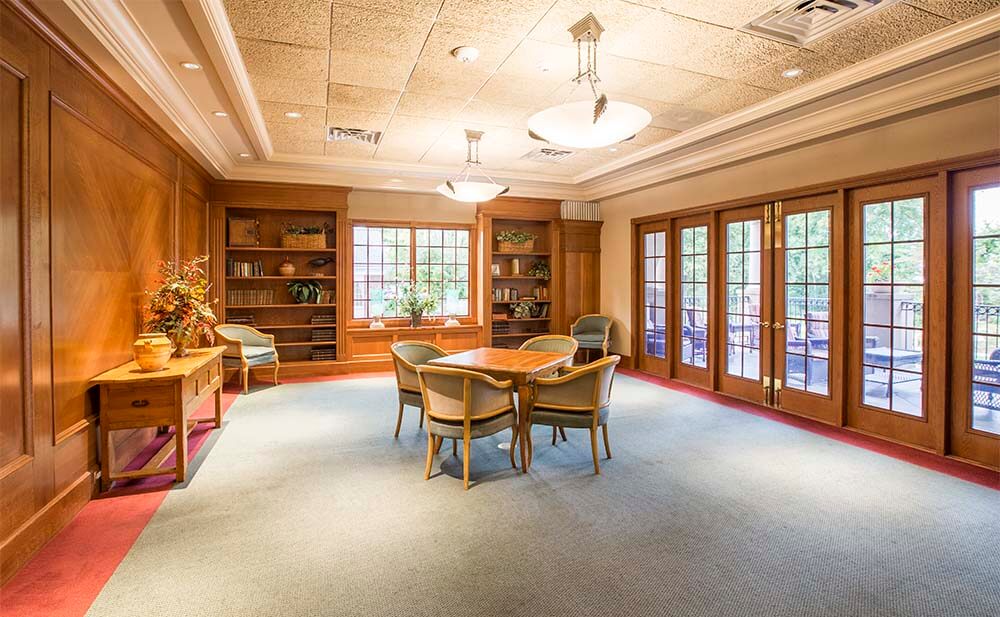 If you are not interested in a conventional site, Southwest Michigan offers some excellent alternatives for meeting, picnicking or celebrating. Ask us about our beach pavilions, park and nature center lodges, museums, a carousel house, art galleries, wineries, breweries, cideries and distilleries. Let us know what type of experience and ambience you want and we will do our best to help you find it.
Strengthen your team or client relationships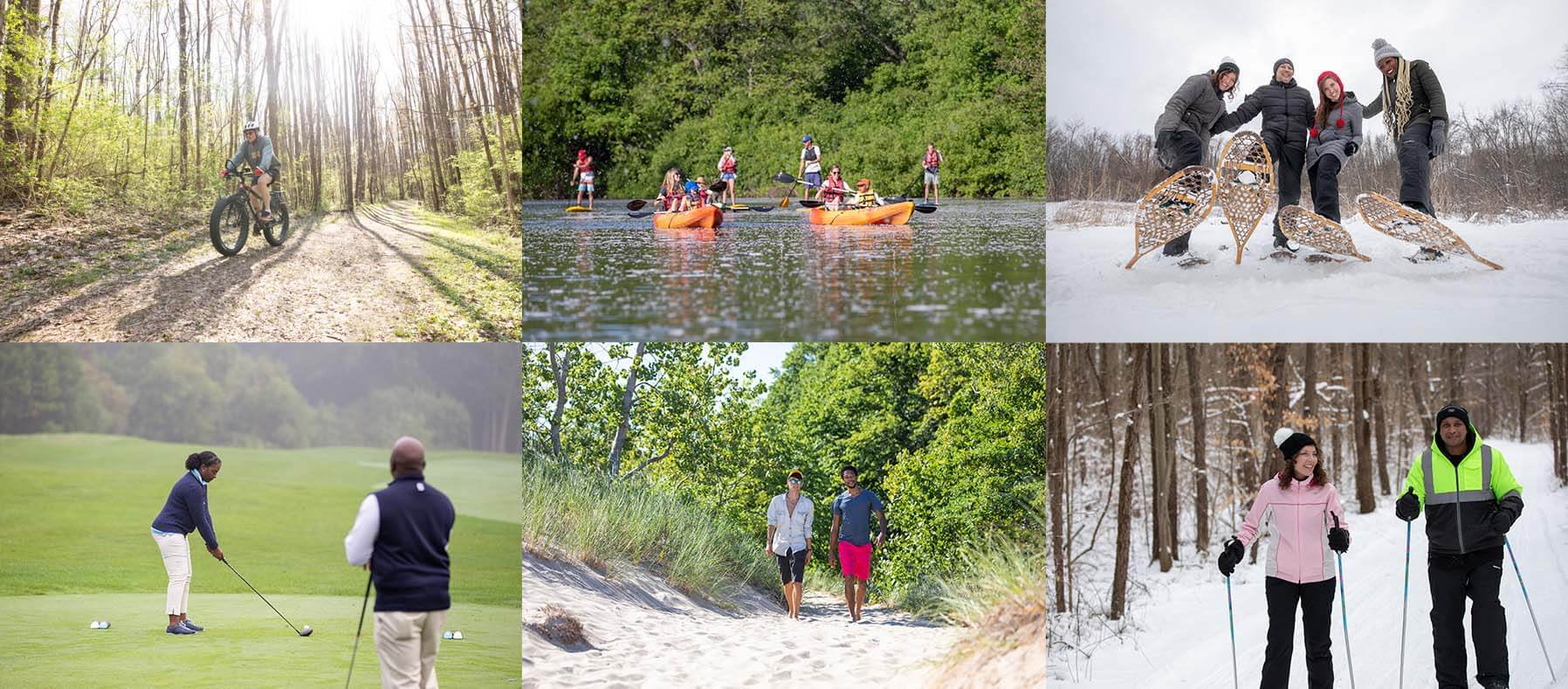 Whether you are gelling a new team, solidifying long-time relationships or shaking up the status quo, add these team-building activities to your agenda.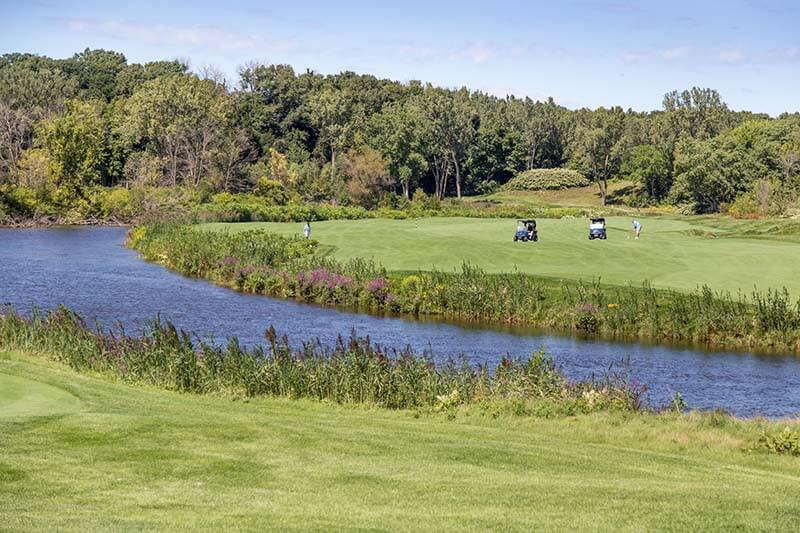 Play golf on beginner- to professional-level courses. From May through mid-October, get tee times on courses that are fun to play regardless of your or your guests' skill levels. One of your choices is The Club at Harbor Shores, the biennial site of the KitchenAid® Senior PGA Championship.
Find adventure on our trails. From leisurely riverbank walks to exhilarating dune climbs and swooping mountain bike trails, your team members can clear their heads or test their stamina. In winter, get your team outside to downhill ski, fat tire bike, cross-country ski or snowshoe. Four-season trail guides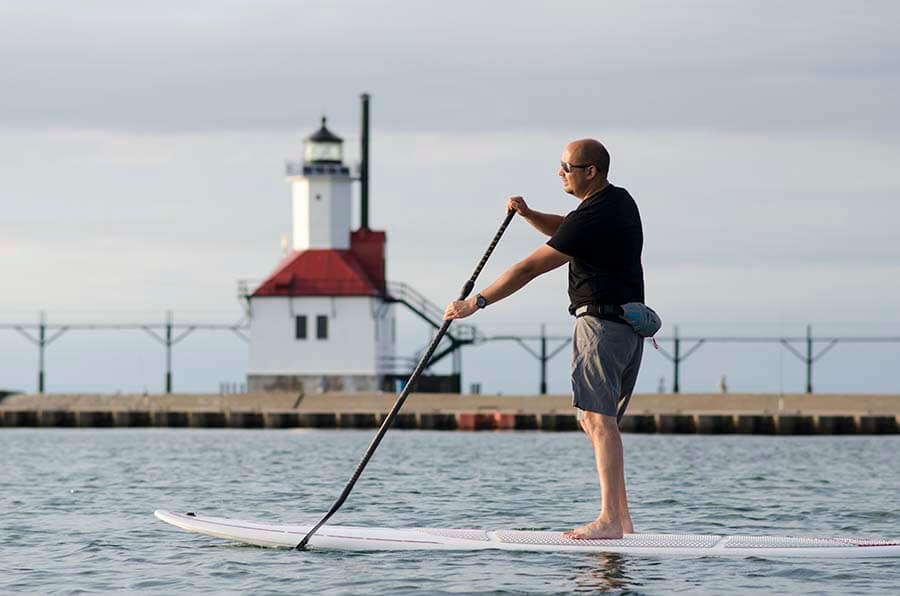 Enjoy the water. Wherever you meet or stay, you are always just minutes from some of the most beautiful freshwater beaches in the United States. You and your guests can:
Play volleyball or beach games.
Charter a fishing boat to catch salmon, steelhead, walleye and more (your captain can even tell you which local restaurants will prepare your fresh catch).
Tour a century-old lighthouse.
Kayak, paddleboard or power a cycleboat together on Lake Michigan, our smaller lakes or scenic rivers.
Cruise the Big Lake on a modern, 31-foot sailboat or raise the sails on a replica, 19th-century sloop.
Take a stress-relieving walk along the soft, sandy shore.
Be awed by the magnificent Lake Michigan ice formations in the winter.
However you plan your day, stay for a sunset on Lake Michigan. The brilliant colors of the sky and water are unparalleled.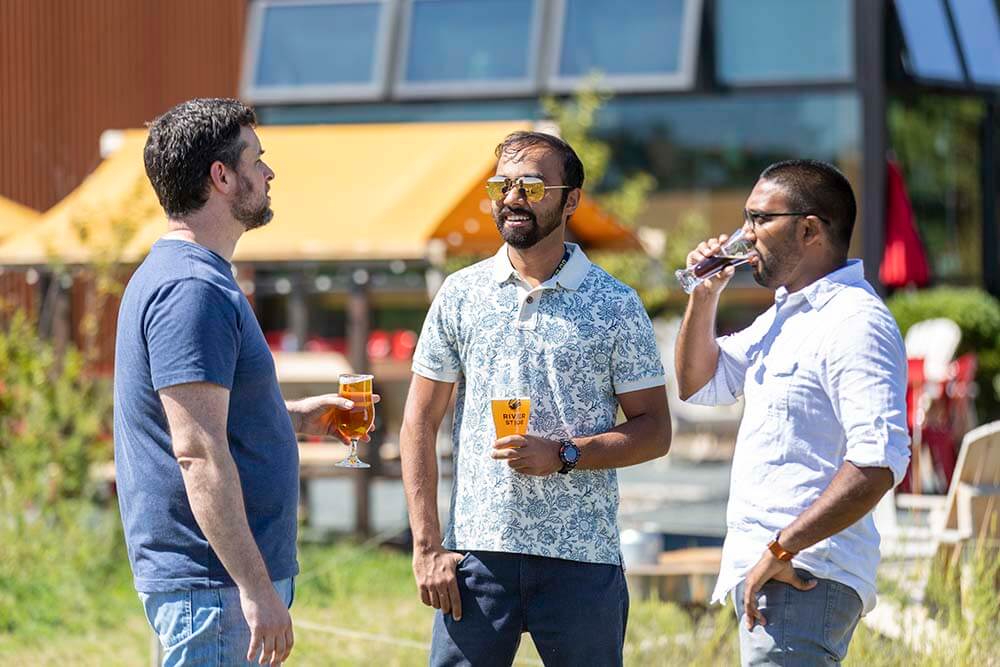 Taste the artistry of our wine, beer, cider and spirits. Go on the Makers Trail. Learn more about each maker's craft, tour their facilities and find your favorite beverages as you try their flights. Each destination is unique from hilltop vineyard views to food pairings, cozy fireplaces, live music and festivals. This is a great opportunity to also bring home your top beverage choices.
Simplify your planning with our suggested itineraries and local transportation services.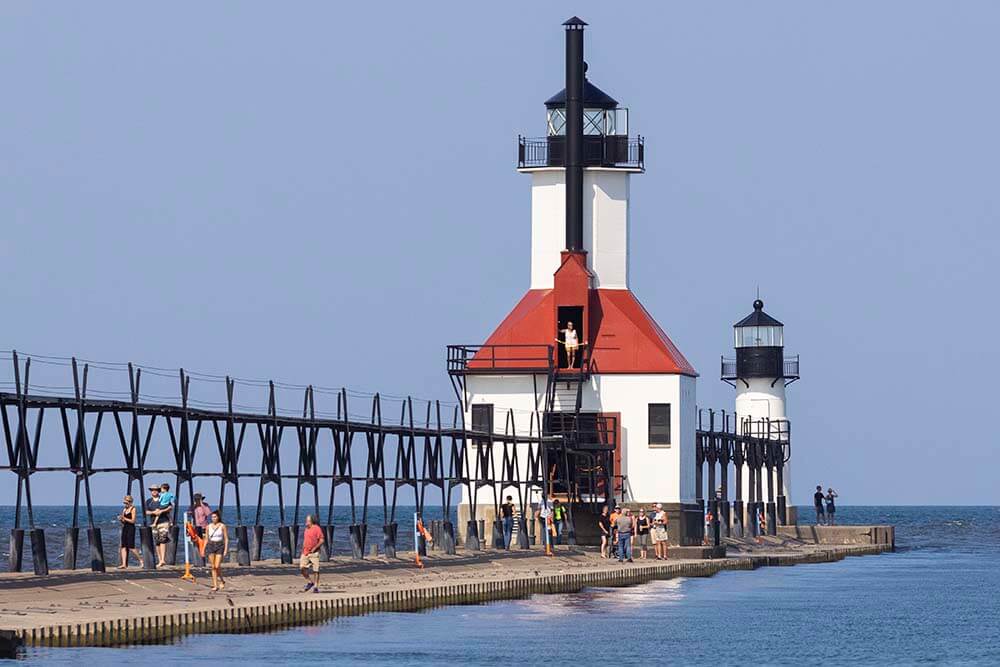 To help you kickstart your planning, we have pulled together more than a dozen itineraries. They will help you map out what routes to take, what stops to make and where to call ahead for reservations. You can follow the suggestions exactly, blend the itineraries or plug in your destinations. If you need help customizing an itinerary, just ask us.
Getting your team from place to place isn't a problem either. Southwest Michigan has transportation services that help you carry out your itinerary. Give them a call to schedule your needs.
Enjoy hours of downtime fun, too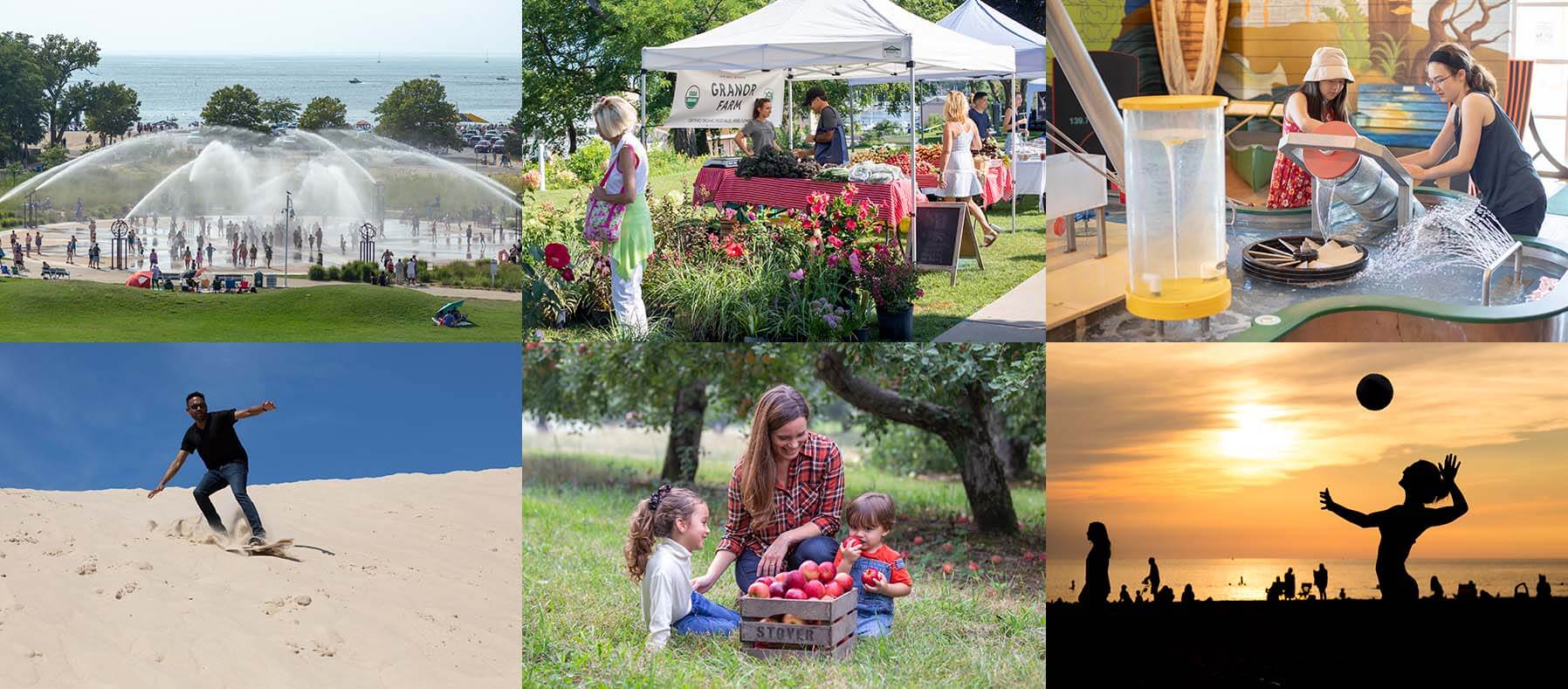 Help your attendees and their spouses and families fill their free time with:
Year-round dining and shopping, most in walkable resort towns
Creative Connections: Explore local culture through art galleries, historic sites and museums, our magnificent hand-carved Silver Beach Carousel, dance and music venues, national speakers and performers, a symphony orchestra and live theater.
Parks: nature centers, gardens and beaches. This includes one of only three International Dark Sky Parks in Michigan, the towering dunes at Warren Dunes State Park and the seasonal Whirlpool Compass Fountain, the largest splash pad in Southwest Michigan. All are memory-making experiences for all ages.
Farms and markets: Southwest Michigan is world-renowned for the variety of fruits, vegetables, flowers and holiday trees that are grown here. Many of these farms have been in their families for generations. Our farmers warmly welcome you to see where your food is grown, pick your own or bring home already-picked produce, jams, jellies, fresh-baked pies and decorations from their markets. If you are here in the fall, enjoy our harvest festivals, weekend corn mazes, hayrides and other country fun. In the winter, bring your group to pick their holiday trees, wreaths or greenery.
Curious Kids' Museum and Discovery Zone: These hands-on learning spaces are fun for toddlers to young teens.
Week-after-week of concerts, films, festivals, parades and special events. Look at what's happening while you are here.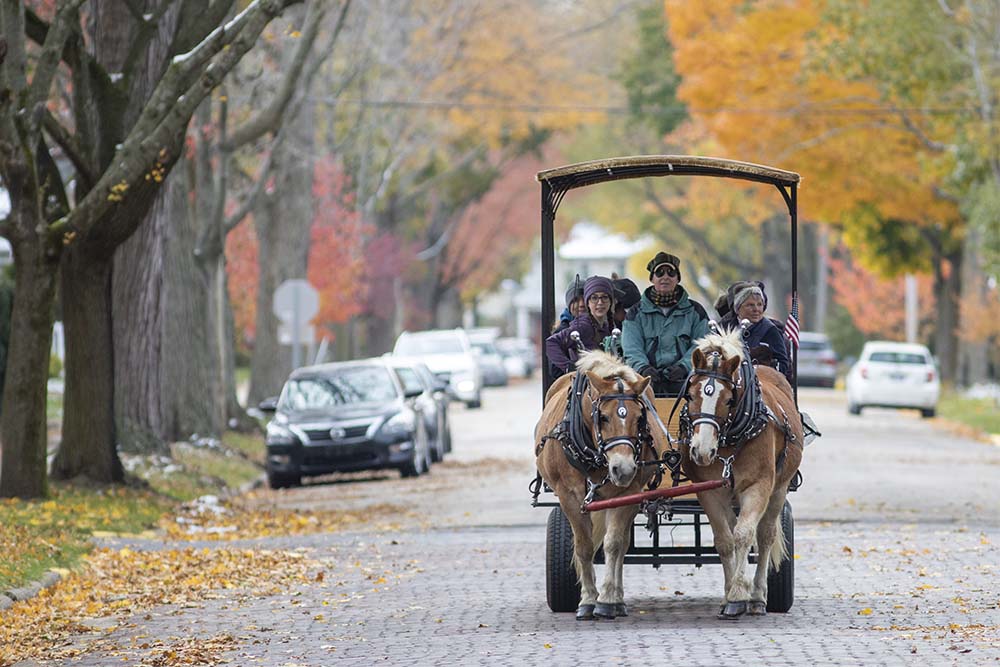 This is a four-season destination for adventure, relaxation and cultural experiences. For more free-time-filling ideas, see our seasonal suggestions:
Greet your guests with free welcoming materials
Are you putting together welcoming bags for your guests? We can provide area maps, helpful guides and brochures. Just ask.
Make your planning job easier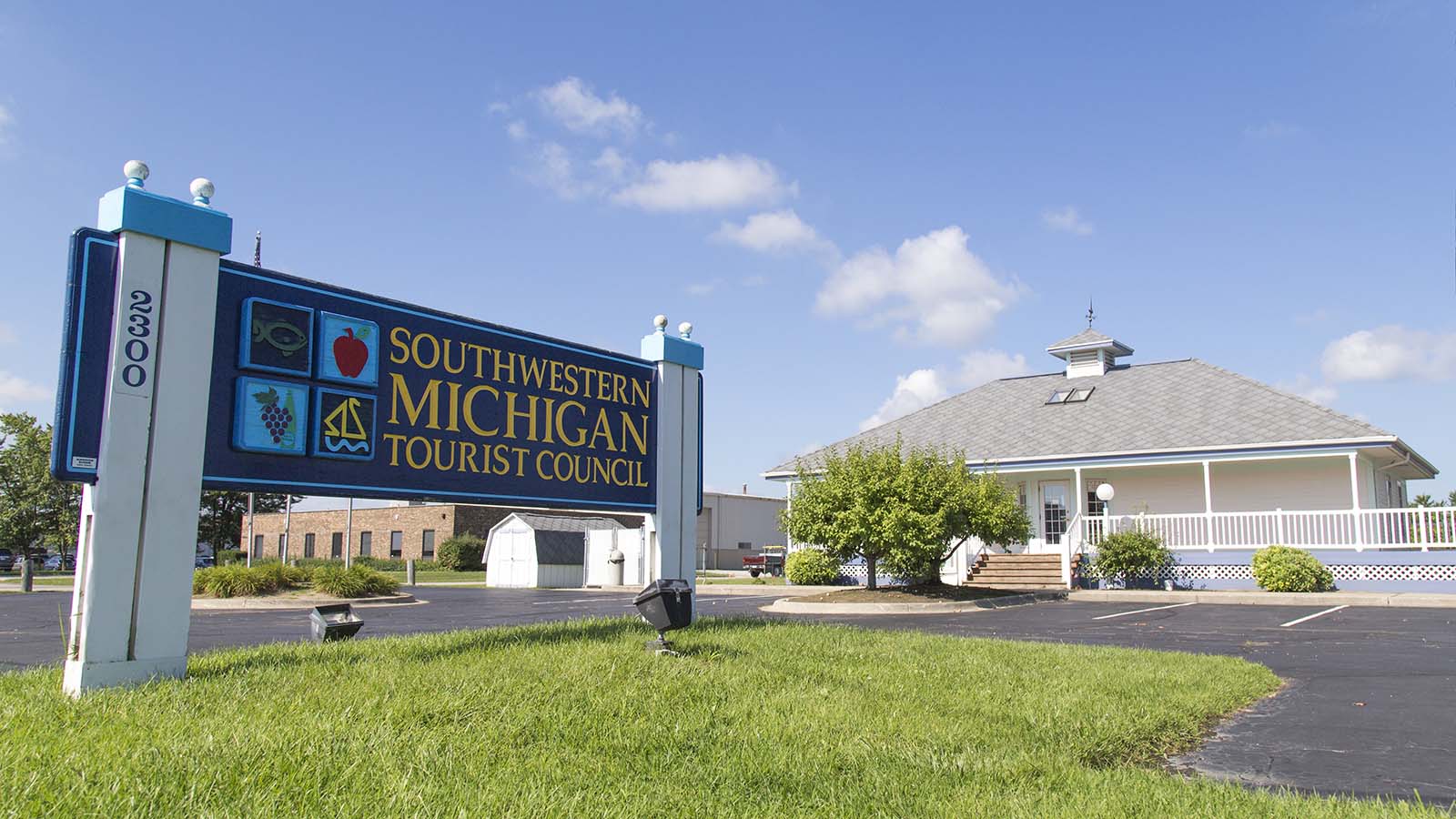 Brandi at our Visitor Center is available to help you plan your next meeting, convention, reunion or celebration in Southwest Michigan. Reach out to her today at This email address is being protected from spambots. You need JavaScript enabled to view it. or 269-925-6301. We look forward to seeing you in our Midwest paradise soon!