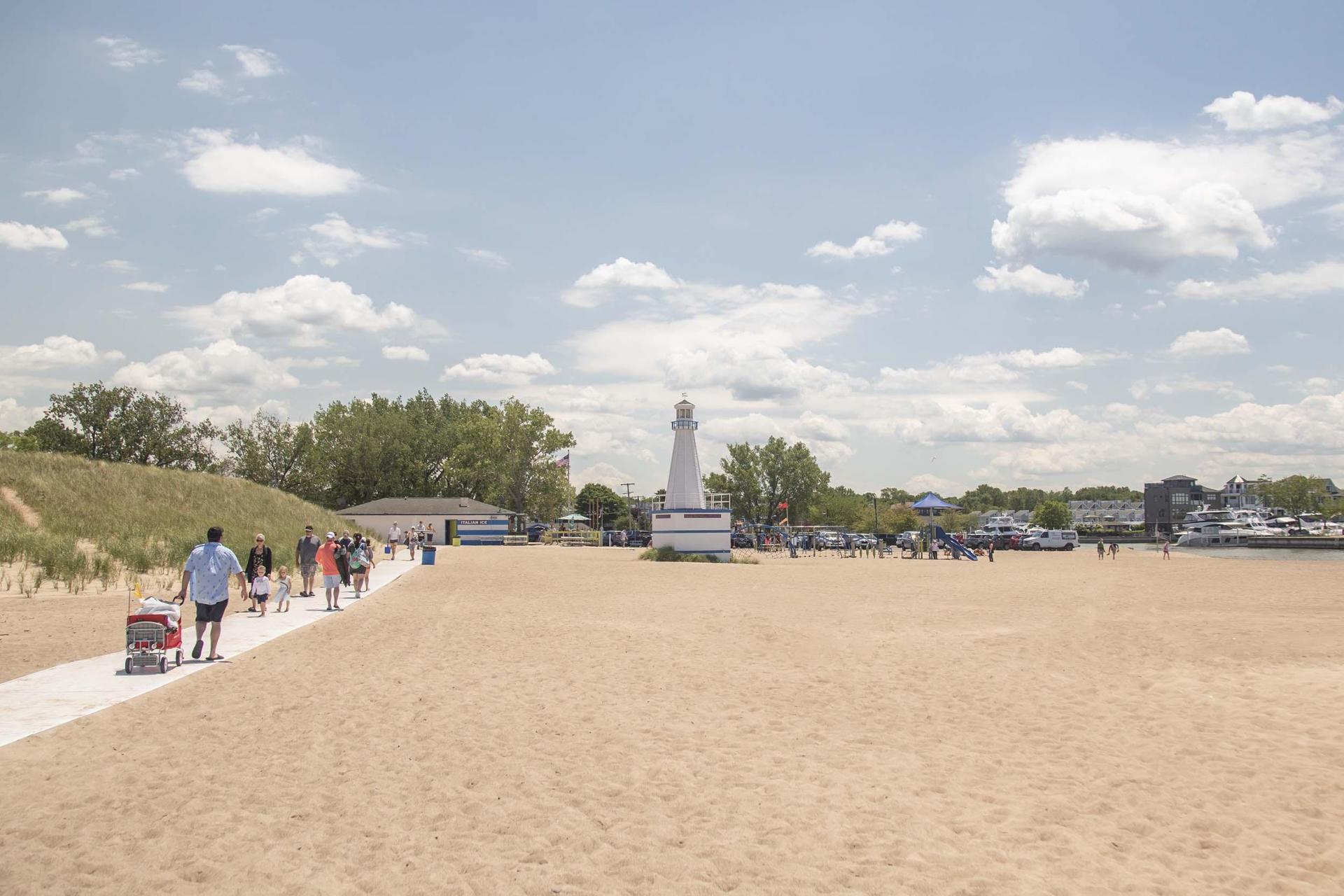 New Buffalo
Enthralling harbor town
Travel + Leisure magazine named New Buffalo, one of the 50 Best Places to Travel in 2022. It is your gateway to breathtaking, dune-backed Lake Michigan beaches. Come to paddle, fish, taste craft beverages, watch national and regional acts and enjoy gaming. New Buffalo is a launch point for Southwest Michigan's Makers Trail and offers arts, music and festivals to enliven your spirits year-round. Come once and you will return often.
Where is New Buffalo
New Buffalo is Michigan's gateway to Lake Michigan's sandy shore. It sits at the mouth of the Galien River and is the home to one of the region's largest recreational harbors. Just 20 minutes from the Indiana/Michigan border, it is only 90 minutes from downtown Chicago. You can easily reach it by car from U.S. 12 or I-94. Or arrive by Amtrak train or your watercraft.
Places to stay
Plan your stay in one of over 25 hotel choices in nearby Benton Harbor, St. Joseph or Stevensville.
Favorite restaurants in New Buffalo
While Lake Michigan may be the number one reason to visit New Buffalo, a close second is its food. From flip-flop casual to cocktail-chic, you can satiate your hunger and thirst. New Buffalo frequenters will steer you first to these four restaurants: Redamak's is a legendary char-grilled burger joint open spring through the fall. Stray Dog Bar & Grill is a lively, family friendly destination by the water with rooftop seating and bar for ages 21 and up. Serves American fare year-round. Brewster's Italian Cafe dishes up classic pasta and pizzas with outdoor dining. Rios Mexican Grill is your destination for drive-up or walk-up authentic Mexican favorites. For fine waterfront dining, plan on a weekend breakfast or dinner at Bentwood Tavern. Or Copper Rock Steakhouse is another upscale choice for prime cuts of steak, seafood, and other gourmet dishes.
When you want ice cream, make a snack or a meal from 50 flavors at Oink's Dutch Treat. Seeing the thousands of pig memorabilia is a photo-op, too. In the summer, Nancy's at the Lake serves their famous milkshakes and hand-scooped ice cream.
Add a twist to your craft brewery/pub food experiences. Go to Ghost Isle Brewery, Bar & Restaurant and ask them to share their ghost story.
Top things to do in New Buffalo
Relax on a picturesque Lake Michigan beach.
Unwinding from work and city stresses is easy on New Buffalo's City Beach. Its nearly 800 feet of Lake Michigan's golden sand is perfect for soaking up the rays, swimming and taking in the soul-stirring sunsets.
Get out on Lake Michigan and the Galien River.
Head out on the Big Lake or river to fish, cruise, paddle or sail. Put in your craft at the City Boat Launch or rent a kayak or paddleboard from Uncle Jib's Outpost on W. Buffalo St. or Third Coast Paddling across from the City Beach parking lot. If it's your first time paddling, both locations offer lessons.
If you want to add extraordinary to your visit, sail with Captain Stephen on his 31-foot boat. Sit back and relax or take the helm and trim the sails. Lake Michigan reveals its incredible beauty on New Buffalo Sailing Excursions' day sails, sunset and night cruises.
Delight in New Buffalo arts & culture.
The beauty of the area inspires some of the region's most talented musicians, performers and artists. Catch your favorite acts year-round on the big stage at Four Winds Casino Resort or in the more intimate nearby Acorn Theater. Listen to a wide selection of genres performed indoors and outdoors by the School of American Music. Or explore the collection of brakemen's oil lanterns, illustrative and informative displays, and rare archival photography that brings railroading in the 19th and 20th centuries to life in the New Buffalo Railroad Museum (open seasonally).
Get outside and feel oh-so-good.
You will love all that you can do outdoors beyond playing in New Buffalo's fresh water. First-time golfers to the most competitive seasoned players will find their level of fun on the 18 holes at The Woodlands Course at Whittaker. All ages will enjoy encountering nature on the hiking and biking trails at Galien River County Park and Harbor Country Bike & Hike Trails. There are picnic areas and a fishing pier at the county park, too. Nature lovers will find a variety of up-close spottings of the area's many birds, wildlife, trees and wildflowers while exploring over 13 preserves and natural areas. Children will enjoy the playground at New Buffalo Memorial Township Park, which also opens a splash pad during the warmer months. Pets will love a good romp in the off-leash area in Oselka Park. This park is also your winter playground for ice skating and sledding.

Have fun shopping downtown or at nearby farms.
Whether you are looking for one-of-a-kind artisan, vintage, antique or clothing items you will find them downtown. There are skateboards, water pads, toys and books for your time by the beach, too. For just-picked fresh produce and flowers, stop by the city's farmers market on Thursdays, 4-8 p.m., Memorial Day through Labor Day. Or drive out to Twin Maple Orchards or other nearby u-pick farms and markets for the tastiest homegrown fruits, vegetables, herbs and more in season.
New Buffalo Weather
This is a four-season destination, but for warm-weather activities, the best time to visit is mid-June to mid-September.
Winter is snowy and mostly cloudy; January is the coldest and snowiest month. Average temperatures: 18°F to 43°F.
Spring begins cold, wet and windy and ends pleasantly warm and breezy. Average temperatures: 27°F to 70°F.
Summer is warm, humid and partly cloudy. July is the warmest month. Average temperatures: 56°F to 83°F.
Fall starts warm and ends cold and windy. For the best fall color, come from late September to mid-October. Average temperatures: 33°F to 75°F.
New Buffalo Resources
Discover more about New Buffalo