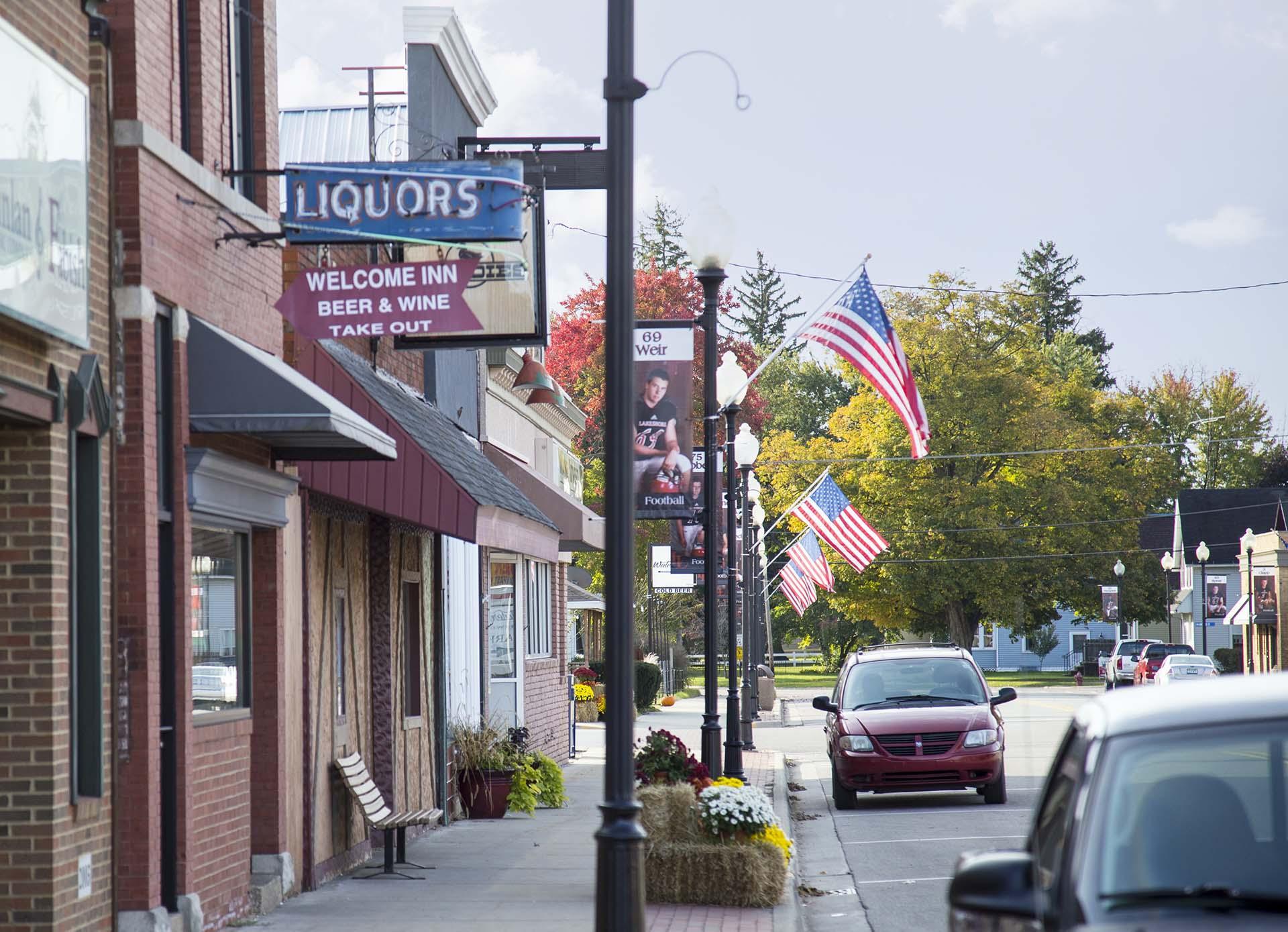 Stevensville
Heart of wine country
This village is your hub for exploring the delicious craft beverage makers that surround it. Taste the liquid artistry of hand-forged wines, beers, ciders and spirits. Then, relax along nearby Lake Michigan, ice skate year round and explore the culinary creativity of local chefs. It has a downtown with restaurants, shopping, a popular brewery and family friendly parks. Stevensville's small-town charm is big on creating lasting memories!
Where is Stevensville, Michigan
Stevensville is five miles south of St. Joseph. It is within Lincoln Charter Township and is accessible from I-94 Exit 22/John Beers Road or Red Arrow Highway.
Places to stay
With over 25 choices within a few miles of downtown Stevensville, you can find the amenities and rates to meet your vacation needs.
Top restaurants in Stevensville
Stevensville is home to some of the most popular places to eat and drink from sunrise to sunset. Leading the list is Tosi's Italian restaurant regionally renowned for its scratch-made pasta and sauces, cocktails and extensive, domestic and international wine list. Next door, the Bit of Swiss Pastry Shoppe offers irresistible artisan bread, pastries, cakes and tortes. Grande Mere Inn gets great reviews for its perch, steaks, lobster tails, house-made bread and soups — all served with a stunning ridge view of Lake Michigan and sunsets. Coach's Bar & Grill has plenty of high-def screens to watch your favorite teams and a game room to compete at darts and pool.
DiPisa's Pizza serves authentic Italian pizzas, sandwiches and traditional pasta dishes. Full Circle Cafe & Espresso Bar makes breakfast and lunch the best part of your day. DogSlinger is a hot dog lover's paradise and includes plant-based sausage options. The Flour Shop Bakery will satisfy your sweet tooth — Bavarian cream cakes are their specialty.
Favorite things to do in Stevensville
Swim, hike, fish and "see Chicago" along Lake Michigan's shoreline.
Grand Mere State Park has everything for a spectacular day on the shores of Lake Michigan. Magnificent dunes, deep sand blowouts and half a mile of Lake Michigan shoreline are popular with swimmers, beachcombers, hikers and runners. This is also one of the best beaches to "see" Chicago's skyline when the atmospheric conditions are just right. Leashed dogs are welcome on the beach and in the water. Two inland fishing and kayaking lakes lie behind the dunes. Cross-country skiers, snowshoers and snowboarders love breaking fresh paths to winter adventures. The park is also on the flight path for migrating birds in spring and fall. Bring your binoculars.
Find new craft beverages on the Makers Trail.
When you are in Stevensville you are just minutes from some of the Great Lakes' best wineries, breweries, distilleries and cideries. The brewmaster at Watermark Brewing Company in downtown Stevensville rotates a variety of beer recipes to give you an ever-changing tasting experience. Food trucks, live music, a dog friendly beer garden and barrier-free facilities make this a place to kick back all year. The craft-beverage fun continues in the countryside at Round Barn Winery & Estate (yes, the historic barn is round), its 3.6 miles of Mt. Tabor Trails where you can hike or snowshoe with your carryout craft beverage or the Round Barn Brewery & Public House. Other nearby stops along the Southwest Michigan Makers Trail include Baroda Founders Wine Cellar, Chill Hill, Dablon Vineyards, Winery & Tasting Room, Golden Muse Winery, Gravity and Red Top Winery. From September through May, add to your fun with a Makers Trail Passport, collecting stamps at these stops and earning great prizes.
Combine retro alley bowling with house-made hard ciders.
Add Peat's Cider Social to your Makers Trail itinerary when you're visiting Stevensville. Here's your chance to mix bowling in a 1960s-era bowling alley with thirst-quenching Michigan-made hard ciders and non-alcoholic choices. Arcade games plus a pet friendly retro-inspired patio for warm-weather socializing, make this entertaining for all ages.
Play outdoors with your kids and dog or enjoy just-me time.
Downtown Green Space: A serene place to read a book. In December, this is where Santa listens to your children's wishes.
Hickory Creek Park: Bring your dog for a leash-free romp and your kids to enjoy the playground.

Jung Memorial Nature Area: Walk the path in this 12.5-acre wooded area along Hickory Creek. It's also a tranquil place to cross-country ski or snowshoe in the winter.
Lincoln Township Park: Cool off in the warm-weather months at one of Southwest Michigan's newest splash pads! Tennis courts, a basketball court, a picnic pavilion and a playground add to your family entertainment.
North Lake Park, Lincoln Township: Great place for a picnic or family reunion. It offers a pavilion, playground, large open area for group games and a lake for fishing and kayaking.
Chase friends in ice bumper cars or skate figure eights
When you love hockey as much as the owners of The Garden Ice Arena do, you, too, would find a way to ice skate all year. So, they built this indoor facility that has open skate times plus ice bumper car rides for children to adults.
Family friendly Stevensville annual events
Mid-May: Mother's Day Market. This outdoor event is FREE to the public. Shop for mom or yourself from Southwest Michigan's best selection of artisan and handmade vendors.
Early June: Lakeshore Lions Car Show. Hot rods, classics, tractors, motorcycles and more line the streets of Downtown Stevensville.
Late June: Village-Wide Garage Sale. Locals and tourists find loads of bargains.
July 3: Baroda Village Fireworks. This neighboring community offers one of the best displays in the Midwest.
Late August: Family Fun Night. Kid games, local food trucks, an outdoor movie and more.
Early December: Christmas in the Village. Bundle up for sleigh rides and have fun decorating cookies, playing family games, face painting and crafts. This is a winter favorite!
Stevensville Weather
You can enjoy four seasons in Stevensville. For warm-weather activities, the best time to visit is mid-June to mid-September.
Winter is snowy and mostly cloudy with an average annual snowfall of 76.7 inches. January is the coldest and snowiest month. Average temperatures: 18°F to 43°F.
Spring begins cold, wet and windy and ends pleasantly warm. Average temperatures: 28°F to 72°F.
Summer is warm, humid and partly cloudy. July is the warmest month. Average temperatures: 55°F to 81°F.
Fall starts warm and ends cold and windy. For the best fall color, come from late September to mid-October. Average temperatures: 33°F to 77°F.
Stevensville Resources
Discover more about Stevensville