City of Buchanan

302 N. Redbud Trail
Buchanan, MI

Tel: .269695384419
Buchanan: The Nicest Place in America
Where Is Buchanan | Things to Do | Outdoor activities | Spring/Fall Color Tours | Arts/History | Events | Cannabis Dispensaries | Shopping/Dining/Wineries/Breweries | Celebrate Special Occasions | Where to Stay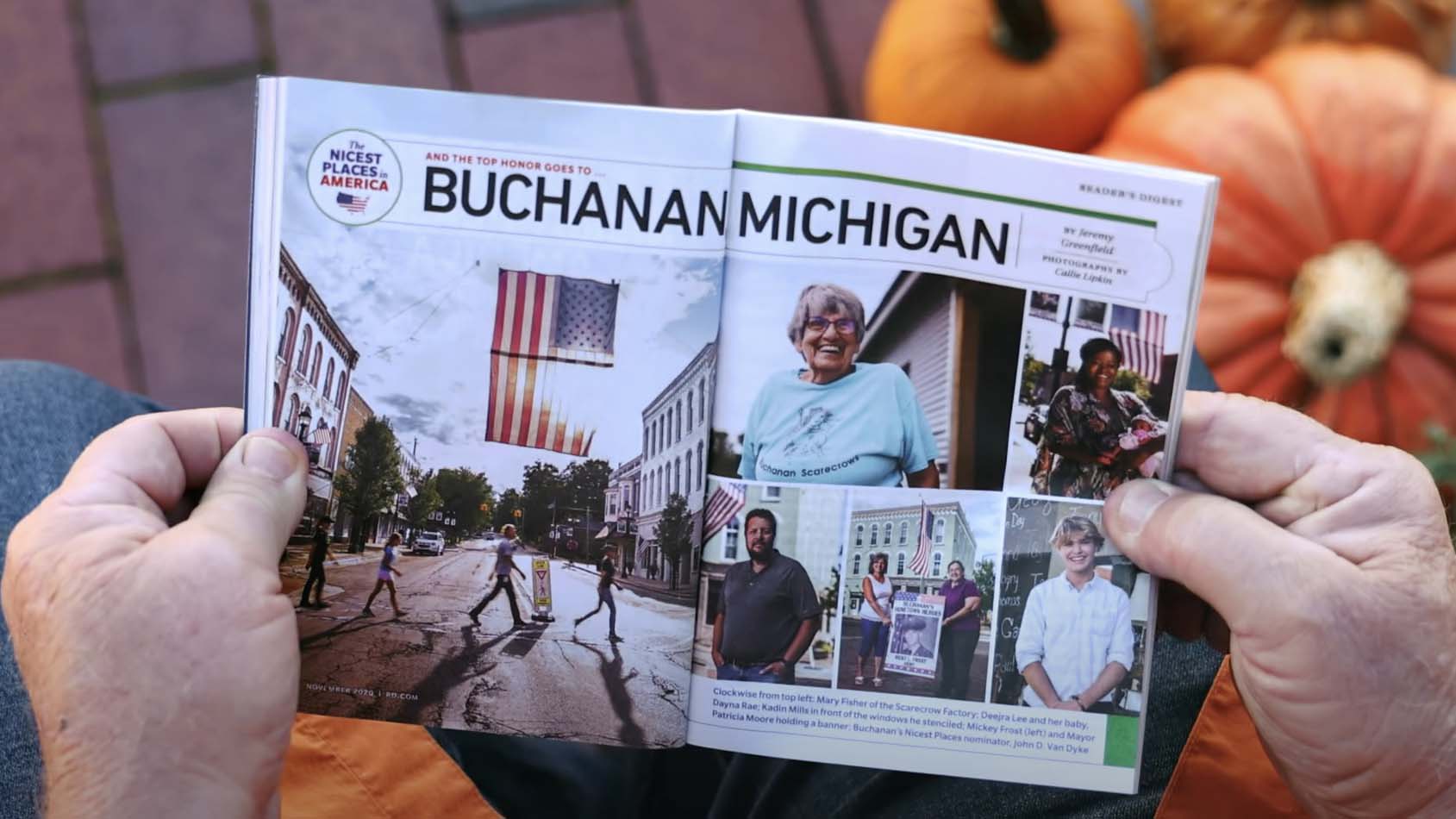 When Reader's Digest named the City of Buchanan "The Nicest Place in America" in 2020, it did not surprise its 4,000 residents. During the pandemic and rising racial tensions across America, Buchanan citizens stood shoulder-to-shoulder as they have since 1833. They always look out for each other during challenging times and find life's simple joys to draw them closer together.
But visitors to this small, Southwest Michigan town need not worry that this close-knit community is too tight for outsiders. Far from it. Show up in any of Buchanan's four beautiful seasons, and you will feel you belong.
Where is Buchanan, Michigan
Buchanan is in southern Berrien County, just north of the Michigan/Indiana border. It is easily accessible from US 31 and US 12.
20 minutes from South Bend, IN
20 minutes from Benton Harbor/St. Joseph, MI
20 minutes from New Buffalo
90 minutes from Chicago, IL
2 hours from Grand Rapids, MI
2 hours and 45 minutes from Indianapolis, IN
3 hours from Detroit, MI
Things to do in Buchanan
It's fun to play outdoors in Buchanan.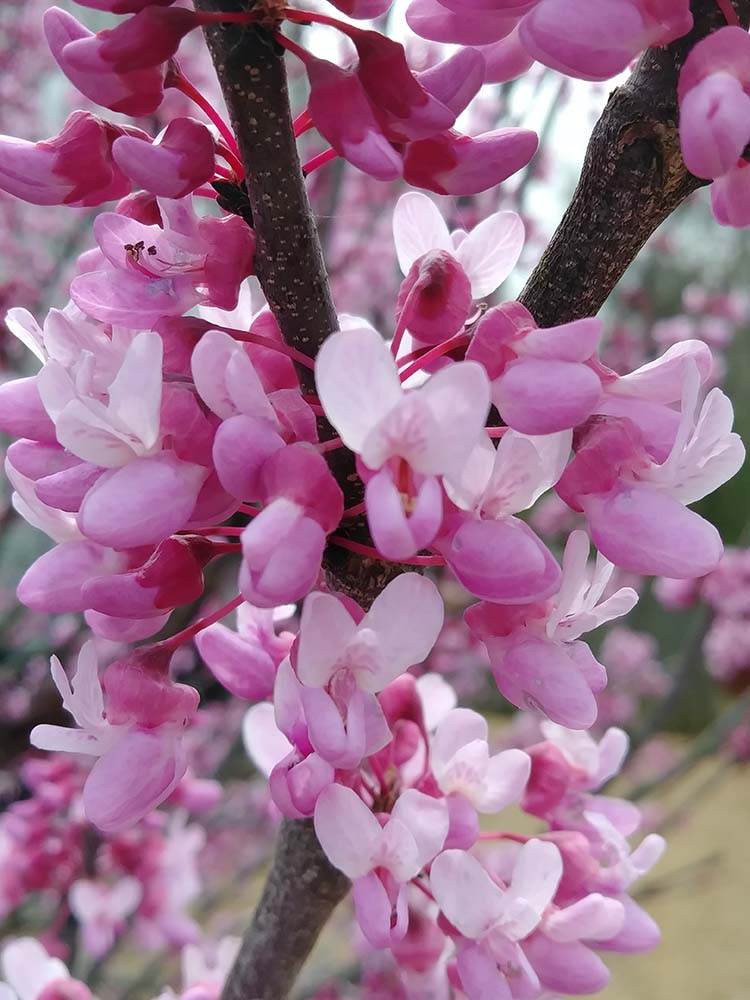 When you visit, dress to be outdoors. Here are some favorite activities:
Hike or bike on tree-lined trails and city streets.
Buchanan is a walkable, bikeable area. At the top of the list is the paved, one-mile out and back McCoy Creek Trail that winds its way through downtown, Spafford Woods and E.B. Clark Woods. It is dog, wheelchair and stroller friendly and has exercise stations, benches and fishing spots along the way. Plans are underway to extend the trail from downtown to the River Saint Joe Brewery and Fernwood Botanical Garden and Nature Preserve on Walton Road north of town.
INSIDER TIP: Bike Buchanan is a group that regularly meets at River Saint Joe Brewery on Tuesdays, from May to the end of October, at 6:15 p.m. in the summer and 5:45 p.m. in the fall and meets until 9 p.m. The rides are open to the public.
Mount Tabor Trails is one of the newest year-round options in Buchanan. These four trails between Tabor Hill Winery & Restaurant and Round Barn Estate offer a combined 3.5 miles of sip and eat as you hike, or in winter snowshoe through the vineyards. After one hike, you will plan to return all four seasons! Learn more.
Mud Lake Bog Nature Preserve, 905 Elm Valley Road, is another destination. The half-mile boardwalk takes you over the bog where you can see wildlife, sand cranes, a sphagnum moss mat and insect-eating pitcher plants and sundew. Pack a picnic; there is a shelter and tables.
Dip your paddle or go boating in the St. Joseph River, McCoy Creek and inland lakes.
Bring your kayak, canoe, stand-up paddleboard or boat for hours of scenic outdoor time. Launch on the St. Joseph River from the Michigan DNR Public Boat Launch or Miami Marina Boat Launch. In downtown Buchanan paddle on McCoy Creek or boat or paddle on nearby Lake Madron, Weaver Lake, Clear Lake, Round Lake and Burris Lake.
Reeling in the big ones is a passion for anglers fishing Buchanan waters, too.
Fishing is a culture here, with opportunities most of the year, including when the lakes freeze. You can wet your line in any of the waters listed above to catch tasty northern pike, salmon, steelhead, trout, walleye, carp, bowfin, bluegill, largemouth bass, yellow perch, crappies, gar, green sunfish, rock bass and warmouth. You don't have to fish to enjoy watching the salmon and trout run in the spring and fall in McCoy Creek or the St. Joseph River.
Get your adrenaline rush at Buchanan's Redbud MX-Americas Motocross track.
For decades, the Redbud MX race track has hosted amateur, youth, pro-am and professional motocross races for bikes and ATVs. 2022 will be a banner year when the Buchanan site roars to life for the National competition, June 30-July 3, and International races, September 24-25 (the track expects 50,000 racing fans).
Golf spring through fall on two scenic courses.
Come on your own or bring friends to play the 18-hole championship Brookwood Golf Course and Orchard Hills Country Club.
Visit Michigan's only naturally formed cave.
Bear Cave, 4085 Bear Cave Road, is open May to October. A lot of local history has taken place here.
Picnic, host reunions, play ball and relax in Buchanan parks.
Buchanan offers a variety of parks with playgrounds, picnic areas, softball fields and basketball courts to entertain all ages. Old City Hall Park has a gazebo and a butterfly garden. The Field of Dreams Dog Park is one of many places in Buchanan where you can bring your tail-wagging, Frisbee-catching best friend.
INSIDER TIP: Make memories with your children at Veterans Memorial Park, locally known as Duck Pond Park. Feed is available for these friendly water birds, and come spring, watch near the posted duck crossing sign for momma ducks leading their fuzzy ducklings across the road.
Winters are picturesque — and rarely bitterly cold.
Lake Michigan tempers our climate in Southwest Michigan, so we get our share of snow, but not the frigid temperatures that drive you indoors. Favorite pastimes include hiking or snowshoeing at Mud Lake Bog, playing ice shuffleboard (called River Rocks) at River Saint Joe and snowshoeing on Mt. Tabor Trails between Tabor Hill Winery & Restaurant and Round Barn Estate.
Learn why you will love Winter in Buchanan.
Take a spring and fall color tour around Redbud City.
Another way to immerse in Buchanan's gorgeous landscape is by taking a spring or fall color tour in your car, motorcycle or bike. The city has several nicknames and one of its oldest is the Redbud City. The city streets and major roads burst in rich red blossoms from late April to early May.
Buchanan is also a Designated Tree City USA by the National Arbor Day Foundation. In mid-October to early November, drive, paddle or hike through downtown, along trails, waterways and throughout the countryside and you will see why it earned this recognition. The jewel-toned hues of the leaves and wildflowers make this a favorite fall color tour destination in Southwest Michigan.
Enrich your life with the arts, history and music of Buchanan.
Buchanan may not be a large town, but it is big on having fun and showcasing the talents of regional artists and musicians. When you are in town, check out the activities at The Common. Summer outdoor movies, concerts on Thursday and Saturday evenings in June through early September, yoga and cardio classes — all free.
Two of The Common's biggest draws are:
Farmers' Market, Saturdays, May to mid-October, 8 a.m.-1 p.m. This draws many vendors selling local produce, plants, flowers, honey, meat, eggs, dairy, baked goods and crafts galore. The market stands out in Southwest Michigan with its weekly crafts, community showcases and activities for all ages. Food trucks offer favorites for the whole family.
Pears Mill (pronounced Peers) and Millrace are listed in the Michigan Historical Register and National Register of Historic Places. It is the only remaining mill of the 13 that once operated in Buchanan. There are rotating exhibits of Buchanan's history and occasional demonstrations of historic trades such as weaving, blacksmithing and basket making. Check the gift counter for bags of stone-ground flour and meal to take home. Admission is free on Saturdays, 10 a.m. to 4 p.m., Memorial Day through Labor Day or by appointment.
Other cultural centers in town are the Roti Roti Art Center of Buchanan (formerly the Buchanan Art Center), which offers art exhibits, classes and cultural events and the historic Tin Shop Theater which performs plays throughout the year. The Buchanan District Library is another source for adult, children and teen enrichment. There is a wide assortment of programs, activities, classes and story times.
Outside of town, be sure to visit Fernwood Botanical Garden and Nature Preserve. Open all year, these beautiful gardens and forested trails are in the scenic St. Joseph River valley. Visit the art gallery and Nature Center or take spirit-lifting forest bathing and nature classes.
Join Buchanan's community events throughout the year
The people of Buchanan love a good time and you can plan to join the fun by choosing the events that fit your schedule listed on the Southwest Michigan events calendar or Buchanan events calendar. Three you will want to attend are:
Michigan's hottest new tourist attraction is happening in Bu-Cannabis!
When Michigan legalized medical and recreational cannabis, Buchanan welcomed several dispensaries to set up shop here and quickly earned the nickname, Bu-Cannabis. There are now five cannabis businesses within blocks of each other on East Front Street. Buchanan is one of the closest locations to Indiana, Illinois and Wisconsin for purchasing and enjoying premium cannabis flowers, pre-rolls, vapes, edibles, extracts and more. The five Buchanan stores are Cannavista Wellness, High Profile, Pinnacle Emporium Provisioning Center, 7Engines Dispensary and Zen Leaf. Learn more about cannabis in Southwest Michigan.
More places to shop, dine and try local craft wines, beers and spirits.
While you are here, meet Buchanan's friendly residents when you stop in our stores, restaurants, wineries and craft brew destinations. There are four different antique shops in the area. The Redbud Hardware stocks its shelves with the hardware and tools you need, plus DIY supplies, toys, home decor and gifts. Souldier is Buchanan's world-renowned manufacturer of custom guitar, banjo and other instrument straps, belts and more which you can order online. Or visit Bucktown Boutique for women's clothing, jewelry, cards and home goods — they happily do special orders.
It's easy to work up an appetite or thirst while you are enjoying the sites and activities in Buchanan. Check out Buchanan's Places to Eat for ideas.
INSIDER TIP: Ask locals where you should go and many will recommend Gary Z's Sub Shop, Cafe Italiano at The Sweet Shop, McCoy Creek Tavern and Union Coffee House & Cafe. For a craft farmhouse beer, try River Saint Joe and for craft wine, beer and cocktails, visit Tabor Hill Winery & Restaurant and Lehman's Farmhouse.
Plan your next meeting, family reunion, company picnic or special occasion in Buchanan.
The "Nicest Place in America" is an excellent destination to gather and offer your guests a variety of activities. Check out Buchanan's rental facilities and rental options at The Common.

Where to stay near Buchanan.
With so much to do in the Buchanan area, plan to extend your stay and come throughout the year. Buchanan is within minutes of Southwest Michigan hotels and resorts with the amenities and rates that will meet your needs. For campers, Buchanan has three nearby choices: Bear Cave Resort, Fuller's Resort & Campground on Clear Lake and Life Action Camp.
Hope to see you in the Redbud City soon!
Contact: email