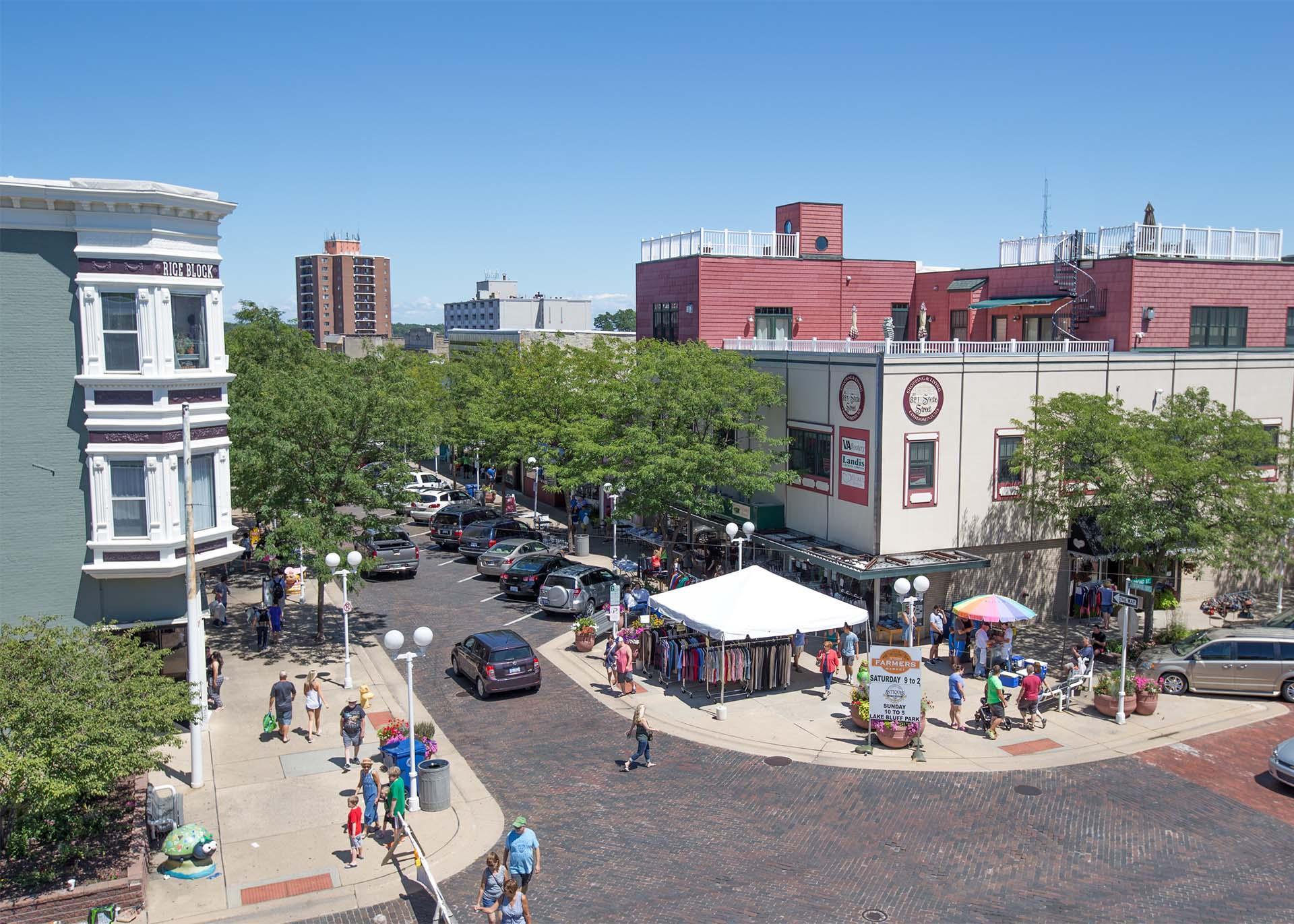 St. Joseph
Romantic beach town
This is the Riviera of the Midwest. Unlike many lakefront communities, St. Joseph makes it incredibly easy to reach its soft sand beaches and navigable river. Its downtown has preserved its Victorian-era charm and fills the year with music, art and festivals. Named "The Most Romantic City in Michigan" by the Detroit Free Press, it is a popular destination for weddings, honeymoons and couples, too. You will fall in love with St. Joseph the minute you arrive. 
Where is St. Joseph
On the shores of Lake Michigan, where the St. Joseph River ends its 210-mile journey, is one of the most beloved resort towns in Michigan. It is easily accessible by car from I-94, I-196, U.S. 31 and M-63. Amtrak trains make daily stops at the depot within steps of the beach, attractions, downtown shops and hotels. Private boaters can enter the harbor and tie up at one of the 10 transient slips in the city's West Basin Marina, then take a shuttle or bike into town.

Places to stay with the best views
Choose a room with a view of Lake Michigan at The Boulevard Inn or Holiday Inn Express Hotel & Suites. Or look out on the shimmering waters of the St. Joseph Harbor from your room at the Inn at Harbor Shores. There are over 20 other close-by choices with amenities and rates that cater to your comfort. Plan to stay for a while. 
Favorite restaurants & craft beverages in St. Joseph
What are you hungry or thirsty for? You will find scrumptious options downtown. Stop in for street tacos, old-world-recipe soups, create-your-own stir-fry, juicy burgers, crisp salads, perfectly grilled steaks, fresh sub sandwiches and so much more. Ice cream, melt-in-your-mouth fudge and chocolates are year-round treats in the city. There are several downtown wine and beer tasting choices and a social district that broadens your drink and food choices to enjoy the outdoors. For additional ethnic and national chain restaurants, take the short drive to South St. Joseph, where you will find many of your favorites.
Best things to do in St. Joseph
Tough-to-top Lake Michigan beaches and sunsets
.
Any parent who has carried a bag of beach toys across Silver Beach County Park knows why Parents magazine ranked it one of the top family beaches in the United States. There is plenty of space to claim your spot on the expansive, soft sand and splash in the clear, fresh water. Throughout the year, burn off your kids' energy on the play equipment at Silver Beach or Lions Park Beach. Or get front-row seats to watch giant freighters at Tiscornia Beach Park. 
Silver Beach offers access to the South Pier and its lighthouse and Tiscornia Beach takes you to the North Pier and its two historic lights. Both piers are destinations for anglers. 
All three beaches, plus Lake Bluff Park and Lookout Park offer stunning views of the Big Lake in winter, spring, summer and fall. The highlight is watching the brilliantly colorful sunsets that silence onlookers with awe. Keep your camera ready.

Memory-making attractions.
It is difficult to be bored in St. Joseph. Ride the Silver Beach Carousel, a magnificent machine with 48 hand-carved figures and two chariots (one is wheelchair accessible). Feel the surge of exhilaration as the Whirlpool Compass Fountain blasts water 35 feet into the air and sends it cascading onto the eager children and adults awaiting on the giant splash pad. Spend hours playfully learning with toddlers to pre-teens at the Curious Kids' Discovery Zone.
Explore the fascinating histories of Native Americans, maritime explorers, pioneer farmers and imaginative entrepreneurs at The Heritage Museum and Cultural Center. Marvel at the creativity of the artists' exhibits in the Krasl Art Center galleries. Or walk out the North and South Piers and stand in the shadows of the century-old lighthouses. Few experiences rival climbing to the top of the Inner Lighthouse for a gull's-eye view.

Walkable downtown.
The city offers destination shops with a vast selection of unique jewelry, fashionable clothing for all ages, tourist keepsakes, toys and books, plus everything you need for the beach. Explore The Market's delightful food and gift shops under one roof. And browse through the vendor booths at Lake Bluff Park's Farmers Market, Antiques on the Bluff and Artisan Craft Fairs held from spring to fall. There's also more shopping and entertainment nearby in the South St. Joseph business district.
Adventure-packed outdoors.
Lake Michigan and the St. Joseph River will lure you outside to go boating, surfing, parasailing, fishing, paddling and scuba diving. Launch your craft from Riverview Park. Rent kayaks and paddleboards from Third Coast Paddling right on Silver Beach. Or to ply the waves in a speed boat, pontoon, jet ski or dinghy by the hour, day or week, check out Blue Water Boat Rentals. 
Find more adventure hiking or biking along the Margaret B. Upton Arboretum Trail or the John & Dede Howard Family Recreational Trail. Picnic or play at over a dozen parks, including Kiwanis Park with its off-leash dog area and John and Dede Howard Skateboard Park, an in-line skating/skateboarding/BMX biking facility. Or add to your winter fun, by bringing your ice skates or renting them at Whittlesey Park's John & Dede Howard Ice Arena. 
Fun ways to get around.
In the warm months, make a bee-line to Scooter Joe's Wheel and Water Rentals to tour the city or nearby waters — families love pedaling the surrey bike. Catch the free St. Joseph River water taxi at the Margaret B. Upton Arboretum with stops at Bread + Bar/Babe's Lounge and the Inn at Harbor Shores. Or buy tickets to propel the Southwest Michigan Cycleboat up and down the harbor. There are also several transportation services to take your group on Makers Trail and fall color tours, to-and-from wedding venues and other attractions. 
St. Joseph is truly romantic.
It's no surprise to people in love that St. Joseph was named Michigan's most romantic city by the Detroit Free Press. Beautiful beaches, breathtaking sunsets, al fresco dining, luxurious spa treatments, romantic hotel packages and so much more will make your hearts sing. Discover all the reasons why, here. And if you are planning a wedding, you can find the venue of your dreams, as well. 
Weather in St. Joseph
Lake Michigan keeps the climate temperate all year round — it's very rarely bitter cold or blistering hot. For warm-weather activities, the best time to visit is late May through September.
Winter is snowy and mostly cloudy. For winter sports enthusiasts, January is the snowiest month. Average temperatures: 20°F to 43°F.
Spring starts cold and windy and ends pleasantly warm and breezy. Late April and early May are the best months to see blossoms. Average temperatures: 26°F to 72°F.
Summer is warm, humid and partly cloudy. July is the warmest month. Average temperatures: 51°F to 81°F.
Fall starts warm and ends chilly and windy. The best fall color is late September to mid-October. Average temperatures: 31°F to 77°F.
St. Joseph Resources
Discover more about St. Joseph