Silver Beach County Park

101 Broad Street
St. Joseph, MI

Silver Beach, Michigan — a year-round playground on Lake Michigan
Things to Do | Directions | Hours & Parking Fees | Water Safety Tips | Silver Beach Story | Day trips or extended stays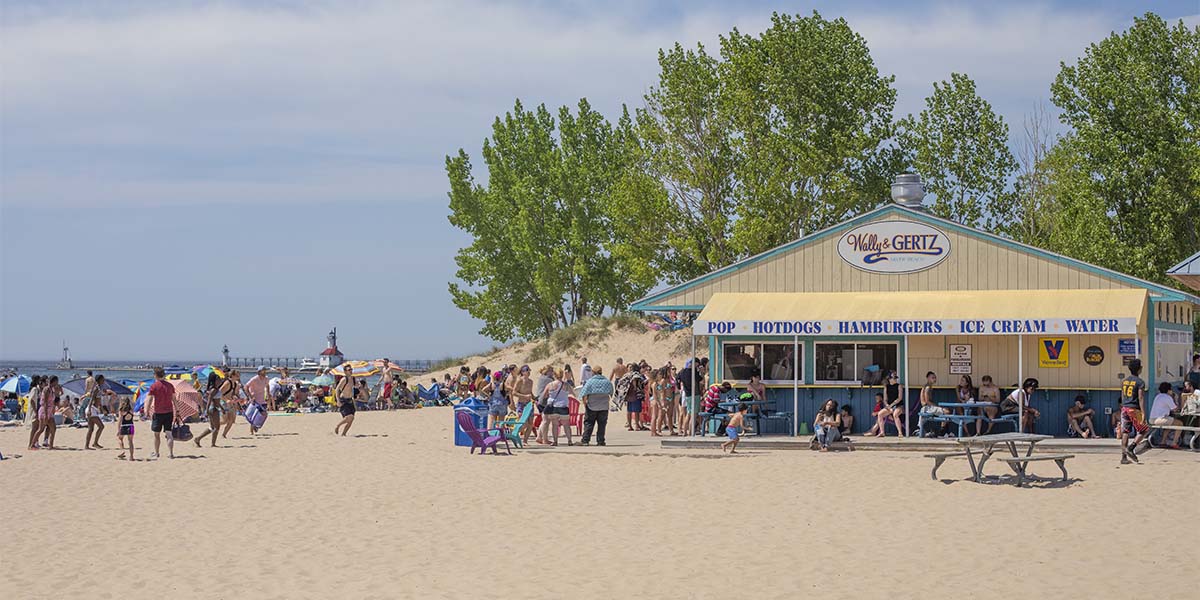 Perhaps one of Southwest Michigan's most popular beaches, Silver Beach County Park stretches 2,450 feet from the mouth of the St. Joseph River to Park Street. And it's walkable from downtown St. Joseph!
Things you can do at Silver Beach County Park
Swim at a beach with lifeguards.
Silver Beach is renowned for its clean, wide, soft sandy beach and refreshing freshwater. Of the Park's 2,450 feet of Lake Michigan frontage, about 1,600 feet create a public swimming area in the summer. The swimming season is typically from July to September, with lifeguards on duty from early June to mid-August. The summer water temperatures rise to an average of 69.4°F.
There are modern restrooms, drinking fountains and outdoor showers to rinse off the sand centrally located near the beach, playground and concessions.
Enjoy barrier-free walkways and free beach wheelchairs.
There is a barrier-free walkway from the parking lot, along the beachfront and throughout the park. This walkway gives you access to the restrooms and concession stand, Dunes Pavilion, Shadowland Pavilion and up to the South Pier. From the beach sidewalks, you can also connect to the Whirlpool Compass Fountain, Silver Beach Center, and to the bluff ramp that takes you to downtown St. Joseph.
Dogs are not allowed on the beach, but you may walk your leashed pet on the paved sidewalks.
You may also borrow a free beach wheelchair, on a first come basis, to make it easier to reach the water. These chairs are not self-propelled, so you will need someone to push you. Learn more here.
Picnic, snack or party by the water.
There are picnic tables scattered throughout the park. In the north section, you will also find charcoal grills. The tables and grills are available on a first-come basis. The Wally & Gertz concession stand is open, weather permitting, Memorial Day through Labor Day. It is a quick and easy place to pick up snacks, beverages, hotdogs, hamburgers, fries, cheese fries, ice cream and much more!
Silver Beach is also a fun place to host birthday parties, weddings, celebrations and reunions. There are two pavilions available to rent. Learn more here.
Play beach volleyball.
Pick up a game or join local tournament play on the courts along the beach.
Rent Kayaks/SUPs.
Access South Pier to take a scenic walk or fish.
This pier offers a beautiful view of Lake Michigan, the mouth of the St. Joseph River and the North Pier Lighthouse (accessible from Tiscornia Park). It is one of the best places to watch for boats, Great Lakes freighters and sunsets. Always proceed out on the pier with extreme caution and never go on it during inclement weather, high waves or icy conditions.
This is also a popular place to wet your line and reel in brown trout, catfish, coho salmon, Chinook salmon, perch, rainbow trout (steelhead) and whitefish. Learn fishing rules here.
Burn energy on playgrounds.
You and your children can enjoy the park's two popular play areas throughout the year. One is close to the restrooms, the other at the north end of the park. There are plenty of benches where adults can relax as they watch their children play.
Listen to a concert or watch a show.
Follow our events page or subscribe to our e-newsletter to learn about the concerts and plays held at the Silver Beach Pavilion.
Fly a kite.
The wide-open spaces and lake breezes make it a popular place to send kites soaring, especially in the cooler spring and fall months.
Take frameable photographs.
Lake Michigan is an ever-changing vista from mirror-smooth to giant waves crashing over the piers and lighthouses. Capture seagulls and parasails soaring, giant freighters and tugboats, driftwood and shiny pebbles and jaw-droppingly beautiful sunsets over all four seasons. Learn photo-taking tips here.
Be awed by ice formations.
If you think you need warm temps to enjoy the beach, come see Silver Beach from December to mid-March. The wind, snow and ice create a crystal landscape. As tempting as it is to walk onto the frozen lake and ice floes, stay safely on shore. The ice can easily break loose and float to deeper water, where it will be difficult to rescue you. This is also the place to make snow castles and sculptures, play frozen tag and more.
Directions to Silver Beach (it's just minutes from major highways)
You can easily access Silver Beach County Park by car, train or boat. The park is a short walk from the Amtrak train station or you can take a free shuttle from the West Basin Marina and walk down the bluff to the beach. However, the most common way to reach the beach is by car.
Hours and parking fees
The park is open year-round from dawn to dusk. Parking fees are collected from May through October. There is no charge to walk into the park.
The park is below the bluff in downtown St. Joseph. The entrance gate is at the corner of Broad Street and Lake Street.
Public restrooms are open early May through October. During the colder months, there is a portable toilet in the north parking lot.
If you arrive in a vehicle, you will need to purchase a daily parking pass or an annual park entrance permit at the gatehouse. The annual permit gives you access to all Berrien County parks. You can pay for your pass or permit with a credit card or cash. Parking spaces are on a first come basis.
Overnight parking and camping are NOT allowed on the beach. You can find comfortable lodgings nearby (some within walking distance) in St. Joseph, Benton Harbor and Stevensville.
Water safety tips. This Great Lake is an inland sea, respect its power.

KNOW BEFORE YOU GO IN THE WATER
Great Lakes Beach Hazards — get daily updateonal Weather Service about conditions on Lake Michigan. Enter the zip code 49085 in the local forecast box.
Life Saving Water Safety Resources — learn how to escape drowning and how to maneuver if you get caught in a rip current.
Look for the warning flags and do what they say.
RED FLAG: Stop. Stay on the beach. Do NOT enter the ws by the Natiater; do NOT swim.
YELLOW FLAG: Caution. Watch for dangerous currents and high waves.
GREEN FLAG: Go! Enter the water and have fun, but be aware of changing conditions.
Know how to swim and never swim alone.
Watch children closely at all times.
Protect your skin from sun exposure.
Stay Dry When the Waves Are High. Waves can generate dangerous currents.
Stay Clear of the South Pier — and other structures. To avoid strong currents or injuries from submerged objects, do not jump or dive off the pier or swim within 100 yards of these structures.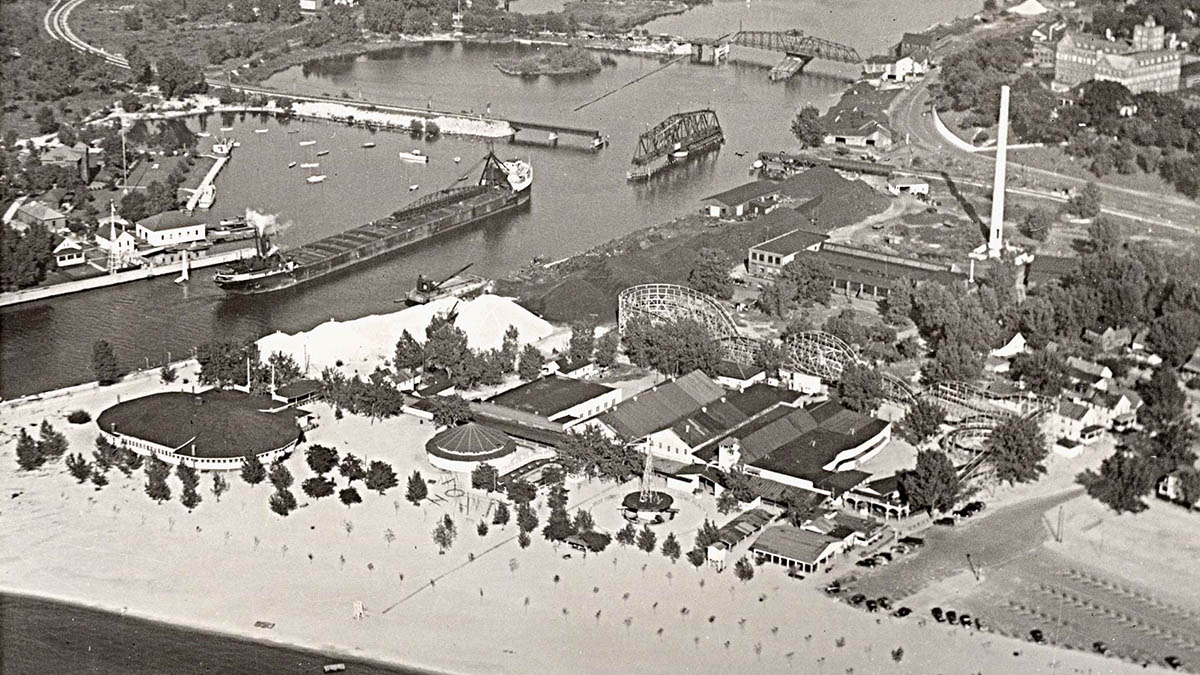 Once the site of Silver Beach Amusement Park in St. Joseph, Michigan
Silver Beach has been a popular place for families to gather long before European explorers first paddled their canoes along the southeastern coastline of Lake Michigan in the late-1600s. Native Americans would fish at the mouth of the St. Joseph River, watching the gorgeous sunsets with the same awe you will in spring, summer, fall and winter.
How did Silver Beach get its name?
It was not from the soft, golden sand that still sings as you walk across it, but from a romantic moonlit walk in the late 1800s. Maude Schlenker was on a date with her soon-to-be-husband, Logan Drake. As she looked out on the water, she said it "shimmered like silver."
Drake used those words to name the Silver Beach Amusement Park, which he and Louis Wallace built on the lakefront. Their park entertained millions of patrons over the decades that it was open, many of them arriving daily by ships and trains, and later by cars, from Chicago and Milwaukee. They splashed and swam in the Big Lake, screamed on the wooden roller coaster, soared on the carousel, and stayed for hours riding the bumper cars, playing arcade games, eating carnival food and dancing to Big Band music in the Shadowland Ballroom.
The last remnants of the amusement park were dismantled and carted away in the early 1980s. But this beautiful, 2,400 feet of Lake Michigan frontage, has never stopped bringing people to the water. Now operated by the Berrien County Parks, it welcomes visitors year-round, because every day is a beach day here.
Day trips to Silver Beach are fun; extended stays are even better
At home in the morning, you can easily check the weather at Silver Beach on an app or a weather site and decide whether you drive in for the day. But with all the other beaches and things to do indoors and outdoors in the spring, summer, fall and winter in Southwest Michigan, you will want to book your stay for several nights. You will be back again and again!.