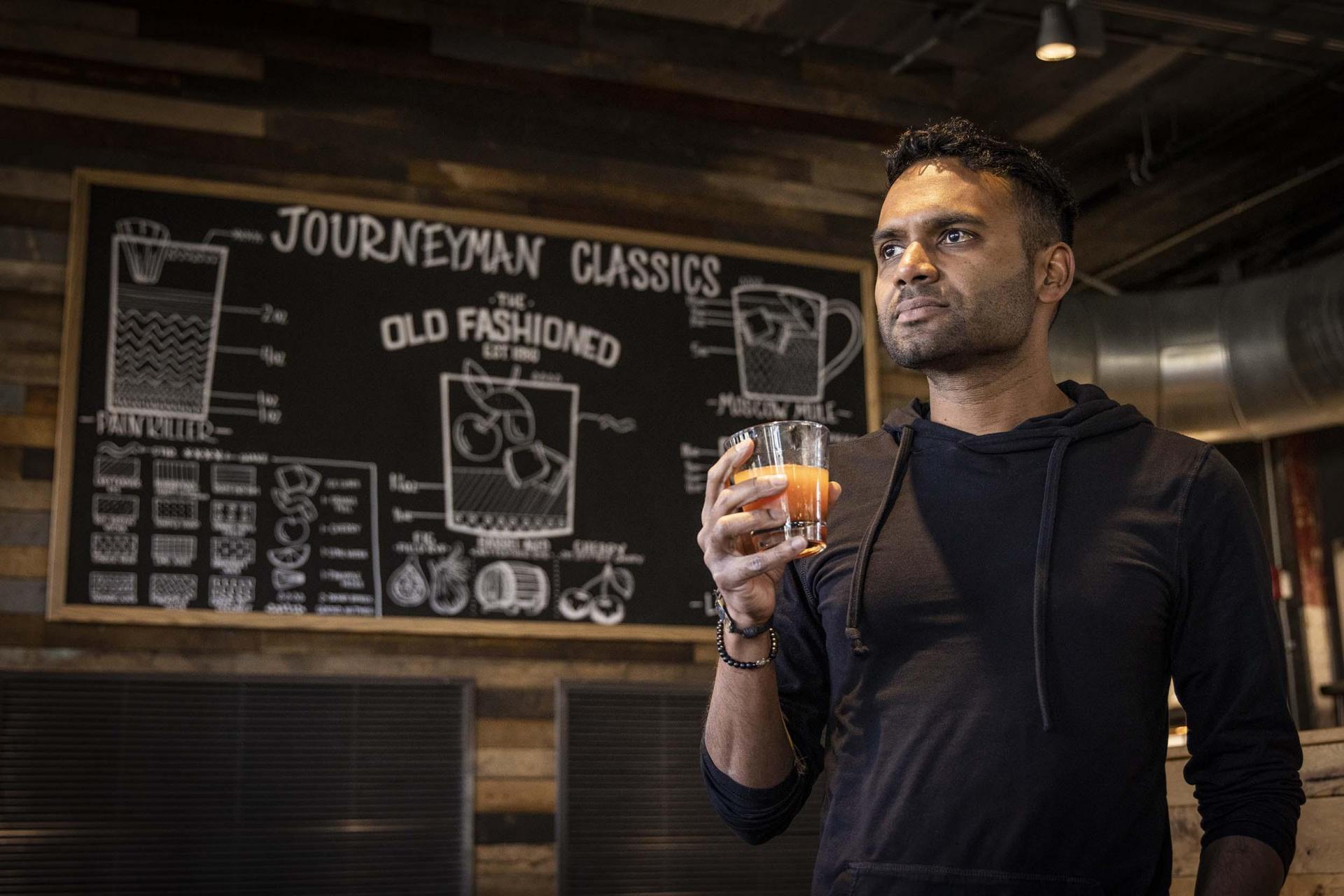 Try some of Michigan's finest craft whiskeys, spirits and cocktails in fun settings.
Make Journeyman Distillery in Three Oaks one of your first stops. It is one of a few organic distilleries in the U.S. (Its whiskeys are gluten-free and kosher, too.) Esquire named Journeyman's Kissing Cousins the "Best Whiskey In Michigan." Its tours include 12 tastings. When it's warm outside, plan to sip and play on Welter's Folly, one of the largest putting greens in the world!
Another destinations that ramp up craft spirit fun are Round Barn Winery & Estate in Baroda where you can enjoy their artisan spirits in a historic round barn or at outdoor tables and fire pits. A unique experience is hiking or snowshoeing Mt. Tabor Trails where you can carry to-go libations through the vineyards and woods between Round Barn and Tabor Hill Winery & Restaurant.
Or visit North Pier Brewing Company in Benton Harbor, which mixes some delicious craft cocktails and slushies. It's a popular stop on the Harbor Shores Nature & Fitness Trail or to take a break from paddling on the Paw Paw River and pull your kayak on shore for a refreshing drink.
There are delicious food choices at many of the distilleries, but locals say Niles's Iron Shoe Distillery serves the best burgers, best french fries, best vegetarian and best cocktails.

Visit distilleries with the Makers Trail Passport.
You can take your experiences up a notch by downloading the free Makers Trail app and adding the Makers Trail Passport to your phone. When you visit each participating distillery, show your passport and request a digital stamp code. The more stamps you collect between September and May, the more prizes you can earn. It doubles your fun as you find new craft spirits and cocktails to add to your bar or cabinet at home or to give as gifts.
Tour our distilleries using this map.
All of our distilleries are a short drive from each other. Plot out your trip following this map on the Makers Trail app. Or pick up a printed version at any of the participating distilleries.
The easiest way to visit our distilleries is to hire one of Southwest Michigan's tour services. These companies provide guides and take your group to favorite stops in their buses, limousines or shuttle vehicles, then return you safely to your hotel. They are perfect for bridal showers, bachelor and birthday parties, friend weekends, reunions and meetings.