Grand Mere State Park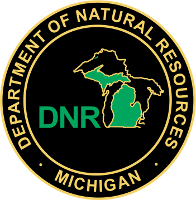 7337 Thornton Dr.
Stevensville, MI

Tel: 269-426-4013
Boasting sweeping sand dunes, deep blowouts and a mile of Lake Michigan shoreline, Grand Mere State Park is a terrific answer to whatever is calling you: a dip in the water, a scenic view, a hike through canopied woods — you name it. Located adjacent to I-94 in Stevensville, Michigan, this nature preservation area was designated as a National Natural Landmark in 1986. The park is protected from Lake Michigan by the dunes to the west. This means it has many natural features not found throughout the rest of Michigan.
During the last ice age, receding glaciers left behind five geologically ancient inland lakes, Only North Lake, Middle Lake and South Lake remain today as the others have dried up. However, they are slowly disappearing, too.
Today, visitors like to hike, swim, picnic, launch their boats and fish, cross-country ski in the winter and so much more across Grand Mere's nearly 985 acres. Sometimes, if you're lucky and have just the right weather conditions, you'll "see" Chicago, too!
The dunes at Grand Mere State Park
One of the hard-earned thrills is climbing up these steep, monstrous dunes, just to let gravity take over your sprint back down. And you repeat the fun again and again until it's time to leave. These dunes were formed about 10,000 years ago during the recession of glacial lakes. You won't find dunes like these anywhere else in the world, and the view from the top is unparalleled! Give sandboarding down them a try for something extra fun, and bring your sleds back to the top come winter.
Recreation at Grand Mere State Park
All visitors must have a Recreation Passport for Michigan state parks to enter Grand Mere and park at the trailheads. Purchase yours today!
Hiking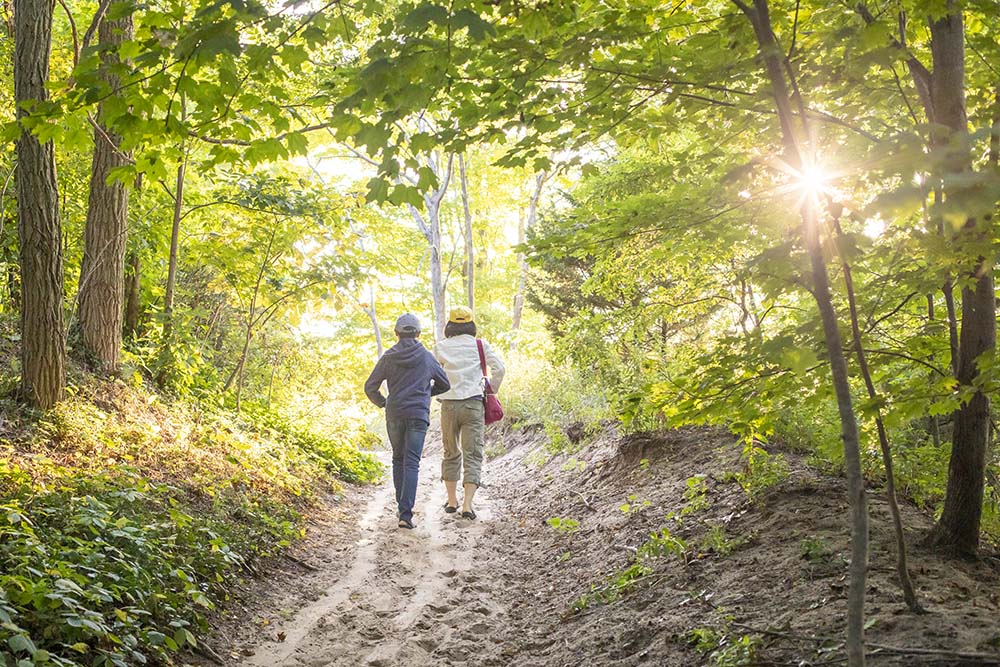 There is about a four-mile trail loop through the dunes and wooded areas of Grand Mere State Park, but only a half-mile of it is a designated Nature Trail. This part is paved and wheelchair accessible though! It starts by the picnic shelter near the parking lot and passes around South Lake. There is a part where it splits off to the Grand Mere Dune Trail which is about half-a-mile long. Remaining trails aren't maintained or posted, but are at a moderate hiking level. One of these trails is about a mile long from the Wishart Road parking to the west end of the Nature Trail.
For a more strenuous hike, take the Baldtop Loop around Grand Mere's tallest dune. This is a scenic view with access to a beach along Lake Michigan. The perfect reward for your hard work!
Fishing
You are welcome to fish the three inland lakes as long as you have a fishing license. Visitors usually catch largemouth bass, bluegill and other panfish.
Bring your pets!
You're four-legged friends are absolutely invited to join the fun at Grand Mere State Park! Take them to the beach and let them paddle around in the water with you. Just make sure to have them on a leash, please! And be aware there is a half-mile to ¾ -mile walk over the dune to the beach. Bring supplies to clean up after your pals and water to keep them hydrated.
Stay the night
Unfortunately, there is no camping onsite at Grand Mere State park. However, you can find other campgrounds in Southwest Michigan. For those wanting to carry the simple joys of life into the next day, book a stay in one of our local hotels and extend your fun! There are more trails and activities awaiting you tomorrow.