Best places to kayak in Southwest Michigan this fall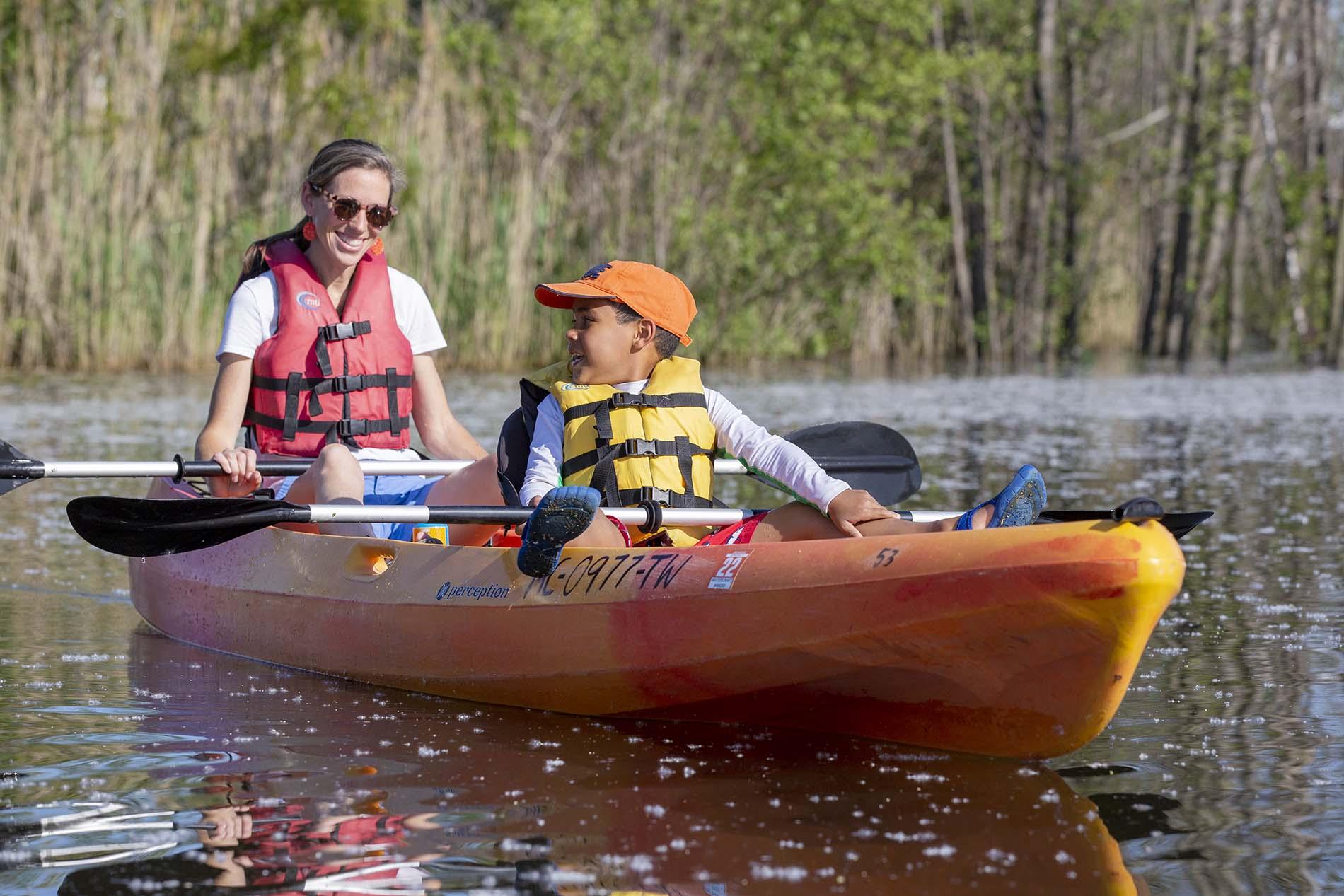 When we think of summer in Southwest Michigan, often there is an image of boats on the water. For many of us, we leave our kayak racks on the car roof — just in case there's time to squeeze in a few hours of paddling. Locals and tourists alike often plan a morning or afternoon to cruise down the river with a rental, too.
When the warm weather fades and there is a chillier breeze on the water, down comes the car rack. Away the paddles go until next season. But did you know the rentals are available after summer is over? Fall is arguably the prime time to kayak and catch views from our water trails that you wouldn't see any other time of year! With that being said, here's where to paddle this fall.
Where to kayak this fall
Christiana Creek, Edwardsburg
Launch from: Juno Lake Access at Edwardsburg Creek on the south end of the lake
Finish: Redfield Access south of Edwardsburg
Miles/ time: 2 hours, 5 miles
Notes: This easy paddling route offers scenic views of nature. You can also launch in Juno Lake and paddle around three lakes.
Dowagiac River, Dowagiac
Launch from: Wetlands at head of river off of Dowagiac Dutch Settlement Road
Finish: At the same location as launching
Miles/ time: 1.5 hours
Galien River Marsh Water Trail, New Buffalo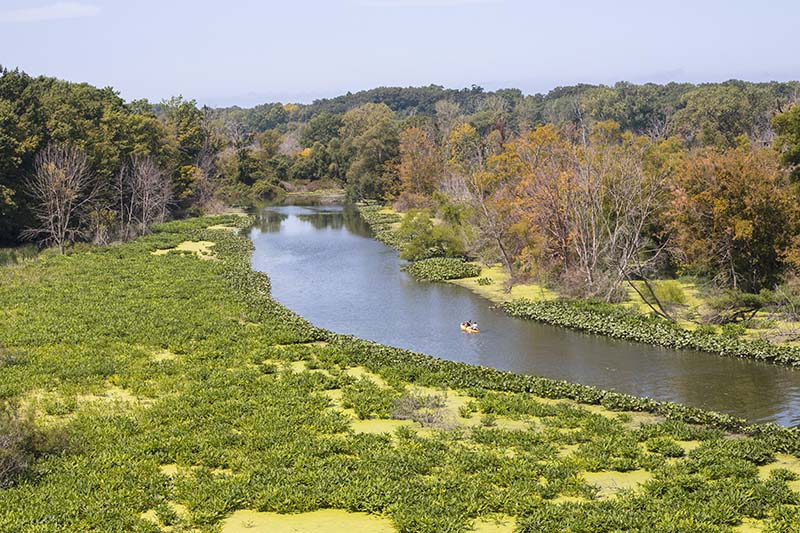 Launch from: Galien River Access off of Red Arrow Highway, east of New Buffalo
Finish: At the same location as launching
Miles/ time: 2.5 to 4 hours
Notes: This peaceful, easy route takes you through the Galien River, wetlands and onto Lake Michigan. Your time will vary depending on how long you spend in each spot and how far you go. Afterward, be sure to take a brief hike through the upper and lower boardwalks on the marshlands for a beautiful fall color view! Once you're done outside, stop by Ghost Isle Brewery for a spooky good time.
Paw Paw River, Benton Harbor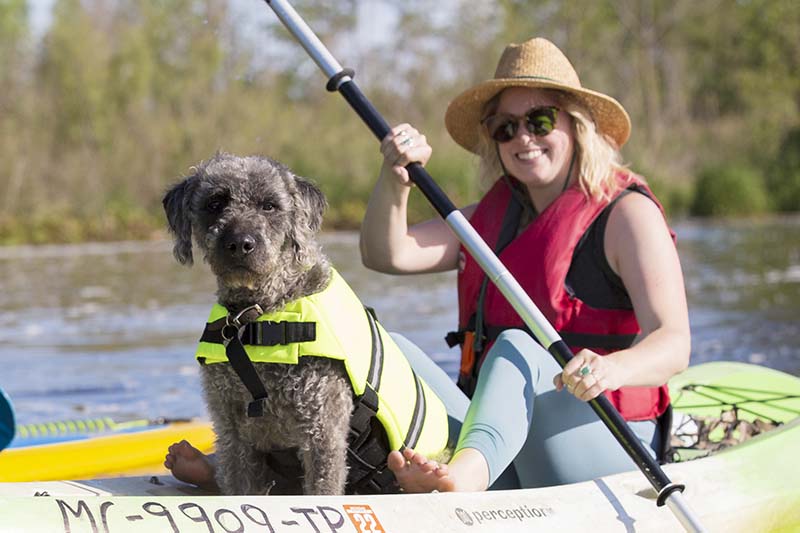 Launch from: Riverside Kayak Park on Coloma Road
Finish: Graham Avenue boat launch in Benton Harbor
Miles/ time: 4 to 5 hours
Notes: This launch is wheelchair accessible so everyone can come kayaking! With a unique bench mechanism that leads to a rolling launch, this makes launches easier on everyone. You'll be paddling with the current of the Paw Paw River along bends of beautiful fall foliage. There may be a few obstacles down within the water, mostly fallen and extended branches and logs, but don't let that scare you.
St. Joseph River, Berrien Springs/ St. Joseph
Launch from: Jasper Dairy Road launch north of Berrien Springs
Finish: Riverside Park in St. Joseph
Miles/ time: 3 hours
Notes: This scenic route along the St. Joseph River is filled with trees on either side of the river. Beginners should have no issues on this easier route, and if you're really feeling it, you can continue a few more miles until the St. Joseph River connects to the Paw Paw River in Benton Harbor.
Lake Michigan, St. Joseph/ Benton Harbor
Launch from: You can launch from any of the beaches along the Lake Michigan shoreline, including Tiscornia Beach, Jean Klock Park, Lions Park Beach and Silver Beach.
Finish: Paddle along the shoreline and come up where you'd like.
Miles/ time: However long/far you'd like
Notes: Be sure to go on a day where the water is still, and avoid big waves. You should see plenty of color along the bluff and on the dunes! Check the wave height before you head out using this buoy cam.
Kayak rentals
If you plan to rent a kayak, Third Coast Surf Shop has a rental location at the Graham Avenue boat launch in Benton Harbor. You'll be paddling through the beautiful Harbor Shores Golf Course among fall foliage. While you will be paddling against the current, it isn't a strong one, making this activity easy for first timers. Make lunch plans! You can get out by North Pier Brewing Company along the way for a drink and some delicious poutine. If you come early enough in the morning, you'll catch several critters on your paddling journey. When you're down, simply turn around and head back to the launch. Find hours and rental prices here.
Plan your Southwest Michigan kayaking trip
Several of these locations have other boat launches and stopping points along the way. Find those and other tips, like which paddling routes are fast, easy and which have obstacles using our water trail guide.
Paddling isn't only good for the unique views, but it's a treat for the soul, too. We are never worse off for getting some fresh air by being outside. Mixing up your exercise routine is fun every now and then, too. Not to mention, it's a perfect way to get some time with friends while doing a leisurely activity. Why should all of that be reserved for the summer only? Put that car rack back on or schedule a rental, and paddle our trails under a curtain of leaves today.