For the best pizza in Southwest Michigan — order here!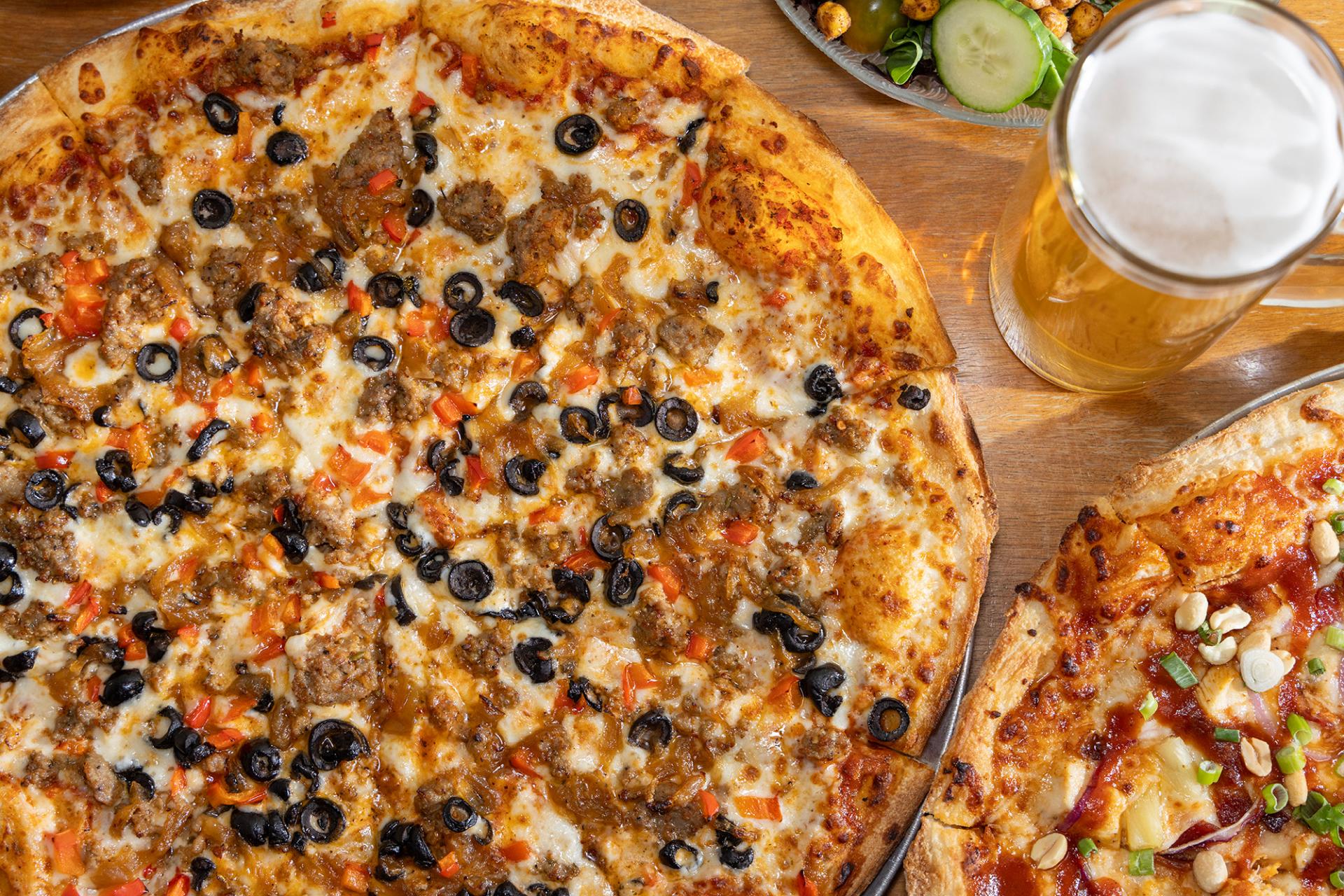 Craving a piping hot, cheesy Italian pie? Thin crust, thick crust, stuffed crust, wood fired, Detroit style, Chicago style, white sauce, red sauce, covered in fresh vegetables, loaded with meats, traditional pepperoni or a unique blend of toppings await your order. Come dine in, take out or have your favorite pizzas delivered from these top 14 local pizzerias throughout Southwest Michigan.
DiMaggio's
269-849-1521 | Open daily | Dine in and take out | Cash or check only
Along Lake Michigan, just nine miles north of St. Joseph/Benton Harbor, DiMaggio's is a destination pizzeria. People from multiple states and Michigan communities pack this place to the gills. Over 60 years later, the family still makes Tony's Italian recipes that he first perfected on the north side of Chicago. Choose from regular, thin and thick crusts and a wide assortment of toppings. If you can't decide, go for their sausage, mushroom and green pepper.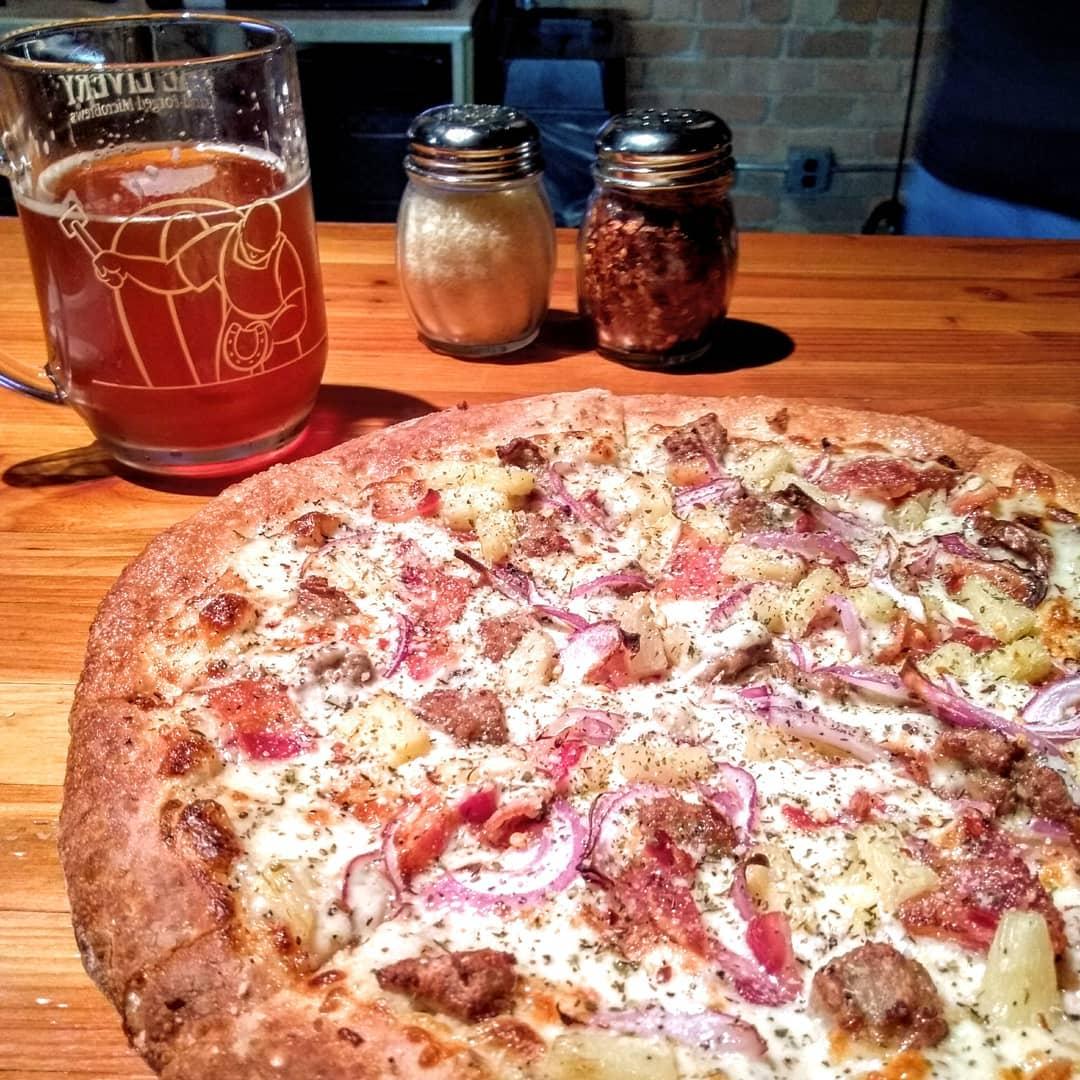 The Livery
269-925-8760 | Closed Monday | Dine in and take out
With every bite of these hand-tossed, spent-grain pizzas, you will savor the freshness of The Livery's locally sourced ingredients. Housed in an over-100-year-old building, it's the place to go for 16 taps of "hand-forged" microbrews, live music and seasonal outdoor seating in the Benton Harbor Arts District. Locals argue over what pizza is the best, but you won't be disappointed with the Supreme, or, for a unique ingredient combination, the Tout that Sprout topped with bacon-fat-roasted Brussels sprouts. The staff says people will drive over an hour for Mikey's Bad Trip made with a cream sauce, mixed mushrooms, mixed herbs, truffle salt, black pepper and a cheese blend. Try it, and you'll be back.
Joey C's Pizzeria
269-925-1188 | Closed Monday | Take out and delivery
Joey C's fresh, locally sourced ingredients and authentic Italian recipes make your taste buds sing. Build your pizza with your favorite ingredients. Or see why the Numero Uno took the top pizza in North America honors. It's a combination of sautéed onions, red and green peppers, mushrooms, garlic and sausage. Be sure to add cannolis to your order!
Barnstormers Pizza & More
269-281-0022 | Closed Mondays | Dine in, take out and delivery
Barnstormers' pizzas are bold and daring just like the thrilling pilots of yesteryear. Everything is fresh from the house-made, cold-fermented dough to the flavorful Wisconsin cheese. Gluten-free, vegan options and a pizza of the month are available on your flight path to deliciousness. Choose from one of the area's biggest specialty pizza selections, or make up your own with your favorite ingredients.
A unique pick is the Pancho named after Florence Lowe "Pancho" Barnes, one of the great women stunt pilots. It's amazing when you top the rich-tasting, light and chewy crust with creamy queso, sweet corn, diced red pepper and Barnstormers' smokey four-cheese blend. After it flies through the oven, it lands long enough to add a sprinkle of cotija cheese, a coating of jalapeno chips and a dash of chili powder. The lime wedge is a finishing touch before the Pancho takes off for your table, picnic or home.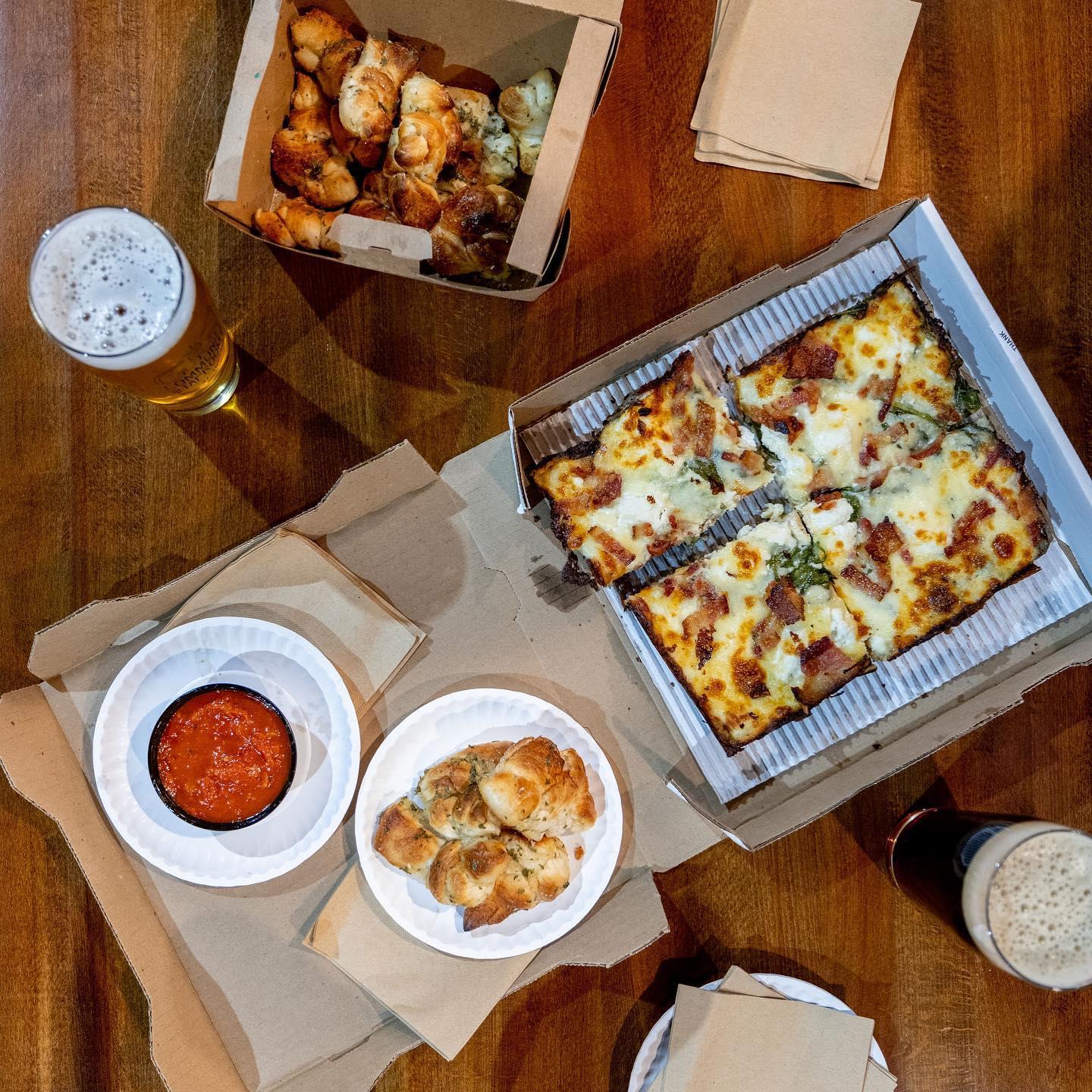 Nardo's Pizza
269-983-7248 | Open daily | Dine in and take out
One of the newest pizzerias in downtown St. Joseph is a five-star phenom. Nardo's draws its fan base from those that think pizzas ought to be hand-tossed and round and those that insist on red-top, Detroit-style squares. You can't go wrong with any pizza choice topped with their Old World pepperoni. But if you like trying new combinations, go for the Bee Thousand made with chorizo, ricotta cheese, cheese blend, caramelized onions, parmesan cheese and sweet local honey. Vegetable lovers devour the A2 with its ​​cucumber dill sauce cheese blend, spinach, artichokes, roasted tomatoes, feta cheese and kalamata olives. The only thing that lures the pinball wizards from Nardo's arcade room is the steaming pies arriving at their tables.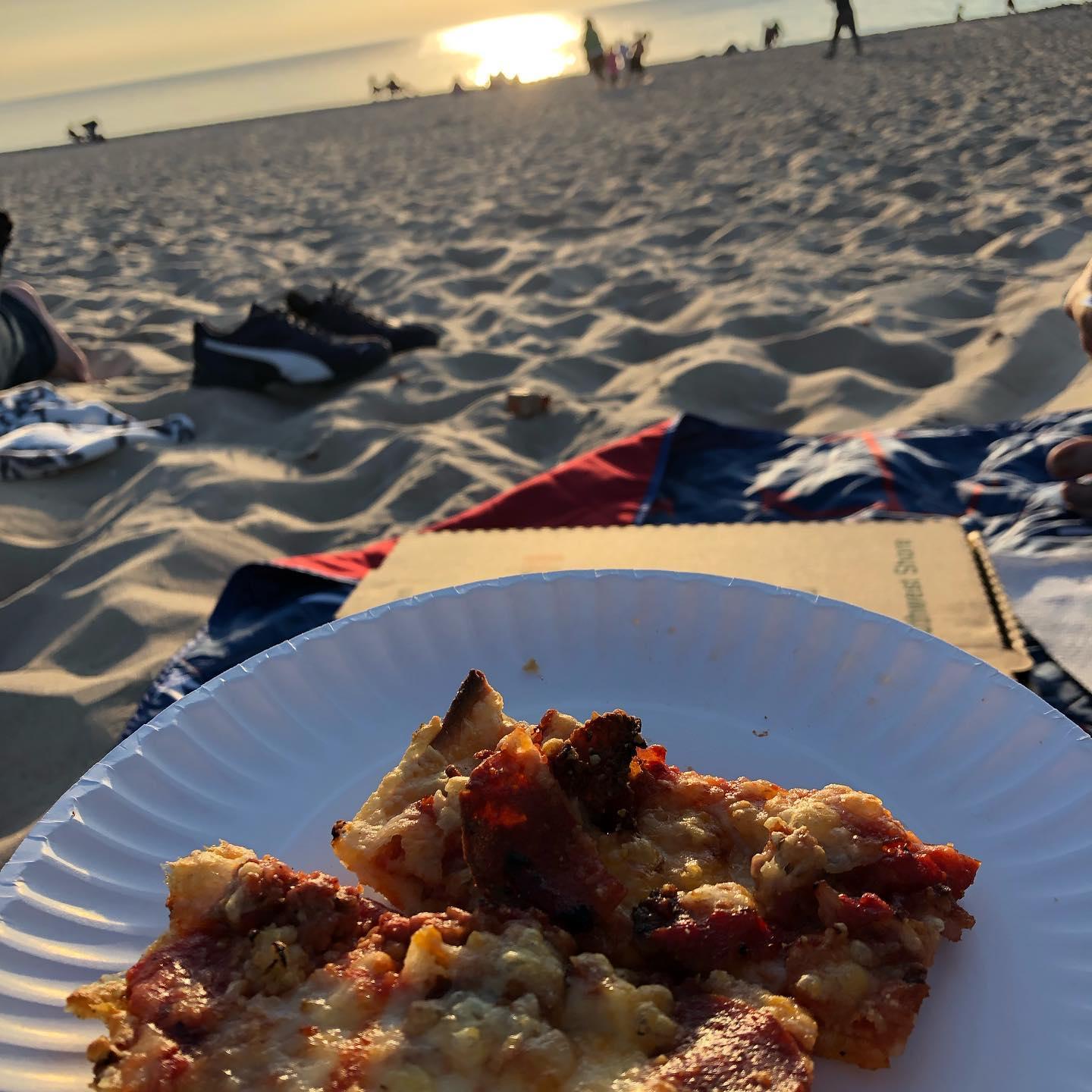 Silver Beach Pizza
269-983-4743 | Open daily | Dine in with a Lake Michigan view, take out and take and bake
Once you try Silver Beach Pizza, you'll know why it tops the charts for Michigan-made pizzas and is named the best in Michigan's Southwest. They make their pizza dough fresh daily and offer gluten-free and cheese-free options. The pizza is delicious, but so are the Schooners of ice-cold beer. With a nearly full menu page of specialty pizza choices, it's tough to decide, but the Carousel is a local favorite and, for a unique flavor blend, go with The Boom — a breaded shrimp and boom-boom sauce taste bud treat.
It's impossible to beat the SBP's proximity to Silver Beach County Park (yes, you can see Lake Michigan). The Silver Beach Carousel, Curious Kids' Discovery Zone, Whirlpool Compass Fountain splash pad, Amtrak station (it's connected to the restaurant), St. Joseph River and downtown St. Joseph are all only a few steps away!
Haymarket Taproom
269-266-5050 | Open daily | Dine in and take out
Haymarket is a Chicago top pick for German-style beer and pizza and this taproom mirrors its legacy. Walk into this former Michigan State Police building and you'll be greeted by the mouthwatering aroma of pizza baking in a wood-fired oven. You can't go wrong with your pizza choices, but locals encourage you to try the Elote. It includes whipped ricotta, cilantro, roasted corn, cotija cheese, mozzarella and umami mayo. There are 16 delicious beers on tap plus other menu selections, too. Leashed dogs are welcome on the patio where you can catch live music in the summer. Another plus — you're within walking distance of Lake Michigan's Weko Beach.
Emma Hearth & Market
269-266-7250 | Wednesday through Sunday | Dine in or take out
Love Italian? Wait until you try Emma Hearth & Market's wood-fired pizzas inspired by Nonna Emma and her southern Italian roots. Just like Nonna would, this café serves up the healthiest, nutrient-dense and best-tasting Italian food possible. It grows its own organic San Marzano tomatoes and Calabrian peppers at its Live Station Farm in Coloma. If you can't decide what to order, give the Caprese pizza a try. It is made with housemade pesto, fresh ovalini mozzarella, tomato confit and topped with parmigiano reggiano. Like all of their pizzas, the recipe includes organic extra virgin olive oil, garlic and freshly ground Mediterranean sea salt. Complete your meal with Italian wine and a dish of Michigan-made, but oh-so-Italian, gelato.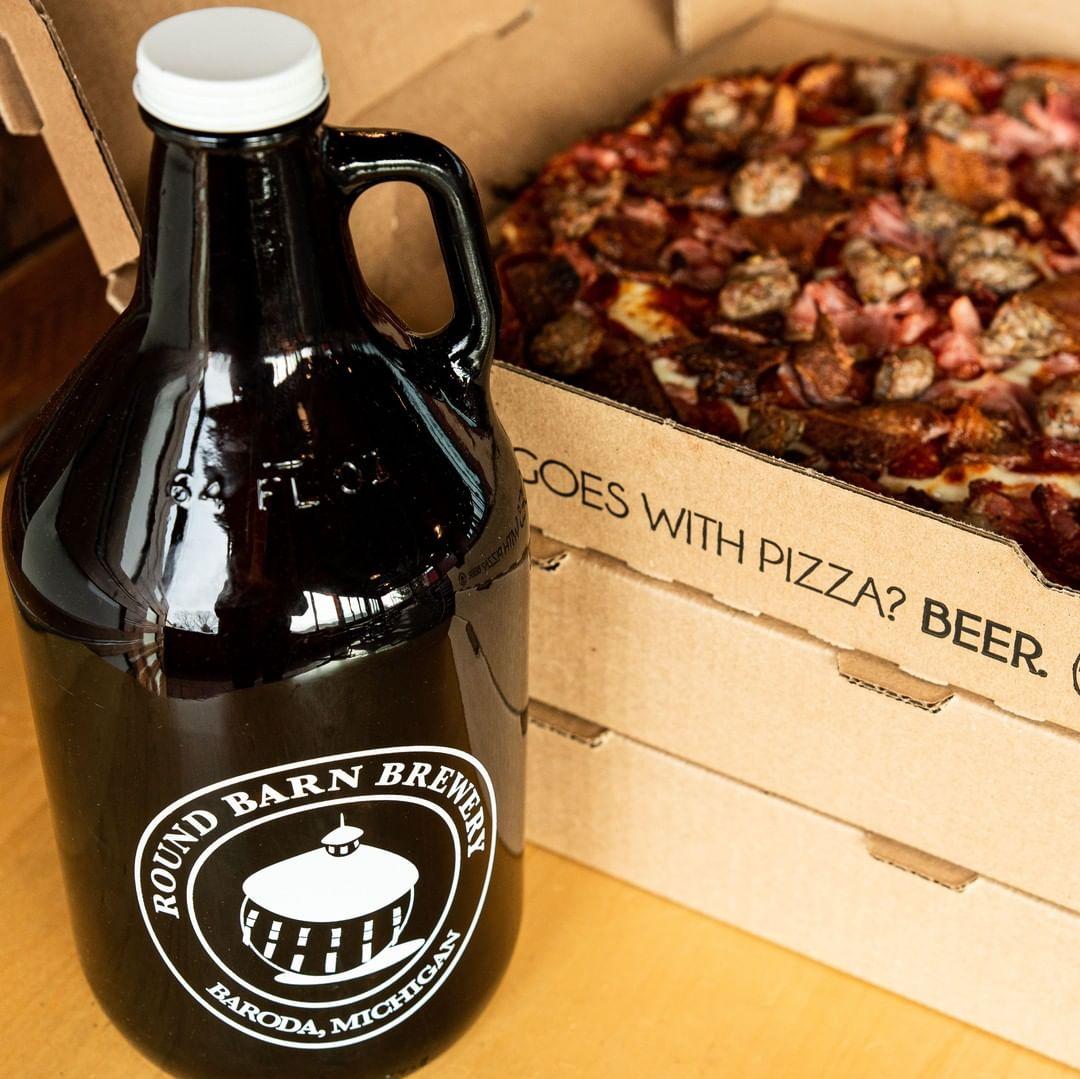 Round Barn Brewery & Public House
269-326-7059 | Wednesday through Sunday | Dine in and take out
The Round Barn Brewery & Public House puts downtown Baroda on the map. If you're not a crisp crust fan, you will definitely like the soft, chewy texture of their beer crust. If you like to "create your own" pizza, be sure to add their flavorful pepperoni. Try their comfort food Mac Attack specialty pizza topped with macaroni and cheese, house cheese and beer cheese, or spice up your day with their Hot Honey and Goat Cheese pizza — a mouth-popping blend of sausage, goat cheese, hot honey, house cheese, jalapeños and red sauce topped with arugula. Their bar selection of Round Barn craft beer, wine and spirits pairs up nicely with whatever pizza you choose.
Villa Nova Pizzeria
269-469-0200 | Open daily | Dine in, take out and delivery
Discover at Villa Nova Pizzeria how over a half-century of perfecting putting only the freshest ingredients on a delectable thin crust creates some of the best pizzas in Southwest Michigan. Build your own or try one of their specialty pizzas. If you like chicken — order their BBQ Chicken, Bacon Chicken Ranch or Buffalo Chicken pizzas. Then lean back and finish with three mini-cannoli or tiramisu.
Pizza Transit
269-684-6600 | Closed Tuesdays, Thanksgiving and Christmas | Dine in, take out and delivery
When you try Pizza Transit's family dough and sauce recipes topped with the freshest ingredients, you will know why it's been awarded the best pizza in Niles. If you eat gluten-free or vegan foods, this is your pizza place! For the best value, order the Ultimate Pizza — nine ingredients for the price of four: onions, green peppers, fresh mushrooms, pepperoni, Italian sausage, ham, ground beef, extra cheese and your choice of green or black olives. Stop in to try their pizza of the month. Or be adventurous and go for the Pickle Pizza — a garlic butter base with mozzarella cheese, homemade dill pickle slices and a sprinkle of dill on top.
Indian Lake Pub
269-782-3151 | Open daily | Dine in or take out
This favorite Dowagiac hangout knows how to win its fan base with pizza. Build your own, or try one of their creations such as the Taco or Hawaiian Pizza.
Country Market Pork Store & More
269-251-2639 | Tuesday-Saturday | Dine in, take out & by the slice
When you first walk into the yellow building with the pink pig on the side, you will see a case of fresh meats, including a variety of made-in-house bratwurst. Just around the corner is the order window where you can satiate your hunger with some of Southwest Michigan's best Chicago-style pizza and Italian beef sandwiches. Choose between deep dish and thin crust, topped with a housemade sauce and a four-blend of cheeses that bubble and stretch deliciously under your choice of two toppings. Even the seating area has a Chicago vibe with its couple of tables and bar seating facing a bank of windows. A fun discovery when in this wine-country town.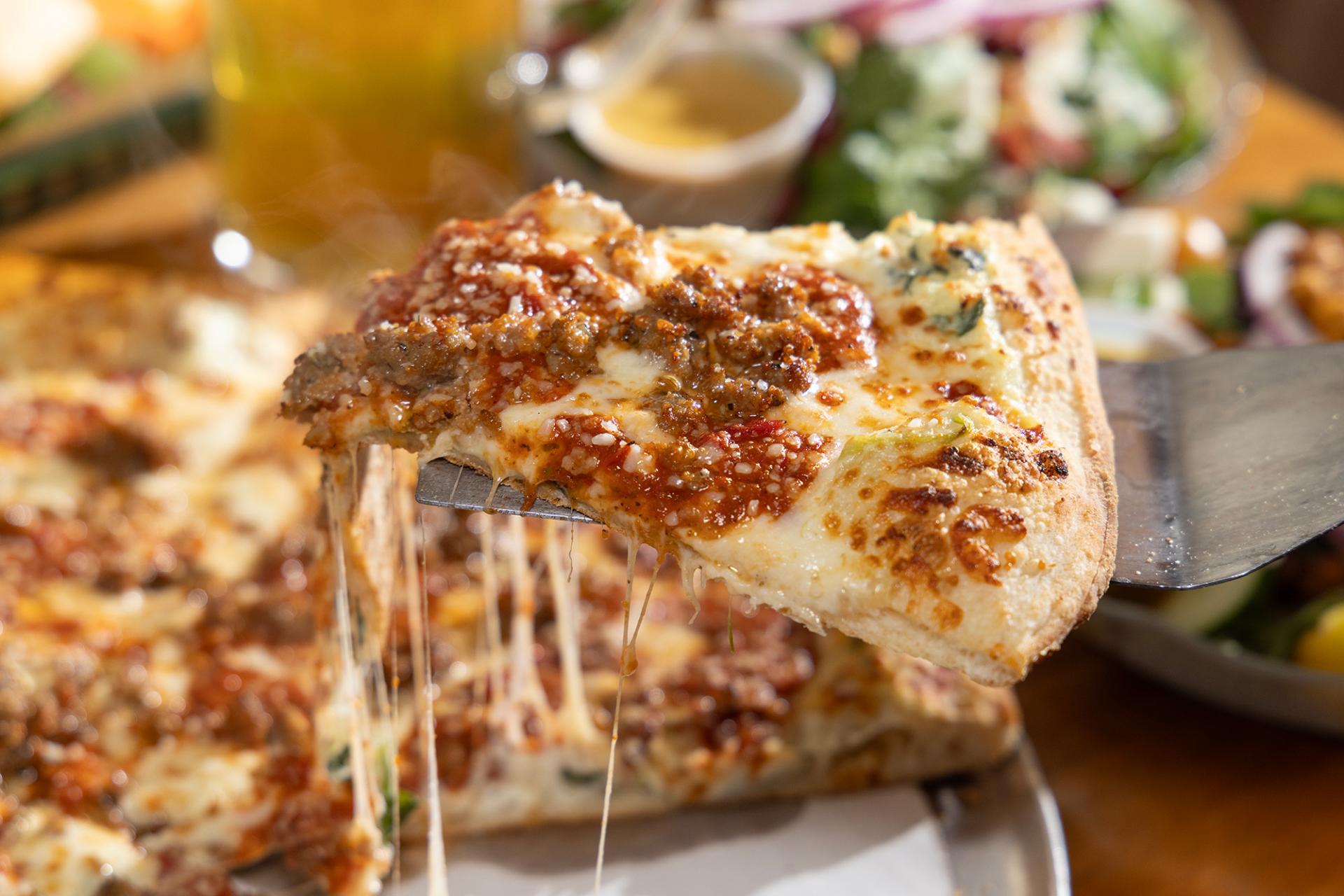 Where do YOU go for the best pizza in Southwest Michigan?
Do you have a favorite pizza in Southwest Michigan? Send us the name of the pizza destination with a description of your favorite pizza and we'll add your suggestion to this blog.