Collecting beach glass in Southwest Michigan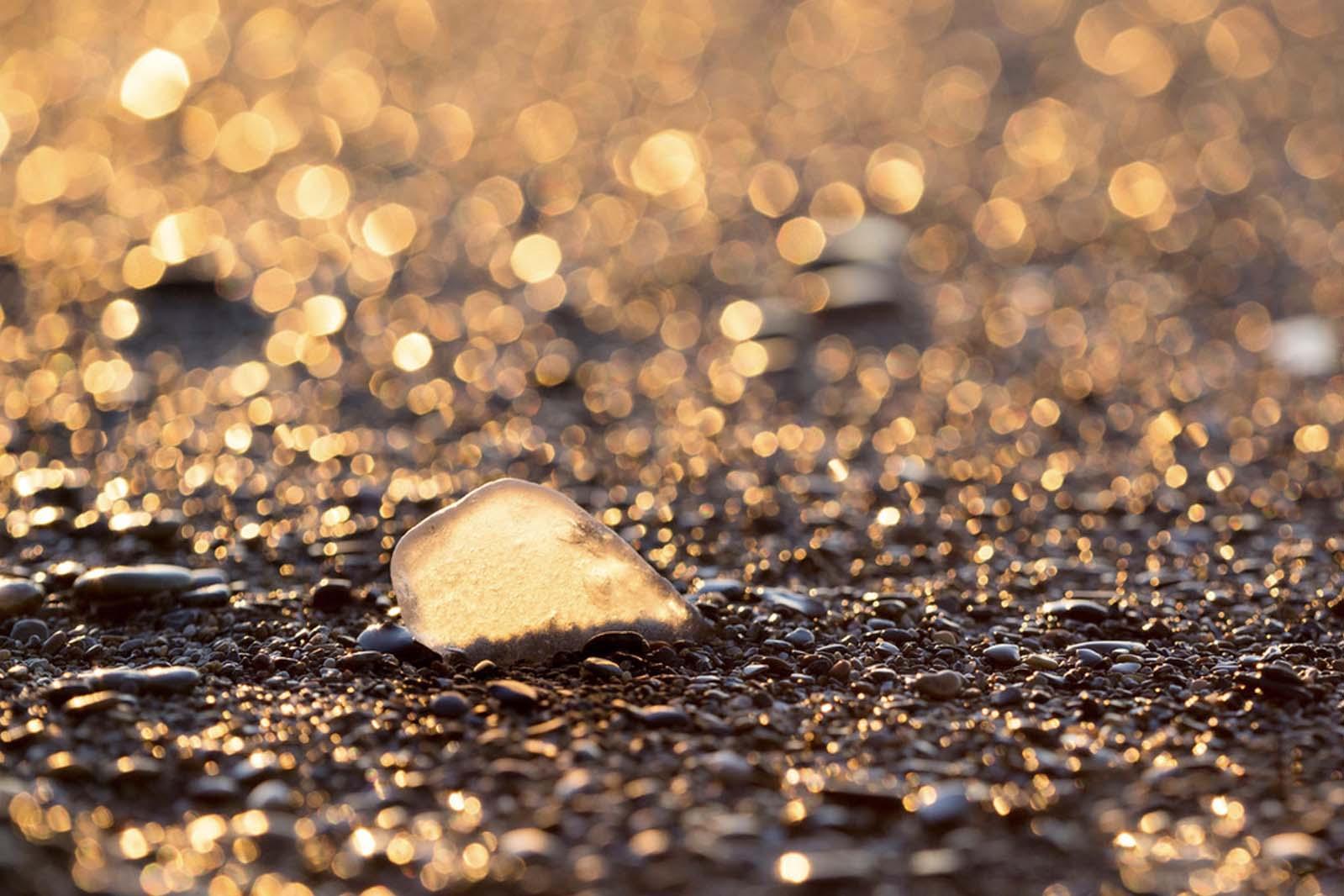 Like collecting stones, fossils and driftwood, searching Lake Michigan's shoreline for beach glass is a relaxing hobby that beachgoers of any age can enjoy. Over the years, you may pick up the occasional piece of beach glass, bring it home and put it in your 'junk' drawer. But as the pile builds up, you'll start to notice the variety of shapes and colors in that small collection. If you pay close attention to our beach towns, you'll also begin to notice how beach glass has been incorporated in the decor, jewelry and art. It really is a treasure offering endless creative opportunity. Want to go find some? Here is everything you need to know about collecting beach glass in Southwest Michigan.
What is beach glass made from?
Beach glass is broken shards of glass that have been smoothed as the result of years of tumbling and rubbing against rocks and sand in freshwater. It is very similar to sea glass, which is created in salt water. Years ago, and to a lesser extent now, glass bottles, jars, glass construction material and the like were discarded into Lake Michigan and its adjoining waterways. After many years of tumbling around in the giant rock tumbler that is Lake Michigan, the once sharp pieces are ground down, rounded and take on a softer, frosted look.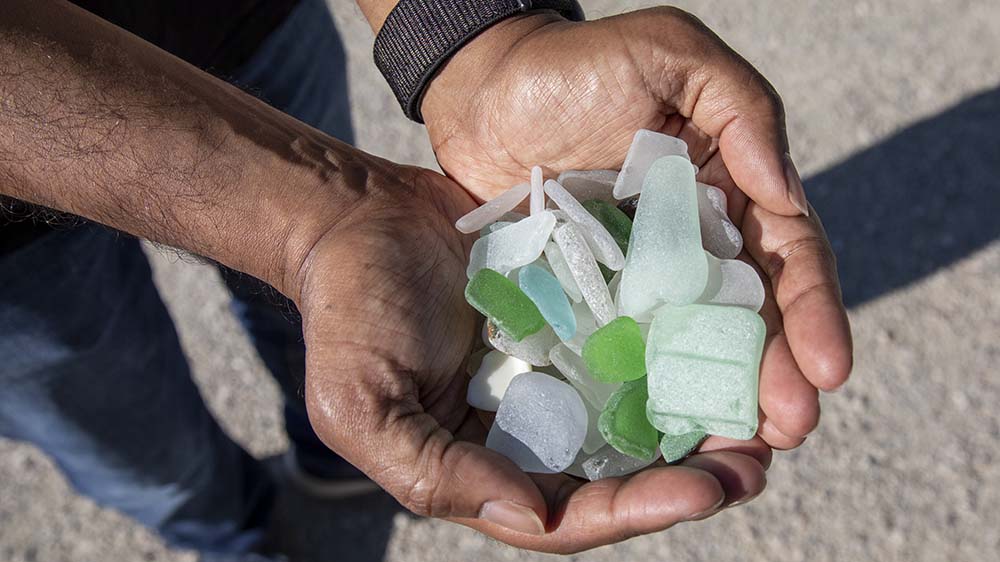 What color is beach glass?
The most common colors to find are various shades of white, brown and light blue. Less commonly, there is also green, dark blue, purple and, very rarely, red or orange. In Southwest Michigan, much of it started as bottles and jars. Although you can't always picture what the shaped piece once was, you can sometimes find clues on it like logos or letters.
Best time to find beach glass on Lake Michigan?
We suggest beach glass hunting in the spring and fall because the shoreline frequently and dramatically gets reshaped by the waves during storms. That being said, you can usually find beach glass throughout the entire year in Southwest Michigan.
The best time of day to search is either morning or evening. When you're facing away from the sun, its light highlights the glass and, at times, almost seems to make it glow or sparkle among the duller colored stones.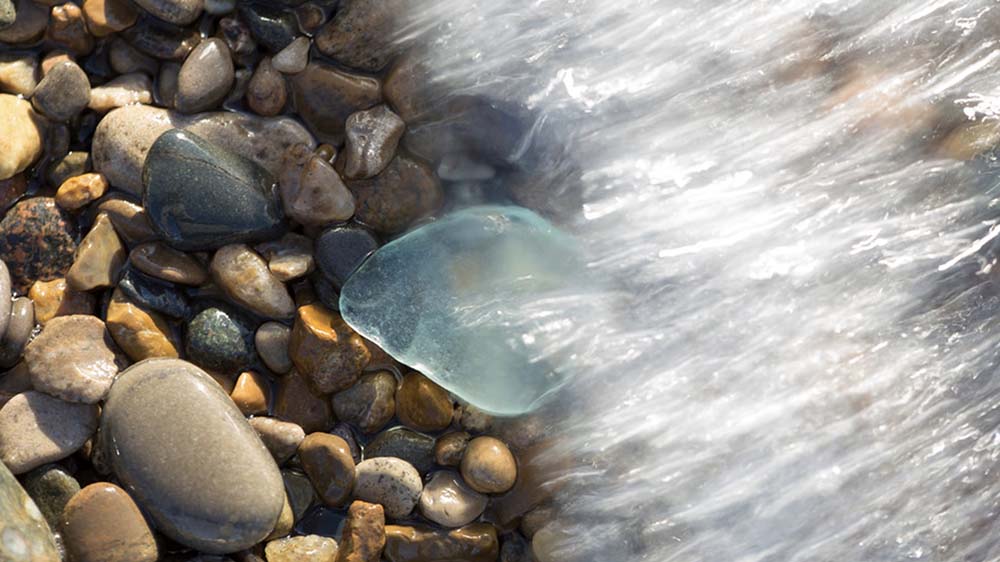 Where can I find beach glass in Southwest Michigan?
Popular beaches are generally not good places to look because there are more people who may be looking. Additionally, these beaches are frequently groomed, thereby removing most of the glass.
The best places to search are beaches near areas that have been populated for a long time since there is a greater chance that glass has been disposed of in the area. I like to look for areas of the beach where small stones are washing up on shore, especially after a storm. The beach glass is often intermixed with the stones, and you will have to train your eyes to discern the glass. These areas of stone often shift and change location depending on the direction and intensity of waves. A wonderful spot one day can totally disappear the next. White glass is usually the easiest to see as it contrasts well with the generally dark colored stone in Southwest Michigan. A color like brown may prove difficult to spot, but it isn't impossible!
Many collectors will leave or throw back glass that is not yet fully smoothed and will dispose of any that pose a safety hazard to walking on the beach, too.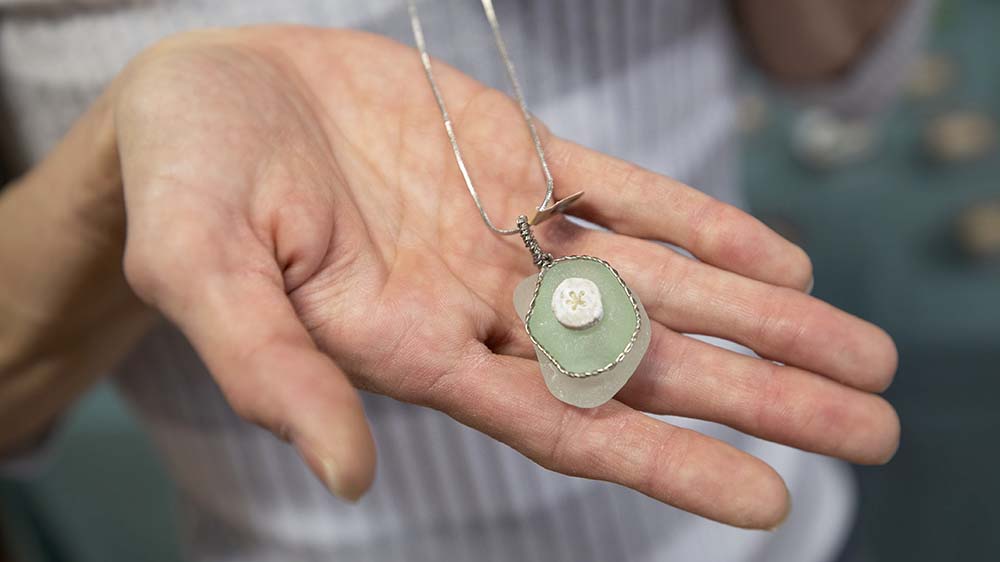 What to do with beach glass?
There are many possibilities for your newfound treasure! You can fill decorative jars and bowls with the colorful glass to use as a home accent, make jewelry (such as rings, earrings and pendants), create mosaics, glue magnets to them and stick them to your fridge or take photos of them. We would love to see what you do with your local findings. Tag us @swmichigan so we can share your creations and encourage others to go on the hunt.
Things to keep in mind
When out looking for beach glass, take your time and enjoy the walk. It is a wonderful way to relax after a busy week. If you think of it, grab a garbage bag of sorts to pick up any sharp glass or trash you see along the shore. Always leave the beach better than when you found it.
While looking for glass, it is also common to find crinoids and fragments of ceramic tiles, cups, plates and more. On occasion, we even find small Petoskey stones, geodes and coins. If you're interested in rockhounding, we suggest you read our blog to know what to look for. Double the finds and treasures in your collection. Best of luck on the hunt!