Visit St. Joseph's frozen lighthouses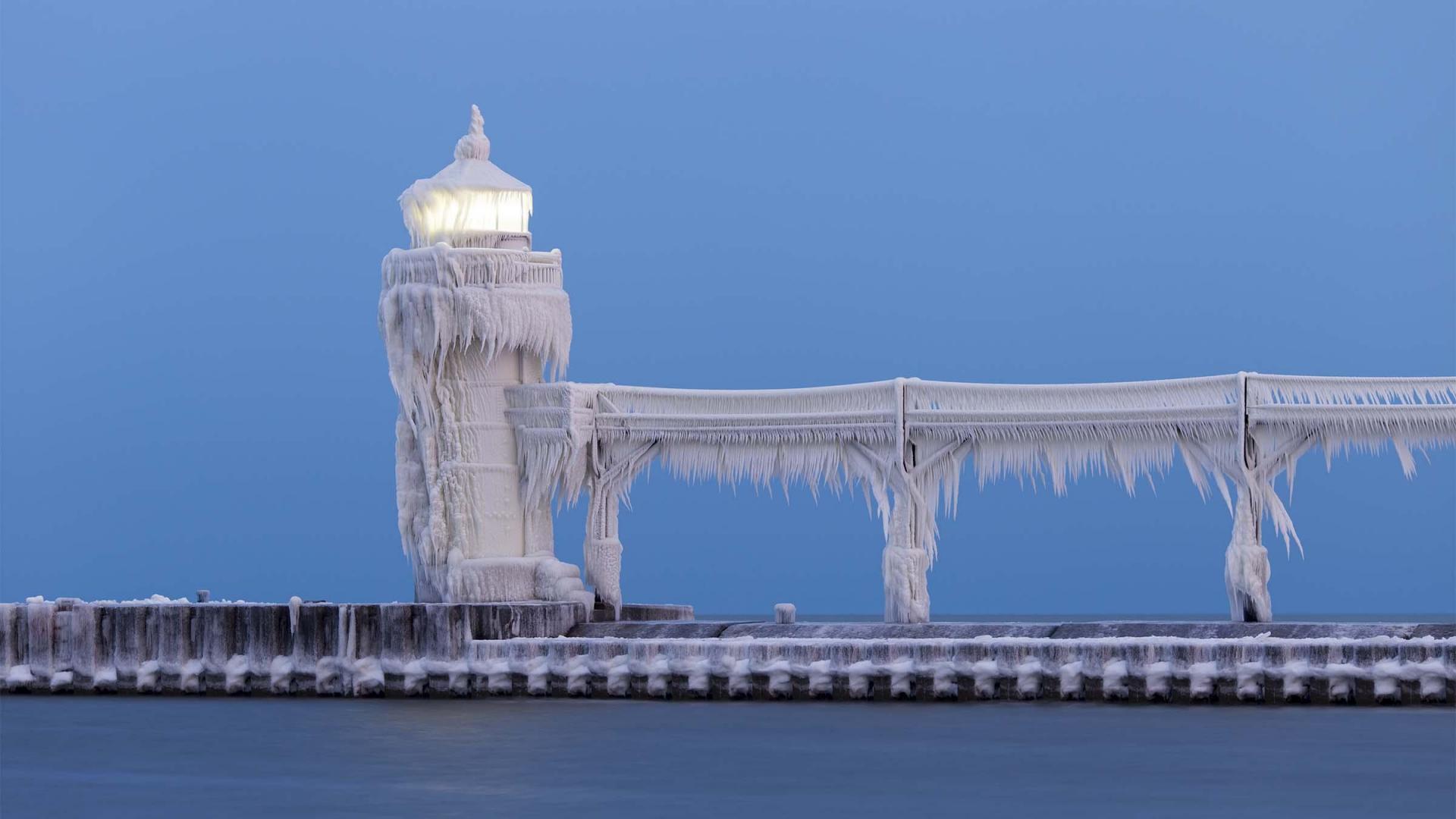 Stunning. Majestic. Jaw-dropping. Beautiful. Magical. These are some words you will say as you gasp at the sight of the St. Joseph North and South Pier lighthouses and catwalk encased in ice on Lake Michigan. While Nature's amazing sculptures are temporary, seeing them in person even once will leave an impression that will last for decades.
When can you see frozen lighthouses | Current ice conditions | Life-saving precautions | Photo tips | Be wowed by more ice formations and sand hoodoos | Plan your trip
When can you see the lighthouses frozen?
Frozen lighthouses are not an every-winter occurrence. The weather and lake conditions must be just right. Most often, the conditions line up between late November through January.
First, the temperature needs to be (and remain) well below 32 degrees Fahrenheit. The colder the temperature, the better. Second, the water surrounding the lighthouse must be unfrozen for the wind to kick up the waves and drench the towering beacons and catwalks. Third, the wind must be very strong and come from the southwest, west or northwest for the most dramatic impact.
In the right conditions, waves can reach 20 feet or higher. Splashes and spray from the waves breaking against the lighthouses or catwalk can reach an amazing 70 feet! Within a few hours, several feet of ice accumulations encase the structures.
Check Silver Beach webcam for current ice conditions.
When planning your visit, check the long-term weather and wind forecast for ideal wind speeds and temperatures. As your trip date draws closer, look at the live Silver Beach Park webcam for today's ice conditions.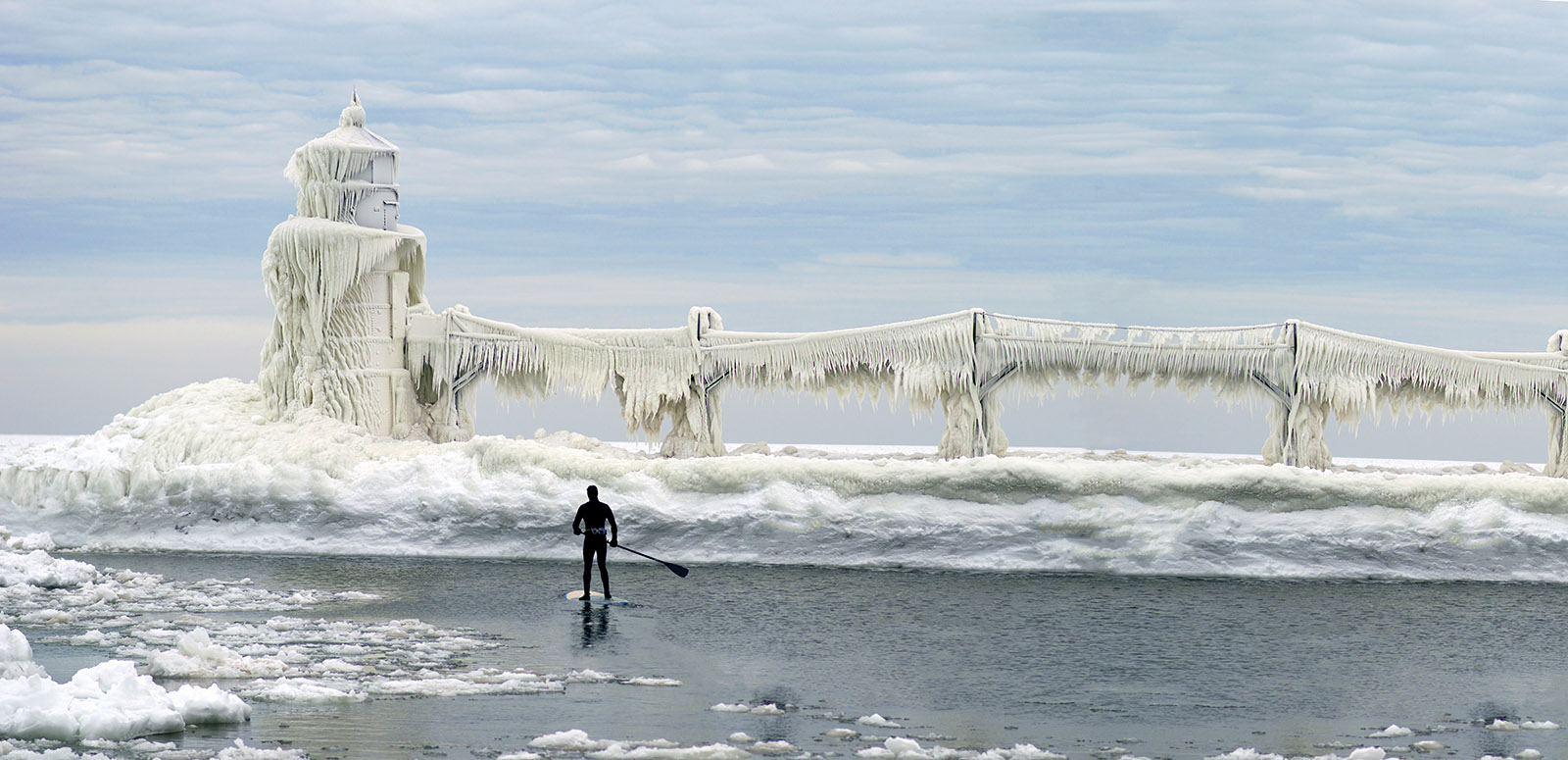 READ BEFORE YOU GO: Life-saving precautions
NEVER walk on icy or wave-swept piers.
Be awestruck by the lighthouses' majestic beauty from the safety of the land. The best place to see the South Pier beacon is from Silver Beach County Park. The safest viewing of the North Pier's inner and outer lighthouses and catwalk is from Tiscornia Park.
As luring as those icy structures are, the ice on the piers is extremely hazardous. You can easily slip and fall into the frigid, open water on either side of the piers. The colder the water, the faster hypothermia will set in. In the winter, the water around the piers is very difficult for rescuers to reach when every second matters.
Another danger is the icicles. Stand below one of these heavy, dagger-sharp ice formations when it falls and it can cause serious injuries or even death. While these icicles are never safe, they are even more dangerous when the weather warms and you are tempted to go out on the piers for a closer view. Don't go. Ever.
Dress in layers to stay warm.
When you are at Silver Beach County Park or Tiscornia Park, there is little protection from the wind, snow or below-freezing temperatures. Wear layers. Your base layer should be thin, close to your skin and able to wick away sweat. Do not wear cotton-fabric clothing. Instead, choose clothes made of wool, polyester or polypropylene. One of the best choices is long underwear made from merino wool.
Your mid-layer should either be a puffy, synthetic winter jacket or a combination of a fleece and a light puffy jacket.
Your outer layer should be a windproof, waterproof and breathable fabric outer shell of a jacket and pants. You will also want to protect your feet with wool socks and waterproof insulated boots with good traction. If there is a good base of snow, bring along snowshoes to make crossing the beach easier.
Complete your ensemble with a warm winter hat and gloves or mittens.
Professional tips for taking frozen lighthouse photos
Renowned photographer Joshua Nowicki loves taking winter photos in Southwest Michigan. Read Josh's valuable tips.
Taking frozen lighthouse photos and videos with a drone is also an option when you want closer views without going out on the piers. If you are a private citizen operating a drone for pleasure, you do not need an operator's license. However, if you are a commercial operator, using your drone to make money, then the FAA requires you to have a license. What you need to know about FAA rules.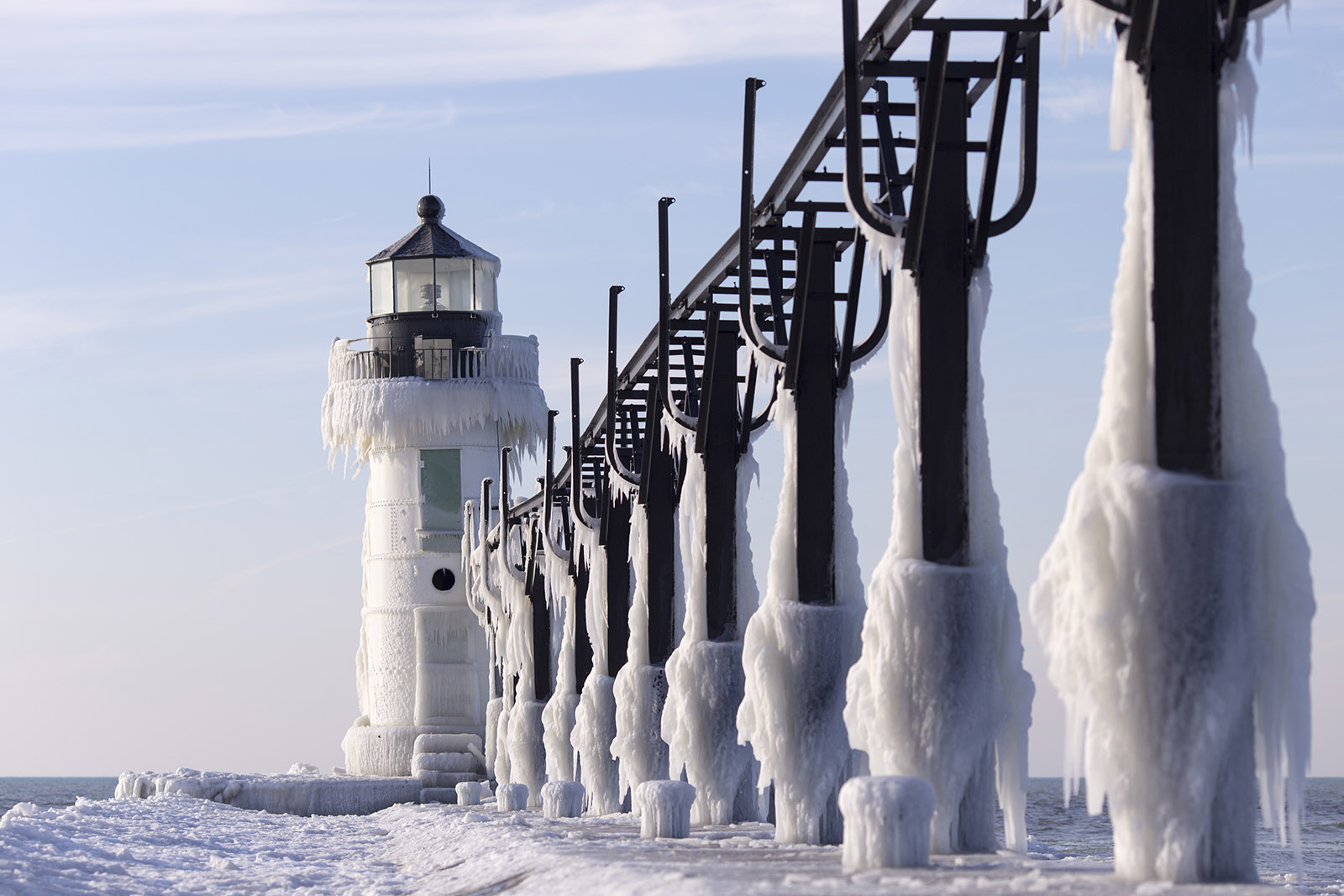 Be wowed by these Lake Michigan ice and sand formations, too.
You don't have to wait until the lighthouses freeze to be mesmerized by Nature's icy artistry along our Southwest Michigan shores. This is one of the few places you can see up close ice pancakes, ice balls, ice volcanoes, ice shelves and sand hoodoos. Include these in your winter getaway.
Plan your frozen lighthouse visit.
Use or download our trip-planning app to create your custom itinerary of lighthouses to visit, more winter activities to do and where to book your stay. If you need more information, please contact us. We want this to be one of your most magical winters ever.