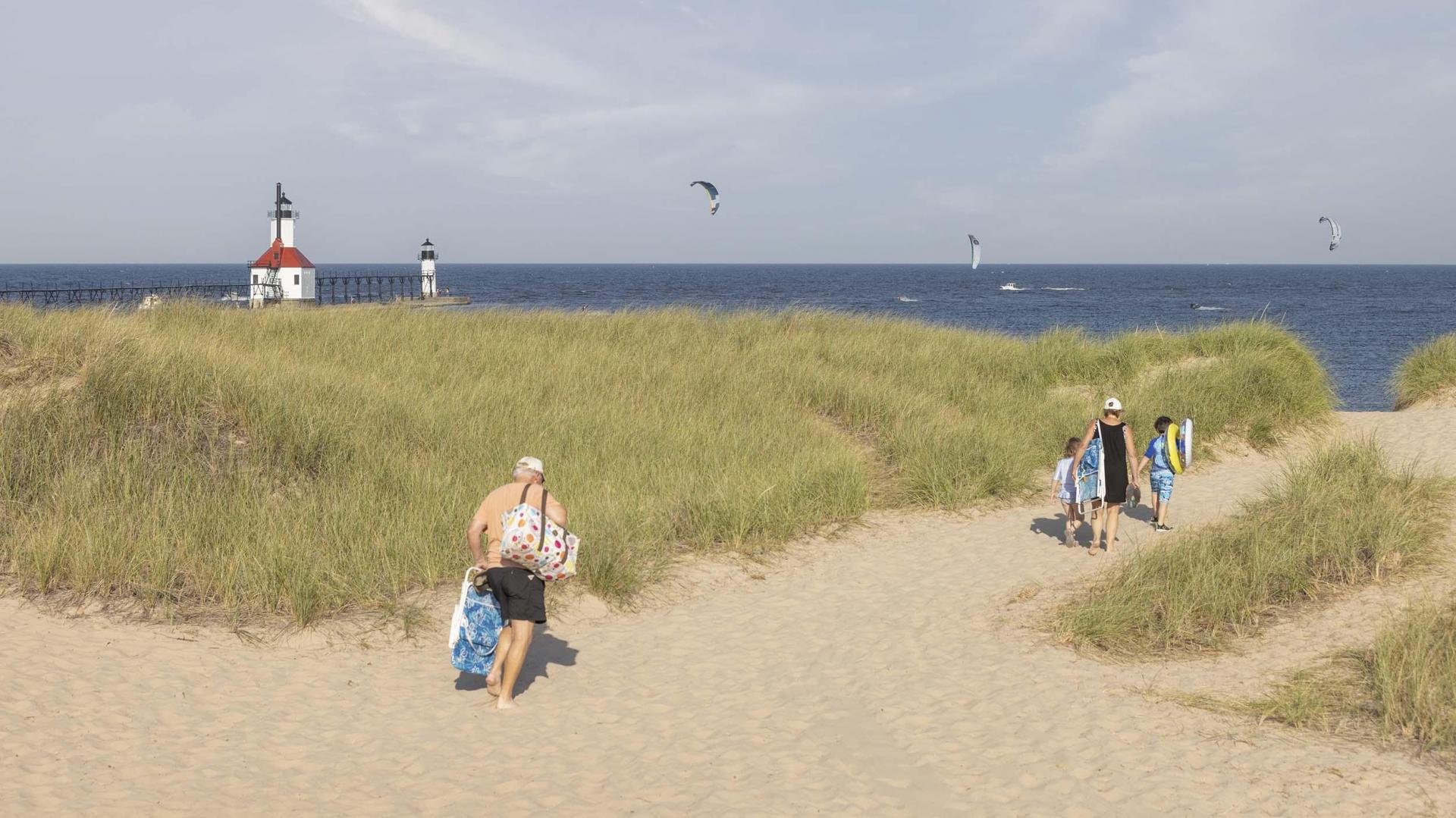 This is one of Michigan's best summer vacation destinations.
Everything about Southwest Michigan is made for summer. The refreshing, clear waters of Lake Michigan, miles of soft, golden sand beaches, towering dunes and fun-filled lake resort towns. Here, you can spend one day sailing, touring a century-old lighthouse the next, decorating sandcastles with beach glass and crinoids the following afternoon and playing sand volleyball until sunset.
There are inland lakes for boating, swimming and fishing, and rivers and streams for paddling. You can hike or bike along shaded trails. Go from farm to farm picking fresh fruits, vegetables and flowers in the orchards, fields and vineyards, or from wooden crates in our markets.
When you're hungry, dine alfresco or inside cool restaurants overlooking beautiful waterfront, quaint town and country vistas. Fill several summer days tasting the liquid artistry of our local craft wine, beer, cider and spirits found along our Makers Trail. Listen to live music in our parks. Applaud talented actors in our lakeshore theaters. Play golf on beginner to championship-level greens, or claim bragging rights on miniature golf and disc golf courses.
Bring the children to splash in Whirlpool Compass Fountain, ride our magnificent Silver Beach Carousel or explore STEM exhibits for hours in our Curious Kids' Museum and Discovery Zone. Leash your dog and visit pet-friendly wineries, stores, trails and beaches.
As night draws near, pause to watch our blazing scarlet and orange sunsets — there is a hush that spreads across the region as the sun slips beneath the horizon. For a rare breathtaking experience — drive to our International Dark Sky Park (one of three in Michigan) — and gaze up at a sea of stars and planets after dark. Summer is a great time to make a wish on a shooting star.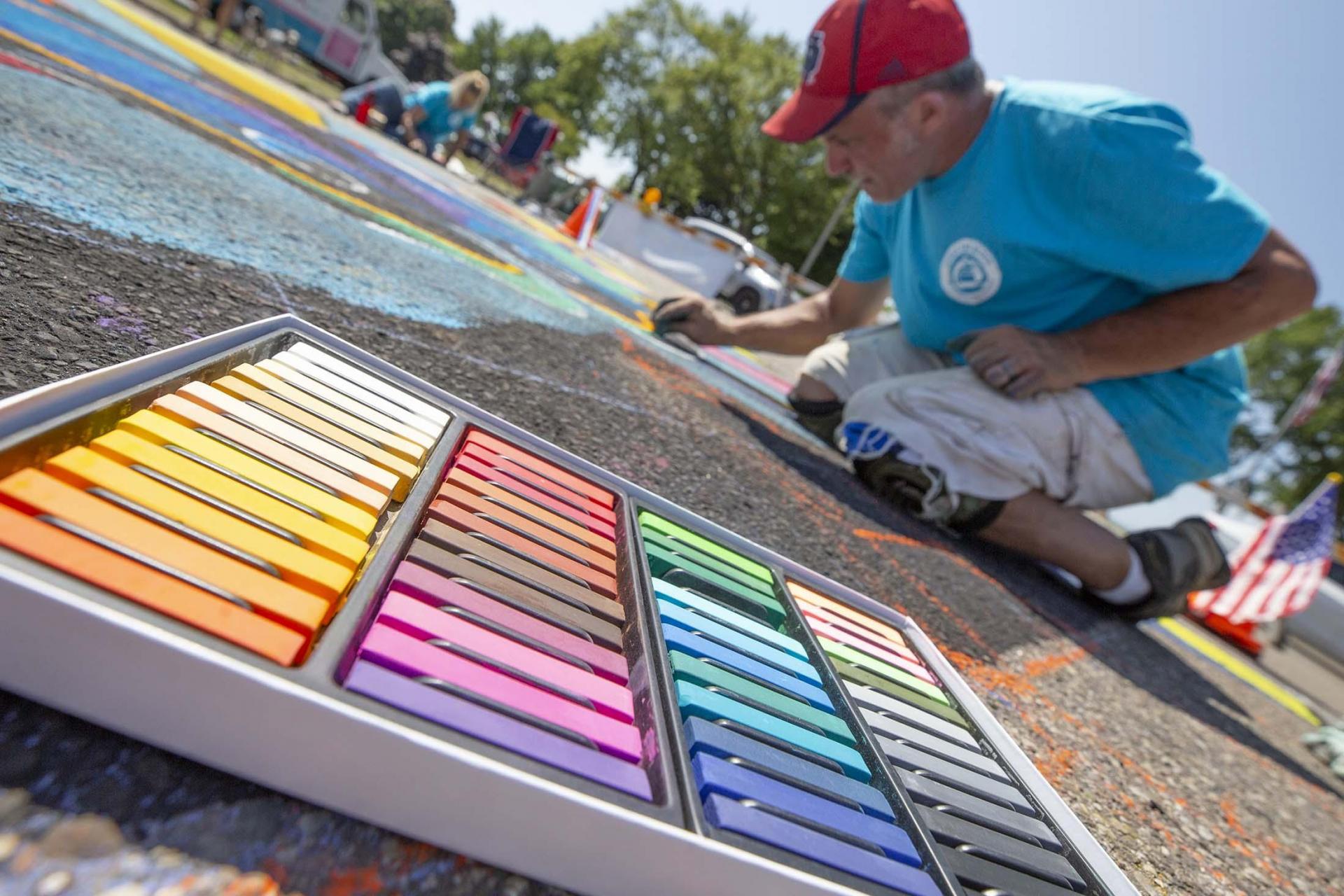 Summer events and festivals in Southwest Michigan
Summer is our get-together time of year. Every month, there are local gatherings listed in our events calendar, including these annual activities, fairs and festivals:
June
Lake Bluff Artisan Fair | St. Joseph | Select Saturdays | Over 50 vendors offer an eclectic array of handcrafted goods for your home and cottage decor, furniture, jewelry, candles and more. Shows also are held monthly in July, August and September; see the events calendar for additional dates.
Antiques on the Bluff | St. Joseph | First Sunday | This premier antique fair showcases treasures found by over 50 vendors. Shows are held monthly in July, August, September and October, too.
Friday Night Concert Series | John E.N. Howard Bandshell, St. Joseph | Third Friday | Free, live music by regional performers. Groove to the sounds of jazz, big band, classic hits and more while overlooking the St. Joseph River and Lake Michigan. Additional concerts are held in July, August and September.
Lest We Forget Reenactment | St. Joseph River, St. Joseph | This annual event ​​salutes the women and men who have served in our armed services since World War I, educating all ages with battle re-enactments, presentations by Medal of Honor recipients, aircraft and boat rides and displays.
Farmers Market | St. Joseph | Saturdays, mid-June through mid-October | Discover what is fresh each week from local farms, including fruits, vegetables, cheeses, meats, coffees, flowers and more.
Makers Trail Festival | Weko Beach, Bridgman | Second Saturday | Live music, local food and Southwest Michigan craft beers, wines, ciders and spirits at this Lake Michigan beach party for the whole family.
July
Krasl Art Fair on the Bluff | St. Joseph | Second weekend | One of the top juried outdoor art shows in the U.S. — over 170 artists from across the country sell their paintings, pottery, textiles, photography and more in this gorgeous setting overlooking Lake Michigan.
Mike Yore Memorial Car Show | St. Joseph | Mid-July | View 150 classic cars lining the bluff.
August
Chalk the Block | St. Joseph | First weekend | Watch regional, national and international artists create amazing pictures on the streets of St. Joseph.
Berrien County Youth Fair | Berrien Springs | Third week | This family-friendly event fills your day with midway games and rides, food, exhibits and grandstand entertainment.
Outdoor summer activities for all ages
Put your phone and digital device away unless you're taking photos. Southwest Michigan is your connect-with-nature getaway.
Wade, swim, surf or scuba dive: The fresh water of Lake Michigan and the surrounding inland lakes is so refreshing on a hot summer day. Jump in! Then spread a blanket and soak in the sun's rays on shore, picnicking, playing beach games or losing yourself in a good book.
Go skyward: Hang glide off dunes or parasail over one of the world's largest freshwater lakes.
Pedal for hours: Bring your bikes and ride scenic paved streets and trails. Or borrow a bicycle or covered surrey from Scooter Joe's Wheels & Water Rental, and tour St. Joseph's Victorian-era neighborhoods, downtown and lakefront. Want a gritty, cardio workout? Rent a mountain bike at Love Creek County Park in Berrien Springs or unrack your bike and find new thrills on local mountain bike trails.
Climb giant dunes to see jaw-dropping views, then race pell-mell down: The sand mountains at Warren Dunes State Park are always reshaping with the wind and water. Accept their lure to climb to the top. From there you can see for miles, taking in the roaring waves or mirror-still Lake Michigan and its sandy surroundings. If the atmospheric conditions are right, you can see Chicago's skyline. Then, walk, sandboard or race like crazy down the sandy slopes.
Paddle ancient rivers, streams and lakes where Potawatomi families and European explorers once plied the waters: Ease your kayak, canoe or SUP into the water. Dip and pull your paddle and feel your watercraft glide quickly forward. This water trails guide is a good place to find your launch point!
Fish from river banks, piers, inland lake docks or your or a charter captain's boat: Cast a line and come home with sunfish, bluegill, crappie, steelhead or walleye. Grilled, poached, baked or fried, the flavor of fresh-caught exceeds anything store-bought.
Golf where playing is fun for everyone: Choose from several courses that match your skill level and green fee budget. ​​One of your choices is The Club at Harbor Shores, the biennial site of the KitchenAid® Senior PGA Championship.
Hike along the lakeshore, in the vineyards or woods: Clear your head and unite with nature. There are hundreds of miles of trails and low-traffic roads to roam, each with picturesque views. This trail guide takes you to some of our favorite hiking places in Southwest Michigan.
How to plan your summer vacation in Southwest Michigan
The nice thing about Southwest Michigan is you can keep your visit as simple or fun-packed as you want it. Spend the day on the beach from morning to sunset, or spend one day beaching it, another touring our Makers Trail, the next day visiting our farms and trails, another day paddling or boating, another shopping, taking in a summer concert or play and gallery hopping. For ideas on how to piece together your route, check out our itineraries or contact us to get answers to your questions. We can help make this one of your favorite vacations ever!
Book your Southwest Michigan summer stay now!
We have lots of lodgings in Benton Harbor, St. Joseph and Stevensville that offer the amenities and room rates you want, but summer is our busiest season. So, the earlier you make your reservations the better your chances are that you will get the hotel with the best pool for your kids to play Marco Polo, the breakfast options, fitness and spa facilities, romantic packages or the tail-wagging accommodations you need for your pet.
Your health and comfort remain a top priority at our lodgings, so expect them to follow cleaning protocols to keep rooms and public areas safe. Many offer contactless check-outs and provide guest temperature checks if you request them. You will feel at ease while here.
We look forward to sharing the simple joys of summer with you in Southwest Michigan. The hardest part will be returning home once you are here — so come back as often as you can!

Book your stay today