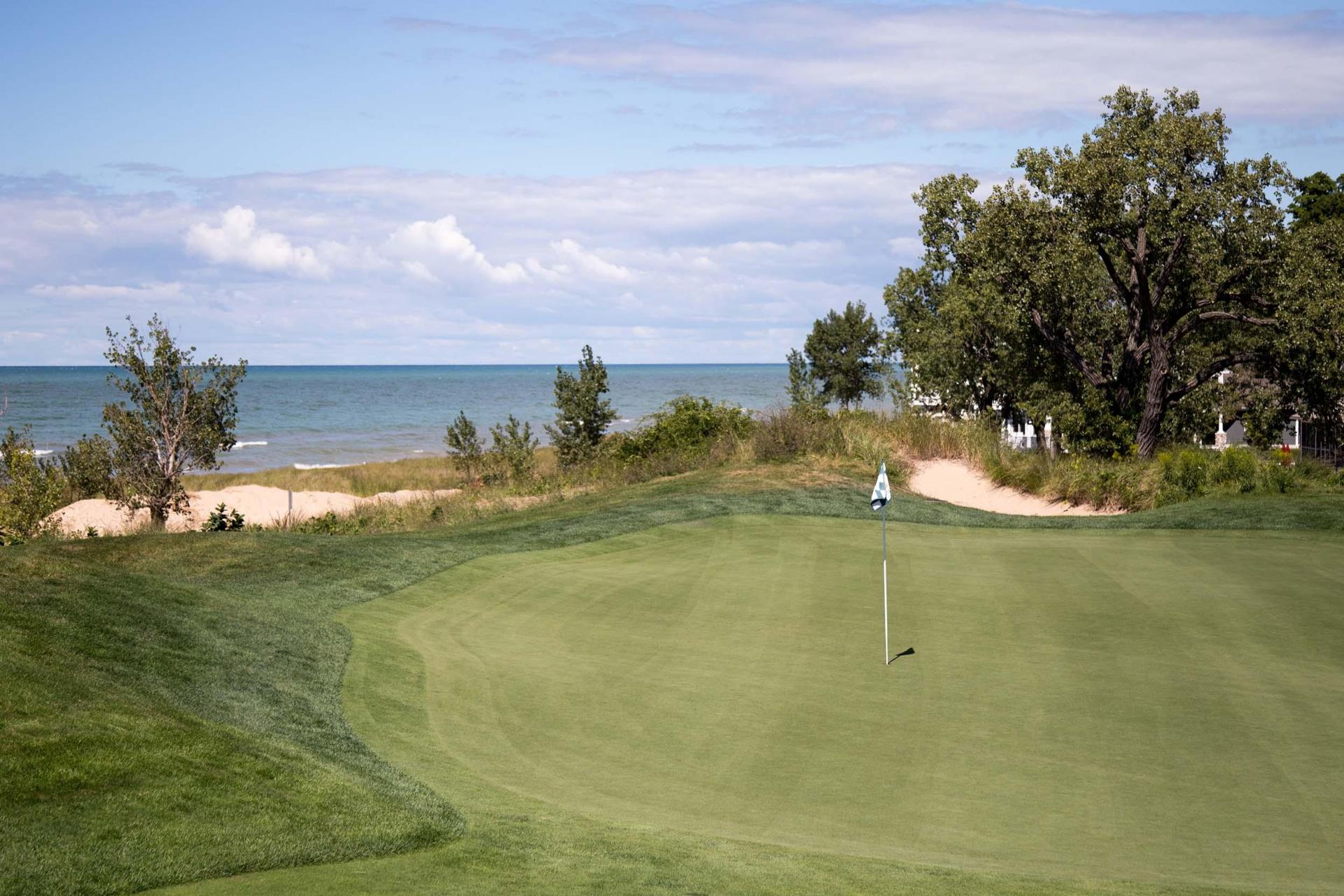 Stay over to play golf by Lake Michigan, scenic rivers and orchards.
What sets these courses apart from others in Michigan is the variety of designs and terrains that makes golf outings with family and friends anything but boring. One of the most exciting 18-hole courses is the Harbor Shores Golf Course at Harbor Shores Resort in Benton Harbor. It is the only Jack Nicklaus Signature Golf Course with views of Lake Michigan and it hosts the biennial KitchenAid® Senior PGA Championship held at the end of May. Call and ask about stay-and-play rates, then enjoy the resort's delicious dining options and activities for golfers and non-golfers.
Another stay-and-play destination is HawksHead in South Haven. Overnight guests receive special course rates at the Inn at HawksHead, a magnificently restored Old English Tudor Mansion. Or house the family or golfing friends at the recently built HawksHead Cottages.
Other courses in Southwest Michigan are within minutes of hotels in Benton Harbor, St. Joseph and Stevensville. Plan during your stay to play two to three courses, add a craft beverage tasting tour, charter fishing or paddling trip, and watch a scarlet-and-gold Lake Michigan sunset night after night.
Get tee times on the best golf courses in Southwest Michigan.
From late April to October, you can usually find a course in Southwest Michigan with the date and tee time you want. Since these courses are 90 minutes to three hours from metro Chicago, Indianapolis and Detroit, it's not unheard of to avoid the long waits back home and simply play here all season. Rates are competitive and often lower than big city courses and many have discounts when spring blossoms and fall colors magnify the exceptional beauty of each course.
Hone your skills year-round at Pipestone Indoor Country Club.
Even if it's a rainy day or off-season, you can hit the virtual links on Golf Digest's top-ranked premium stimulators at Southwest Michigan's premier indoor golf facility. Here, people from all backgrounds and skill levels can improve their game in this friendly, comfortable place in the Benton Harbor Arts District. Try it!
Plan your golf vacation.
Create your own golfing itinerary, choosing from the courses below. Then, add the hotel, restaurants and activities you want to experience during your stay in Southwest Michigan.