Where to vacation with your wheelchair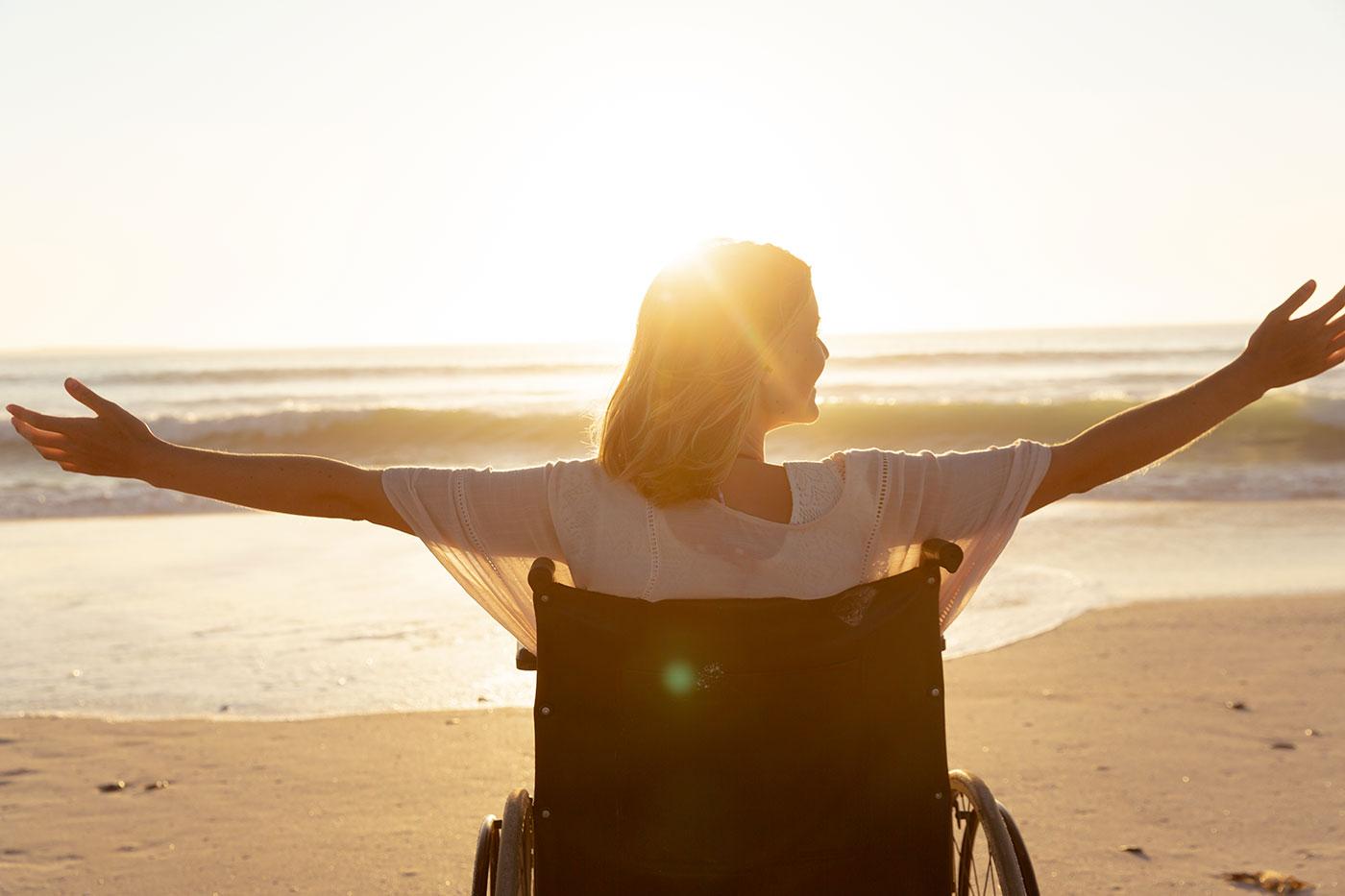 9 accessible beaches | Fishing & kayaking | Fun attractions | Accessible downtowns | Places to eat/see a show/stay over
Are you searching for a fun vacation destination that is wheelchair-friendly? Welcome to Southwest Michigan! This area does an excellent job of making ADA accommodations for wheelchairs, walkers, canes, crutches and service animals. So, come for the beaches, the attractions, entertainment venues, shopping, lodgings and so much more! Here's an overview of the fun that awaits.
Spending time at Lake Michigan is one of the top reasons to visit this beach resort area. Paved sidewalks, boardwalks, ramps and beach wheelchairs make it easier to be near the water. Our nine accessible beaches are:
Silver Beach County Park, 101 Broad St., St. Joseph. A barrier-free walkway from the parking lot runs along the beachfront and throughout the park. The walkway gives access to the Dunes Pavilion (a picnic spot), Shadowland Pavilion (an entertainment and wedding venue) and the South Pier. For easier access to the water, reserve a beach wheelchair for free at the office next to the restrooms.
Lions Park Beach, south end of Lions Park Drive, St. Joseph. This small beach offers barrier-free access to the picnic pavilions, each with great views of Lake Michigan. It's also a trailhead to the paved and shaded John and Dede Howard Family Recreational Trail.
Tiscornia Beach Park, 80 Ridgeway St., St. Joseph. It's tough to top this park's scenic views of the historic North Pier Lighthouse, St. Joseph River and Lake Michigan. Park near the beach and access the North Pier, picnic areas and restrooms.
Jean Klock Park Beach, Jean Klock Drive, Benton Harbor. If you don't want to be caught in crowds, this is a beautiful destination. Park near the picnic pavilion or restrooms for views of Lake Michigan, the dunes and the North Pier Lighthouse. This is also one of the access points to the 12 miles of paved Harbor Shores Nature & Fitness Trails that take you by Lake Michigan and the Paw Paw and St. Joseph Rivers.
Rocky Gap County Park, 1100 Rocky Gap Road, Benton Harbor. From the parking lot, go to the overlook deck for spectacular vistas of Lake Michigan. There is also a long ramp that gives you access to the beach. Stay to watch the sunset. Each evening is a new palette of colors.
Grand Mere State Park, 7337 Thornton Drive, Stevensville. This park doesn't offer easy wheelchair access to its dunes and beach, but you can enjoy the 0.5-mile paved trail that extends from the picnic area and skirts South Lake. There are 10 interpretive signs along the way.
Weko Beach & Campground, 5237 Lake St., Bridgman. Nestled in 42 acres of picturesque wooded dunes, this is a wonderful place to experience the great outdoors, relax and enjoy the soft, sandy beaches and refreshing waters of Lake Michigan. The park makes this easier for everyone with their sand-and-water accessible wheelchair that you can reserve at no cost from 11 a.m. to 8 p.m., May through mid-September. Stop by the beach house to check availability. The park also has a 50-foot, ADA-accessible Mobi-Mat (a second one will be installed in mid-August 2022). The mat provides a smooth surface for moving wheelchairs, strollers and wagons between the parking lot and the beachfront.
Warren Dunes State Park, 12032 Red Arrow Highway, Sawyer. It is amazing to see these towering dunes! You can reach this park's 3 miles of sandy shoreline with one of the two, free-to-use beach wheelchairs. You also can navigate some of the 6 miles of nature trails. A plus to this destination is its dog beach which is accessible from the northernmost parking lot. Keep your pet on a six-foot-or-shorter leash here and throughout the park.
New Buffalo Beach & Lakefront Park, 200 Marquette Dr, New Buffalo. A boardwalk extends from the parking lot to the concession area and toward the 800-foot beachfront. Another boardwalk creates a nature trail along the dune line. See the lifeguard for the park's beach wheelchair that gets you to the water's edge.
There are three popular places with ADA-accommodations to wet your line; one of them has a barrier-free kayak launch, too.
Tiscornia Beach Park, 80 Ridgeway St., St. Joseph. Roll out from the parking lot onto the North Pier. Join other anglers reeling in Chinook Salmon, Coho Salmon, Steelhead plus Smallmouth Bass, Walleye, Channel Catfish, Freshwater Drum and Yellow Perch.
Riverview Park, 2927 Niles Road, St. Joseph. When you enter this 107-acre city park located on a bend of the St. Joseph River, take the first dirt road on the left. Park and wheel up to fish on the river's bank. Bring bait and lures for Smallmouth Bass, Walleye, Channel Catfish and Flathead Catfish.
Paw Paw River County Park, 650 N. Main St., Watervliet. This tranquil park is one of Berrien County's newest and it was designed with your accessibility in mind. There are hard-surface hiking trails, a bridge to a river island, fishing access and a barrier-free kayak launch so you can fully enjoy this scenic setting. If you bring your pole, the Paw Paw River has 39 fish species including ​​Walleye, Bass, Bluegill, Black Crappie and Northern Pike.
Whether you are in a stroller, wheelchair or cruising with another mobility-assisted device, there are four places that delight all ages in St. Joseph.
Curious Kids' Museum at 415 Lake Blvd. and Curious Kids' Discovery Zone in the Silver Beach Center, at 333 Broad St., feature more than 100 interactive activities and exhibits to spark your child's imagination and a love of learning. Toddlers to young teens with all abilities will not be in a hurry to leave these facilities made just for them.
Whirlpool Compass Park is a giant splash pad below the bluff on Broad Street. It creates free, refreshing water play from Memorial Day until the end of September.
Silver Beach Carousel at 333 Broad St. is a year-round gem. It has 48 hand-carved and painted figures plus two chariots that are magical to ride whether you are 1- or 100-years-old. The Serpent Chariot is wheelchair accessible and earplugs are available to anyone with sensory sensitivities, so you can experience firsthand why this is billed as the happiest place in Southwest Michigan.
One of the reasons you will like rolling into St. Joseph and Benton Harbor are the sidewalks. The downtown St. Joseph sidewalks connect you to shops, restaurants, winery tasting rooms, breweries, historic neighborhoods and art galleries. Many of these places also have parking spaces outside their doors.
St. Joseph's sidewalks also lead to the shaded Lake Bluff Park and the John E.N. Howard Bandshell where there are farm markets, music, art fairs and more. Or take these walkways down the bluff to Margaret Upton Arboretum along the St. Joseph River. Or use the paved ramp by the covered stairs to reach Silver Beach Pizza, the Amtrak train station and all of Silver Beach's fun spots.
Another sidewalk-friendly destination is Benton Harbor's Arts District. Here you can easily access indoor and outdoor venues for art, music, theater, dance and some of the region's most-talked-about craft brews and locally-sourced foods served up on small and large plates.
When you come to Southwest Michigan, there are handicapped parking spaces near our restaurants, Makers Trail wineries, breweries, cideries and distilleries and Creative Connections arts, entertainment and culture venues. Not sure how to plan out your day? Check out our itineraries, events and more accessible locations to map out your stops.
Area lodgings make it easier for you to stay night-after-night to watch signature Lake Michigan sunsets and wake up refreshed for more fun. You can book spacious rooms with wider doors and many other ADA accommodations. Ask about specific amenities when you book your stay.
If you have specific accessibility questions or needs, contact the Southwestern Michigan Tourist Council staff and they will do their best to help you.
Hope to see you rolling into Southwest Michigan soon and often!