Cool off this summer at five community splash pads in Southwest Michigan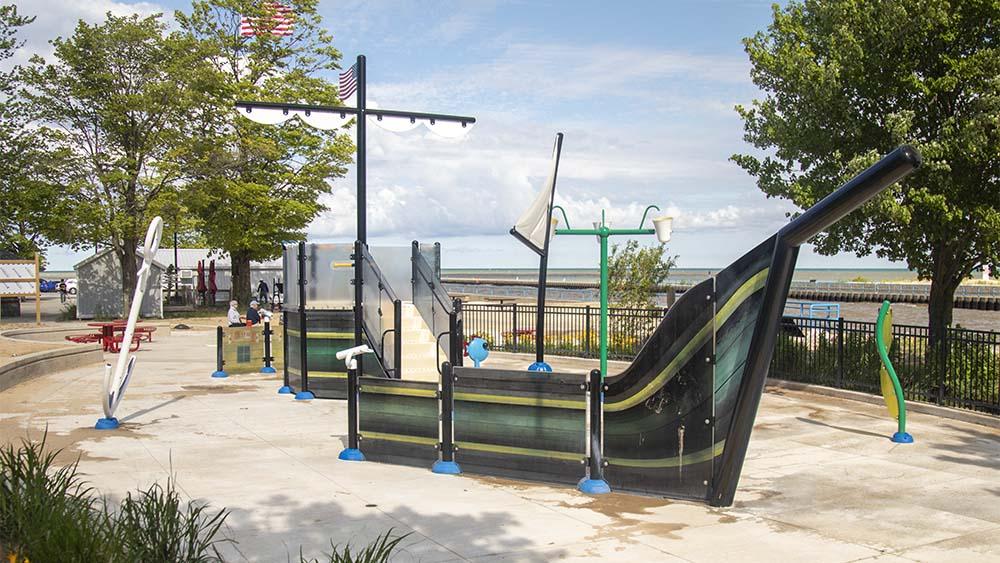 As much fun as our Southwest Michigan beaches are, you can enjoy hours playing in the water without having to rinse off sand-coated feet. Five community splash pads (with more in the making) are the coolest thing to do with toddlers to grandparents. All are ADA-accessible, so come splash around!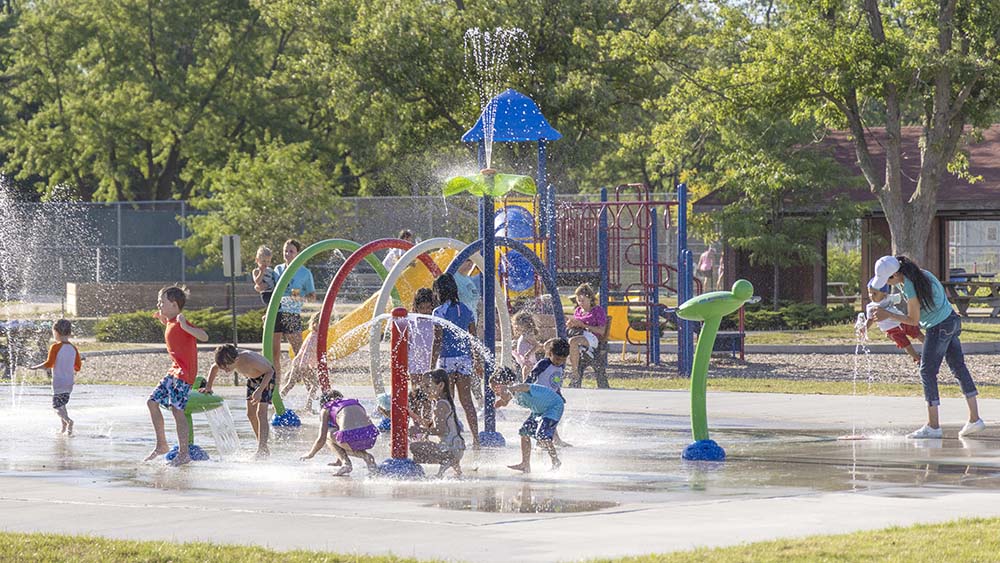 Where to find the splash pad nearest you in Southwest Michigan
These parks have free admission and most are open daily from Memorial Day Weekend to Labor Day Weekend. Each park asks that a responsible adult supervises your child at all times and that you go over the posted rules with them when you arrive, so everyone has a good time. Here's where to play:
Lawton Splash Pad
520 S. Main St., Lawton. A simple design with spraying fountains and dumping water buckets that will refresh toddlers to adults.  
Lincoln Township Community Center Park
5575 S. Roosevelt Road, Stevensville, 9 a.m.-8 p.m. This is Southwest Michigan's newest splash pad. It is 1,854 square feet and includes zones for toddlers, families and older kids. Water blasters, a frog sprinkler and two interactive spraying flowers keep children squealing with unabashed delight. Learn more.
New Buffalo Township Memorial Park Splash Pad
17425 Red Arrow Highway, New Buffalo, 10 a.m.-8 p.m. Your kids can splash, then dash for more energy-burning play time on the adjacent, rubber-matted playground. Learn more.
South Haven Friends Good Will Splash Pad
60 Water St., South Haven; 10 a.m.-8 p.m. This splash pad was modeled after the replica 1810 sloop that sails from the nearby Michigan Maritime Museum. You will find this nautical-themed splash pad near South Beach, along the channel. Restrooms and picnic tables are nearby. Learn more. 
St. Joseph Whirlpool Compass Fountain
200 Broad St., St. Joseph; hours vary, first Monday in May to the last Sunday in September. This is Southwest Michigan's largest interactive splash pad. Run under the shooting jets of water, splash in the puddles, toss a ball, roll down the grassy berms or sit and watch. The cannons shoot water 35 feet into the air every 15 minutes! Silver Beach Pizza, Silver Beach Carousel, Curious Kids' Discovery Zone, Silver Beach Park and downtown St. Joseph are all within walking distance. Learn more.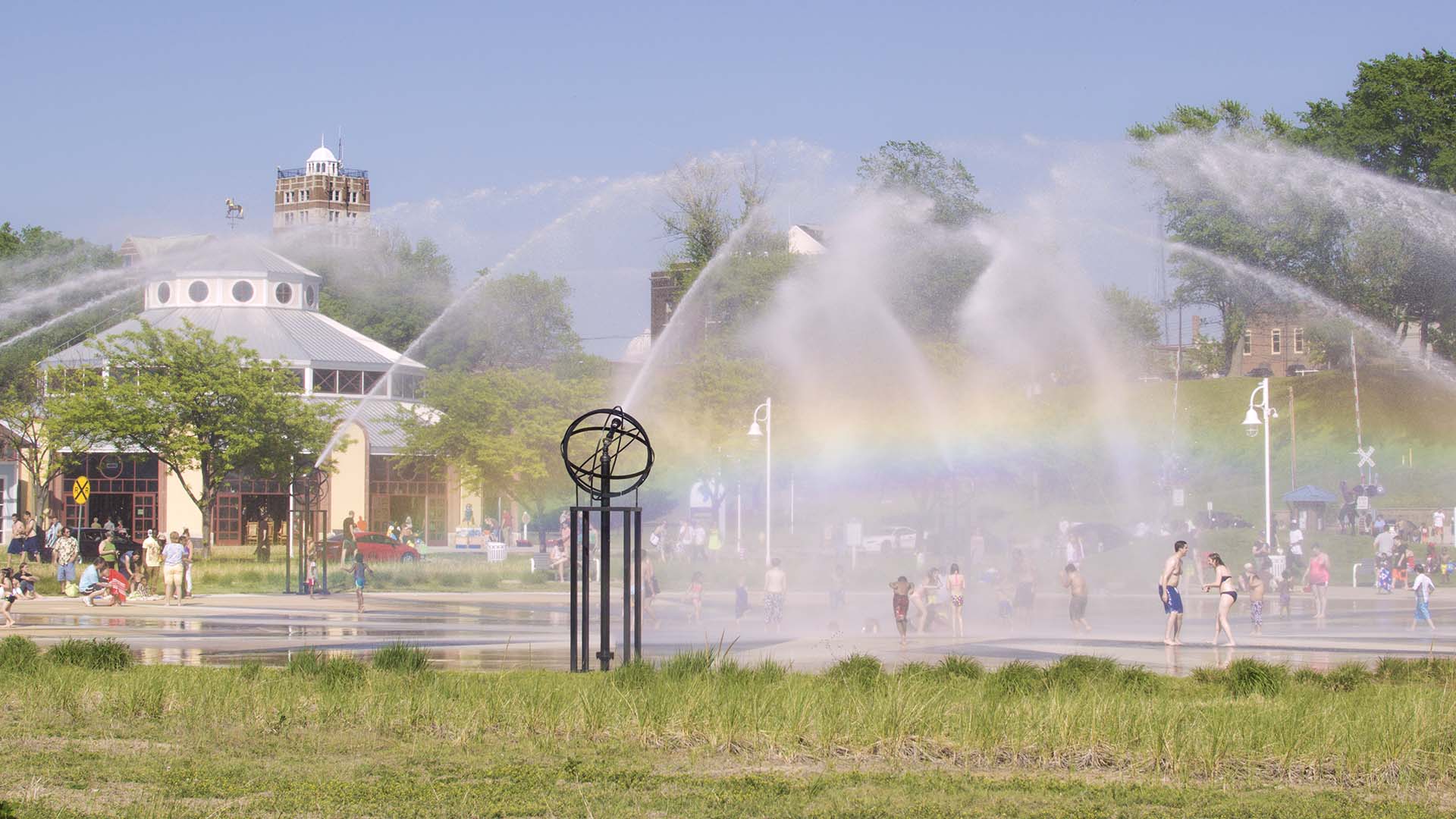 What to bring to the splash pad
Wear clothes that can get wet and bring a towel. 
To minimize slipping or falling, wear water shoes or flip-flops. 
Slather on sunscreen.
Bring sunglasses or hats to help protect eyes from the sun's glare.
Most sites have picnic areas nearby, so pack snacks, water bottles, beverages or a meal. You also are never far from restaurants that provide easy takeout or stores with family-friendly munchies. (No glass containers allowed).
Bring plastic buckets and small balls to add to the fun. 
Keep bandaids, wet wipes and kisses ready for those occasional falls.
Pack dry clothes, a hairbrush and detangling hair spray for after the fun.
Plan a family getaway or staycation in Southwest Michigan
With so many fun, family activities to do near our splash pads, plan to stay over at one of our nearby hotels or resorts. You will wake up to more happy memories the next day.