July - Tips for enjoying our sweetest/tartest season.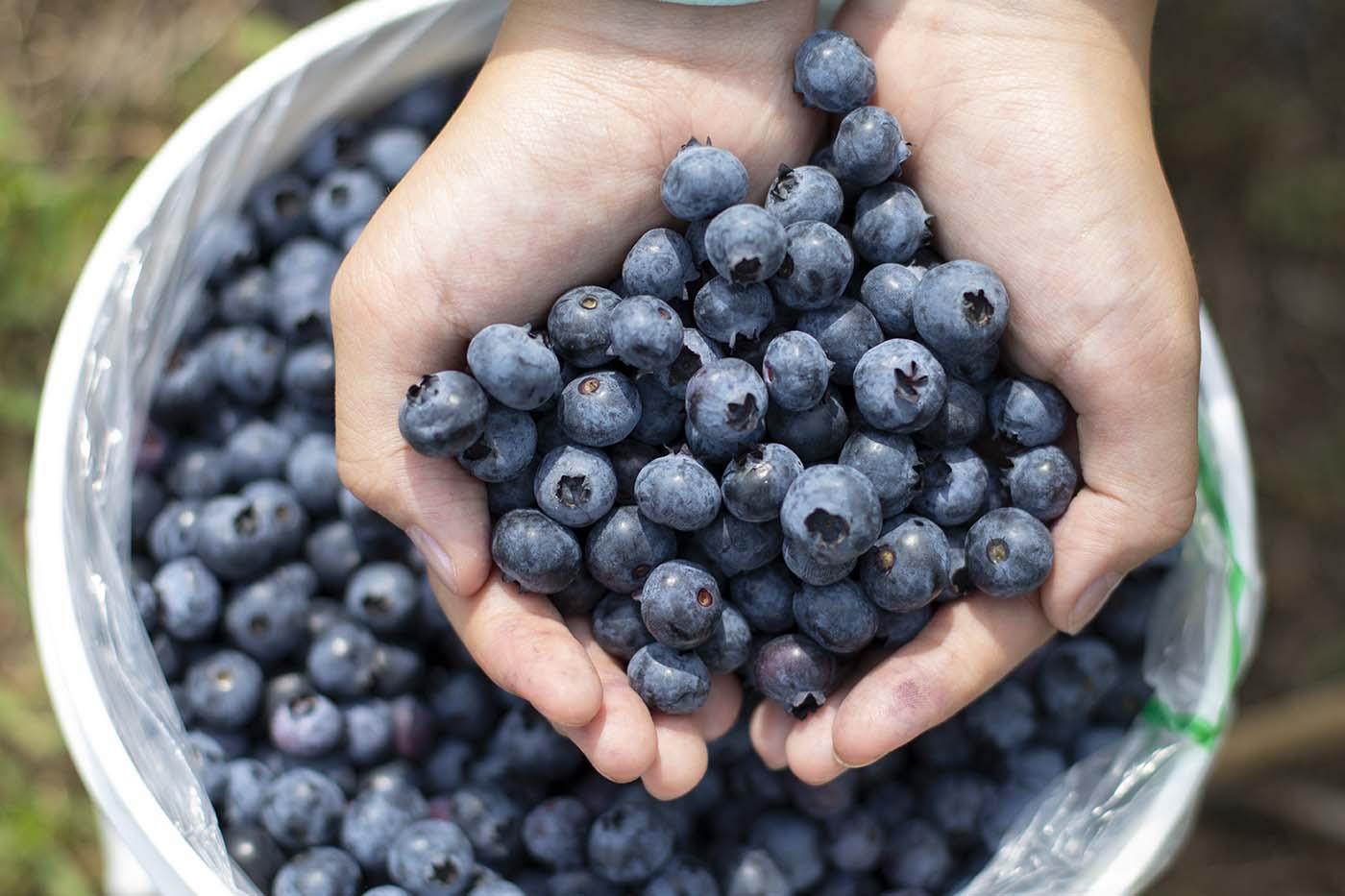 July is our "eat more just-picked fruits and vegetables" month in Southwest Michigan. Our pick-your-own farms, farmers markets and stands are brimming with goodness. Cherries (sweet and tart) and blueberries are already coming in from the orchards and fields, but soon there will be the juiciest, sun-ripened peaches, too. Also, if you hurry, you may be able to grab up strawberries as well. They have so much more flavor than trucked-across-the-country berries.
Here's what you can bring home this month (if you don't eat them first) and some tips for enjoying each one:
Apples
Mid-July into November
Tip: Lodi apples are available now. These tart beauties are perfect for pies and applesauce.
Apricots
July through mid-August
Tip: Apricots are loaded with Vitamin A and add only 17 calories to your snack or meal.
Beans
July through September
Tip: Did you know beans are a fruit? That's because their seeds are encased in a pod.
Blueberries
Early July through mid-September.

Broccoli
July through October
Tip: The consumption of broccoli has increased 940% in the past 25 years.
Cabbage
July through October
Tip: This nutrient-packed, leafy vegetable has been cultivated since 4,000 B.C.
Celery
July through November
Tip: Celery salt is a signature ingredient in the Chicago-style hot dogs available this summer in downtown St. Joseph.
Cherries (sweet)
Early July through early August
Tip: To freeze, put pitted or unpitted cherries in a single layer on a cookie sheet, then place the sheet in the freezer. Once frozen, store the cherries in clean, sealable bags in the freezer for up to eight months.
Cherries (tart)
Early July through early August
Tip: Tart or sour cherries are delicious in soups, drinks, entrees and desserts.
Cucumbers (Salad)
June to mid-September
Tip: Look for smaller cucumbers. They are crisper and have finer seeds.
Eggplant
July through October
Tip: Peel the skin, then soak the eggplant slices or cubes in milk for 30 minutes. This makes the eggplant creamier and less bitter.
Greens
July through October
Tip: Collard greens are notoriously gritty. Quickly rinse under running water then place the leaves in a large bowl or clean sink of warm water. Add two teaspoons of salt, then use your hands to scrub the leaves. Rinse away salt and grit with running water.
Herbs
Early June to late July
Tip: To prepare mint and basil, pull the leaves off the stem. When using fresh dill, cilantro or parsley, there's no need to remove the leaves – just cut the stems as close to the leaves as you can.
Lettuce
July through September
Tip: Lightly rinse your lettuce when you bring it home, pat dry with a paper towel or use a salad spinner. Wrap washed heads of lettuce in a damp paper towel and store in a plastic bag (keep a corner open for airflow) and store in the refrigerator. For separated leaves, wash, spin dry and store in a lettuce keeper in the refrigerator. Or wrap in damp paper towels, place in a plastic bag (keeping a corner open) and put in the crisper drawer.
Onions
July through mid-November
Tip: Want to avoid crying when cutting an onion? Place a peeled onion in the freezer for a half- hour before slicing, chopping, dicing.
Peaches
Late July through mid-September,
Tip: The popular freestone Red Haven peach originated in Southwest Michigan in South Haven. Eat fresh from the orchard, freeze, can or bake. Use them to make small-batch jams. Mmmmmm.
Peppers
July through October
Tip: Refrigerate all pepper varieties; wear gloves when handling hot peppers and never rub your eyes with your gloved hands!
Radishes
June through October
Tip: The harder the radish, the fresher it is.
Raspberries
Early July through late September
Tip: Black and red raspberries are nutritious, heart-healthy and great sources of fiber. It's fun to eat something that tastes so delicious that is good for you, too!
Rutabagas
July through mid-November
Tip: Don't limit your spiralizer use to zucchini. Spiralize raw, peeled rutabaga to make a low-carb, vitamin-rich pasta that you can add to your casseroles.
Squash (Summer)
June to mid-September
Tip: Squash only lasts for a few days so you'll want to store it in your refrigerator as soon as possible to keep it fresh longer.
Turnips
July through mid-November
Tip: Want to make your turnips taste less bitter? Cut a medium-sized potato in half and add it and peeled turnip chunks to a stockpot of boiling water. Boil for 20 minutes, then discard the potato.
Be sure to call and check with individual farms and markets to confirm what is available. See our monthly food chart to learn what fruits and veggies will be in season next!