Here are the best picnic spots in Southwest Michigan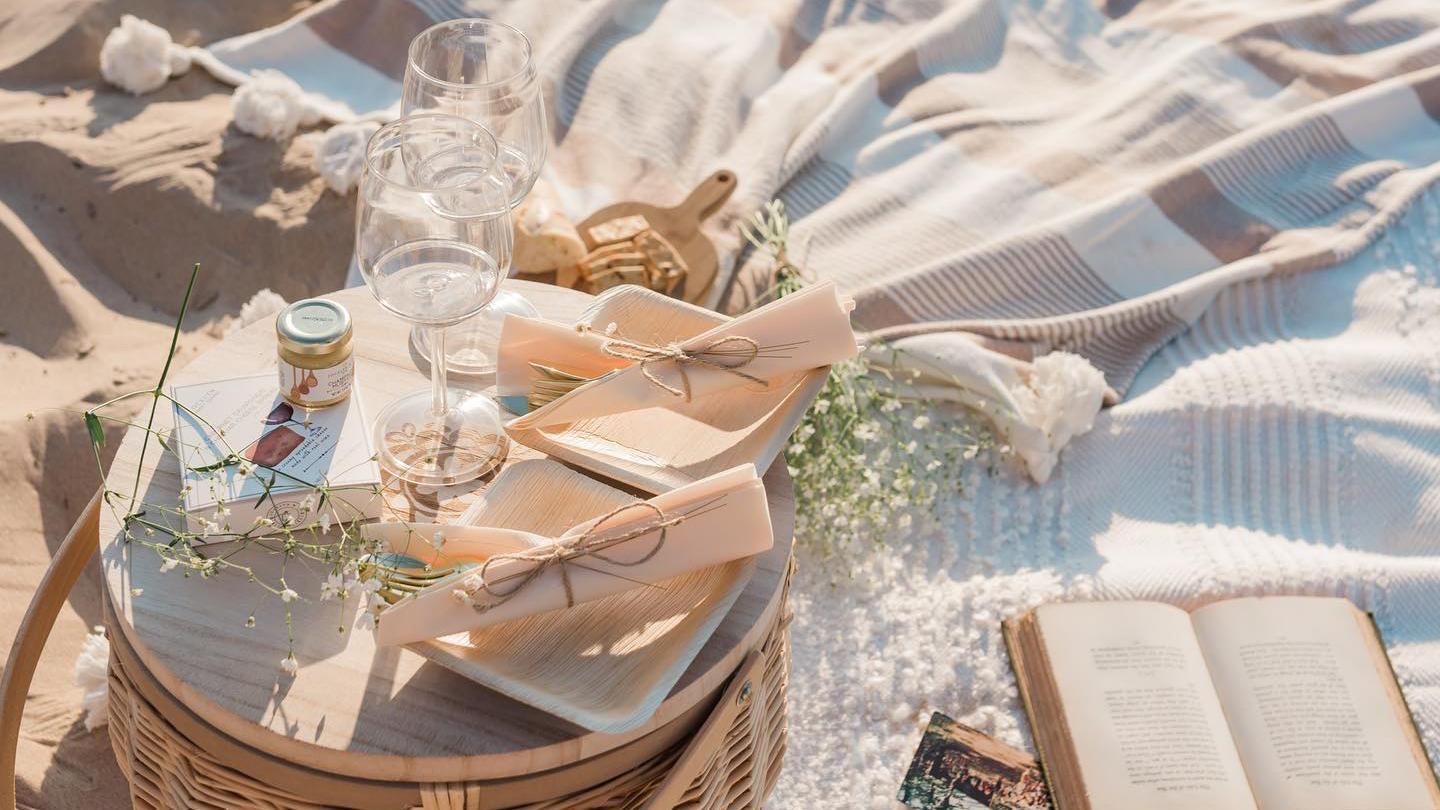 One of the best places to picnic in Michigan, if not THE BEST PLACE, is in Southwest Michigan! Whether you want to combine eating with family-fun activities on Lake Michigan, slip off to a secluded, romantic spot for you and your date or try a unique place to eat your picnic fare, you will find it listed below.
Picnic foods are a regional specialty. So, you'll also find suggestions of where to get everything from grilling meats, fish and vegetables to custom-made salads and sandwiches. All you need to add is your appetite! 
Family favorites | Romantic picnic spots | Unique picnic experiences | Picnic fare
Families love these picnic spots
Do you have family or friends you haven't seen in a while? Invite them to join in the fun, not once, but throughout the year! From toddlers to teens and beyond, you can easily lure anyone away from their digital screens at these picnic spots.
Benton Harbor/St. Joseph/Stevensville Area
Silver Beach County Park | 101 Broad St., St. Joseph 
This park consistently makes the "best Lake Michigan beaches" lists and is the favorite family picnic spot for all ages. There are tables scattered throughout the park and charcoal grills in the north section. The Wally & Gertz concession stand is open, weather permitting, Memorial Day through Labor Day, for picnic fare. Entertain the family with swimming (lifeguards are on duty in the summer months), volleyball courts, a playground, free beach wheelchairs, kayak and SUP rentals (or bring yours) and access to the South Pier and fishing. 
Lions Park Beach | South End of Lions Park Drive, St. Joseph  
This less-busy beach has three shelters plus picnic tables on the beach, grills, volleyball courts and playground equipment. Shade trees make it popular with young families. There's also easy access to the John and Dede Howard Family Recreational Trail, a popular launching point for walkers and bicyclists.
Jean Klock Park | Jean Klock Drive, Benton Harbor
This is another less-crowded, family friendly Lake Michigan beach park. Spread a blanket on the soft sand or picnic in a shelter with nearby grills. Enjoy the playground, volleyball courts and access to the scenic Harbor Shores Nature & Fitness Trail System. 
Fruit Acres Farm Market & U-Pick | 3452 Friday Road, Coloma
What a fun family experience to pick in-season cherries, peaches and apples. Then step into the market for even more fruits and vegetables, plus jams for your sandwiches, and picnic in the fresh country air.
Lincoln Township Community Center Park | 5575 S. Roosevelt Road, Stevensville
Snag a picnic table alongside one of Southwest Michigan's newest splash pads. Or check this blog for more splash pad/picnic destinations. 
Niles Area
Madeline Bertrand County Park | 3038 Adams Road, Niles
On the east bank of the St. Joseph River, this park has a picnic area, an 18-hole disc golf course designed by the world's leading course architect, hiking trails and a playground. If you enjoy winter picnics, bring your snowshoes and cross-country skis and enjoy the trails. 
South Haven Area
Covert Park | 80559 32nd Ave., Covert
This family gem offers day passes to picnic and play on a quarter-mile stretch of Lake Michigan's soft, golden sand. Tables and charcoal grills are ready for your picnic. 
Van Buren State Park | 23960 Ruggles Road, South Haven
Enjoy picnicking and playing along this renowned, 1-mile-long sandy Lake Michigan beach and towering dunes. Great place to swim, hike wooded trails and watch the sunset.
Top choices for romantic picnic dates 
Many couples consider this one of the most romantic places in Michigan. Picnicking is a relaxing way to take in the scenery, enjoy your favorite outdoor activities or try new ones together. Here are a few suggestions.
Tiscornia Beach Park | 80 Ridgeway St., St. Joseph
Walk hand-and-hand out the North Pier to the historic lighthouses. Make footprints in the sand along Lake Michigan's shoreline and splash in the refreshing water. Sit by the St. Joseph River watching the boats, Great Lakes freighters and trains come and go. Then enjoy a picnic with front-seat views to a spectacular sunset. 
Lake Bluff Park | Lake Boulevard, St. Joseph
What a lovely two-some park just steps away from downtown restaurants and cafes with take-out options. There are shady trees, bench swings, places to spread a blanket or hang a hammock, dine at picnic tables (no grills) and in the summer, listen to free concerts — all with incredible bluff-level views of Lake Michigan and nightly sunsets.
Grand Mere State Park | 7337 Thorton Drive, Stevensville
This park offers a secluded picnic area with grills, plus hiking trails and a beautiful Lake Michigan beach.
Dr. T.K. Lawless Cass County Park & International Dark Sky Park | 15122 Monkey Run St., Vandalia
During the day, this is a fun date destination to picnic, play disc golf, hike, mountain bike, and for winter picnickers, cross-country ski and go snow tubing. But when this park really shines is at night when you can picnic under a dome of stars at one of only three International Dark Sky Parks in Michigan! Plan your night picnic around this year's stargazing dates. 
Warner Vineyards | 706 S. Kalamazoo St., Paw Paw
For a special date on weekdays, buy a bottle of wine or beer from the winery and tasting room, then enjoy it with your picnic at the tables overlooking the Paw Paw River. Each summer they have live music that will add some excitement to your date night!
Unique picnic spots in Southwest Michigan
There are dozens of fun-filled beaches and parks to spread out your picnic in Southwest Michigan, but be sure to add these stand-out spots to your vacation plans.
Warren Dunes State Park | 12032 Red Arrow Highway, Sawyer
This park is one of the most breathtakingly beautiful places in Michigan … and in the United States. Picnic with a backdrop of towering dunes, gorgeous Lake Michigan waves and stunning sunsets. It's a premier place to hike, swim, romp with your dog and so much more.
Whirlpool Centennial Park & Compass Fountain | Broad St. below the bluff, St. Joseph
Listen for the laughter and squeals of happiness coming from this park in the spring and summer. It has the largest splash pad in Southwest Michigan with cannons that shoot water 35 feet into the air every 15 minutes and refreshing water jets that cool all ages. There are tables, a grassy knoll and dry, open spaces to enjoy your picnic. For more entertainment, across the street is the Silver Beach Carousel and Curious Kids' Museum Discovery Zone. A few steps away are Silver Beach Pizza (there's a walk-up window to pick up your picnic fare), downtown shops and restaurants and Silver Beach County Park. 
Paw Paw River County Park | 650 N. Main St., Watervliet
What makes this picnic spot stand out are its ADA-accessible hard-surface hiking trails, overlook platforms for river and wildlife viewing, fishing access and barrier-free kayak launch. No one has to miss out on a picnic by the river! 
Kal-Haven Trail Sesquicentennial State Park | South Haven to Kalamazoo
This 33.5-mile trail between South Haven and Kalamazoo rests on an abandoned railroad bed constructed in 1871. There are picnic areas along the way as you run, hike and bike through scenic woods, past farmlands, streams and rivers.
GingerMan Raceway | 61414 Phoenix Road, South Haven
Another unique experience is picnicking within view of this private road-racing course. What is more fun than enjoying your lunch while watching cars or sports bikes speed by?
Where to get grab-and-go picnic fare
Every Southwest Michigan community has a nearby grocery store, restaurant or farmer's market to fill your picnic basket. Here are eight favorites. 
Anemel | 225 E. Main St., Benton Harbor
This Benton Harbor Arts District wood-fired tortaria is a great place to get carryout Tex-Mex tacos and sandwiches.
Bit of Swiss Pastry Shoppe | 4333 Ridge Road, Stevensville
A variety of breads baked fresh daily and pastries made the Old World way. 
Drier's Meat Market | 14 S. Elm St., Three Oaks
Specializes in meats smoked in their 100+-year-old smokehouse. Stop in for their famous boloney, bratwurst, Polish sausage, hot dogs and more.
Froehlich's | 26 & 19 N Elm St., Three Oaks 
The bakery offers made-from-scratch breads, bagels and delectable desserts to brighten any picnic. Or simplify your packing and pick up jams or ready-made deli sandwiches and salads from the Kitchen & Pantry across the road. 
Lark's Barb-B-Que | 174 W. Main St., Benton Harbor
Mmmm — bring lots of napkins. Perfectly smoked racks of ribs, chicken, brisket and rib tips, plus southern sides, make the best picnics.
Martin's Super Market | 2121 S. Cleveland Ave., St. Joseph
Build-your-own salad bar, deli meats and salads, hot fried chicken and mashed potatoes, dips and spreads, fresh fruits and vegetables, chips, muffins and breads plus a full range of beverages and grilling foods
Meijer | 5019 Red Arrow Highway, Stevensville
Grab-and-go sushi, salads, deli meats and cheeses, spreads and sauces, chips, crackers, grilling meats and fish and picnic supplies.
The Cheese Lady | 301 Main St., St. Joseph
Picnic-goers, make The Market a must-stop before you pack your cooler! Visit The Cheese Lady for over 120 varieties of domestic and international cheeses, charcuterie, crackers, jams and a wide selection of specialty food items to enjoy on your picnic.
Book your stay today
With so many fun things to do in Southwest Michigan, you will want to turn a day trip into a longer stay. Our expanded number of lodgings makes it easier to find the amenities and rates you like. But reserve your stay soon for the best choice of dates during picnic season. We will have a table outdoors waiting for your arrival.