Dog friendly beaches on Lake Michigan
Does your dog love the water? Chasing waves? Leaping up to catch Frisbees on the sand? Then bring your tail-wagging friend to Southwest Michigan. We have five dog friendly beaches on Lake Michigan just waiting for you and man's best friend to romp around together!

Keep your pup safe and follow these rules
While your pups are welcome, the parks do have a few simple rules to protect your dog's and other beach enjoyers' safety:
Keep your dog on a six-foot or shorter leash.

Be in immediate control of your pet at all times.

Properly dispose of all pet waste in receptacles.

Heed posted flags and beach hazard warnings. If it is not safe for people to be in the water, it is not safe for your dog either.
Play together on these five Lake Michigan beaches
Dogs are allowed on the beach north of the northernmost beach parking lot. It's a great place to swim together in the water. Leashed dogs are also allowed on 6 miles of hiking trails, boardwalks and in the campground.
Visitors at neighboring Weko Beach & Campground can also access the Warren Dunes State Park dog beach following a 50-foot path from the end of the Weko Beach boardwalk to the state park boundary. Dogs must be leashed and stay on the clearly marked path. Map.
It's about a ½- to ¾-mile, moderately challenging walk over the dune to the beach. Once there, you will have a mile-long stretch on this secluded beach to play on!
This beach is accessible by a staircase (approximately 100 steps). If you want to walk the miles of shoreline, you need to keep your feet and your pet's paws in the water. There is bench-seating throughout the park grounds, plus a picnic area and playground for whole-family fun. You'll want to bring bottled water for you and your dog as running water is not available.
This is a small beach just south of Van Buren County. The trail down from the parking lot to the beach is about 0.3 miles. The dune keeps it shady until midafternoon. It's a beautiful place for sunset playtime!
This is a placid stretch of sand to hang out with your dog where Deerlick Creek flows into Lake Michigan. If you like to kayak with your dog, you can launch here. Bring your pole and bait; it is a good fishing spot, too.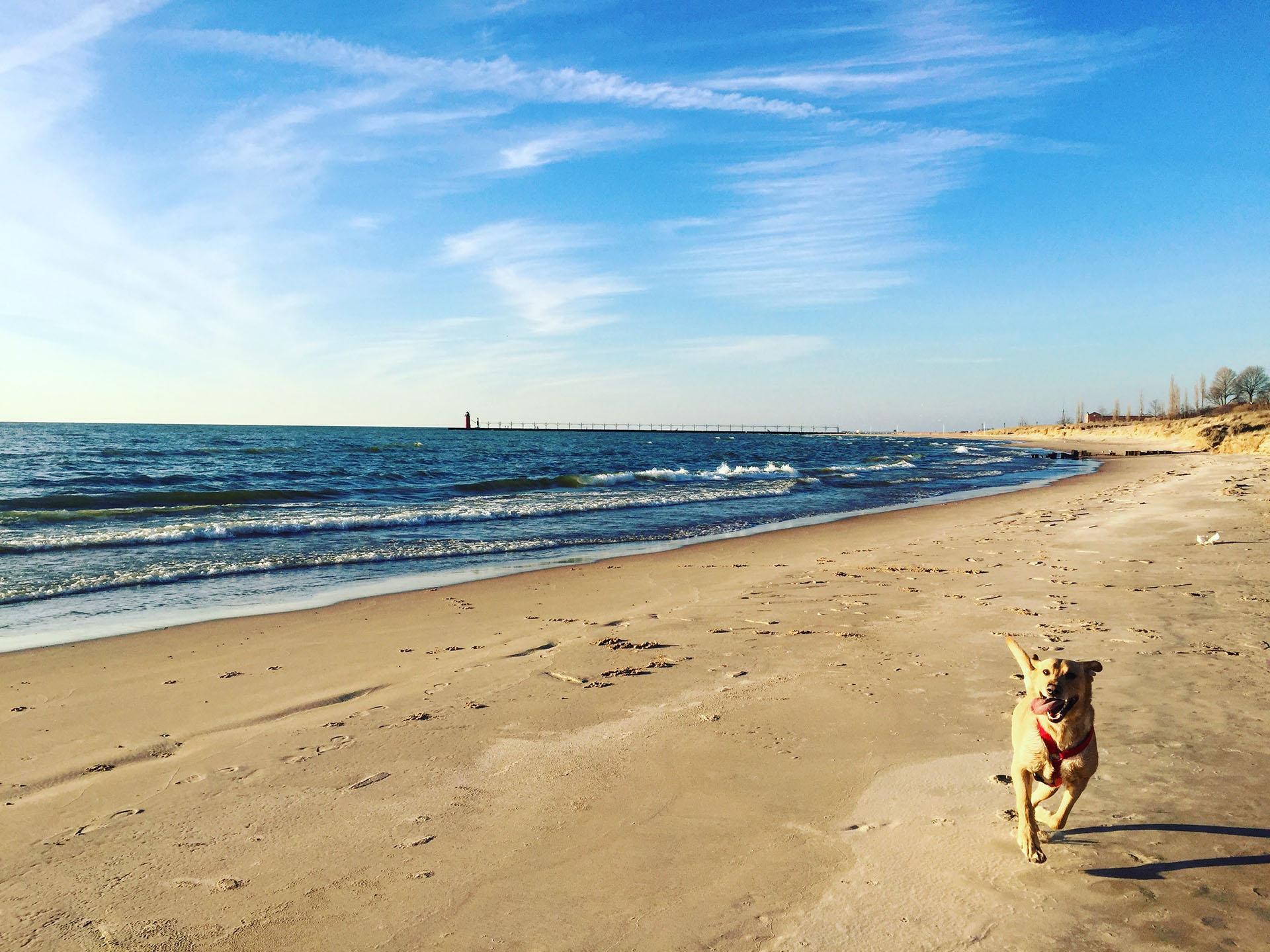 More beach safety tips
The sand can get blistering hot, so during the high-heat days of summer, visit beaches early or late in the day. Protect your pup's paws.

Bring a beach umbrella or small tent to create shade for your dog between romps in the water and sand. Put down a towel or blanket for your pet as well.

Provide a bowl for water.

If you are not sure how well your dog swims, bring a dog life vest. Lake Michigan is a huge, inland, freshwater lake and your dog can easily tire out playing in it.

Short-muzzled dogs overheat more quickly than long-snouted dogs. Watch for rapid panting, excessive drooling, coordination problems, vomiting, diarrhea and fainting.

You will be sharing the beach with other dogs. Please keep your dog's shots up to date.
Hope to see your pup's paw prints in the sand soon! Find more pet friendly content here!