Take the best Lake Michigan vacation in Southwest Michigan
You know a place is special when locals have no desire to get away from Southwest Michigan in the summer. A big reason they staycation is Lake Michigan, one of the largest freshwater seas in the world. In our corner of Michigan, you can fill your day with thrilling watersports, live music, rollicking festivals, delicious foods and hours of rejuvenating relaxation. 
For one of the best summer vacations ever, make Southwest Michigan your destination. Like locals, you will be in no hurry to leave once you arrive.
Lake Michigan average summer water temperatures
Summer is the best time to dip your toes into Lake Michigan or dive in to cool off.
Surface Water Temperature
| Month | Average | Low | High |
| --- | --- | --- | --- |
| June | 62.6°F | 48.9°F | 71.8°F |
| July | 71.6°F | 62.2°F | 78.8°F |
| August | 72.9°F | 66°F | 78.3°F |
| September | 68.9°F | 62.8°F | 76.3°F |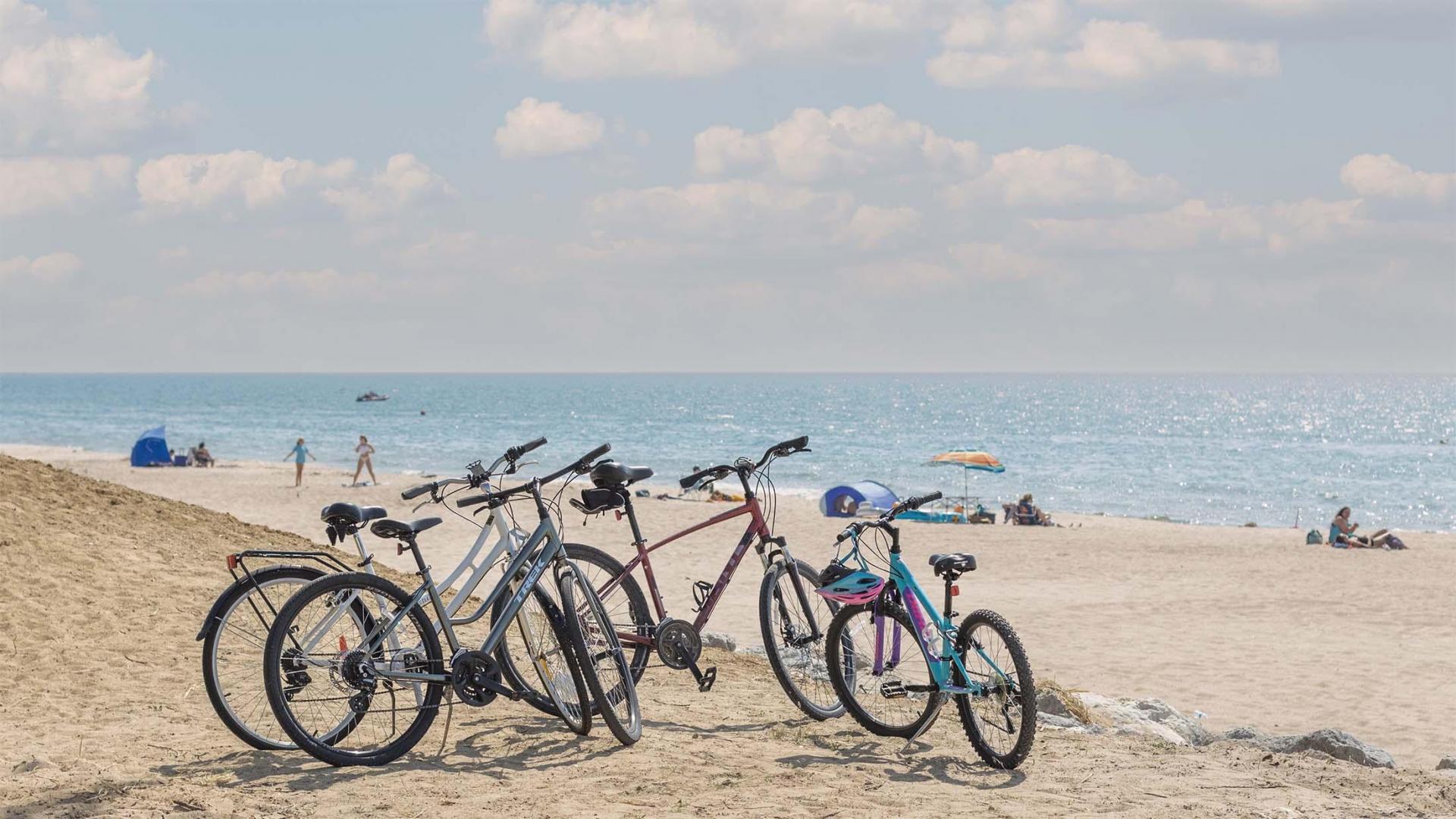 Top things to do on your Lake Michigan vacation
Whether you come with your family or friends or on your own, Lake Michigan will be a highlight of your stay. 
Enjoy water activities | Visit historic lighthouses | Trails | Collect rocks and beach glass | Attend live entertainment | Unique lake fun | Bring your water-loving dog | Watch sunsets 
Play in our freshwater sea
Lake Michigan is one of the world's five Great Lakes. It is 321 miles long (north to south); has a maximum width of 118 miles (east to west); and has a surface area of 22,300. It is big and beautiful. As souvenir t-shirts from Southwest Michigan will tell you, there are no sharks and no salt. 
Activities on this refreshing freshwater sea include almost every watersport imaginable. All ages can enjoy playing and picnicking on our beaches. Wade, swim, build castles, catch frisbees and play volleyball. Our soft-sand beaches sing with each footstep. 
Thrill seekers surf, windsurf, wakeboard, parasail, kiteboard, jet ski and scuba dive. There are plenty of marinas and boat launches up and down the coast, many of which offer boat rentals. Sailing across our expansive waters is exhilarating, too. 
On calm-water days, you can kayak or stand-up paddleboard. It's an especially tranquil way to spend early mornings or sunset evenings on the big lake. Or fish for salmon, trout and perch from the piers, your boat or a charter. Just sitting on the beach and watching and listening to the waves is simply wonderful, too. 
Visit historic lighthouses that still guide boats safely to our harbors
Southwest Michigan is home to picturesque lighthouses in St. Joseph and South Haven that are steeped in maritime history and hold stories of valiant rescues and heartbreaking shipwrecks. In the summer you can tour the St. Joseph North Pier Lighthouse, reachable from Tiscornia Park, You can climb the tower for a gull's-eye view of Lake Michigan and the resort town for a small fee. It's an experience you will never forget!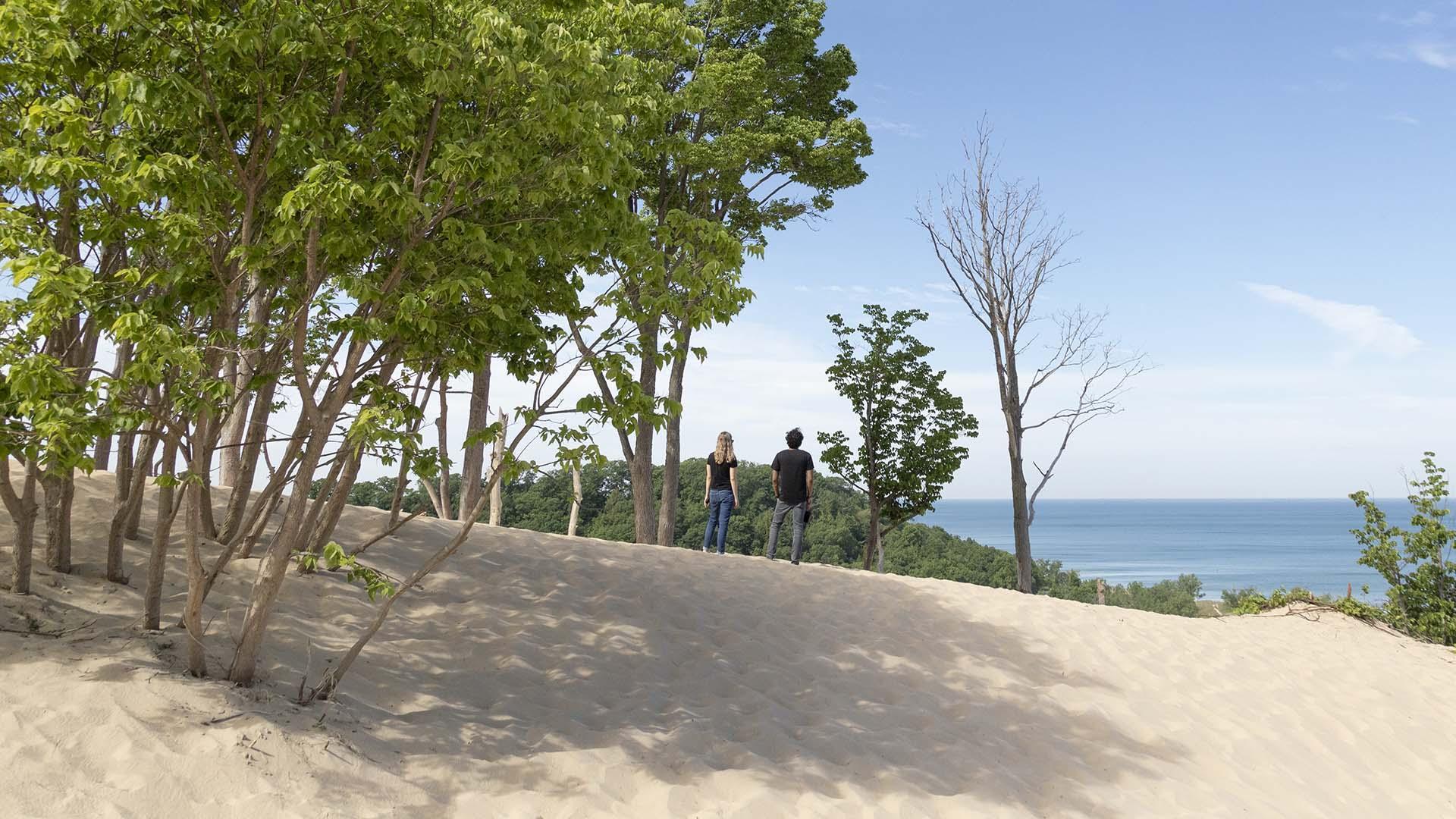 Hike giant dunes and wooded lakeshore trails
There are gorgeous trails along the coast of Lake Michigan to immerse in nature. This stretch is part of the ancient Nipissing Dunes that have been continuously reshaped over the past 5,500 years! Some trails and dune climbs, such as in Warren Dunes State Park near Sawyer and Grand Mere State Park in Stevensville can be very strenuous, but even these parks have easier trails through the lush woods. Easier hiking or biking await at the John & Dede Howard Family Recreational Trail in St. Joseph, Harbor Shores Nature & Fitness Trails in Benton Harbor/St. Joseph, the Van Buren State Park and Van Buren Trail in South Haven. 
Watch for an abundance of wildflowers and during the early morning and at dusk you are more likely to spy whitetail deer, rabbits, squirrels and chipmunks along the trails. Bird watching, especially for songbirds and shorebirds, adds to your outdoor adventure.  
Collect colorful rocks, beach glass and glacier-age crinoids 
A relaxing beach pastime for all ages is picking up colorful rocks, driftwood, crinoids and fossils and jewel-like pieces of smooth beach glass. Use them to decorate sandcastles, make jewelry or fill jars back home. 
Make your lake day extraordinary with festivals, art shows, live theater and music
Our Lake Michigan resort towns love bringing locals, visitors and incredible regional and national artists together all summer long! Hardly a weekend goes by without a festival, art show, live music or theater performance to uplift your spirits — all with the Big Lake as your backdrop.  Here are the festivals and performances happening this summer.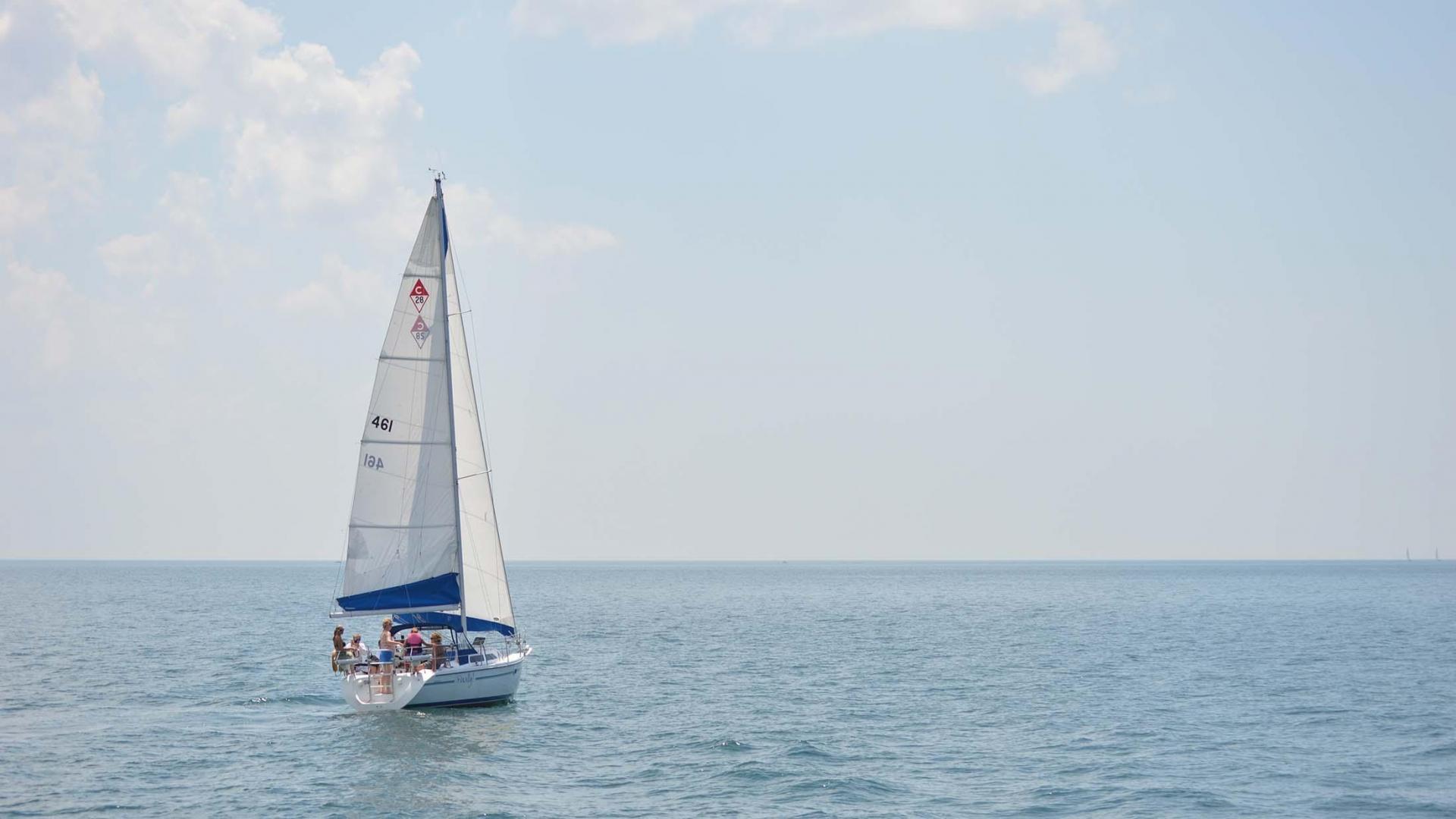 Add these unique activities to your lake plans
Want to change up your Lake Michigan summer vacation? That's easy to do in Southwest Michigan. Include these in your plans.
Make happy memories on the

Silver Beach Carousel

just yards from Silver Beach County Park in St. Joseph. Pick your favorite figure to ride from 48 magnificent, hand-carved menagerie figures and two chariots (one is wheelchair accessible). Your heart will soar as you spin beneath 1,000 twinkling lights listening to the happiest music on earth!

Cool off on Southwest Michigan's largest splash pad. You don't have to be a kid to laugh and dance in the

Whirlpool Compass Fountain

across from the Carousel. Water cannons shoot streams of water 35 feet into the air every 15 minutes! 

Don't have a sailboat, but want to go out on the lake? Reserve a

personal cruise on a 31' sailboat

in New Buffalo or feel the exhilaration of cutting through the waves on the 1810 tall ship replica

Friends Good Will

in South Haven. 
Bring your water-loving dog on vacation, too 
Most of our lake resort towns are happy that your tail-wagging friend is on vacation with you. Check this guide to see what beaches, parks, trails, hotels, restaurants and stores are dog friendly!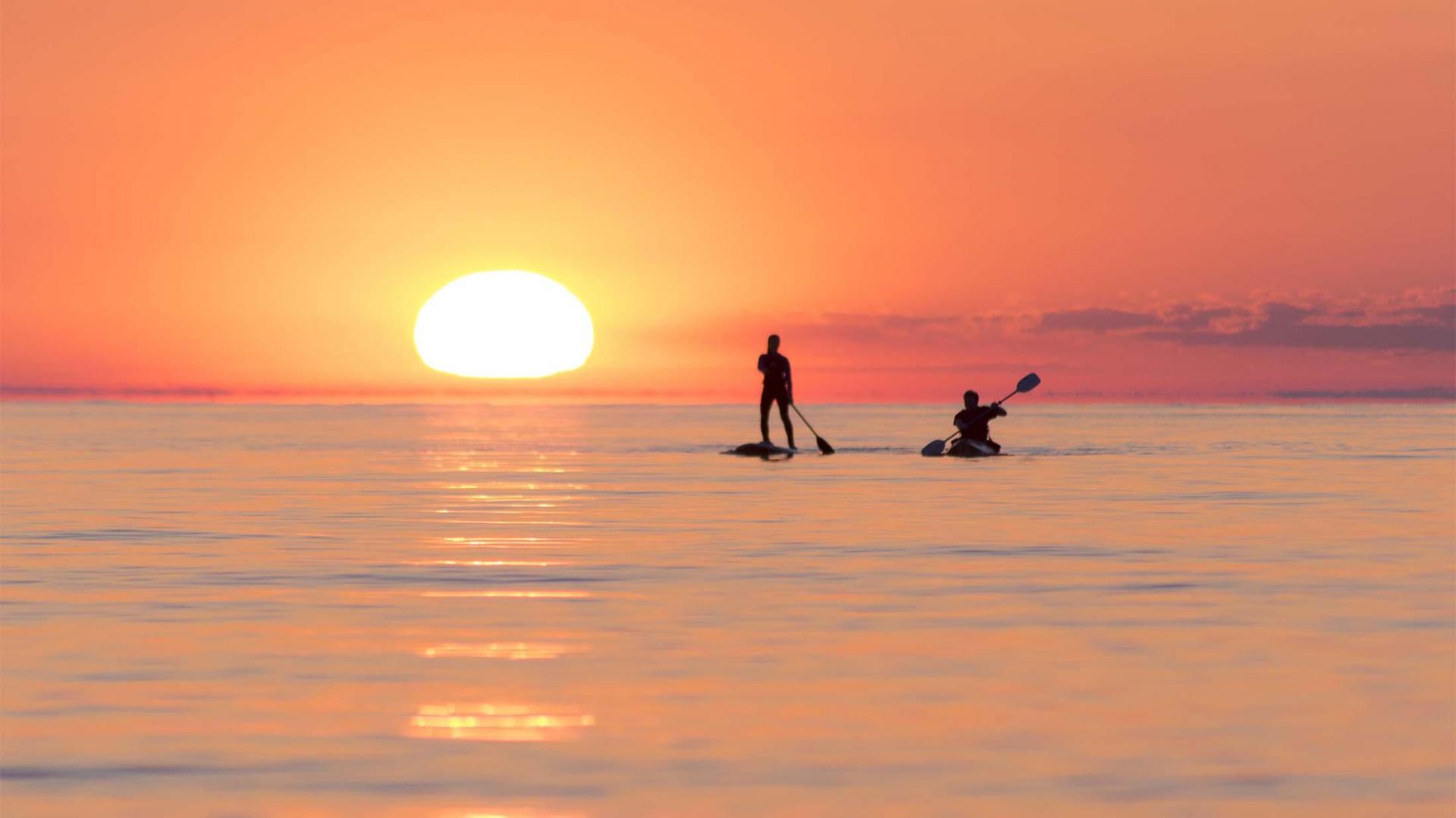 Pause and watch a breathtaking sunset, then count the stars
There is a lot to do along the coast of Lake Michigan, but none surpasses putting your day on hold to watch a sunset. The changing colors across the horizon are very calming. Claim a front-row seat to this daily show at all of our public Lake Michigan beaches, Lake Bluff Park and Lookout Park in St. Joseph and the piers in St. Joseph and South Haven. Once night falls, stay to gaze up at the moon and stars and make a wish. You will sleep better.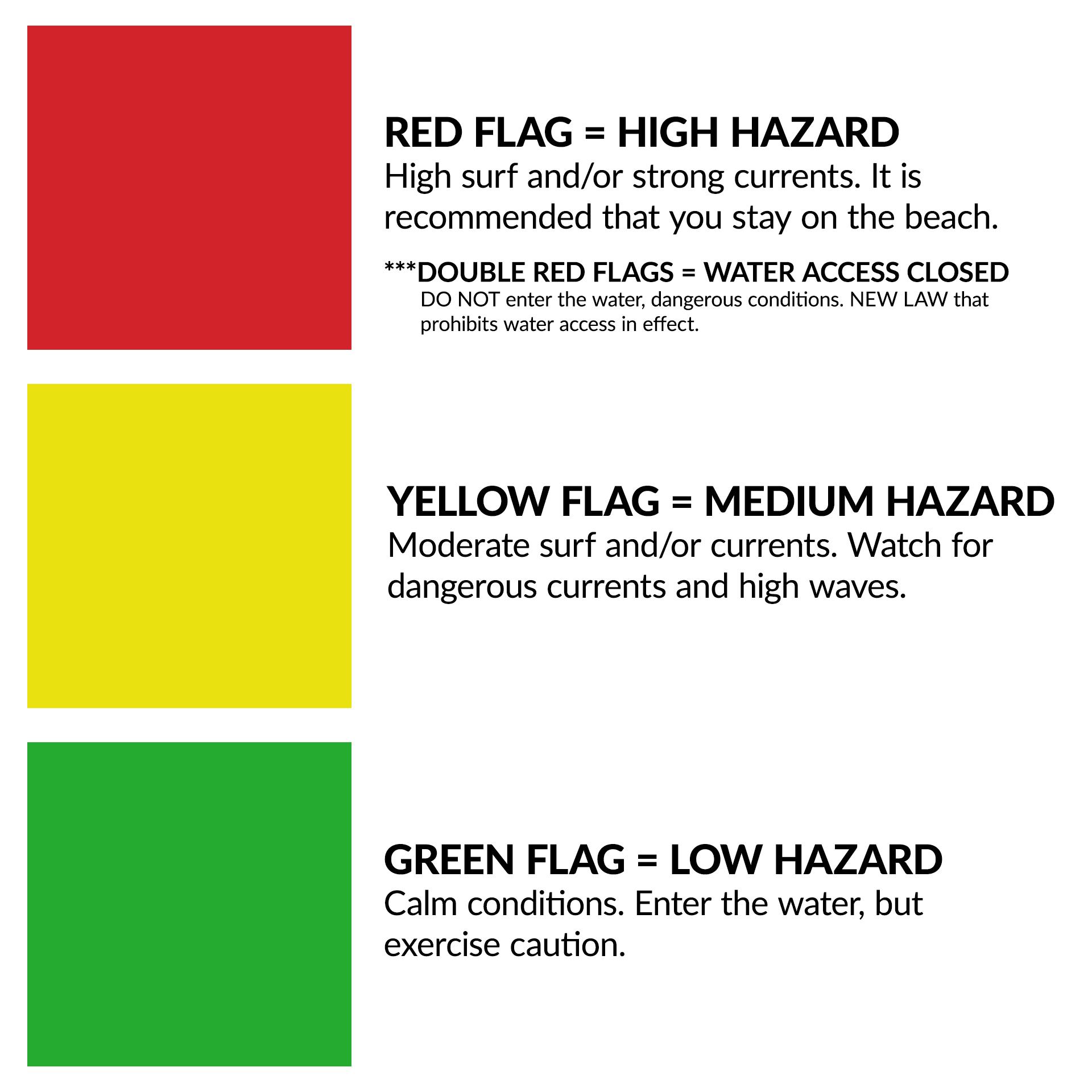 Stay safe
As lovely and refreshing as Lake Michigan is, it also can be dangerous, especially when the huge white-capped waves crash onto the shore. On those days, enjoy Lake Michigan from the safety of the beach. 
Public beaches will post flags to let you know when it is safe or not safe to be in the water. Take them seriously. Even the strongest swimmers cannot win against Lake Michigan's power and its beneath-the-surface pull.
Note: It is now against the law to enter Lake Michigan when double red flags are flying.
Also, dangerous thunderstorms and winds can come across the lake quickly. Heed weather warnings and seek shelter immediately from lightning and blowing sand.

Boaters and paddlers, listen to weather reports and never go on the water if there is a threat of storms, high waves or strong winds. These have damaged ships much larger than your vessel.

Follow the rules posted on the piers. Jumping and diving from them may seem like fun, especially when you are in your teens, but there are life-endangering boulders and rip currents around the piers. Also, never walk on the piers when the waves are crashing over them. They can easily sweep you off and make rescuing you or swimming back to safety extremely difficult. 
Read These Important Lake Michigan Safety Tips
Where to eat and stay on your Lake Michigan vacation
Eating is also a pleasure this time of year, with outside and indoor seating with Lake Michigan views, hand-dipped ice cream and grab-and-go meals and grilling meats, fish and vegetables to bring to your beach picnic. Find your favorite foods here. 
All lodgings in St. Joseph, Benton Harbor and Stevensville are only minutes from Lake Michigan and several are so close they offer lake views. Summer is a popular time to vacation here, so make your reservations as early as you can to get the rate and amenities you want. See you by Lake Michigan soon!