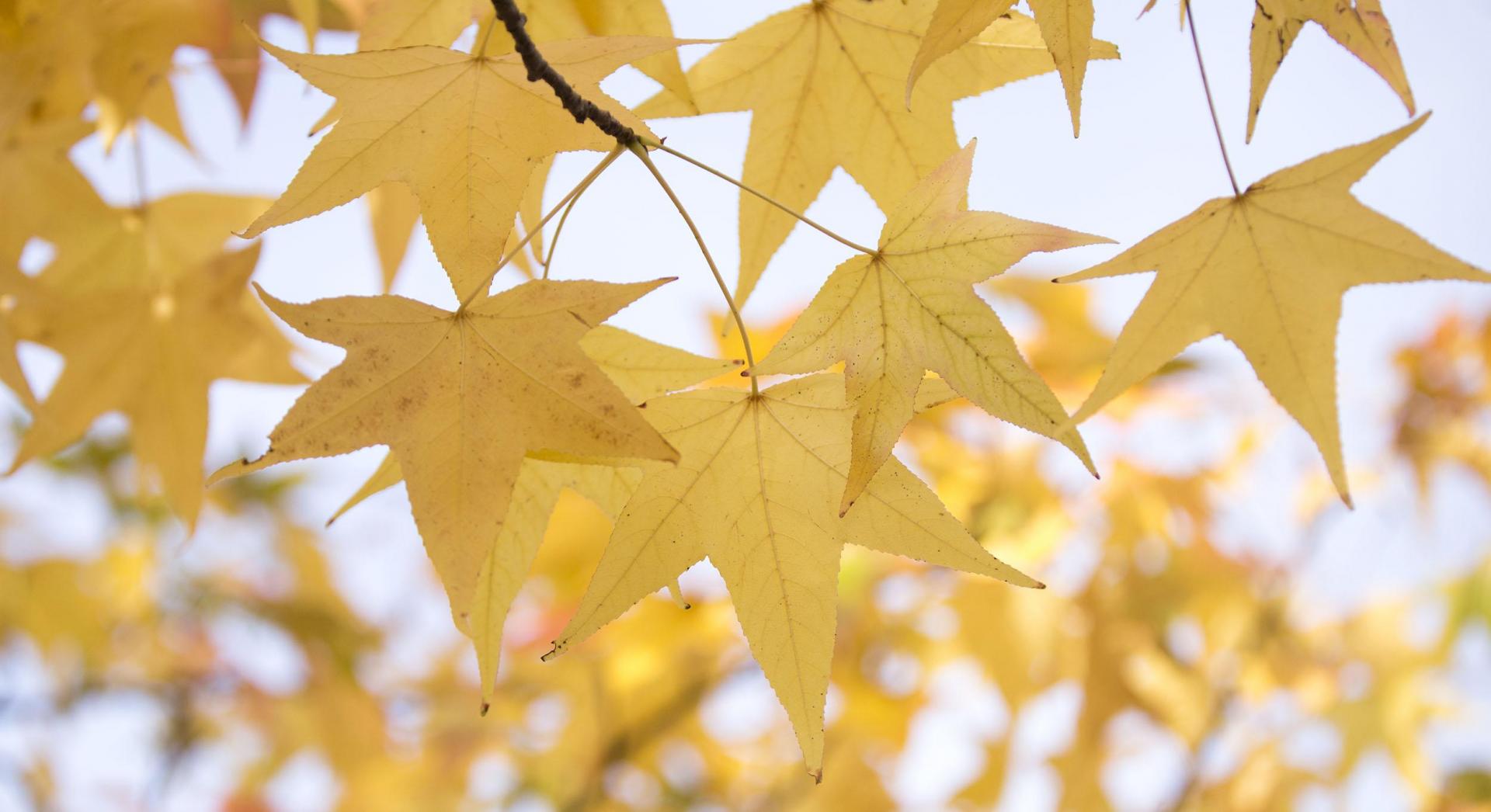 Why Southwest Michigan is your best fall vacation destination
When the summer crowds dwindle after Labor Day Weekend, Southwest Michigan catches its breath but not its simple joys vibe. The air and water temperatures are still warm in early September, so don't think your beach days are over. It's just easier to find places to stake your spot on the sand and there are far fewer people to make footprints around as you stroll along the shore.
As the weeks roll into October, Lake Michigan's waves lap the sand one day and then roar wildly with frothy white caps the next. It's exhilarating to be here during this freshwater sea's changing moods.
But the best reason to vacation here is for the color shows that start at our century-old family farms, spill into our markets and pour into our wine, beer, cider and spirits glasses. Then, from mid-October to early November, the cooler days and crisper nights drench our hardwood forests and dunes in jewel-toned amber, ruby, orange garnet and brown topaz foliage. You won't drive a road, stroll a city sidewalk, comb a beach, hike a trail, golf a fairway or paddle a river without our stunning color displays surrounding you.
Whether you come for a cozy, romantic getaway, a harvest adventure with your children or grandchildren, catch-up time with friends or a cozy retreat just for you, grab your favorite sweater or sweatshirt. Fall will easily become your favorite season in Southwest Michigan!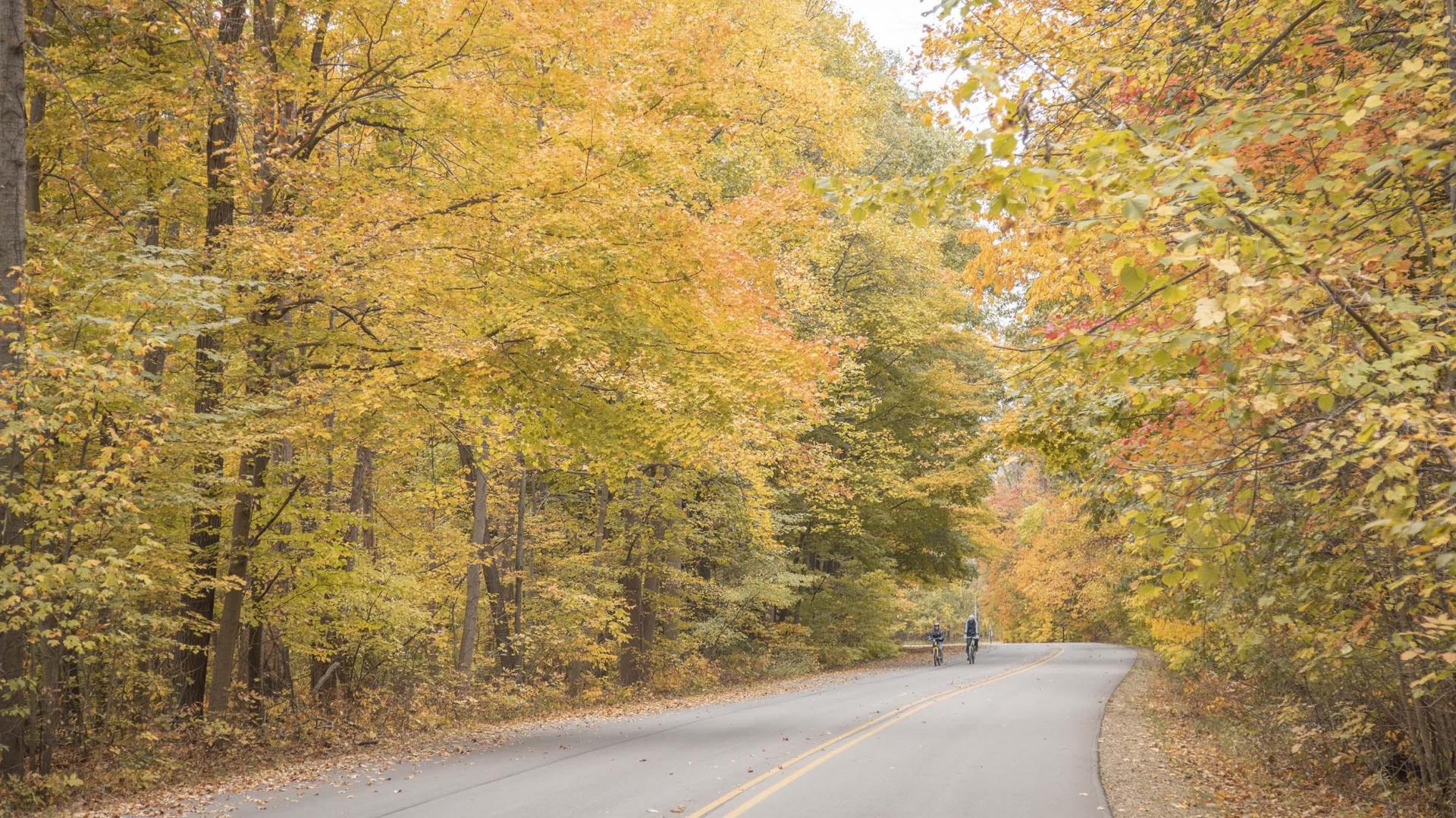 Where to find the best fall color in Southwest Michigan
We have two recommendations:
Download our Fall Color Guide.
This guide directs you to six easy-to-follow routes:
West Michigan Pike/Red Arrow Highway Route takes you south from St. Joseph to Warren Woods in Three Oaks.
West Michigan Pike/Blue Star Highway Route goes north from St. Joseph to South Haven.
North Berrien County Tour takes you from downtown St. Joseph to wineries in Coloma.
South Berrien County Tour routes you from St. Joseph to Sawyer, Buchanan, Baroda and Bridgman.
Fred Russ Forest encourages you to explore this beautiful 13-acre park between Dowagiac and Marcellus.
St. Joseph River Tour takes you to Fernwood Botanical Garden and Nature Preserve and on to Lehman's Orchard. Both are in Niles.
Southwest Michigan Fall Color Report
[watch for weekly updates from October to early November]
Download the free Makers Trail Passport App, starting in September, and earn cool rewards.
If you like seeing fall colors on the trees and in your glass of craft wine, beer, cider, spirits or cocktails — then this tasting color tour is the way to go. Following the Southwest Michigan Makers Trail takes you to some of the best wineries, breweries, cideries and distilleries in Berrien County, each with its own urban to rustic ambiance. Many offer harvest festivals and live music on weekends, too. All offer new favorite beverages to bring home.
To entice you to see as many Makers stops as you can between after Labor Day and the end of May, download our free Passport app and Makers Trail map (a printed version is available at area hotels). The more Makers Trail sites you visit, the more stamps you can collect and the more cool rewards you can earn. Learn more.
Visit Southwest Michigan App
Download the Makers Trail Map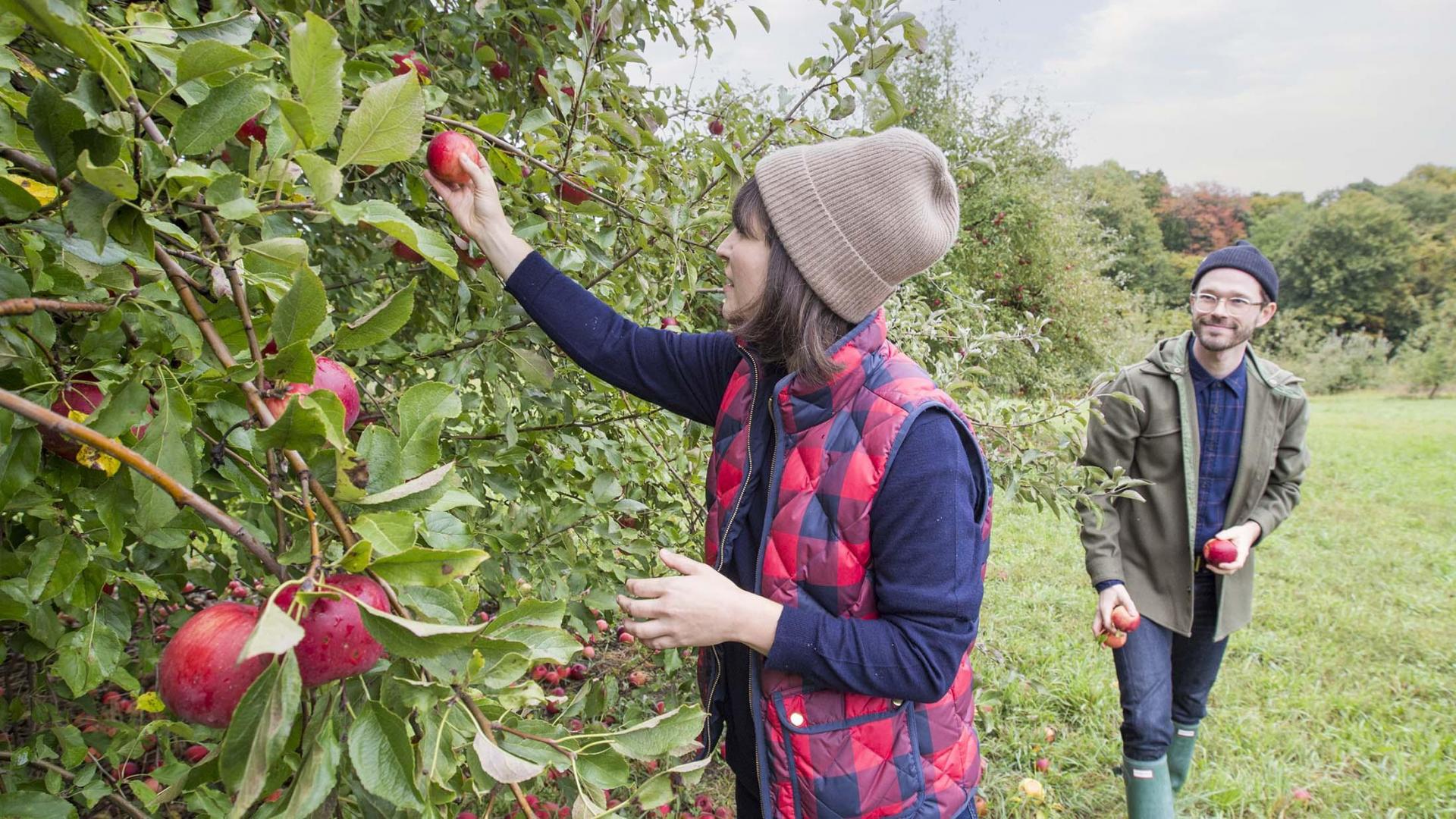 Fall activities in Southwest Michigan
Celebrate the harvest and this beautiful season at our fall festivals and events
One thing is clear on our fall events calendar, you will find lots of ways to enjoy this fun-filled season between September and November. Here are a few favorite festivals and events:
September-Early October: St. Joseph Farmers Market is your Saturday source for fresh-picked fruits and vegetables, fall flowers and decorations, locally sourced meats and cheeses and more. Antiques on the Bluff, held on the first Sunday of the month, features more than 50 vendors and their treasures.
September-November: Check the list of events for the dates of The Economic Club of Southwestern Michigan Speaker Series that brings national and international political and scientific leaders, actors, writers and more to The Mendel Center. You can also catch music concerts, symphony orchestra performances, plays and acrobatic or comedian shows at The Mendel Center, Twin Cities Players, The Acorn and Four Winds Casino with ticket prices that fit most vacation budgets.
September: South Haven hosts its annual Antique Engine & Tractor Show, one of the largest in the state, at the Michigan Flywheelers Museum. It's also the site of a Wine & Harvest Festival. The Annual Zombie Crawl is a favorite night activity in Benton Harbor. And Fall Fest in St. Joseph is a must-attend with its petting animals and Pumpkin Festival.
October: The Bike Oktoberfest in South Haven is a chance to bicycle under a colorful tree canopy along beautiful Lake Michigan, past vineyards, apple orchards, blueberry fields and artist communities. Dowagiac also hosts the Under the Harvest Moon Festival and you also can find several spook-tacular Halloween-themed events in and around St. Joseph.
Take in the flavors, aromas and beauty of the season with our fall outdoor activities in Southwest Michigan.
To enjoy the fall color up close, this is the season to get outside and play. Here are some ideas:
Hike hundreds of miles of trails. Walk along Lake Michigan, our rivers and streams, through our forests and across our wetlands. Each day the color display will be different. Download our trail guide to learn more and read our fall hiking and nature + Makers Trail blogs for ideas!
Pick your own or gather up ready-picked fruits and vegetables. Southwest Michigan is renowned for its fall harvests and our countryside and communities are filled with century-old farms and markets where you can find your favorite produce. Come for crisp, juicy apples and pears, jelly and wine grapes, raspberries, winter squashes, Brussels sprouts, hearty soup vegetables, kale, carving and pie pumpkins, fall flowers and decorations. This farm & harvest guide tells you what is in season from September to November.
Ride scenic mountain bike trails. Cyclists will find the challenges they enjoy most while taking in miles of colorful fields and woods. Check out the paved and off-road trails in this Bike Trail Guide or learn more in this blog about our local mountain bike trails.
Get your adrenaline rush dune climbing. Make it to the top of our towering mountains of sand for some of the best Lake Michigan vistas. How you get down is your choice — a leisurely walk, running or bring a sandboard and soar down.
Paddle peaceful rivers, streams and lakes. If you want to see fall color and wildlife and listen to the soothing sounds of water, bring your kayak, canoe or SUP and head for our rivers, streams or inland lakes. You can also paddle on Lake Michigan, but keep in mind that in the fall, the waves can kick up quickly. Find your next paddling destination in our water trails guide.
Golf on courses that can accommodate your tee time. Choose from several courses that will fit your skill level and tee times. This includes The Golf Club at Harbor Shores, a Jack Nicklaus Signature course and the biennial site of the KitchenAid® Senior PGA Championship. Read more about seven scenic courses to play this fall.
Surf fall's bigger breakers. Yes, you can surf Lake Michigan's waves and in the fall, you can ride some of the biggest. Get a surfer's inside tips here.
Hunt for beach glass. Fall's bigger waves also toss treasures such as beach glass onto Lake Michigan beaches. Read our beach glass collecting blog for where the best hunting grounds are.
Fall is the prime birdwatching season. Many migratory birds follow Lake Michigan's shoreline and stop over along our beaches and in our forests, dunes, wetlands, meadows and agricultural lands. You can spot a large variety of birds this time of year. Check out our tips for birdwatching blog— it includes a Berrien County birding destinations map.
Go fishing. There are few things more exciting than wetting your line and pulling in a fighting salmon, trout, steelhead or walleye from Lake Michigan or our rivers, streams and inland lakes. But it is pure joy eating fresh-caught fish, too. Read where to fish in this blog. Then learn what is in season and current fishing regulations in this Michigan Fishing Guide.
Watch a fall sunset — it's the ultimate color show! Whether you stand along a Lake Michigan bluff, plant a chair along the shore or look out across the vineyards, nothing compares to the sun dipping below the horizon and leaving lavender, gold and rosy streams across the sky. If you look closely, fall is a great time to catch a glimpse of Chicago from across the lake.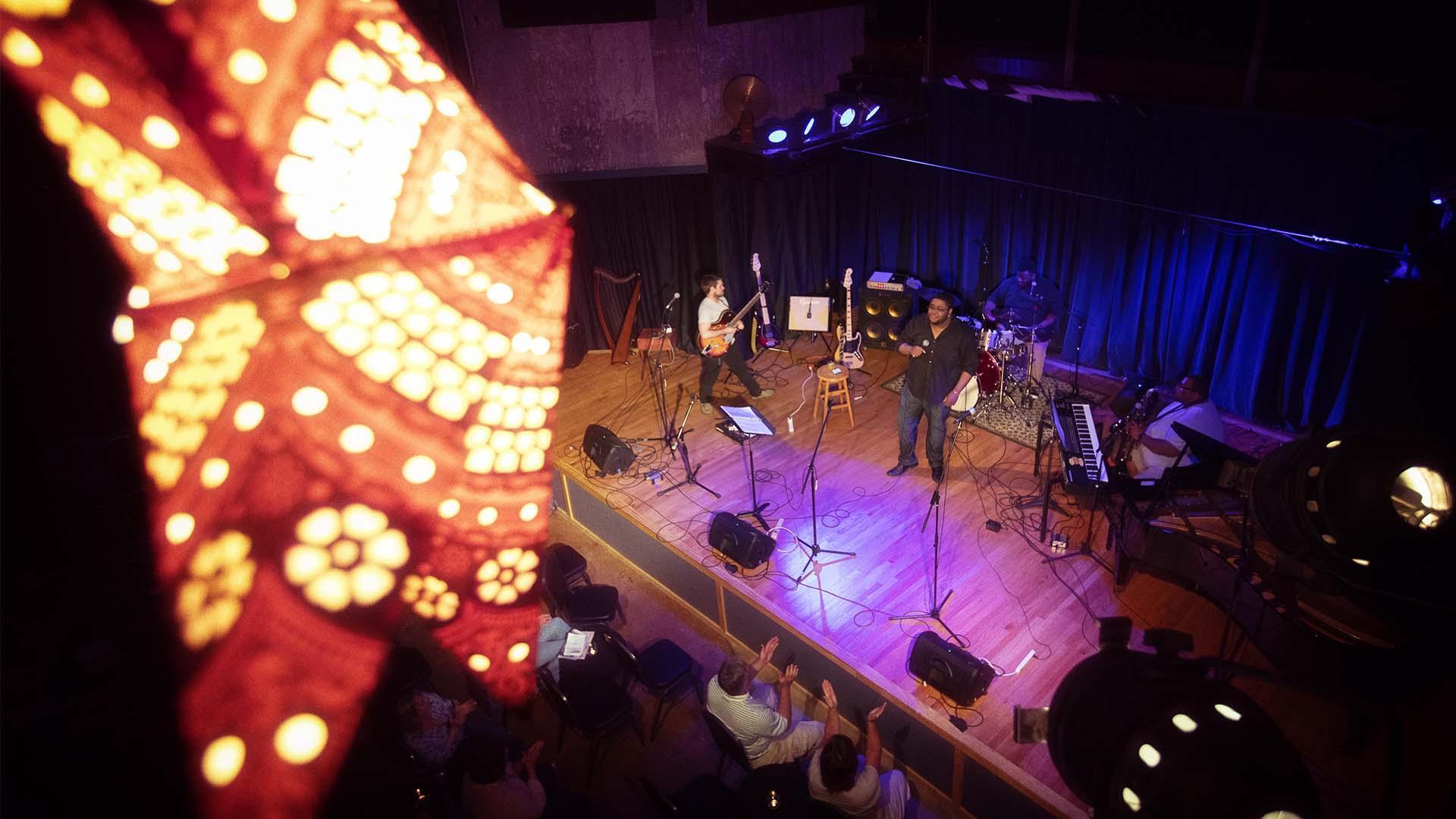 Make enriching Creative Connections in Southwest Michigan and earn artsy rewards.
Autumn is a favorite time to meet some of the finest artists, singers, musicians and actors, as well as explore historical and culturally rich places in Southwest Michigan. Add to your art and cultural adventures by playing the Creative Connections Game. The more of the 15 participating art galleries, museums and theaters you visit, the more stamps you can collect and the more prize levels you can complete. Visit any of the Creative Connections destinations or the Southwestern Michigan Tourist Council to get a game brochure and have fun playing!
Planning your fall vacation in Southwest Michigan is simple.
It's easy to put together a day-trip or multi-day visit in Southwest Michigan. Check the weather, then pack a few warm and lightweight layer options, plus a pair of gloves — the temperatures and weather conditions can easily change several times on any given day in Southwest Michigan.
Average High/Low Temperatures
September: 73.4°F/54°F; 11 rainy days
October: 61°F/42°F; 11 rainy days
November: 52°F/34°F; 14 rainy days
Most places take debit or credit cards, but bring some cash for those that don't.
As you put together your route for each day you are here, check our itineraries that highlight some favorite things to do. And if you have questions, please contact us. We are ready to help you make this fall vacation one of your most memorable!
Book your Southwest Michigan fall getaway now.
While booking your stay in Southwest Michigan is easier in the fall than in the summer, there are still some peak weekends that you will want to make your reservations as early as you can. Our Benton Harbor, St. Joseph and Stevensville hoteliers and their staff are some of the friendliest and most hospitable in Michigan. You will find the amenities you want, including views of Lake Michigan and the harbor, romantic packages, indoor pools, breakfast, fitness and spa facilities and tail-wagging accommodations for your pet.
You also have our assurances that our lodgings follow cleaning protocols to keep your room and the public areas safe. Many offer contactless check-outs and can provide temperature checks if you request them. Your comfort is a top priority while you are visiting.
So, come find the simple joys of fall in Southwest Michigan. The trees are eager to give you one of the best fall color shows in the Midwest!