Tips for taking photos in winter from a Michigan photographer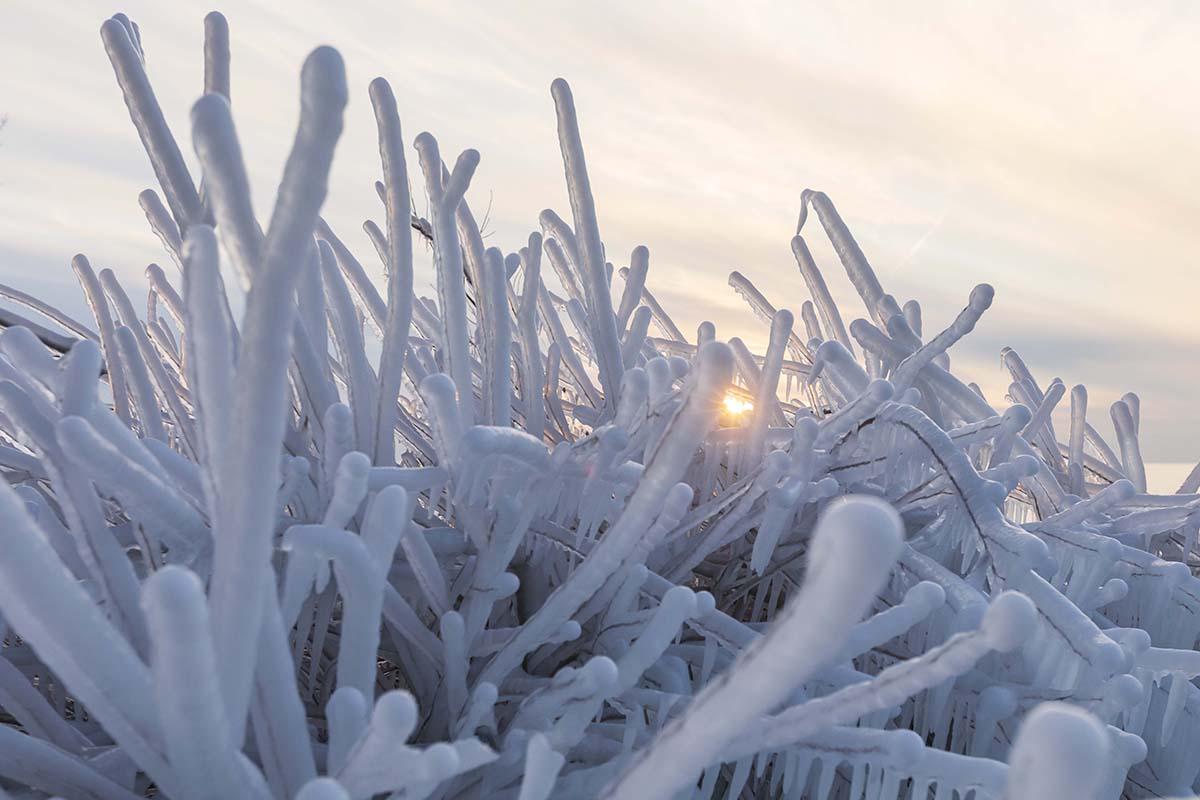 Winter is one of our favorite times to be outside. The crisp air, the way that the snow blankets everything, the peculiar ice formations along the lakeshore and the delicate beauty of individual snowflakes are from another world. We aren't alone in that feeling. Thousands of visitors pass through Southwest Michigan each year, many of them taking photos in winter. Whether it's walking along Lake Michigan, hiking a trail, climbing a snow-covered dune or driving along a quiet country road, you'll delight in discovering places to photograph the beauty of winter in Southwest Michigan. You don't have to be a professional either! While we did speak to one to get tips, anyone with a camera and an interest can take photos easily. Here is what Southwestern Michigan Photographer Joshua Nowicki had to offer to get started.
What to bring
The most important thing when planning a winter photography excursion is choosing the appropriate clothing and equipment. Generally, dress in layers and pack additional clothing in case conditions change. On windy days, carry ski goggles to protect your eyes from blowing snow and sand. Ice cleats for shoes or boots are a must for many locations, especially along the lakeshore. The most difficult piece of clothing to select is gloves; finding something warm but not so thick as to impede the ability to use a camera can be tricky.
Important safety tips when taking winter photos
It is important to think critically about where you are going and bring any necessary safety equipment. Depending on the location and conditions, you'll want to wear a winter wetsuit and carry ice axes. Lake Michigan and its lighthouses are meccas for people in the winter, but they can be very hazardous locations. Piers are often icy and uneven, and the ice shelf on the lake is unpredictable, unstable and unsafe. These locations are also very difficult for rescuers to reach. The shoreline is the best and safest place to take photos from.
How to take photos in winter
Taking care of your camera equipment in the winter weather is equally as important. Nowicki advises changing lenses minimally, especially if it is snowing, to avoid the possibility of getting moisture into the camera. As a result, he will often bring two cameras, one with a wide lens and the other telephoto. If you have access to two cameras, do that! Remember to bring a microfiber cloth to clean off any moisture on your lens. At times, snow and water can freeze to lenses so he often uses and carries extra UV filters to switch them when necessary. Extra camera batteries can't hurt either. Keep them in your jacket pocket close to your body to keep them warm. While walking in icy areas, keep your camera in a padded bag so that if you slip, you are less likely to damage the camera. Finally, be aware that there will likely be condensation on your camera and lens when returning to a warm place.
Best times for winter photography
Winter is beautiful any time of day, but we highly recommend heading out at blue hour, the hour before sunrise or after sunset. The balance of light, dark and vibrant blue of the sky can improve many landscape photos. Also, take photos on a night with a full moon. The reflection of the moonlight on the snow lights up the scene, making for much brighter photos than you'd get other times during the year.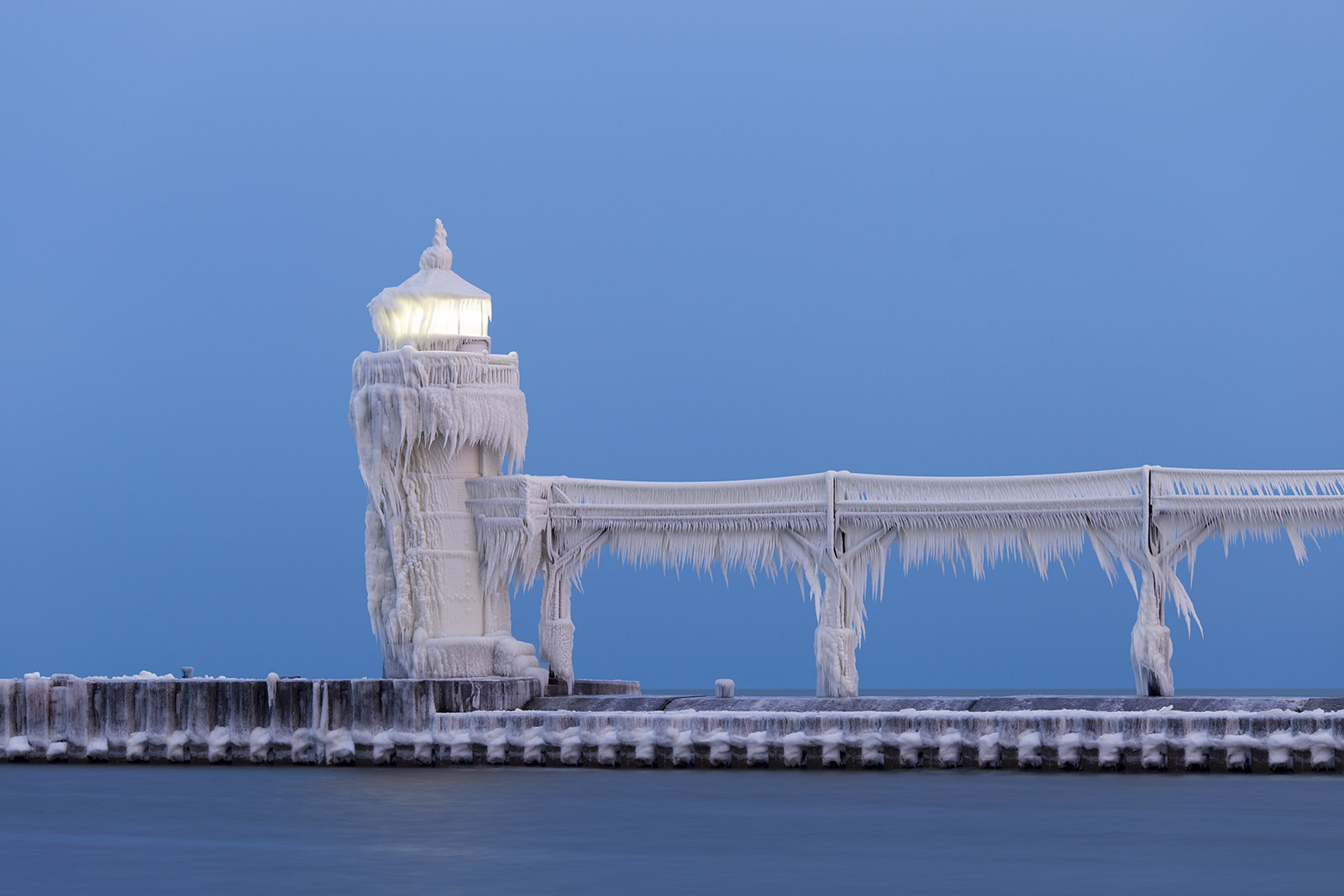 What to capture with your camera
Lake Michigan and its shoreline is a treasure chest full of photographing potential alone. Here are some of the many phenomena and times you'll want to hunt for them with your lens.
Piers and lighthouses
When these are layered with ice, you'll find ginormous icicles hanging down their railings and catwalk. Check on the lighthouse during and after a big snow storm, especially one with freezing temperatures that capture the ferocious splashing waves in motion.
Ice pancakes
Also called ice pans, occur when the surface of lakes and rivers starts to freeze into sheets which are broken up by the moving water of waves or a river current. As they continue to move, they repeatedly bump and rub against each other and end up rounded with raised slushy edges.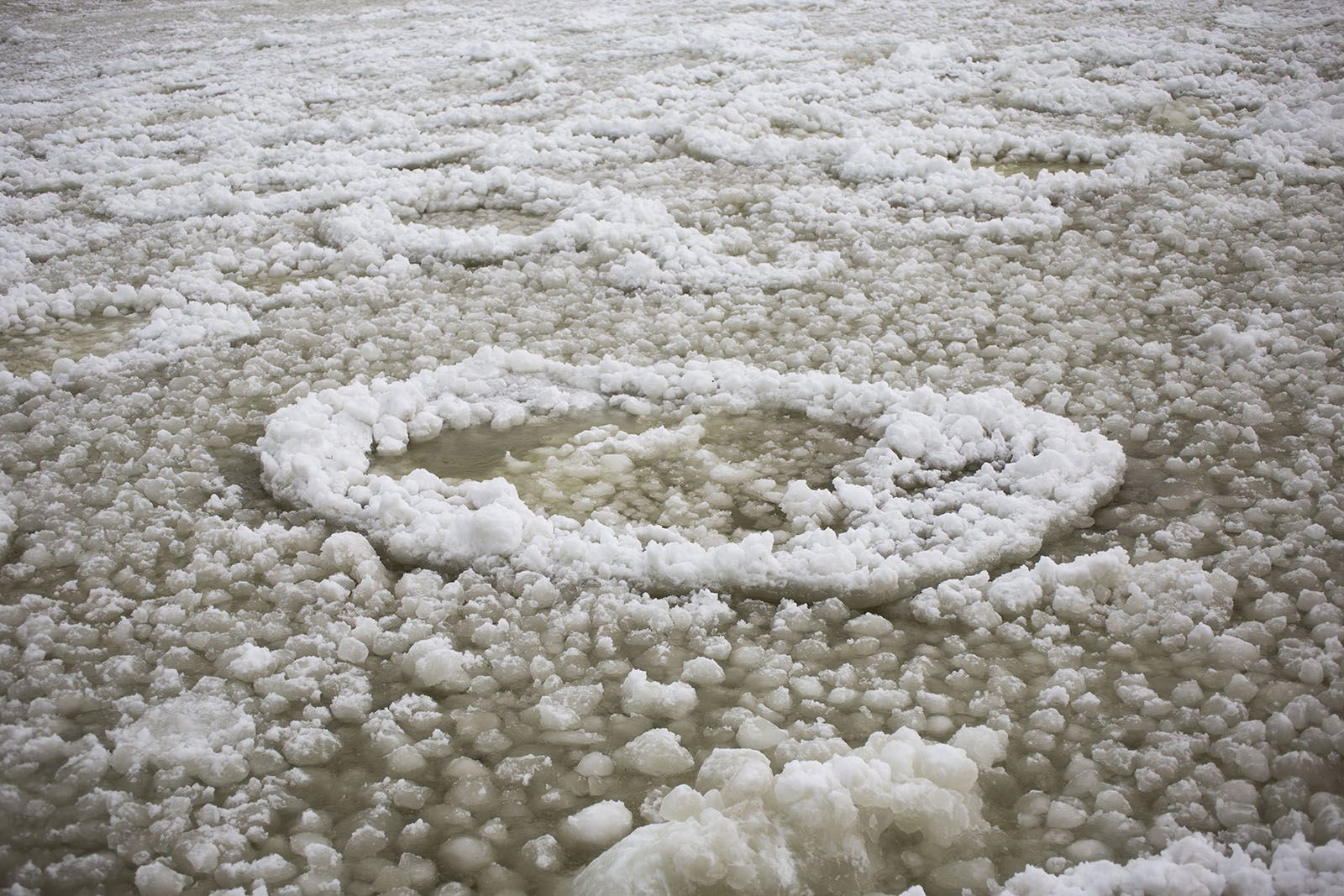 Ice balls
This interesting phenomenon occasionally occurs along beaches. Sometimes called ice eggs, chunks of ice in shallow water slosh back and forth rolling around, adding layer upon layer of ice. The constant rolling movement is what gives them their spherical shape.
Snow and sand patterns
After a windy and snowy day, you may find areas of beaches where a mix of sand and snow looks like a swirl of caramel in vanilla ice cream.
Icey plants
The spray from crashing waves can encase plants near the lakeshore in clear ice, making for a surreal landscape.
Ice mountains and ice volcanoes
Ice mountains occur when crashing waves build up piles of ice along the lakeshore. At times, the crashing waves create tunnels up through the ice. As waves crash, they look like small volcanoes erupting with icy water.
Surfers on the lake
If you are lucky, you might even see a surfer out on the lake. Winter is a great time for surfing the Great Lakes, and experienced surfers take advantage of the prevalent north winds until the water starts to ice up.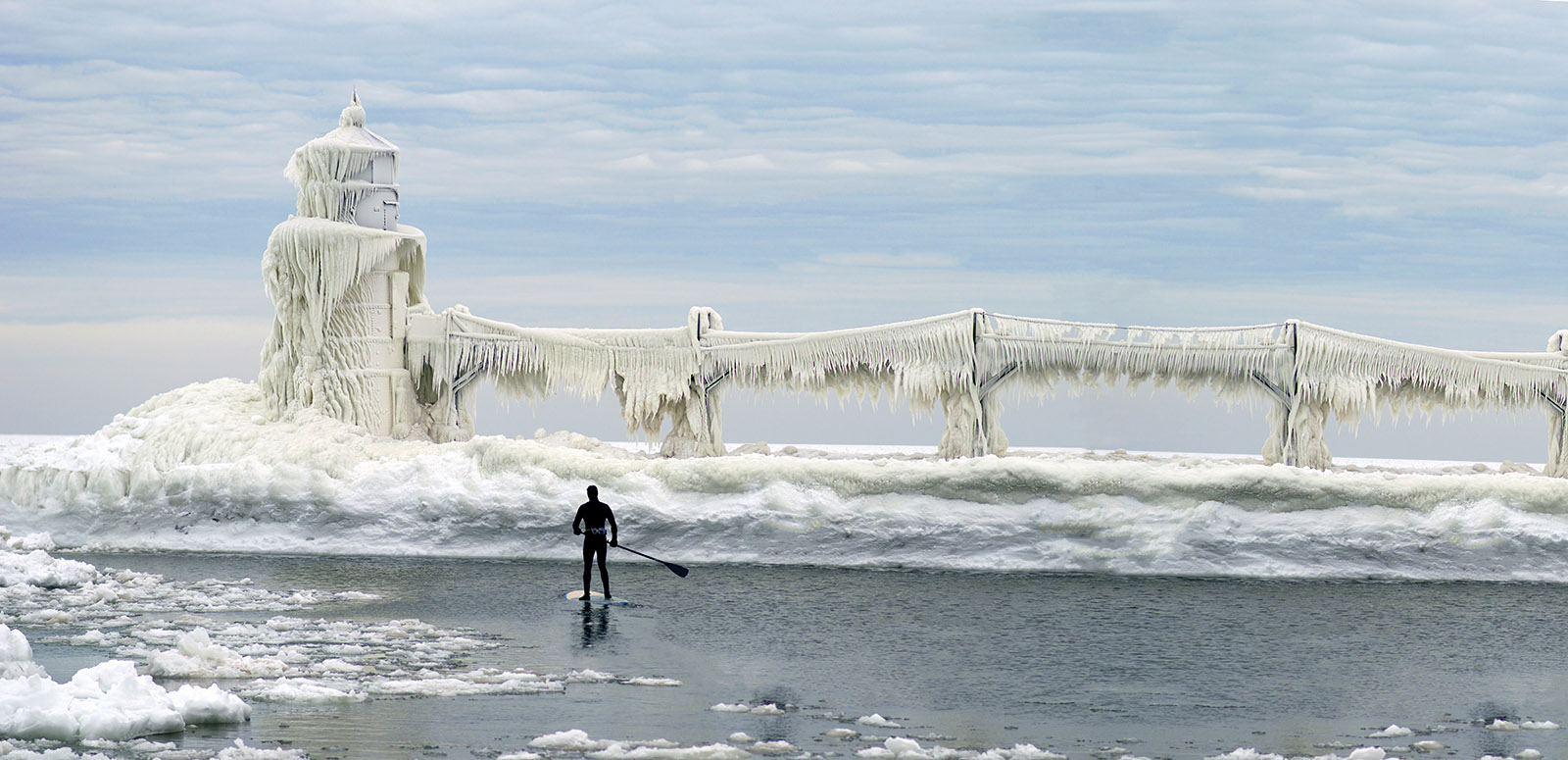 Other winter photos to take
The lakeshore is amazing, but you can find fascinating subjects almost everywhere. Here are some of Nowicki's inland photo-op favorites.
Trees in snow
Trees covered with newly fallen snow are wonderful, especially with a road or path leading through them. Snow-laden trees along the banks of a river or inland lake are, too. Also look for a single tree in a field blanketed in snow for a beautiful image.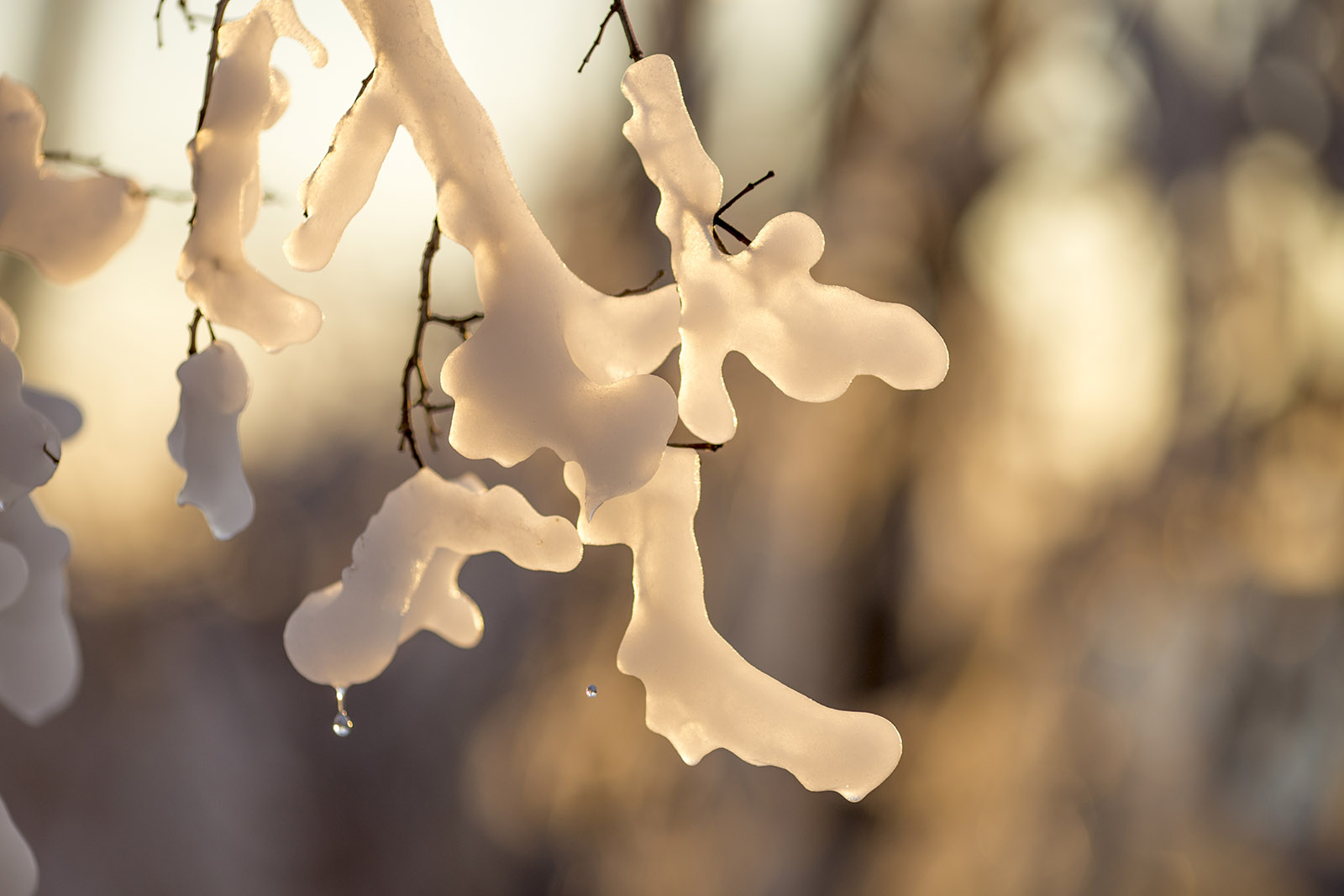 Snowy hills
Snow-covered rolling hills, especially if there is a colorful sky accompanying them, are charming.
Small towns
After fresh snowfalls, small towns look romantic, especially if they are lined with light poles.
Wildlife
Many birds and animals like deer and foxes contrast wonderfully with the white snow.
Holiday lights
The twinkle of lights reflecting on the snow from decorations can be dazzling such as from Light Up The Bluff in St. Joseph.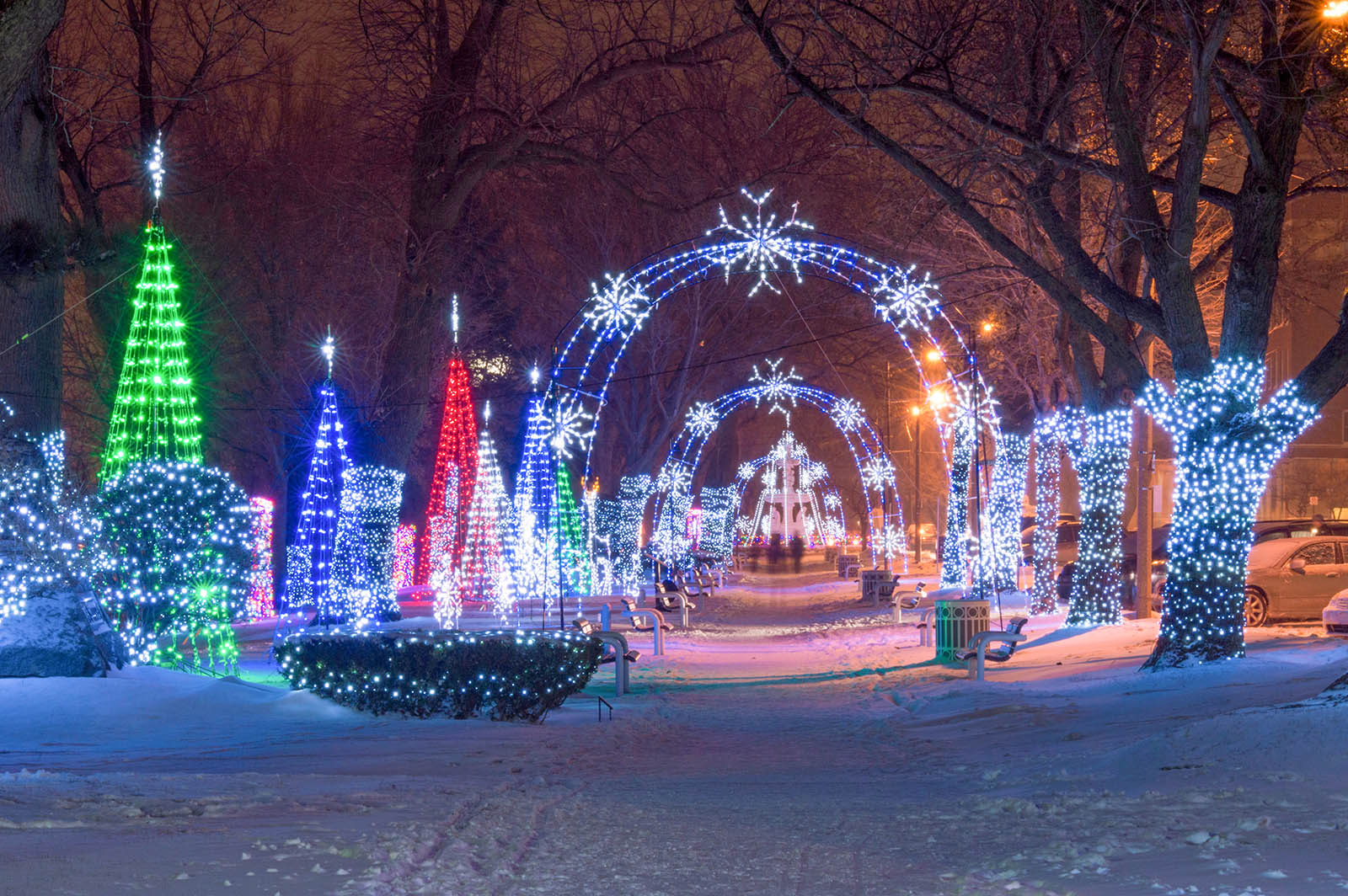 Barns
Snow-covered barns make for timeless looking images.
Snowflakes
If you have a macro lens or filter, you can enjoy capturing the intricacies of snowflakes and frost.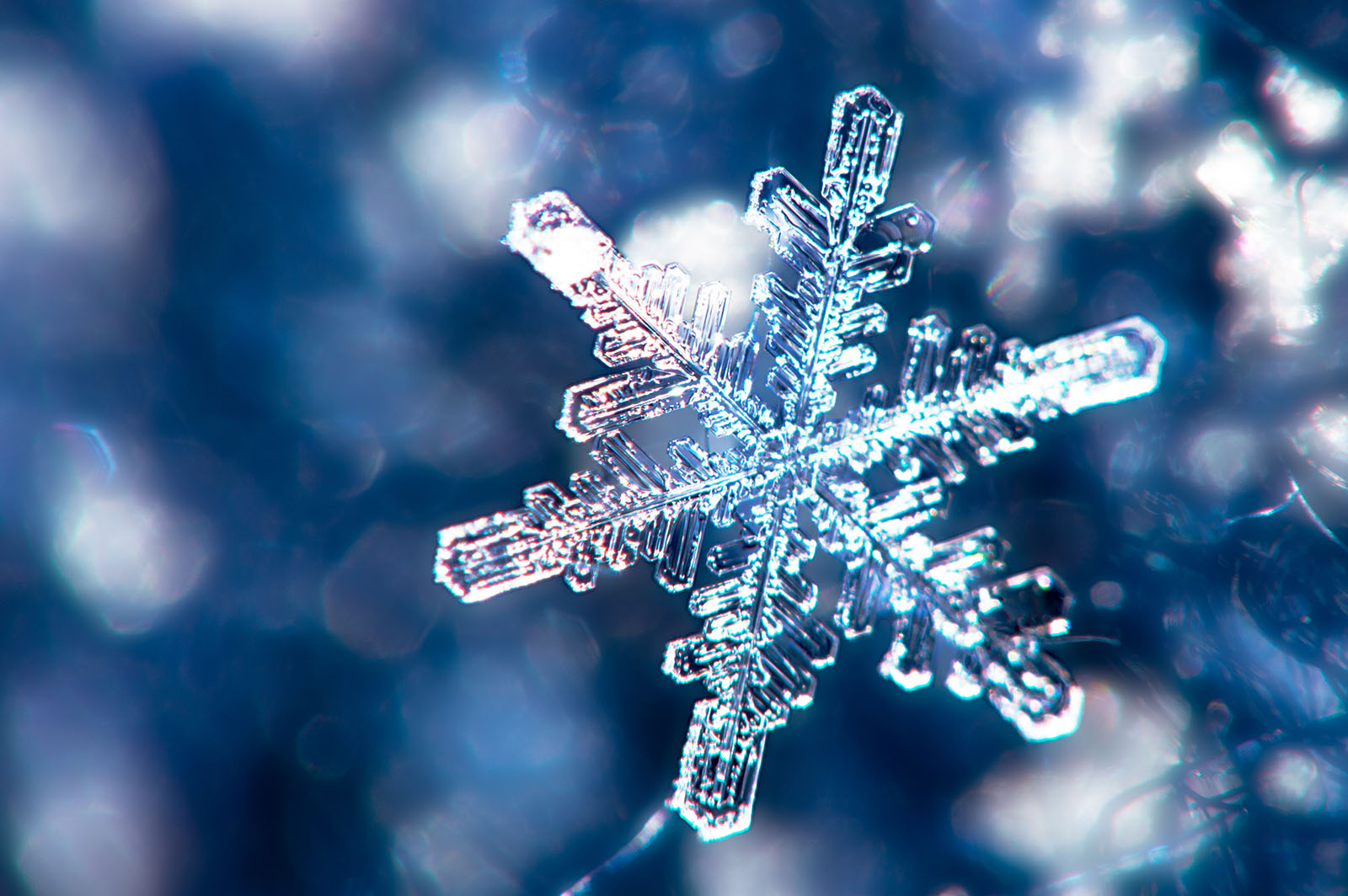 Lake Michigan Winter Photos
Here are some images of the winter photo potential in Southwest Michigan!
Tag us in your winter photos in Southwest Michigan
There are so many great photo opportunities in the winter. Dress warm, bring extra batteries, be safe, have fun and be sure to hashtag your photos with #swmichigan.