Southwest Michigan low-stimulation activities
Fernwood Botanical Garden and Nature Preserve — a calming place to see, touch, hear and breathe in nature
This is a favorite destination for many individuals and families. It offers fragrant flowers and herbs, a soothing water wheel, a bird-watching station, trails to wetlands, a pond, the St. Joseph River and a much-loved outdoor railway garden. The garden trails are paved, but the nature preserve trails are not wheelchair accessible. Bring your snowshoes in the winter. Discover more about Fernwood.

Hotels in Southwest Michigan — find plenty of indoor and outdoor pool options
Swimming is a very sensory friendly experience. If you prefer less activity around you, plan to do laps early in the morning or later in the evening, or play in the pool when there are fewer patrons. You can also ask management if they would mind lowering the music volume or dimming the overhead lights in the pool area if that creates a more positive sensory experience for you.
Paddle or pedal — find serenity on water and bike trails
You will find dozens of scenic places to paddle, from rivers and inland lakes to ponds and Lake Michigan. The best times to see wildlife along the banks or shores are early morning and evening. Paddling at sunset is soul-stirring all year.
If you don't own a kayak or SUP, Third Coast Paddling offers rental options on the Paw Paw and Galien Rivers and at Silver Beach County Park. Doe-Wah-Jack Canoe Rental provides canoe and kayak rentals for trips on the Dowagiac River. Scooter Joe's Wheel & Water Rentals is your one-stop-shop for street-legal golf carts to bike surreys, bicycles, kayaks, Lily Pads, pontoon boats and beach wagons for towing your beach gear. Download Southwest Michigan's Paddle Sports Water Trail Guide and Hiking, Biking and Cross-Country Skiing Trail Guide.
Southwest Michigan hiking trails — quiet and beautiful all year.
All four seasons are gorgeous on Southwest Michigan's trails. Whether you enjoy strolling through the woods, a rigorous dune climb, shifting gears on a twisty mountain bike trail or gliding across a sparkling winter wonderland on cross-country skis, you will make sensory friendly memories here. Download Southwest Michigan's Hiking, Biking and Cross-Country Skiing Trail Guide.
Stargazing at Dr. T.K. Lawless Park — an International Dark Sky Park
Stargazing may not be the first thing you think of for a sensory friendly outdoor activity, but it's difficult to surpass. You do not need a telescope or other equipment, just your eyes and a comfortable place to sit — a blanket or lawn chair works. Gazing up at the stars, planets and meteors has many sensory benefits, such as experiencing no light pollution and the peaceful quiet. We are fortunate that one of the best places to see the night sky in the Midwest is Dr. T.K. Lawless County Park, an International Dark Sky Park. Learn about upcoming stargazing nights.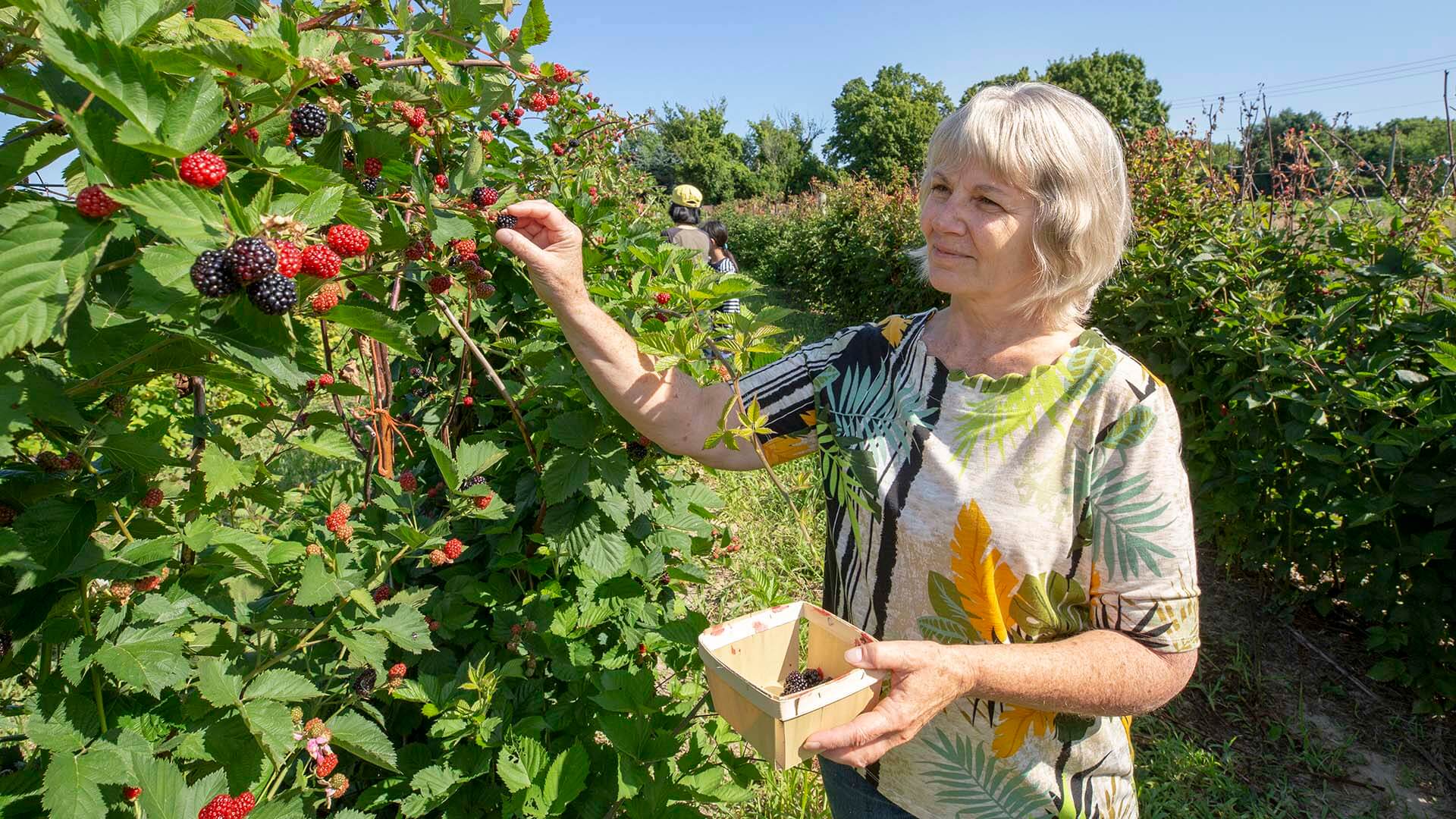 U-Pick Farms and Markets — hand pick the freshest fruits and vegetables
This sensory friendly activity is one of our favorites from spring through fall (you also can choose your holiday tree in the winter). Southwest Michigan is nationally renowned for the variety of foods we grow. Many of our farmers welcome visitors to their orchards, fields and farm stands. Even the pickiest eaters will agree that a sun-ripened Michigan strawberry, cherry, peach, pear or apple is sweeter, juicier and tastier than store-bought. There is also nothing to compare with choosing your own fresh-harvested vegetables or, in the fall, hefting the plumpest pumpkin from the field to bring home and carve. Download our Southwest Michigan Farms & Harvest Guide.
Southwest Michigan mixed sensory friendly activities
Southwest Michigan Beaches — your year-round, sunrise to sunset place to play
Southwest Michigan is renowned for its soft, golden sand beaches, towering dunes and, in winter, its magnificent ice formations along Lake Michigan. While you can go to the beach in all four seasons, our busiest is summer. If you want less stimulation, choose early in the morning or early in the evening for your beach time.
Silver Beach County Park is our most stimulating beach with lots of sand, volleyball, a large playground, kayaking/SUP rentals and boardwalk access to the South Pier, where you can fish or watch boats (including giant freighters that do sound their loud horns). Lions Park Beach and Jean Klock Park are typically less crowded, each with a playground, scenic trails and opportunities to collect colorful rocks and fossils.
Warren Dunes State Park is another popular destination with its jaw-dropping tall dunes that provide natural opportunities for heavy work activities, clear water, trails and a dog friendly beach for your support animal. Discover our beaches.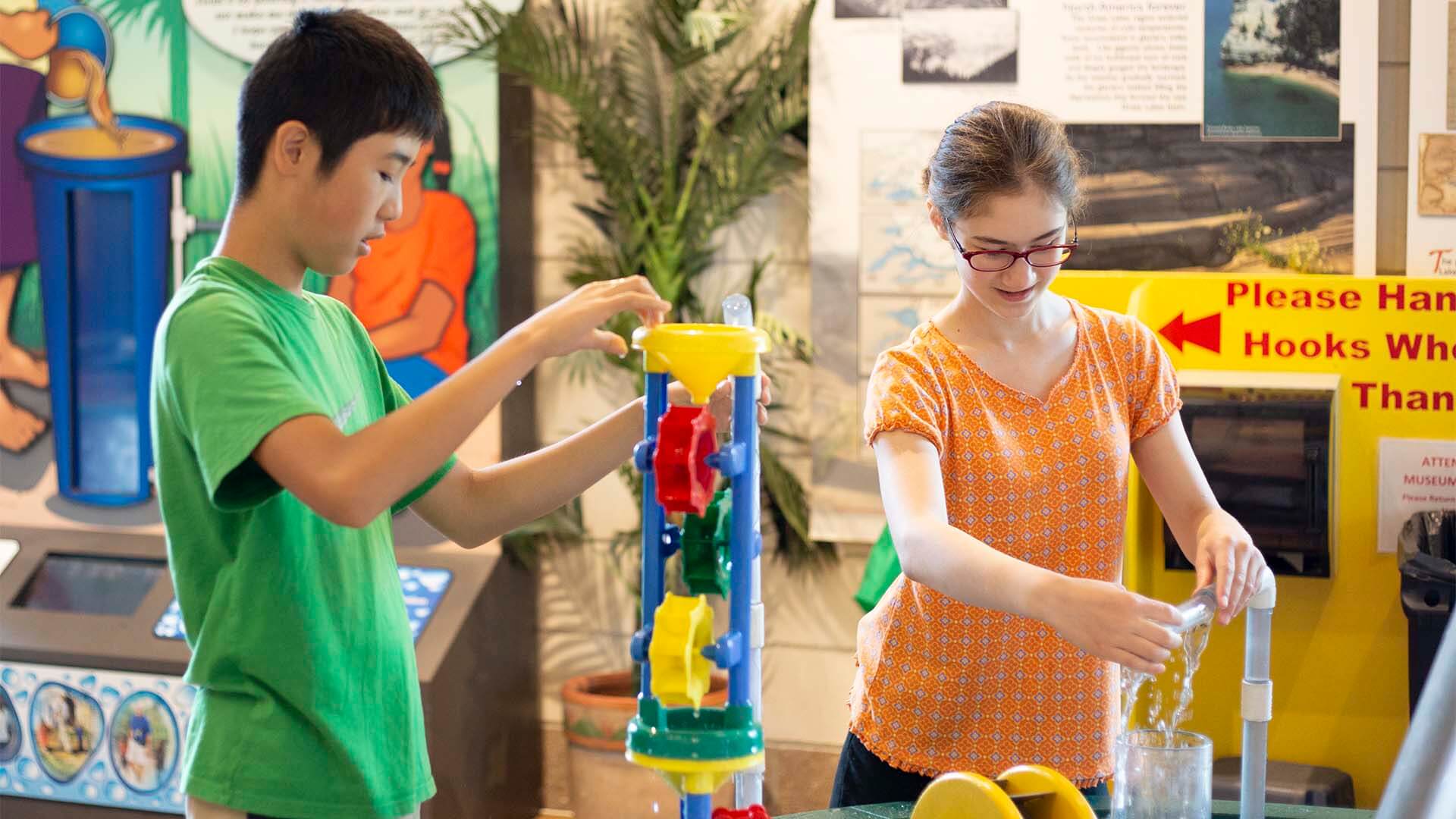 Curious Kids' Museum and Discovery Zone — hands-on sensory experiences for toddlers to early teens
There are two locations in downtown St. Joseph. Curious Kids' Museum along the top of the bluff sparks the imaginations of toddlers through late-elementary-aged children. Face painting, imaginative play, bubbles and simple machines are just some reasons you can fill a couple of hours here. Below the bluff, in the Silver Beach Center, is Curious Kids' Discovery Zone. Its exhibits entertain toddlers to early teens. There are lots of sensory friendly water-play activities, a climbing tower, a pin wall and a traveling exhibit to delight families.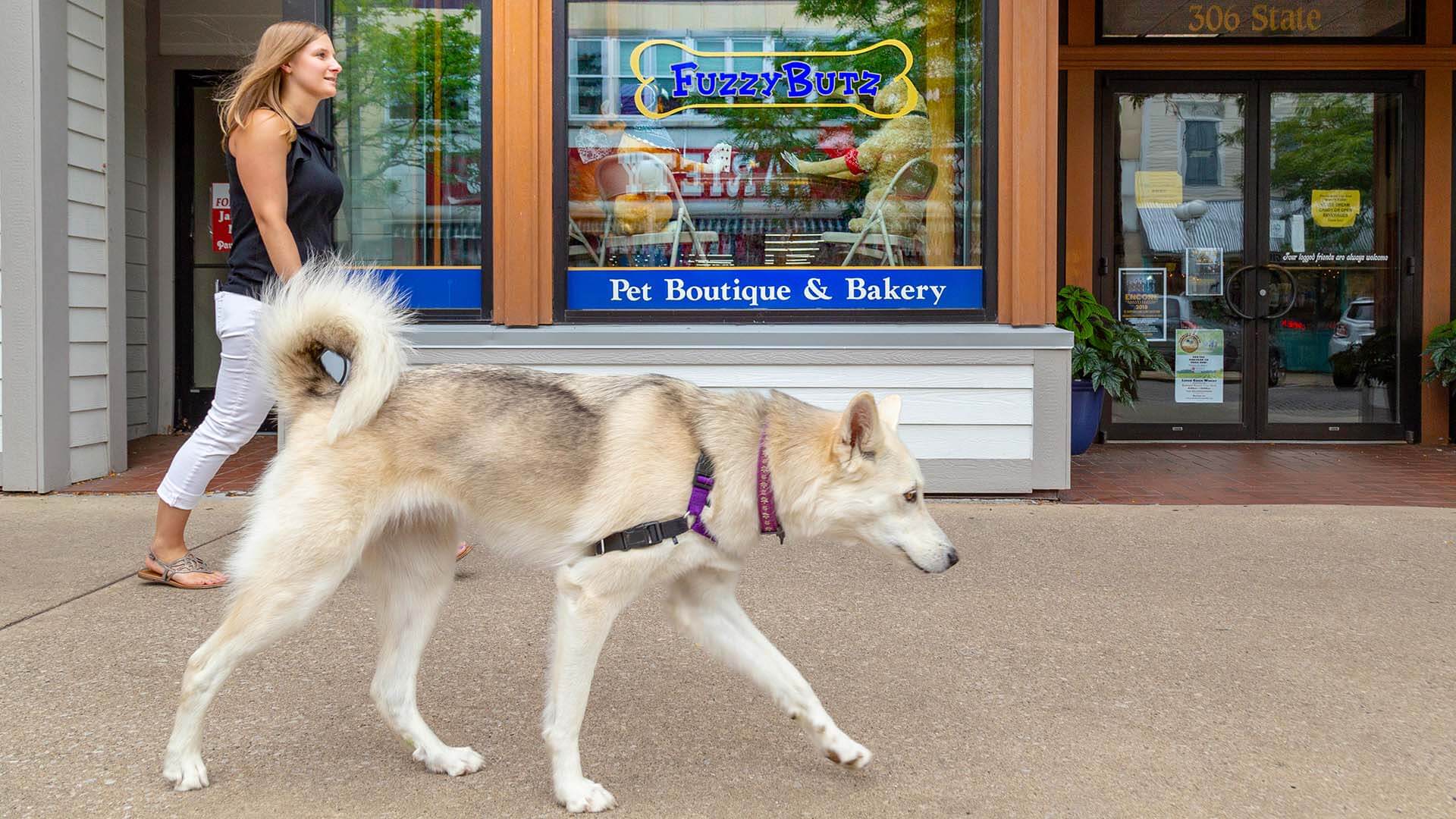 Dog friendly places in Southwest Michigan — your service or support animal is welcome at beaches, stores, restaurants, hotels and more
Southwest Michigan welcomes service dogs, but there are some businesses, because of limitations, that cannot accommodate emotional support animals. We understand how important it is to have your dog with you, so here is Your Visitor's Guide to Pet Friendly Southwest Michigan.
Fab Lab at Lake Michigan College — if you can dream it, you can make it!
This is an amazing open-access, digital fabrication studio and collaboration workshop. Ages from 8 through adult can invent, craft and create everything from LEGO videos to wood engravings to a 3D heart and so much more! Summer camps, year-round workshops and open studio times make this a premier place to explore new skills. Some of the fabricating and cutting tools may make loud noises, so check with the instructor before registering. Learn more.
Friends Good Will — sail on Lake Michigan in a replica tall ship
The Michigan Maritime Museum offers some unique sensory experiences for ages 4+, most notably coming aboard the Friends Good Will, ​​a replica 1810 sloop. Adventures include a Day Sail with up to 28 passengers, a Pirate Chaser Sail, or, what may prove to be your best sensory friendly option, a private charter Sunset Sail. You won't forget this!
Krasl Art Center — express your creativity in jewelry, painting, pottery and woodworking classes
Another place you can find visual and tactile stimulation is the Krasl Art Center. Register for youth and teen/adult art classes and workshops. The Krasl staff strives to create an inclusive and supportive learning environment. Talk with the instructor to make sure your or your child's needs can be met.
Silver Beach Carousel — a magical place for neurodivergent guests
You will be hard-pressed to find a more magnificent carousel in the United States. Hand-carved and hand-painted, each of the 48 figures and two chariots (one is wheelchair accessible) tells a story about its donor while the band organ plays the happiest music. If you or your child are uncomfortable with the sounds in this magical place, no worries. Ask the staff for headphones or earplugs to make the ride quieter. The Carousel has additional accommodations for those with physical disabilities, so please ask how they can help make your visit accessible and comfortable! Read more about the Carousel.
Southwest Michigan Cycleboat — one of our newest sensory friendly water adventures
The Harbor Hopper is a boat, a bar and a family friendly cycling adventure all in one. It's powered by you and other passengers pedaling it around the St. Joseph Harbor. Don't worry. This isn't a cardio spin class. The captain can switch to a motor if you want to relax. Kids under 12-years-old cannot ride unless you privately charter the Hopper — which may be the way for you to go for an optimal sensory experience even if you don't have kids aboard. More details here.
Southwest Michigan Parks — playgrounds, picnic areas, diamonds, courts and more
In Southwest Michigan, you are never more than a few minutes from a municipal, county or state park. Each park is as varied as your interests and sensory needs. Bring your bat and glove or basketball to Benton Harbor's historic Union Park — it just underwent major upgrades. Or visit Lake Bluff Park in St. Joseph year-round where you can find festivals, markets and live music concerts — or hang a hammock between two giant trees and read a book.
Most parks in Berrien, Cass and Van Buren Counties have playgrounds and picnic areas. Several parks have disc golf and skateparks, baseball and softball diamonds, basketball and volleyball courts, boat launches and outdoor ice rinks and groomed cross-country ski trails in the winter. Discover the best parks for you here.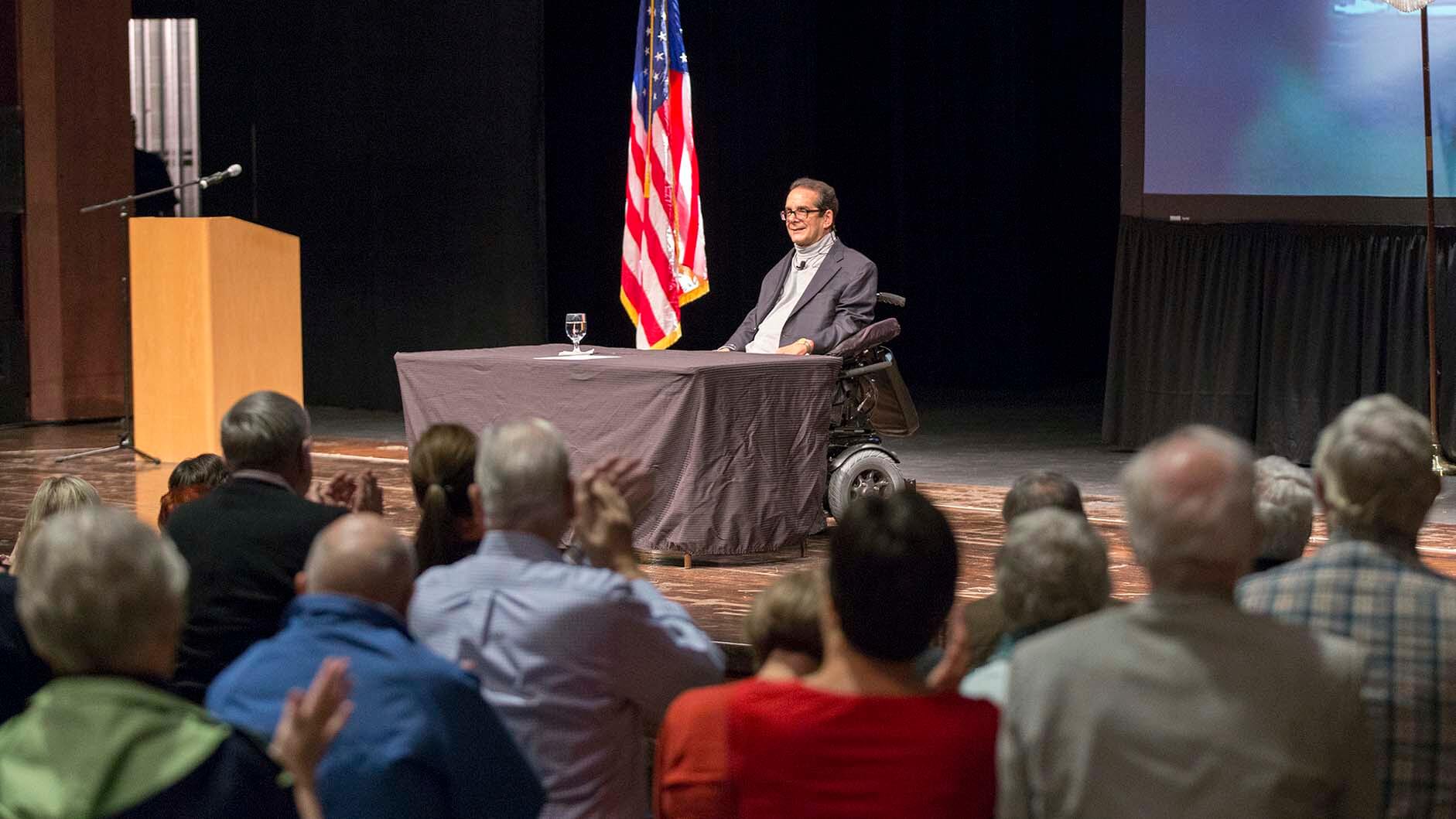 The Mendel Center at Lake Michigan College — live stage performances
The Mendel Center brings in regional, national and international performers, musicians and speakers. Ask the box office if any of the upcoming shows will provide a calmly lit environment with softened sound or other sensory friendly accommodations. Read more.
Southwest Michigan high-stimulation activities
Berrien County Youth Fair — a high-sensory event in mid-August
This is a 100% family friendly annual event in Berrien Springs. There are livestock barns with lots of soft animals to pet, agricultural and craft exhibits, an exciting midway with sudden noises and flashing lights, grandstand shows and lip-smacking fair food. If you want a fair experience with less stimulation, come on weekdays early in the morning and check the grandstand schedule to avoid the very loud engine noises of the truck and tractor pull and demolition derby nights. Fair information.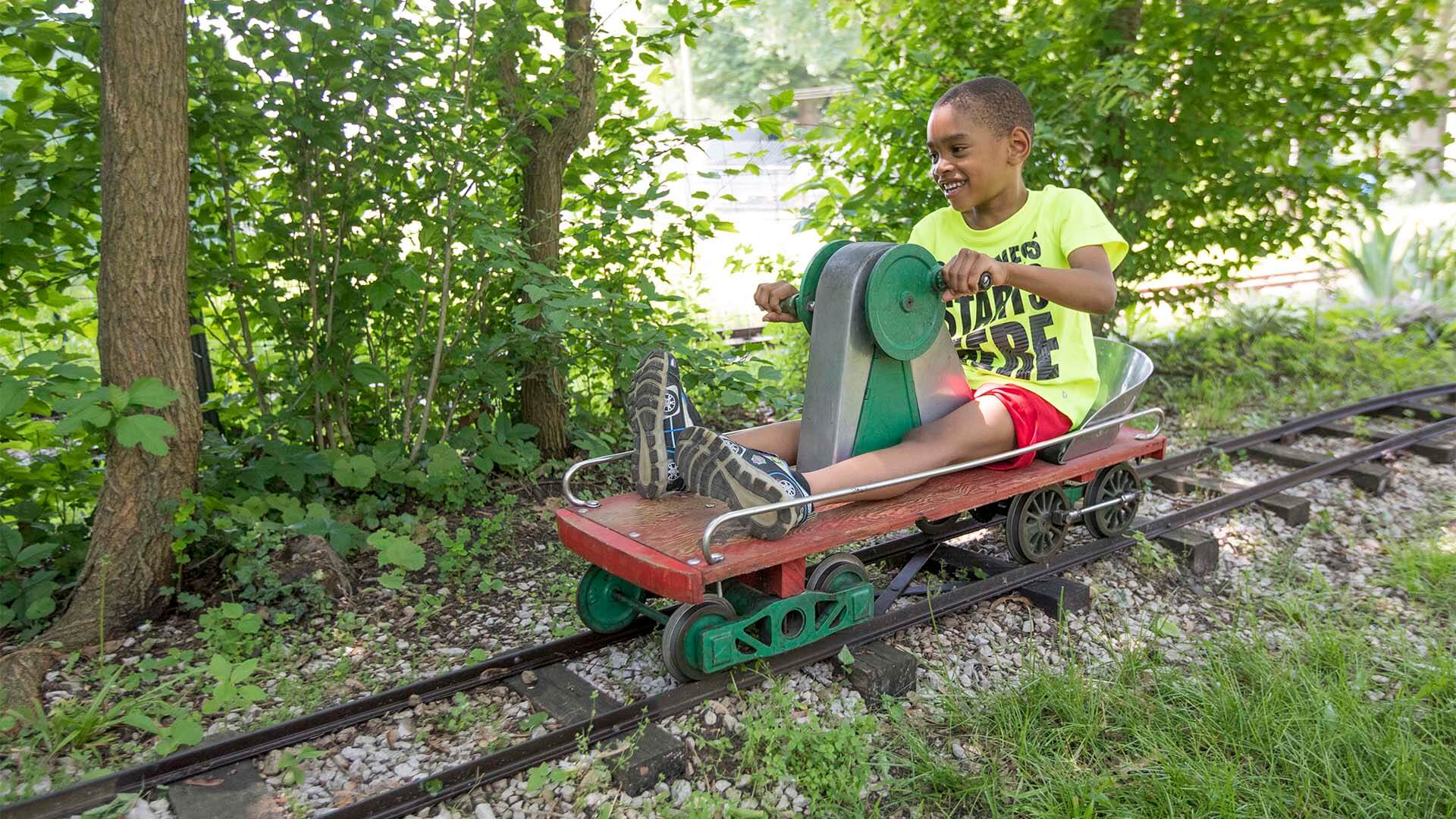 Eden Springs Park — the miniature train rides and old-time baseball games will transport you back in time
Volunteers are slowly refurbishing this historic Benton Harbor park, but don't wait until it's finished before you visit. If you or your children like trains, this is a must-stop on Saturdays and Sundays during the summer, plus weekends around Halloween and Christmas. Miniature steam and gas-fueled engines pull you through the park in cars that hold adults and children. If you or your child is sensitive to loud noises, the train engine whistles are sharp blasts and heard throughout the park. Train tickets are only $3.00 per rider.
If your child benefits from hard work activities, let them power the hand cart along the tracks!
The House of David Echoes, a baseball team that plays by early 1900 rules, holds games at the park, too. Bring a picnic, lawn chairs or spread a blanket for a fun afternoon. Learn more about Eden Springs Park.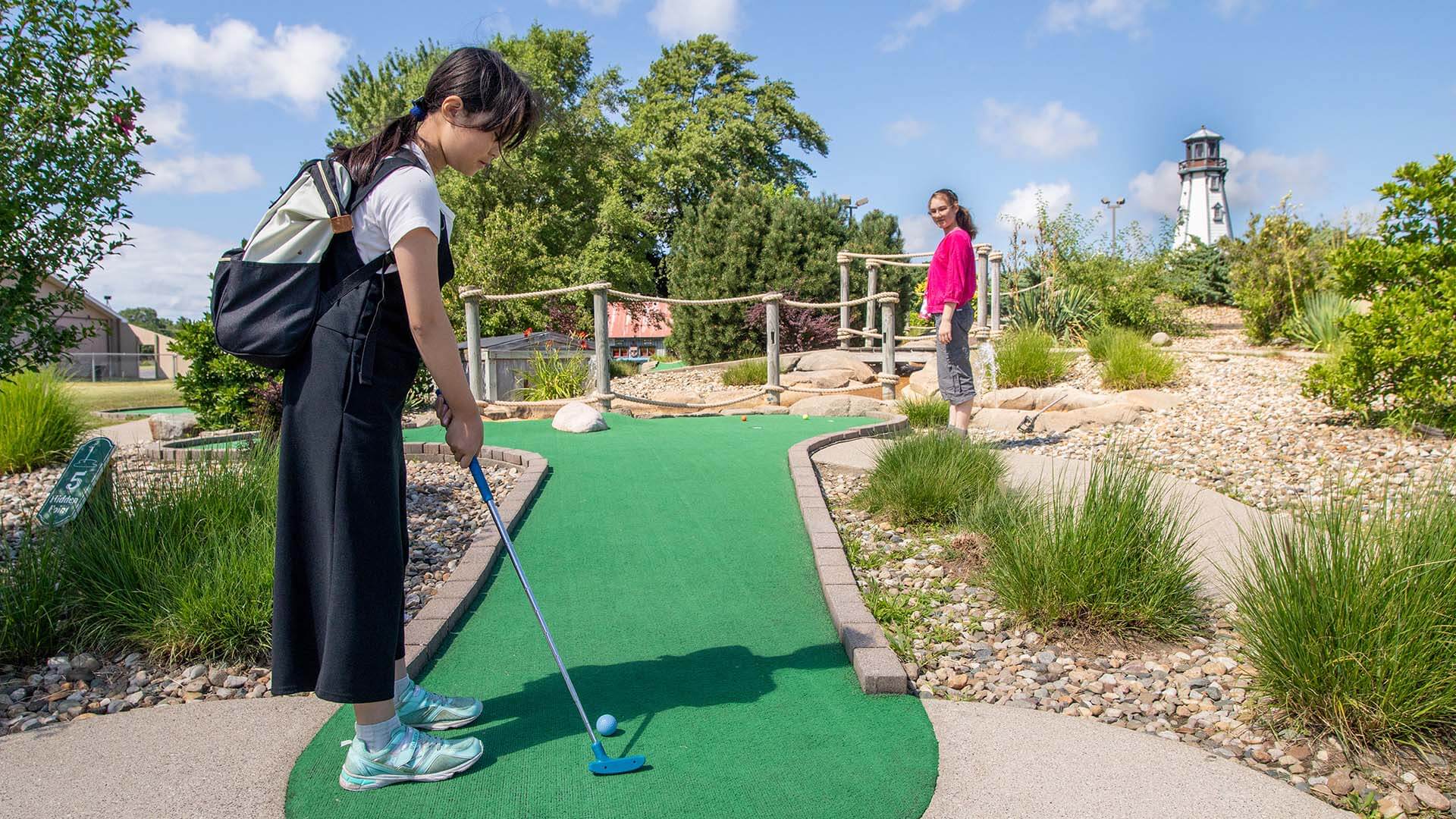 Hidden Pointe — mini-golf, arcades, go-karts and more stimulating fun
This warm-season destination is more stimulating than most, but you can choose your activities accordingly. There's an 18-hole miniature golf course, batting cages and arcade games, plus go-karts on a unique 1000-foot banked track and Eddie Cole's Jumpshot basketball. Learn more.
Outdoor music — listen to live performances all summer
For several centuries, Southwest Michigan has been attracting and fostering talented musicians and singers from just about every genre. Join us outdoors during the summer, where you can find a comfortable place to sit, dance with your kids and exit early if necessary. Downtown St. Joseph has its Friday Night Concert Series and Sunday Municipal Band Concerts at 7 p.m. at the John E.N. Howard Band Shell. The Southwest Michigan Symphony Orchestra hosts Pop-up SMSO Concerts every Thursday in June and August. See our events calendar for other music venues.
Peat's Cider Social — where hard cider meets bowling balls
If you and your traveling companions are comfortable with the rumble of bowling balls, the clatter of falling pins and shouts when you knock down all 10, you will love Peat's five lanes and its collection of arcade games! Kids are welcome, but you must be 21+ to try the craft ciders. This is the place to celebrate birthdays and reunions. Learn more.
Silver Beach Pizza — eat indoors or grab a pie-to-go
This place is mega-popular, so you can opt to stay indoors with the crowd or take your pizza outside to Whirlpool Centennial Park or Silver Beach Park, just steps away. One of the sensory friendly activities is the wait staff will bring an individual container of homemade pizza dough to each of your kids to play with while your dinner is cooking.
The Italian menu includes gluten-free and vegetarian options. But what sets this eatery apart is it's attached to the Amtrak station (circa 1914). You can watch the passenger trains stop and the freight trains roll by just inches from your table's window. If you or your child is sensitive to loud train horns or noises or to being close to huge objects, ask to sit in a dining room away from the tracks or take your food to-go. Learn more.
Southwest Michigan Splash Pads — cool off on a hot day
Splash pads are popping up like wildflowers throughout Southwest Michigan. The four community pads listed below are smaller and can get crowded with splashing bare feet, squealing and sudden switches from the water spraying on and off. Wear clothes that can get wet and bring a towel; we also recommend wearing water shoes to minimize slipping or falling.
Community Center Park, ​​5575 S. Roosevelt Road, Stevensville. The handicap-accessible spray area, under construction, will be 1,854 square feet and include zones for toddlers, families and older kids.
Lawton Splash Pad, 520 S. Main St., Lawton. A simple design with spraying fountains and dumping water buckets that will refresh toddlers to adults.
New Buffalo Splash Pad, 17425 Red Arrow Highway, New Buffalo. Your kids can splash, then dash for more energy-burning play time on the adjacent, rubber-matted playground. Learn more.
South Haven Friends Good Will Splash Pad, 60 Water St., South Haven. This splash pad is modeled after the replica 1810 sloop that sails from the Michigan Maritime Museum. You will find this nautical-themed splash pad near South Beach, along the channel. Learn more.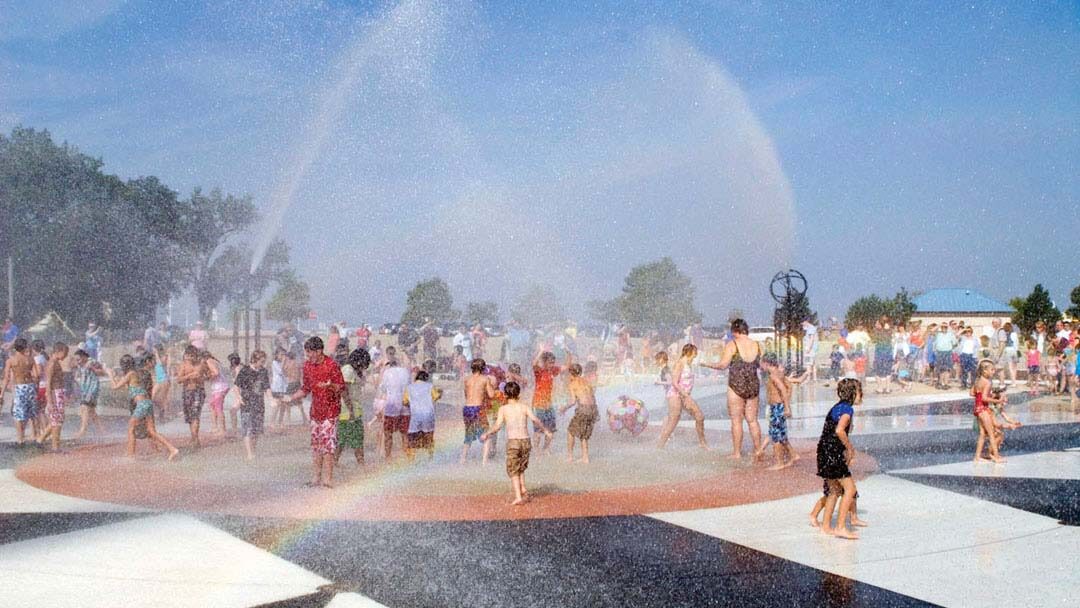 Whirlpool Compass Fountain — Southwest Michigan's largest interactive splash pad
Open from May to the last Sunday in September, this splash pad offers something for all ages and sensory needs. Run under the shooting jets of water, splash in the puddles, toss a ball, roll down the grassy berms or sit and watch. The water cannons that shoot the water 35 feet into the air every 15 minutes, however, do frighten some children. Be ready to encourage your child to leave the fountain during those times. Silver Beach Pizza, Silver Beach Carousel, Curious Kids' Discovery Zone, Silver Beach Park and downtown St. Joseph are all within walking distance. Learn more.
Please share your Southwest Michigan sensory friendly activities with others.
As you know, it can be a challenge to find sensory friendly activities when you travel. Help us spread the word by posting your experiences with #SouthwestMichigan or photographs or upload them to our CrowdRiff Collector. If you have additional suggestions or comments, please contact us. We want you to find life's simple joys when you are here.