Snowshoeing in Southwest Michigan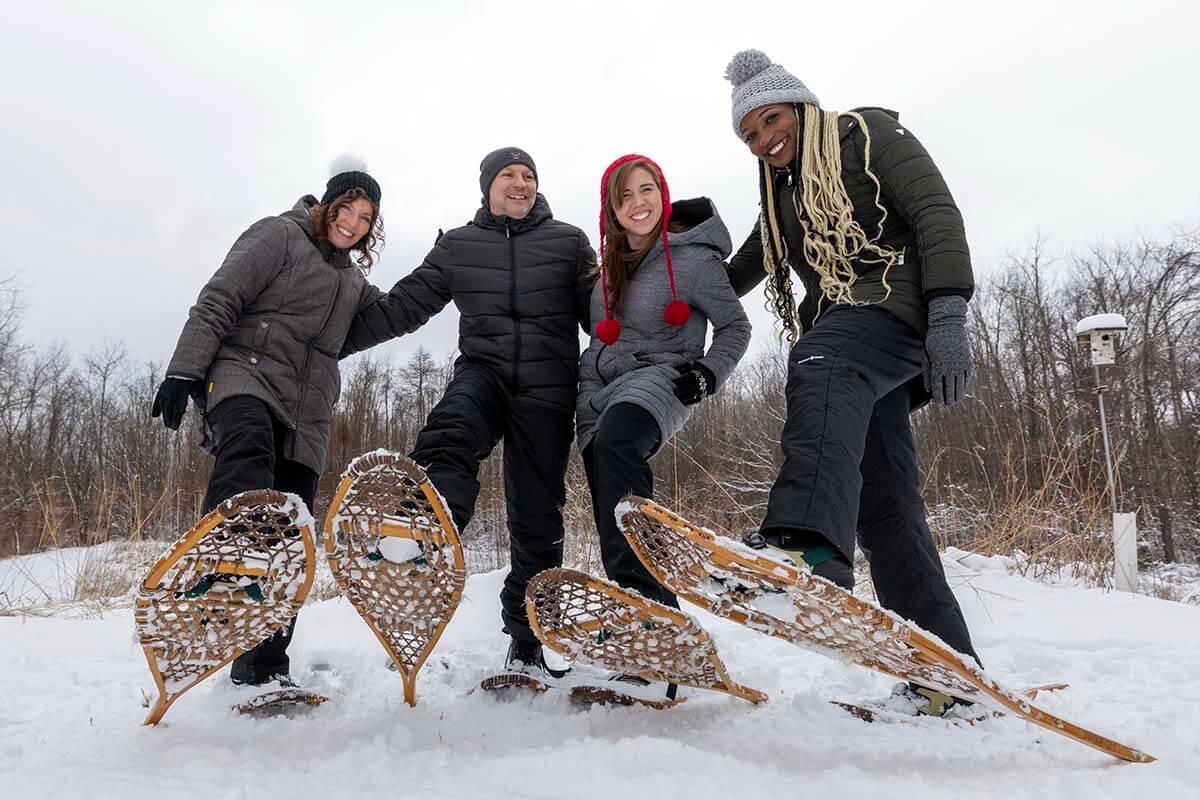 When the snow is too deep to hike your favorite trails it is time to get out the snowshoes. Snowshoeing gives you the freedom to explore the natural splendor of Southwest Michigan more than any other winter recreational sport. All you need is six or more inches of snow, a bit of practice and you are ready to go. The destinations are almost endless: tranquil wooded areas, towering dunes, rolling hills, ice-coated shorelines, vineyards, frozen lakes and more.
Overall snowshoeing with modern snowshoes is relatively easy. Once you have them strapped to your feet, you can walk with a natural stride and if you are having trouble stepping on the frames of the shoes, widen your stance slightly. This sport is accessible to both children and seniors and people with a wide range of fitness levels. A trip out on snowshoes can be anything from a leisurely stroll to a challenging climb up a steep dune.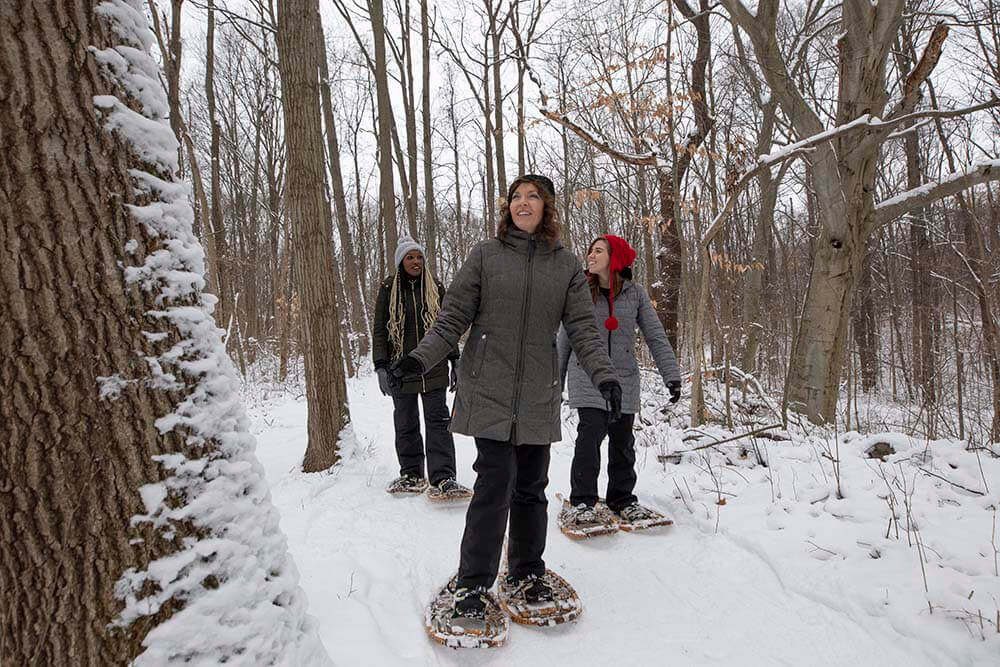 Snowshoeing can be of great benefit for your mental health. Being out in nature, enjoying the sounds and fresh air, and getting aerobic exercise may help you relax and be ready to take on the stresses of the workweek.
To stay warm while snowshoeing, wear moisture-wicking fabrics which will draw sweat away from your skin. Also, pack a phone in case of an emergency, along with water, a compass, some snacks and a camera to capture the scenic beauty.
While out, keep in mind that many parks have designated trails for different activities or multi-use trails. We recommend that if staff are available it is best to inquire about rules and trail etiquette and also find out which trails will best suit your ability. When possible, avoid trails used by snowmobilers. Should you happen to end up on one, remember that snowmobiles have the right-of-way.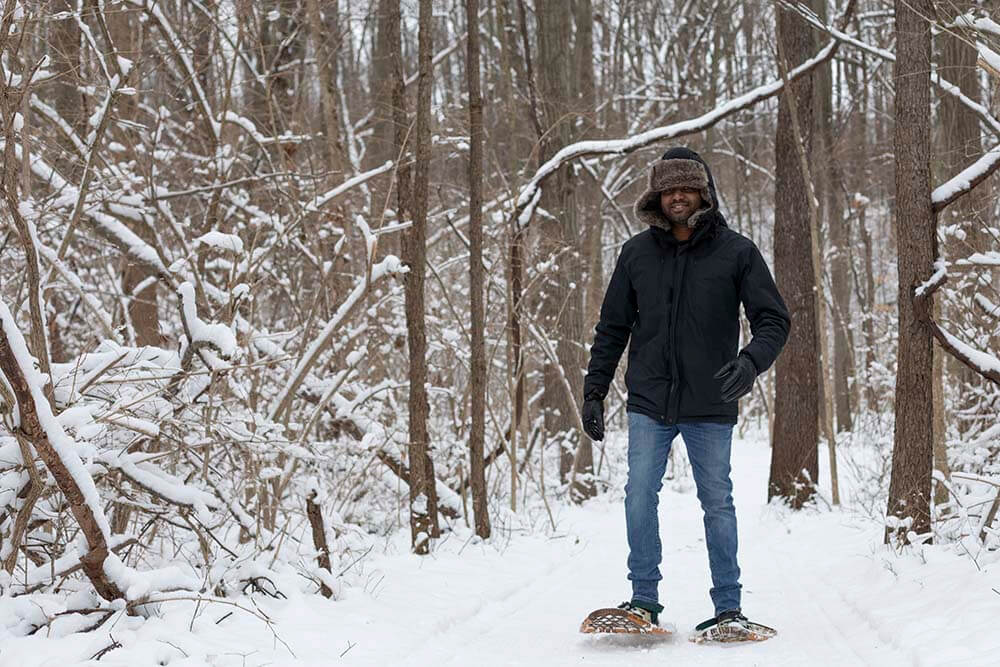 Keep safety as your top priority. Trails that you enjoy in summer may not be suitable to hike in winter. For instance, narrow and steep trails tend to be difficult or even dangerous on snowshoes. Also be aware that no ice is 100% safe and be sure to stay off discolored, dark or slushy areas.
Our top ten places to snowshoe in Southwest Michigan:
Lake Michigan's Shoreline: There are numerous locations where you can park to access the shoreline. Recommended spots include Warren Dunes State Park, Weko Beach, Tiscornia Park, Jean Klock Park and Van Buren State Park. Keep in mind that due to erosion some areas of the lake shore may be inaccessible. Also be aware that the ice on Lake Michigan is not safe to travel across.
Warren Dunes State Park: In addition to the amazing shoreline this park features wooded trails and towering dunes. The park is large enough that you could spend an entire day so it is recommended to bring snacks and something to drink.
Warren Woods State Park: A great location for a relaxing hike through a beech and maple forest. FYI: The normal parking lot is closed during the winter however visitors can park along Warren Woods Road near the trailhead.
Mt Tabor Trails: Enjoy a journey through woods and vineyards while enjoying your favorite Round Barn and/or Tabor Hills beverage.
Grand Mere State Park: With views of Lake Michigan and inland lakes from towering dunes this park is a great location for a workout on snowshoes.
Russ Forest County Park: Enjoy a relaxing hike along Dowagiac Creek. Be sure to stop and see the section of the "Big Tree" which was once the largest tulip tree in Michigan.
Love Creek County Park: A forested trail perfect for beginners.
Riverview Park: This park located along the St. Joseph River is a great location for beginners to enjoy forested trails through wetlands and views of the river.
Jean Klock Park: This park not only offers stunning views of Lake Michigan but also access to the Harbor Shores nature & fitness trails.
Van Buren Trail State Park: This linear, multi-use trail that runs between Hartford and South Haven is very level and a great place for beginners.
For more great locations refer to our Trail Map (PDF).
While out be sure to keep an eye out for white-tailed deer, a variety of birds including possibly a snowy owl, foxes, red squirrels and more.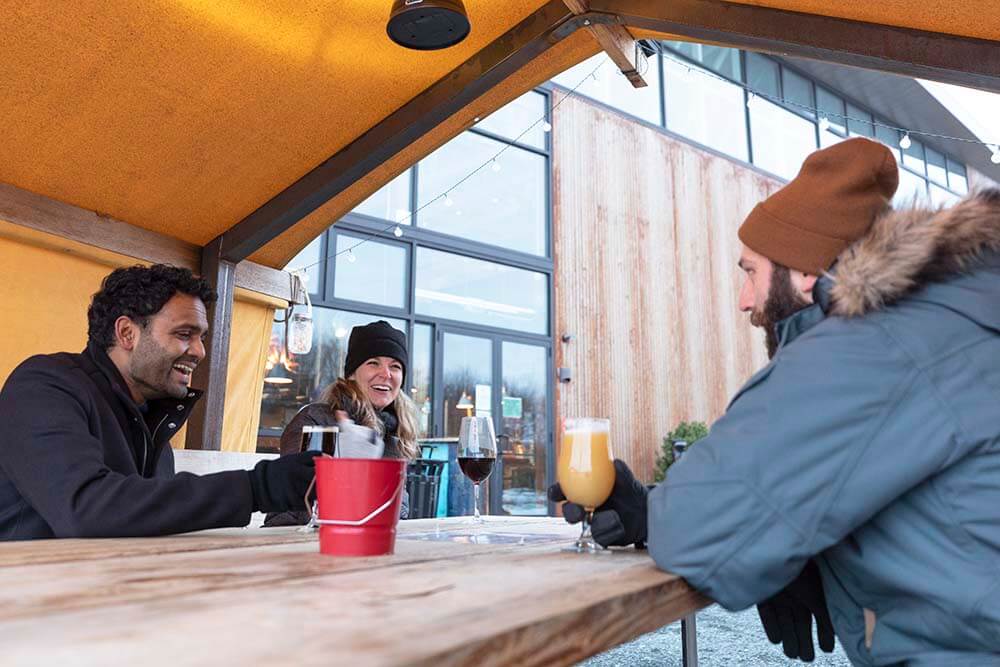 After snowshoeing, warm up at one of our Makers Trails locations that features firepits, heated patios, private greenhouses or domes and enjoy a beverage and delicious meal.
Remember to stop now and then to photograph the beauty of Southwest Michigan in the winter. Please use #swmichigan when you post your photos.