Where to cross-country ski in Southwest Michigan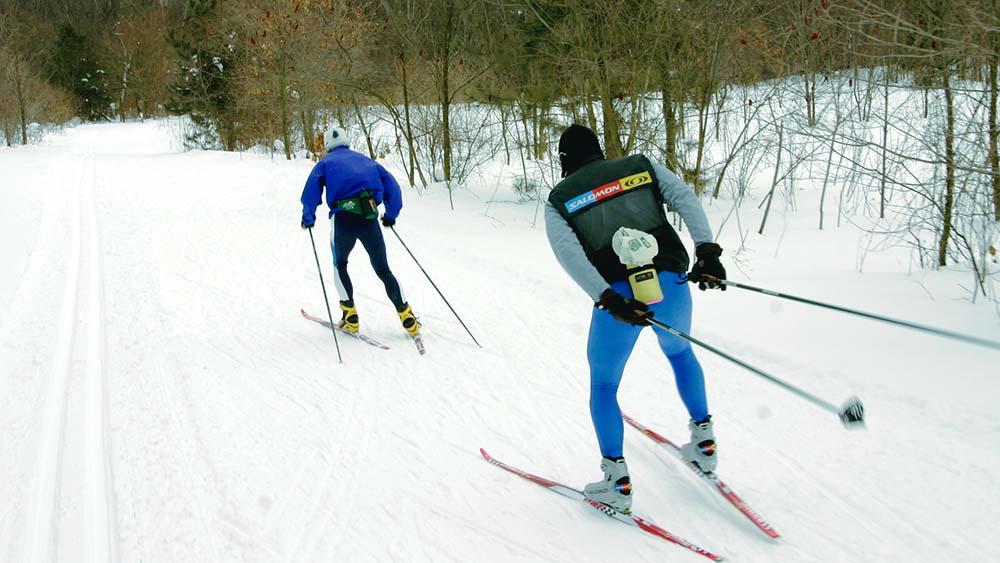 Picture a peaceful winter scene from a movie. You're under the frost-lined branches of the trees above you and canopying the trail ahead. As you glide on the packed snow, more fresh flakes are delicately falling all around. Do you recognize the film? There might be several guesses, but the correct answer is not from a movie. Instead, it is part of the script for your next vacation. Here, you can be the main character in your own winter wonderland, enjoying one of our popular winter silent sports. Read on to find where to cross-country ski in Southwest Michigan.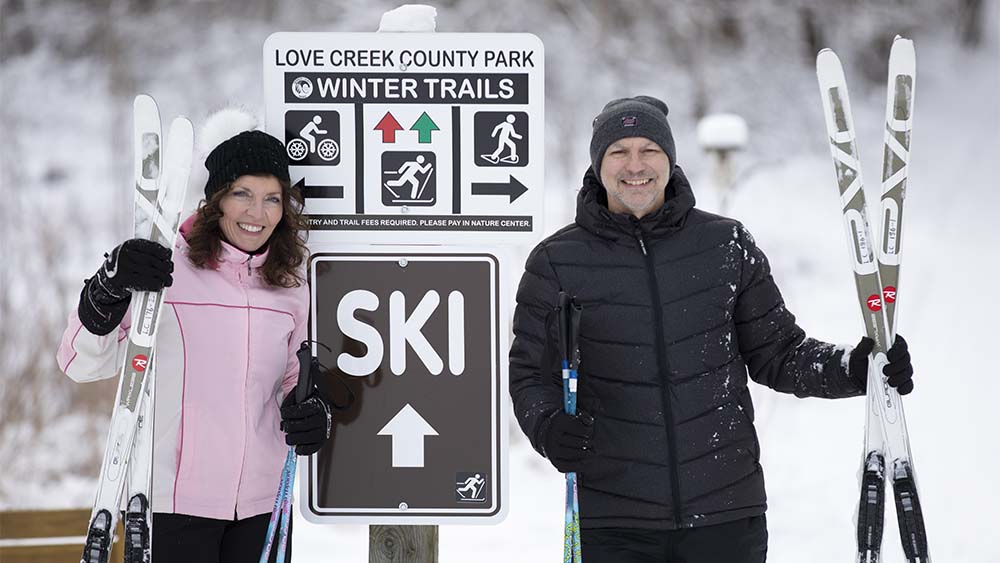 Cross-country ski trails
Explore these snow-blanketed trails! Many of them offer ski rentals, too, if you don't have your own.
Fred Russ Forest County Park
Fred Russ Forest Park in Decatur is one of Cass County's most popular year-round destinations. Enjoy four miles of cross-country skiing/snowshoeing trails from dawn to dusk. Find its trails on the Trail Map, page 18.
Fernwood Botanical Garden & Nature Preserve
Fernwood Botanical Garden and Nature Preserve is a refreshing in Niles is a refreshing spot for silent winter sports. We recommend skiing in the Arboretum. It'll be both beautiful and peaceful!
Find trails on the Trail Map, page 3.
Grand Mere State Park
Stop at this Stevensville park located along the Lake Michigan shoreline. Explore dunes and three inland lakes as you trek these trails. Find the routes in our Trail Map, page 5.
Harbor Shores Nature & Fitness Trail System
These trails in Benton Harbor and St. Joseph offer some of the most picturesque scenery in the Midwest! You can cross-country ski over 12 miles along the St. Joseph and Paw Paw Rivers. Not to mention seeing a gorgeous view of Lake Michigan! Check page 6 of the Trail Map to familiarize yourself.
Kal-Haven State Park
This 33-mile linear park between South Haven and Kalamazoo has several entry points along the way. Step in where you would like, click into your skis and glide to either city. Study page 22 of the Trail Map.
Dr. T.K. Lawless County Park
Twelve miles of groomed cross-country ski trails await in this Vandalia park! Special weekends in January and February offer lighted trails, too. Inner tube sledding is also available with tubes provided. Peruse the trails on page 19 of the Trail Map.
Love Creek County Park
Love Creek County Park is in Berrien Center. It has over five miles of open terrain trails, challenging wooded slopes and turns. Besides tracks for "traditional" Nordic skiing, many trails include a groomed lane for cross-country ski skating. This location offers rental equipment! Find trail maps on page 11 of the Trail Map.
Madeline Bertrand County Park
A Niles-based winter wonderland of groomed ski trails awaits at Madeline Bertrand County Park! There are 3 miles of level to gently rolling trails through pine and oak forests and along a bluff overlooking the St. Joseph River. Skiers may also explore trails in adjacent St. Patrick's County Park in Indiana with the purchase of a Berrien County Parks Daily Trail Permit. Rental equipment is available. The park offers lighted night skiing on Fridays and Saturdays until 9:30 p.m. Find more information on the Berrien County Park's Winter Trail Guide or on page 12 of the Trail Map.
Mt. Tabor Trails
If you're a craft wine, beer or spirits lover, then you'll want to explore Mt. Tabor Trails! You can hike, snowshoe or cross-country ski for up to 3.5 miles in a winter wonderland between Round Barn Winery & Estate to Tabor Hill Winery & Restaurant. Pick up your favorite beverage to go at either location and enjoy it along the way. While at Tabor Hill, enjoy delicious indoor dining overlooking the snowy vineyards.
New Buffalo Trails
One of the newest trail projects in Berrien County invites you to ski along several undeveloped right-of-ways starting near Turtle Pond Nature Preserve, southwest of New Buffalo. This connects with trails in the Chikaming Open Lands Turtle Creek Preserve (parking available) and continues to the nature trails behind New Buffalo Elementary School (parking available).
Sarett Nature Center
Sarett Nature Center offers 5 miles of groomed trails for cross-country skiing with rental equipment for beginners and families during regular hours when there is enough snow. Enjoy the mostly flat terrain of Sarett's forest, prairie and wetland habitats. Check in for rentals inside the nature center. Pricing for 2023 is as follows for two-hour increments:
$4/child MEMBER (children must be accompanied by adult)
$7/adult MEMBER
$5/child NON MEMBER (children must be accompanied by adult)
$10/adult NON MEMBER
The outdoor fire pit and seating area is available on weekends this season to keep you warm before or after your ski/snowshoe or winter hike! Restrooms are available inside the nature center during open hours.
Van Buren Trail State Park
Ski 13 miles between Hartford and South Haven in Van Buren Trail State Park, with trailheads in both cities. See trail details on page 24 of the Trail Map.
Warren Dunes State Park
Perhaps one of the greatest invitations to explore a winter wonderland is from Warren Dunes State Park with over 1,952 acres of incredible dunes along Lake Michigan, including three miles of shoreline and six miles of trails. You can also step out of the skis to go sledding or snowboarding down the dunes! Find the trails on page 16 of the Trail Map.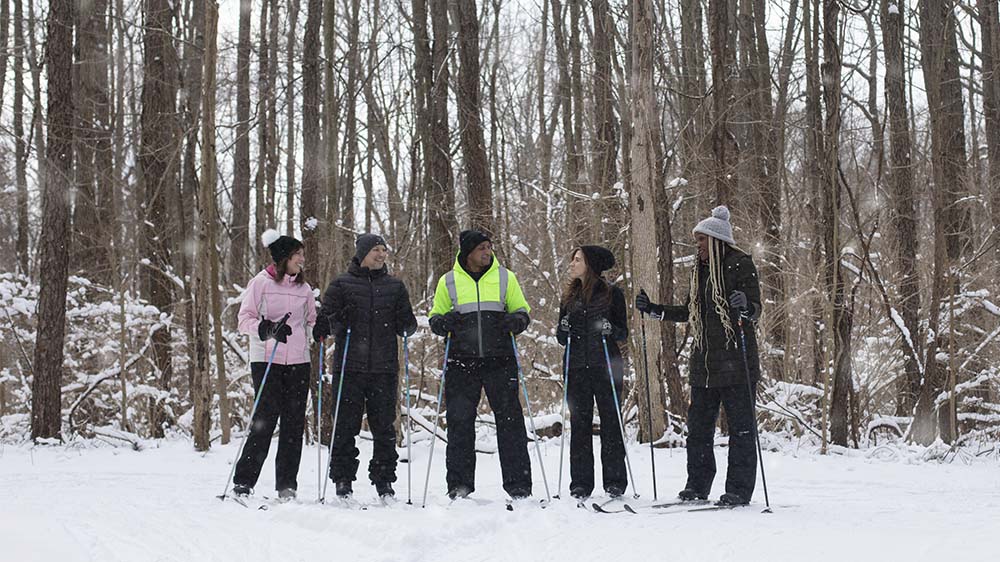 Cross-country skiing tips
Here are some tips from local experts to keep in mind as you explore on skis!
Consider renting equipment before buying it so you can see if you enjoy skiing as much as we think you will! Love Creek County Park, Madeline Bertrand County Park and Sarett Nature Center rent cross-country skis, poles and boots.
Start on flat ground until you get the hang of the sport. Groomed trails are easier for first-time cross-country skiers!
Learn how to do classic or traditional (Nordic) cross-country skiing before you attempt the more challenging ski skating. Traditional cross-country skiing is like shuffle-walking on snow.
Bring snacks (trail mix, granola bars, etc.) and warm water or soup.
Bring your phone/camera/flashlight and extra batteries. Carry them in an inside coat pocket to keep them warm. Along the way, you will see lots of beautiful scenes to photograph.
Use hand warmers to protect your hands and fingers. Carry a hand warmer in your inside coat pocket next to your phone/camera/flashlight when it's below 25° F.
Travel with a companion or a group to share the fun and to be available if there is an emergency.
Bring a trail map and compass.
If there are groomed trails designated for your cross-country skiing, use them. If not, stay alert for hidden dangers such as fallen branches, rocks and snow-covered streams.
Select boots, skis and poles that fit properly and meet your skill level.
Beginners should start on well-groomed trails; the packed snow will keep you from sinking into the snow and make it easier for the skis to slide.
Choose breathable clothing that will both keep you warm and maximize your mobility.
Take advantage of this outdoor recreation!
Silent sports like cross-country skiing are great ways for kids and adults to get exercise, see the beauty of this season and do it at their own pace. It does little to disturb the peace of nature, and it is when you take in a scenic vista or marvel at the icy formation along Lake Michigan that you can truly appreciate the beauty of silence. If you enjoy cross-country skiing, consider trying our other popular silent sports: snowshoeing and fat tire biking.