15 Fall Photography Tips from Nationally Renowned Photographer Joshua Nowicki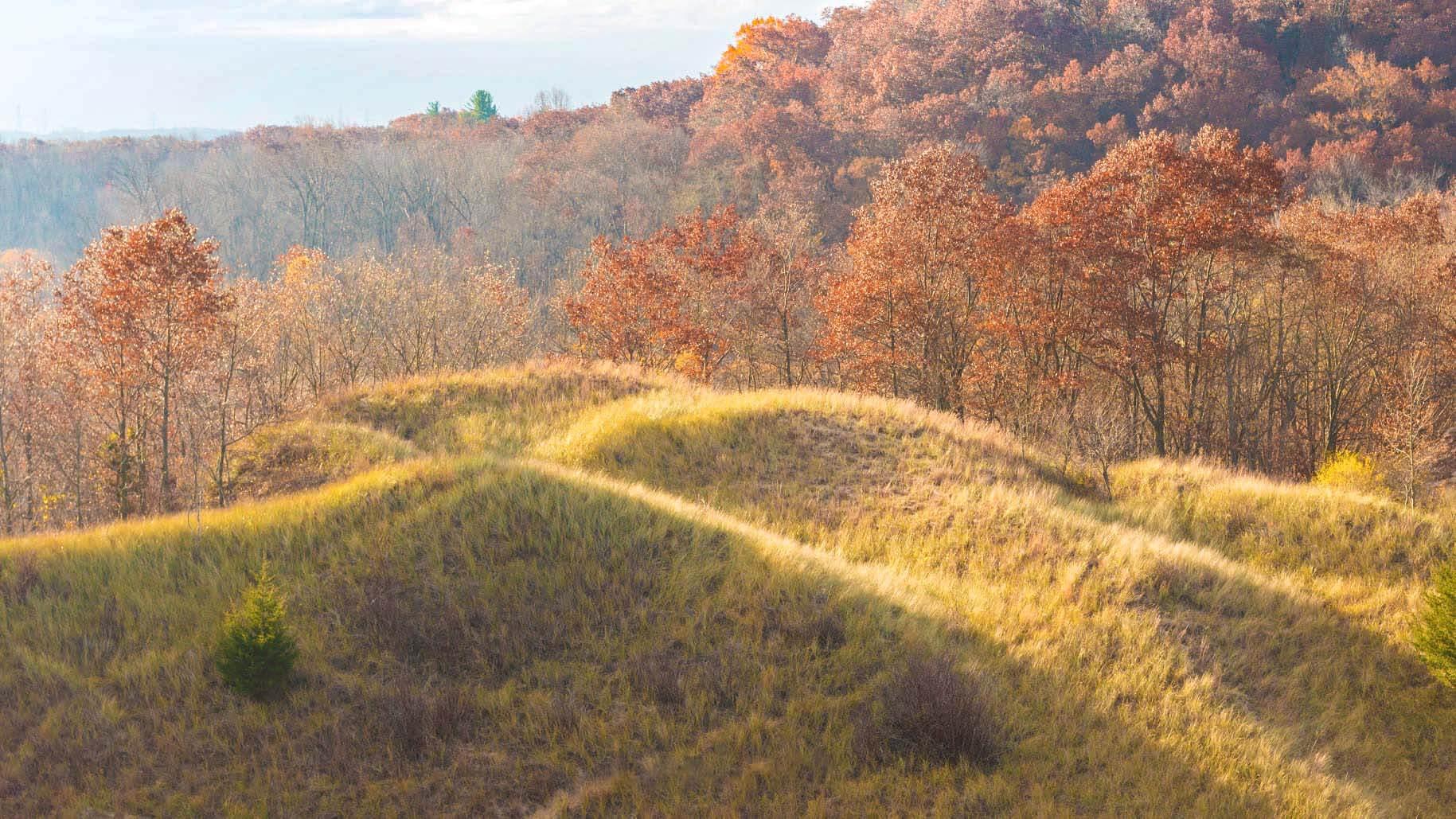 There are a wealth of methods for creating interesting fall photos. I enjoy utilizing a wide range of techniques and lenses so I can capture everything from sweeping vistas to tiny details. Below are 15 tips for creating engaging fall photos.
Enjoy the Glow of Golden Hour
Use the warmth of the color of the light during golden hour (the hour after sunrise and the hour before sunset) to make images with an even more golden glow. The light during golden hour changes quickly therefore I highly recommend thinking about your subject and composition in advance so when the light is just right you are ready to take the photo.
Start Early or Stay Late
The hour before sunrise and after sunset offers another opportunity for creating unique images. The intense bluish color of the sky and landscape can offer a lovely contrast to the color of the leaves. Blue hour is also a great time to experiment with longer exposures. I enjoy taking longer exposures on days when there is a light breeze because I like the way that the leaves become abstracted.
Take Photos from an Elevated Location
If you do not have a drone and still would like to capture a birdseye view of the fall color, there are plenty of possibilities. Amazing views can be found at Lake Bluff Park, the tops of the dunes at Warren Dunes State Park, Grand Mere State Park and the wooden walkway at Weko Beach. The upper floors of some of our area hotels also provide wonderful views such as The Boulevard Inn and The Inn at Harbor Shores.
Use a Telephoto Lens
Telephoto lenses make the scene appear to be more compressed and are perfect for creating a wall of trees or a tunnel of trees. Using a telephoto lens can also help simplify a scene and let you focus on a specific subject. I like using a telephoto lens for photographing groups of leaves with a bokeh of color from other leaves in the background.
Use a Wide Angle Lens
Wide angle lenses are perfect for capturing the breadth of vistas. My two favorite reasons to use a wide angle lens are to show either a vast expanse of colorful woods such as across a lake or field, or in early fall to show a single colorful tree among the other yet-to-change trees.
Macro and Detail Photos
I enjoy looking for interesting details; such as individual leaves, the edges of leaves, water droplets, frost and more. You can create detailed photos using a variety of lenses but I like using macro lenses because they can let you get up close and see the intricacies of your subject.
Look Up at the Canopy and Sky
Remember to look up when taking photos. I like using a wide angle lens and lying on the ground and taking a photo looking directly up at the tree-tops and sky.
Look for Backlit Leaves
Photography is all about the light and for capturing the color of leaves backlighting can be extremely beautiful. Using this type of light can make the semi-translucent leaves really glow especially if the background is darker.
Bracket Photos or Use HDR mode
At times it can be hard to capture the dynamic range (contrast ratio between the dark and light tones) of a scene. In these cases, it may help to take bracketed photos. This is a technique where you take photos of the same scene using different settings. I usually keep the aperture and ISO consistent and vary the shutter speed and compositing them when editing. Some cameras offer an HDR mode that takes care of the compositing for you.
Use a Circular Polarizing Filter
In addition to helping eliminate the glare on the water, a polarizing filter can add more saturation/richness to the color of the leaves and sky. A circular polarizer can be especially useful because you can vary the level of intensity by rotating the filter.
Embrace Foggy Days
I like taking photos on foggy days because the light is diffused and super soft. Fog is perfect for creating haunting, dreamy and otherworldly images. Moreover, on foggy yet sunny mornings there can be an ethereal glow to the landscape.
Look for Reflections
Reflections in puddles, ponds, lakes, etc., make for beautiful images. In addition to capturing colorful trees together with their reflection, consider photographing just the reflection. This can result in fascinating vibrant abstract images.
Try Intentional Camera Movement
Intentionally moving the camera while taking a photo can result in fun blurred abstract images. Because you need longer exposures to do this, it is best to use a neutral density filter or take photos around sunset or sunrise. You can either hand-hold the images or use a tripod to better control the direction of the movement.
More Color than Autumn Leaves
In addition to foliage, there is more color to enjoy. You-pick and farmers markets offer great opportunities for photos. Baskets of apples, pumpkins, gourds and fall flowers make great subjects.
Take Notes and Revisit Locations
Sometimes I find a wonderful subject but the light just does not complement it. When this happens I make a physical or mental note to revisit the location either at a different time of the day or when the weather is more conducive. Figuring out when the light and the subject align can take time and research. Sometimes it takes days, other times years but when it all comes together the wait is worth it.
While out taking photos, be respectful of private property, protected areas, and stay on designated trails and walkways. Always strive to take amazing images while preserving nature for other visitors and photographers.
See more of Joshua's photography on Facebook.