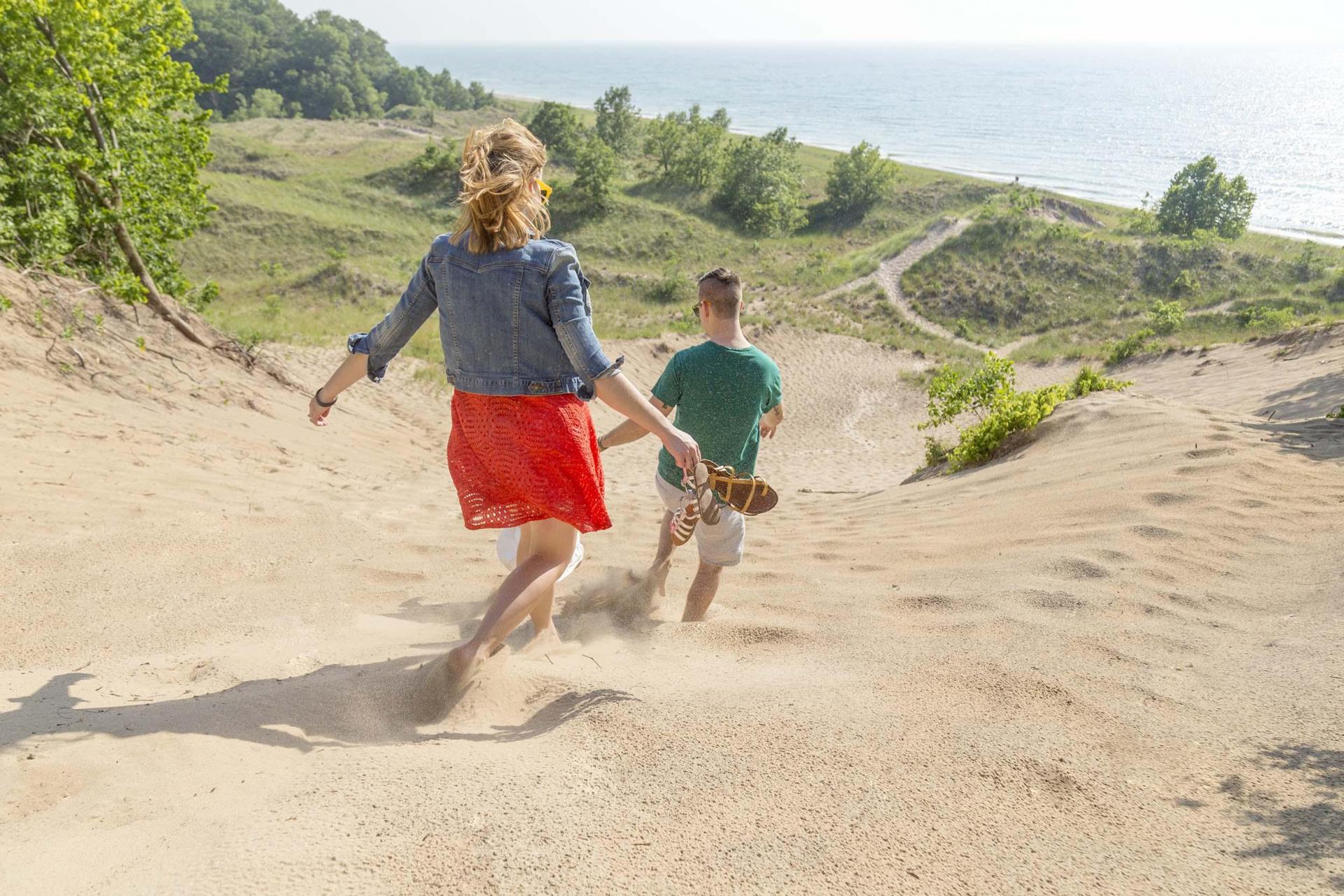 Warren Woods State Park
Wrapping along the Galien River, this state park is located in Sawyer. Warren Woods offers 311 acres of nature preserve that is just seven minutes away from Warren Dunes State Park. So you can easily do both in the same visit! Meander through a towering beech and maple forest, and don't miss the half-mile trail following, and crossing, the scenic Galien River.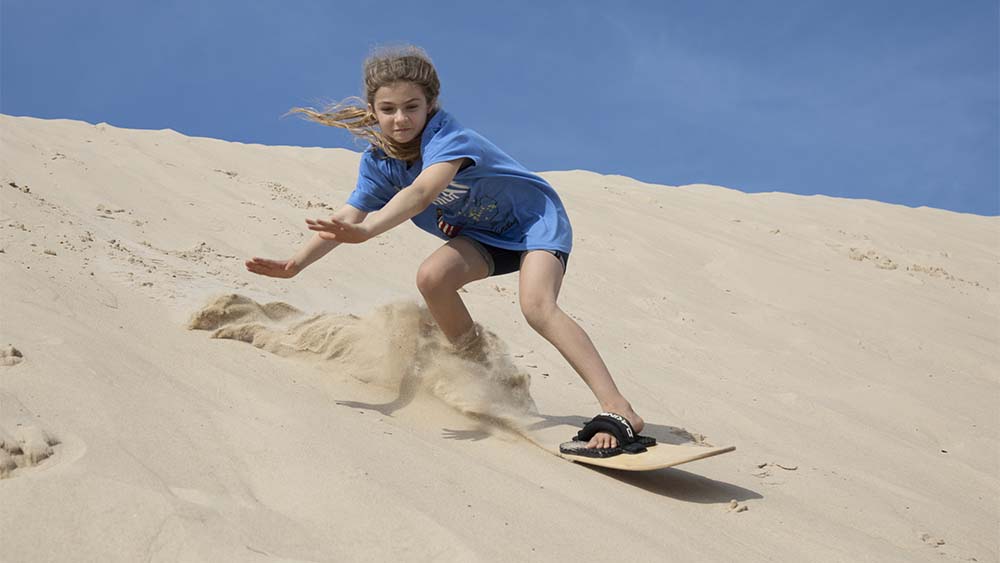 Warren Dunes State Park
Also located in Sawyer, Warren Dunes State Park is one of the most breathtakingly beautiful places you can visit not only in Michigan, but the United States, too. At the gateway to Southwest Michigan, it is only 20 miles from the Indiana border, but a world away from the congested and noisy urban centers that hug Lake Michigan's southern shoreline. As a crown jewel among Michigan State Parks, you're about to encounter 1,952 acres of adventure and three miles of sandy shoreline. And you can bring along your tail-wagging friends! Dogs are welcome on a leash in the park's campgrounds and on forested trails, boardwalks and the dog beach. At the northernmost buoy on the swimming beach, there is a 2 1/2-mile stretch of beach where you and your dog can romp, play fetch, splash in the water and just relish being outdoors together.
When snow allows, cross-country ski on a three-mile loop that takes you through a beautiful, wooded area behind the Great Warren Dunes. Or snowshoe on the dunes and other trails. While on the trek, photograph ice formations and snowy vistas. Come here once and you will return to these magnificent Michigan dunes repeatedly — and we invite you to do so all year because each season is enthralling. Whether you climb the dunes, sled down them, sandboard down or simply people watch, this park is a blast!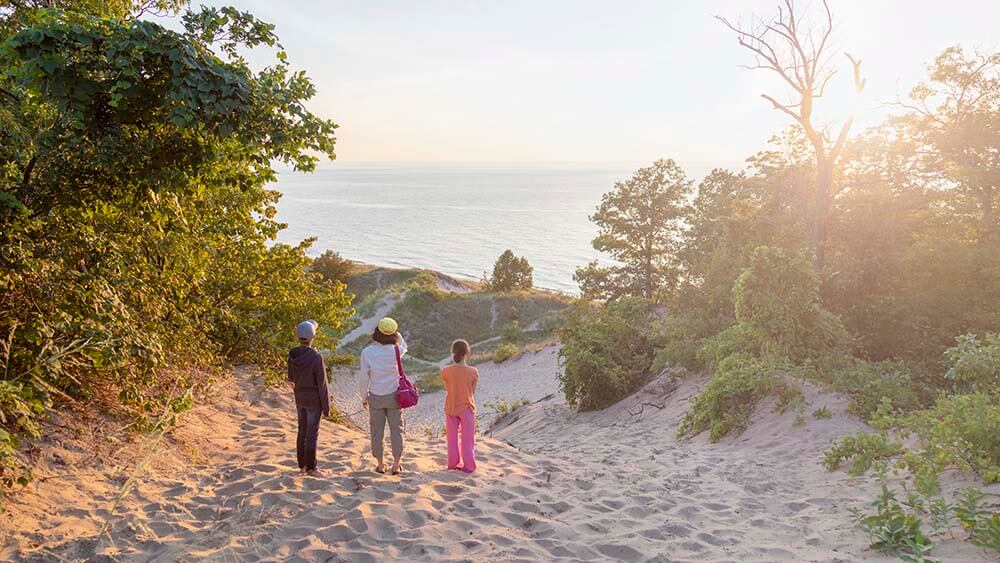 Grand Mere State Park
Boasting sweeping sand dunes, deep blowouts and a mile of Lake Michigan shoreline, Grand Mere State Park is a terrific answer to whatever is calling you: a dip in the water, a scenic view, a hike through canopied woods, a fishing adventure, even cross-country skiing in the winter — you name it. Located adjacent to I-94 in Stevensville, this nature preservation area was designated as a National Natural Landmark in 1986. The 985-acre park is protected from Lake Michigan by the dunes to the west. This means it has many natural features not found throughout the rest of Michigan! During the last ice age, receding glaciers left behind five geologically ancient inland lakes. Today, only North Lake, Middle Lake and South Lake remain as the others have dried up. However, they are slowly disappearing, too, so take advantage of them now.
Did we mention that sometimes, if you're lucky and have just the right weather conditions, you'll "see" Chicago, too? We aren't joking! Read about this phenomenon, then try to experience it yourself.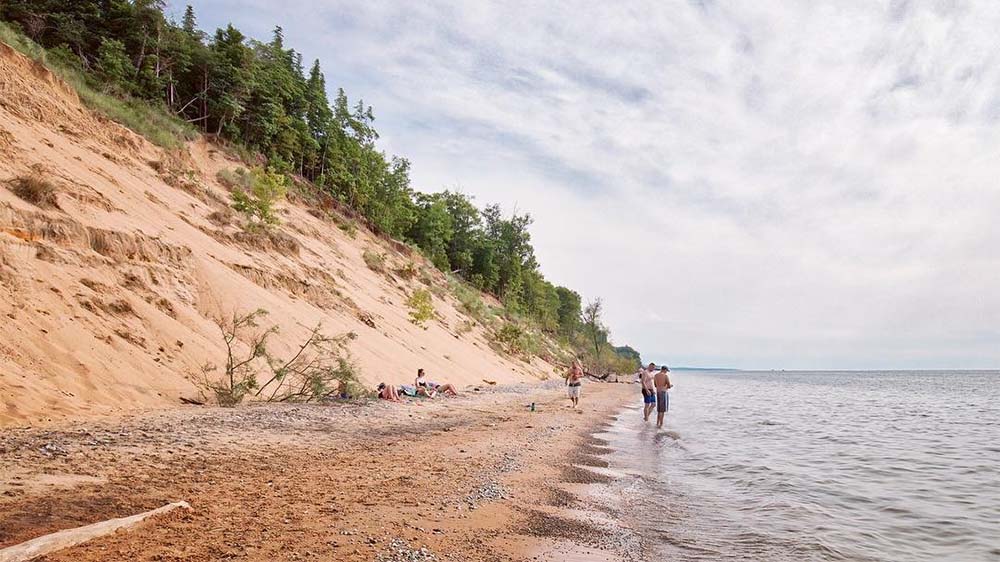 Van Buren State Park
In the northernmost portion of our region, you'll find yet another dune-filled escape. Van Buren State Park is renowned for its one-mile of sandy Lake Michigan beach, its high dune formations and campground close to South Haven shops and eateries. Relax on the beach, walk along woodland trails or enjoy a picnic watching the sunset. This is also a popular spot for beach glass hunting, cross-country skiing and bringing your dog to enjoy the view.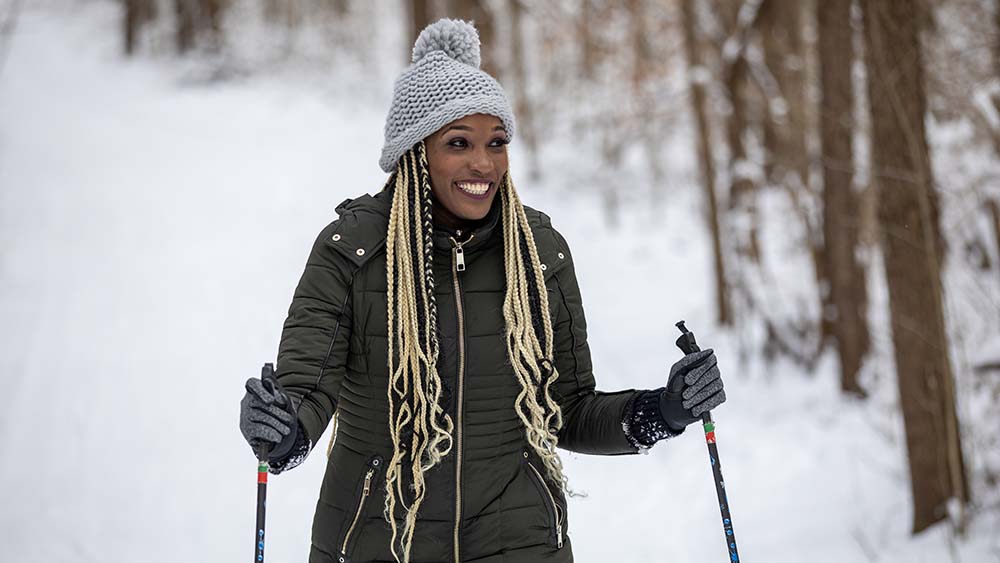 Van Buren Trail State Park
The 14-mile-long Van Buren Trail which makes up this state park runs between South Haven and Hartford. This multi-use trail has a dirt and gravel surface. Parking is available at the Hartford trailhead located on Prospect Street across from the high school. In South Haven the trail can be accessed via a spur from Van Buren State Park. We recommend taking your snowshoes for a spin here this winter!
Kal-Haven Trail Sesquicentennial State Park
If you're looking for a long hike to really get those steps in, then journey from South Haven to Kalamazoo without having to switch trails once. This 33-mile trail state park spans between the two cities where there is much to do once you arrive. It used to be a railroad bed, but now it's a route through several small towns and historical sites. While on the trail, you can also bike or fat tire bike in the winter.
Plan your visit to our State Parks today!
You won't want to miss out on the breathtaking views and incredible fun that happens every day of the year. Make plans now to visit these state parks. We're your Southwest Michigan outdoor adventure destination all four seasons! Stay overnight to visit multiple parks in one trip.