Traveling by Train to Southwest Michigan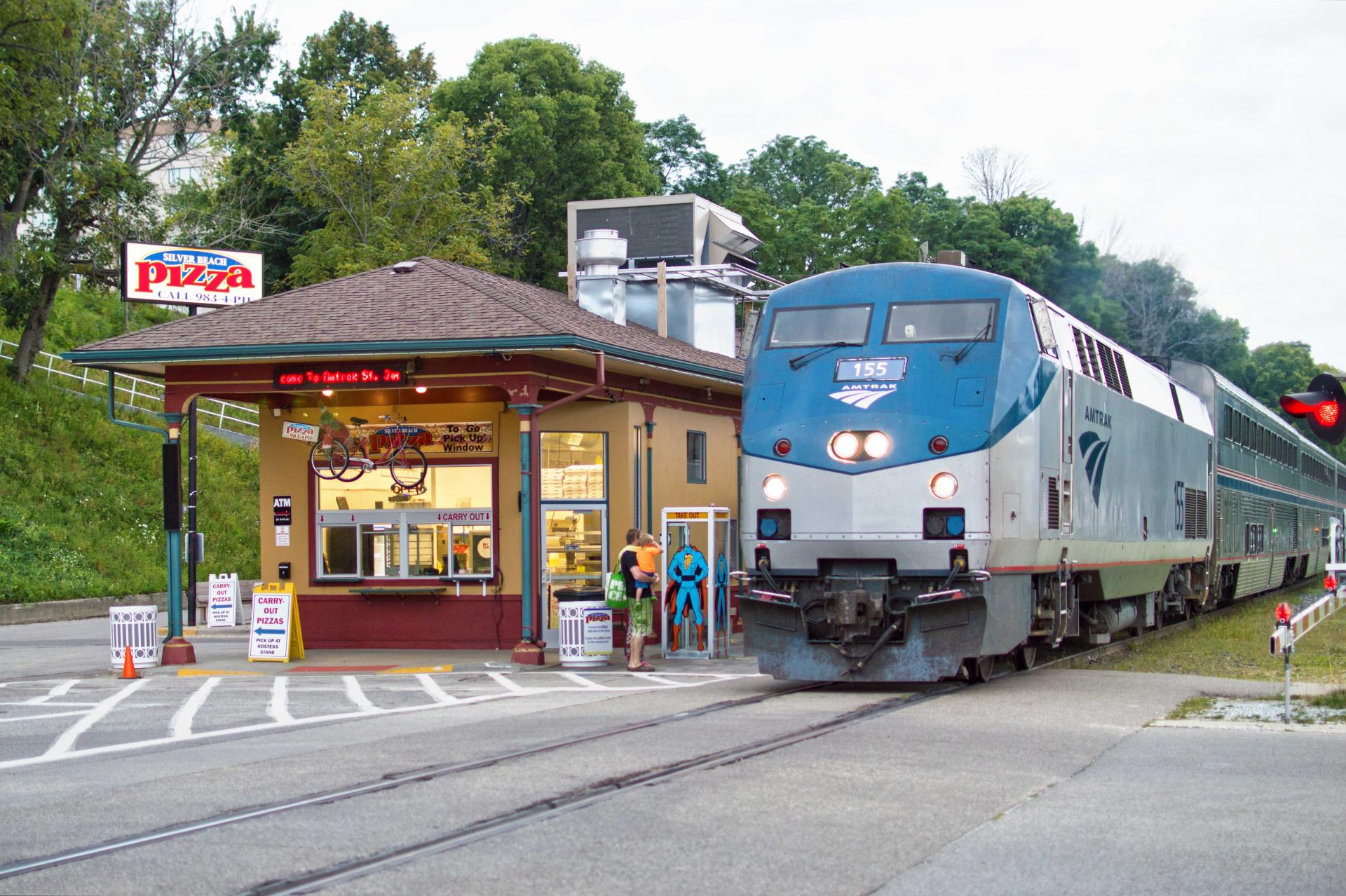 There are so many reasons to travel to Southwest Michigan: beautiful beaches and sunsets, sand dunes, fishing, boating, kayaking, golfing, delicious wines and craft brews, festivals and year-round family fun. If you're looking to experience any of the above, St. Joseph is the perfect travel destination for you.
You can get here by car, plane and even boat, but you can also come by Amtrak train. The best part is that the St. Joseph station, located at 410 Vine St., is within walking distance of dozens of fun things to do!
Traveling by train definitely has its advantages. You won't get stressed about directions, driving through construction zones, traffic, or fighting over who gets to listen to their favorite radio station. Instead, you'll get to sit back and relax with your friends or family and enjoy the view along the way. (Taking the train also means you won't have to pay for parking or spend time searching for a parking spot).
Take Amtrak's Pere Marquette
Coming from Grand Rapids, MI
This train departs at 6 a.m. from Grand Rapids and arrives in St. Joseph at 8:16 a.m. Going back, the train leaves St. Joseph at 9:15 p.m. and arrives in Grand Rapids at 11:39 p.m. This means you can come for the day or, better yet, a longer stay (believe me, once you're here you won't want to leave).
Coming from Chicago
You will want to stay at least two nights (a perfect weekend getaway so be sure to book a room before you come. The train departs from Chicago at 6:30 p.m. (CT) and arrives in St. Joseph at 9:15 p.m. (ET). It leaves St. Joseph at 8:16 a.m. (ET) and arrives in Chicago at 9:11 a.m. (CT). In the summer, your evening arrival will be just in time to catch the sunset on Lake Michigan!
Lodging
St. Joseph is home to many hotels, cottages, and bed and breakfasts. Many are located a short distance from the train station, downtown shops and restaurants. Several have beautiful views and all offer friendly staff to make your time here even more enjoyable. So come and stay awhile. There's more fun waiting for you tomorrow.
Five must-dos once you step off the train
1. Hit the Beach
The St. Joseph train station is less than five minutes by flip-flops to the beach, so you won't have to go far to get your toes in the sand. Silver Beach, named by Parents Magazine as one of the top 10 family beaches in the U.S., is the perfect place to soak up the sun! Here you'll find 1,600 feet of soft, sandy beachfront along beautiful Lake Michigan. There are volleyball nets, playground equipment, a pavilion, bathrooms and showers. You can take a walk out on the South Pier, watch the boats and capture a beautiful view of the North Pier lighthouses across the river. Maybe you'll even witness someone reeling in the catch of the day (or bring your pole and tackle and join them. A Michigan fishing license is required). If you need a snack, there is a beach shack with food and drinks and other beach supplies available. Lifeguards are also on duty in the summer so you can relax and feel safe. Don't forget to stick around to watch the sun go down. Nothing beats the beauty of a Lake Michigan sunset!
Tip: Now you can tour the inside of the newly restored St. Joseph North Pier lighthouse!
2. Water Adventures
One of the many reasons people like to visit Southwest Michigan is because they love being on the water and St. Joseph has many different ways to do just that! The St. Joseph River Canoe & Kayak Livery offers one to four-hour kayak, canoe, and SUP rentals so don't hesitate to get your paddle in the water. They are located at 602 Fisherman's Road and are just a short walk from downtown. They also offer half- and full-day charter fishing tours as well as shower facilities if you need to clean up before you head back into town. Call ahead for reservations: (269) 277-4434.
3. Sip Southwest Michigan Wines and Brews
Downtown St. Joseph has three different wine tasting rooms located on State Street. Lazy Ballerina, Baroda Founders Wine Cellar, and White Pine Winery all offer their own unique flavored wines for a nominal tasting fee. Choose one winery or try them all! When you discover your must-have vintages, these wineries will happily ship the bottles to your home. Of course if you are staying over, bring back a bottle or two of your favorites to your hotel (most of these tasting rooms have cork screws and glasses to take with you).
If you prefer a cold beer, head over to one of St. Joseph's newest additions: Silver Harbor Brewing Company, 721 Pleasant Street, and try a smoked beer. You can also go to the Buck Burgers & Brew where you can find more than 70 beers on tap and a variety of bottled beers, too! Come and taste what makes Michigan wines and brews so special.
The food here is great too! There are so many different restaurants to choose from in downtown St. Joseph so everyone will find something they enjoy. See our list of restaurants here or visit St. Joseph Today.
4. Family Fun
St. Joseph is fun for all ages! If you're looking for a kid friendly place this is perfect. Come take a ride on the Silver Beach Carousel located across the tracks from the train station. Here you can choose your favorite hand-carved carousel figure, enjoy treats like popcorn, cotton candy and Dippin' Dots ice cream, play games, learn about the history of the Silver Beach Amusement Park, and find gifts at The Brass Ring Gift Shop. At the Silver Beach Center you'll also find Michigan's tallest kaleidoscope and the Curious Kids' Discovery Zone.
Right across from the Silver Beach Carousel you'll find the Whirlpool Compass Fountain splash pad. Your kids will beg you to stop here! They will have the time of their lives playing in the water (teens and college kids have fun, too). Make sure to bring a swimsuit and towel!
Curious Kids' Museum is located along the bluff, just up the stairs from the train station. It has over 100 hands-on exhibits and activities for kids ages one to ten years old. The Apple Orchard, Vet Clinic, face painting and Musicology are just a few of the things to explore.
If you don't want to spend the whole day on foot, stop by St. Joseph Today, conveniently located downtown at 301 State Street, for more information about surrey, scooter, and bike rentals.
5. Shop Unique Stores & Boutiques
St. Joseph has plenty of unique stores and boutiques downtown that you'll want to check out while you're here. You'll find shoes, clothing, souvenirs, keepsakes, unique gifts, sweet treats, and don't forget about your furry friends back home! FuzzyButz Pet Bakery has home baked treats that your pets will love! Stop by St. Joseph Today for a full list of places to shop!