Best places to take pictures in Southwest Michigan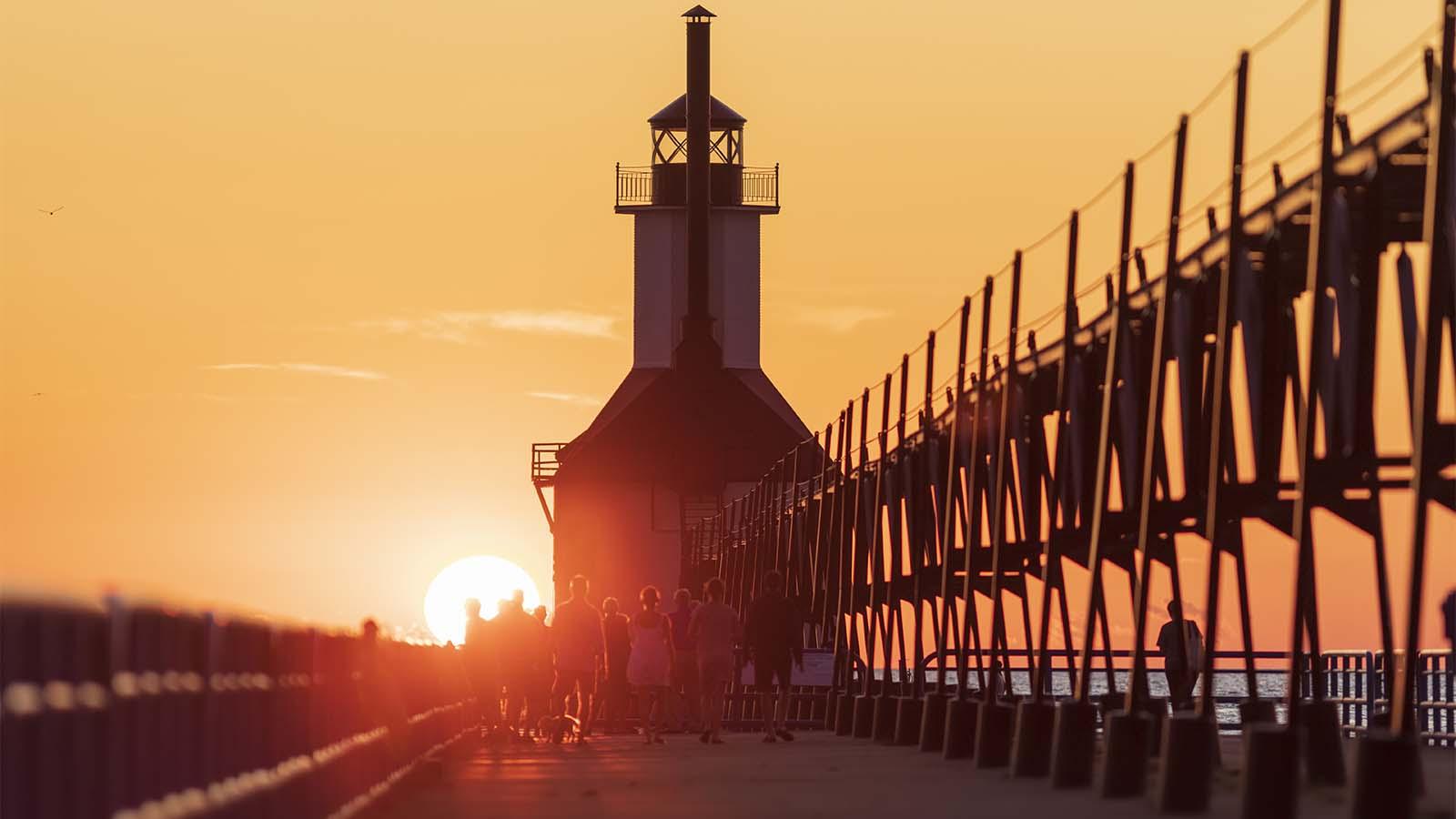 On vacation, we often seek out the most iconic and recognizable shots not only for our own memories, but to share on Instagram and other social media, too. Photos that you know that your friends and family will not even have to read the accompanying text to know where you are. Or maybe they will want to, so they can go there, too. Sometimes this is a particular structure, natural landmark, unique food, scenic view or activity. Whatever the subject, and whatever catches your eye, there are plenty of Instagram-worthy shots here! Here are some of the best places to take pictures in Southwest Michigan to get your creative and planning juices flowing!
St. Joseph Lighthouses
The St. Joseph Lighthouses are an obvious choice for a photo subject. One of the most popular angles is at Tiscornia Park along the path through the beach grass that leads from the parking lot to the beach. This area is commonly used for wedding, engagement, senior and family photos in the area.
Another angle is to get a photo of the lighthouses from the North Pier near its blue railings on Tiscornia Park. Want a selfie? You can also hop over to Silver Beach on the South Pier's beacon platform to get a photo with the lighthouses in the background. If you have access to a boat or stand up paddle board, get on it to take a photo from that vantage point!
Sunsets
In Southwest Michigan, it's almost ritualistic to pause your day to see the sunset. It is mesmerizing when the sun becomes a bright red ball and the sky fills with streaks of lavender, gold, orange and red. Any beach along Lake Michigan's shoreline offers front-row seats for each night's unique show. But don't limit your sunset watching to the Big Lake — inland lakes, rivers and vineyards are great for viewing, too. Snap a photo to boast those colors on your Instagram feed!
Beaches
Southwest Michigan has miles of sandy shoreline along Lake Michigan to enjoy. Take a photo as the waves crash ashore onto your toes or of the skyline uninterrupted. There is no one shot or beach better than the rest. You can even try rockhounding or beach glass hunting! Post a photo of your unique findings to brag to your followers. Make sure to take a photo by the Weko Beach sign if you go there, too.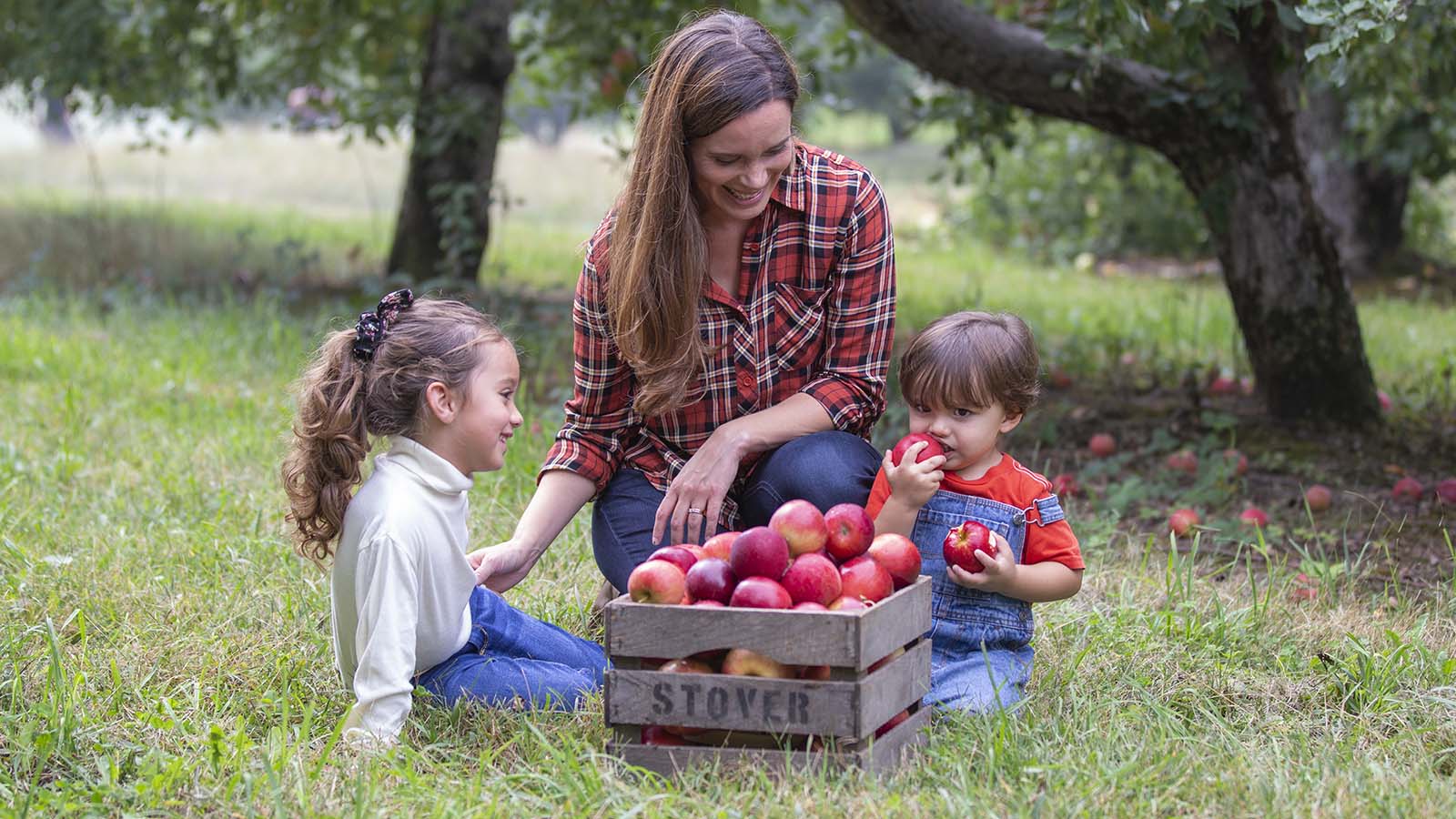 Fruit picking
Stop by one of the many farm stands, farm markets and pick-your-own farms in Southwest Michigan. It's where you'll find the freshest, tastiest fruits and vegetables you will ever bite into. Take a photo of your strawberry, blueberry, cherry, apple, peach or sweet corn haul at the end, and tag the farm you picked with! You can also get action shots of your helpers.
On the Makers Trail
What better way to mark your location than with a drink in your hand? There are plenty of photo ops like a picture of your wine glass with an expansive vineyard in the background. You can also just grab a group photo in the vineyard next to those growing grapes, too! Or target unique components of our Makers Trail locations. For example, Round Barn Winery is known for its famous amish round barn, and River Saint Joe is hard to miss with River Rocks in the winter and outdoor fire pits surrounded by swinging chairs and adirondack chairs. But don't stress yourself with getting too elaborate. A simple patio picture with a beer in hand is more than deserving of a like.
Berrien County Youth Fair
This annual event draws activity to Berrien Springs for an entire week chalked full of entertainment. Among the photo worthy happenings are two must-snap shots. Grab a corn dog from Friends of Berrien Springs' The Korn Dog booth, then take a photo either eating it or with the establishment and its line. If rides aren't for you, you can take the tame route to get a view on the Ferris wheel. Wait for the night to fall and ride lights to turn on. Then cruise to the top and snap your photo!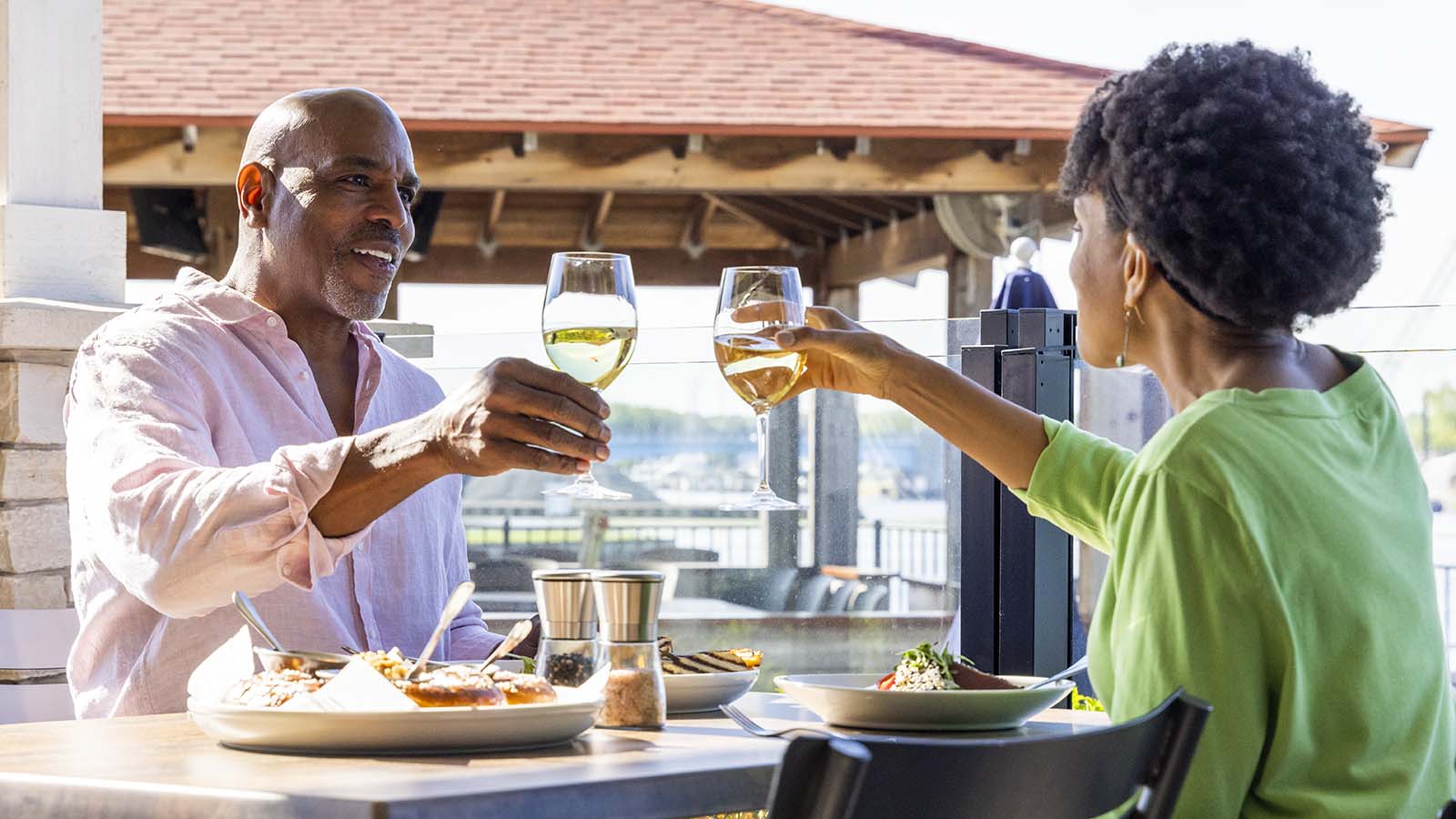 Outdoor Dining
Outdoor dining photos do well on Instagram, especially when there is a view! Think about your own feed. When you see food photos, doesn't a part of you wish it was your plate? One of the best places to snap a photo are while dining outside on the water at Plank's Tavern at the Inn at Harbor Shores. It's especially exciting to catch sailboats or the buildings of St. Joseph's downtown in the background. Another eatery that makes for the best brunch photos is Mason Jar Cafe. Tucked into the Benton Harbor Arts District, the sculptures and culture around you are sure to pair well with a photo of your plate. The list goes on and on photo worthy foods and locations.
New Buffalo
What's one thing you may catch a glimpse of here that you might not expect? Chicago! New Buffalo is one of the places you'll see this interesting phenomenon if you are lucky. Take a photo on the wooden walkway in New Buffalo with Lake Michigan and the piers in the background. You may be able to see the skyscrapers in the background, too.
Downtown St. Joseph shots
There are plenty of photos to get while you're exploring downtown St. Joseph, but to name a few we suggest capturing these to post later: A family photo of everyone riding one of Scooter Joe's surrey bikes, a photo sitting on Lotus the Hippo sculpture at Krasl Art Center, a photo next to or sitting on the canon at Lake Bluff Park, a picture of your ice cream waffle cone in front of Kilwins or a picture of your little ones splashing around in the Whirlpool Compass Fountain with the Silver Beach Carousel in the background.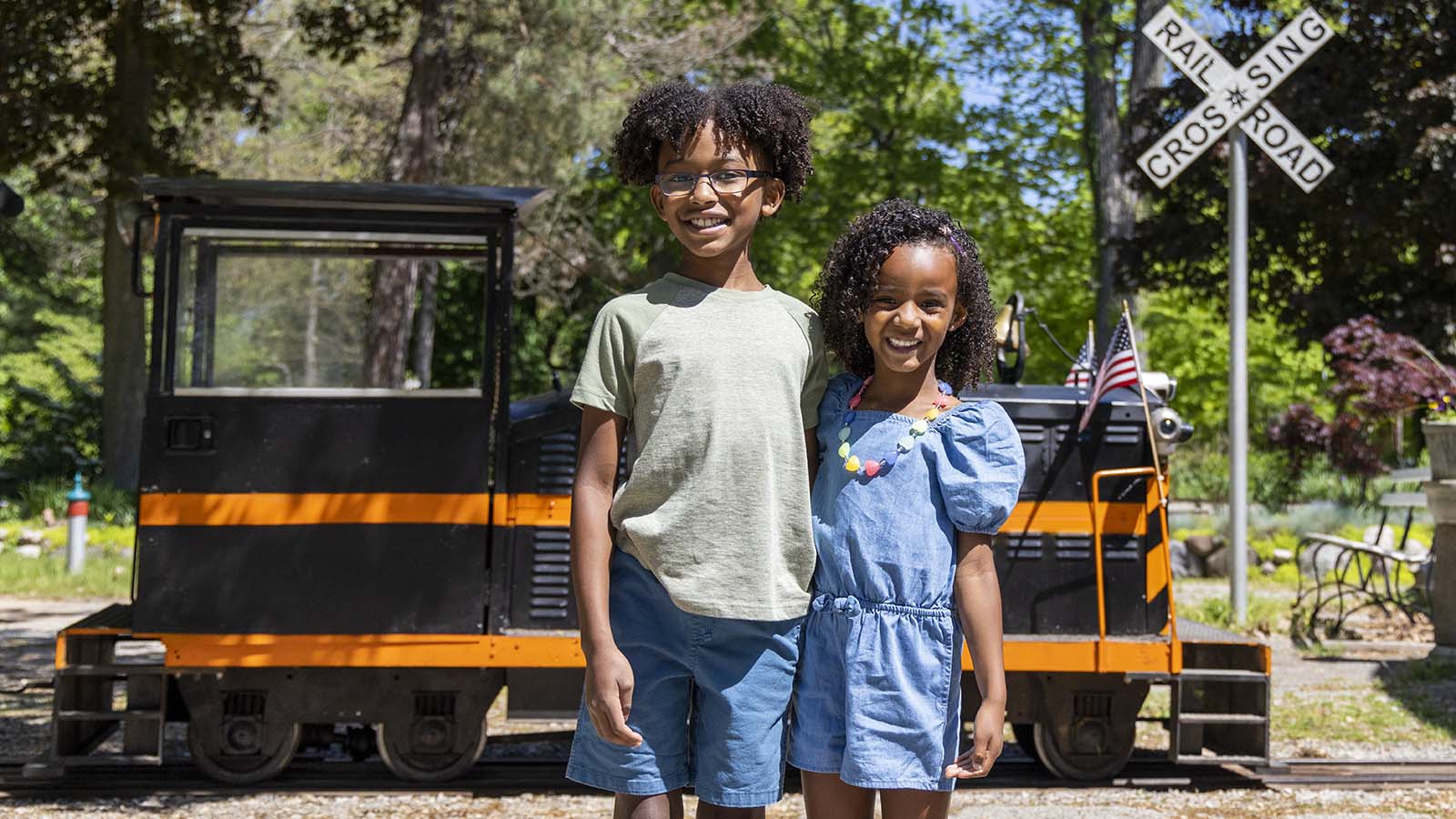 Eden Springs
At Eden Springs Park & Campground, photograph your ride on a historic miniature train. Hop aboard the restored engine at the former House of David for $3, and grab some shots as you pass through the former amusement park that is gradually being restored. Train rides are available every weekend from Memorial to Labor Day from noon to 5 p.m. When you visit, you may catch an 1800s-style baseball game on the diamond a few steps from the train station, which also makes for fun photos. Go Echoes!
If you are a big Halloween or Christmas fan, the train reopens for rides around those holidays, too. Come back and take photos of the large Halloween inflatables or the twinkling Christmas lights.
Harbor Shores Golf Club
Even if you aren't a golfer, you can still capture this next photo. Hole number seven at Harbor Shores Golf Club is the most difficult par 4 on the course. But it's also home to a dune overlooking Lake Michigan. Go for a walk on the trails at the golf course and take a photo from the view. Then go down to Jean Klock Park!
South Haven
Visit the Michigan Maritime Museum in South Haven to add some sailor shots to your Instagram feed. Not only does the museum have on-the-water exhibits with both replica and historic vessels, but you can sail on some of them, too. The Friends Good Will is a gorgeous 1810 tall ship replica. Take photos aboard her as you journey out to sea!
Once you're done at the Maritime Museum, drive over to Van Buren State Park to catch the sunset. Climb the dunes that tower above Lake Michigan, and post some photos of the view from up there. We suggest sticking around until sunset — it only gets more beautiful!
Photograph whatever grabs your attention
We know that what is photo worthy is up to the photographer, so we're sure there are sights we have missed. But, we would love to know what you love taking photos of in Southwest Michigan. Share your photos with us using #swmichigan. We can't wait to see your shots!