Mason Jar Cafe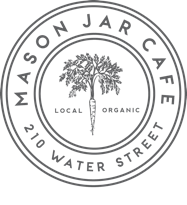 210 Water Street
Benton Harbor, MI

Tel: 269-757-7333
This quaint, eclectic location is a favorite brunch spot for organic fare. Locals and visitors alike stop here time and time again to enjoy different menu items, unique beverages and friendly staff. Make sure to add Mason Jar Cafe to your itinerary on your next trip!
Where is Mason Jar Cafe?
Mason Jar Cafe is tucked into the Benton Harbor Arts District. The Arts District is at the forefront of the revival of Benton Harbor's city center, and the arts are an integral part of its growing appeal. New businesses and restaurants keep adding to the burgeoning excitement of this area.
Mason Jar Cafe Menu
Made-from-scratch, locally sourced, organic and delicious menu options make this a local and visitors' favorite breakfast option. Go-to choices (there are honestly too many to list here) include their spicy egg sandwich, stuffed French toast, corned beef hash, huevos rancheros and daily quiche. A wide selection of specialty lattes, boozy beverages and hot chocolates are standouts, too. Check out their menu online.
Reservations
You can't make reservations at this location, but you can join their waitlist on Yelp! And you can call ahead when you are on your way to ask to be added to the waitlist, too. Then, check in when you arrive to be bumped up. There is additional outdoor seating in the summer.
Hours
The Mason Jar Cafe has the following hours, but always check their Facebook page for updated information:
Monday to Friday: 7 a.m.-3 p.m.
Saturday to Sunday: 8 a.m.-3 p.m.
Contact: email