Fruit Acres Farm Market & U-Pick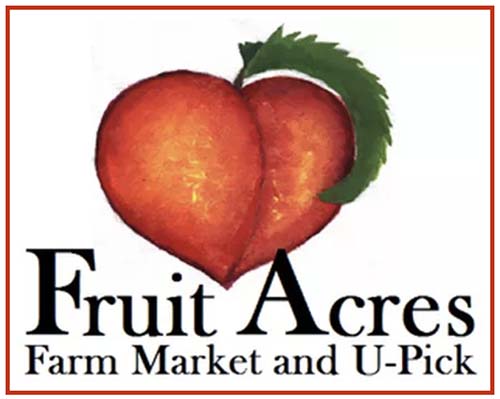 We are located in beautiful southwest Michigan with picturesque orchards - perfect for the short or long trip to the country. Visit our farm market for a complete line of fresh fruits and vegetables in season. We grow black sweet cherries, crisp juicy apples, super sweet corn and our specialty is sweet juicy Freestone peaches. We also sell gourmet honey, jams and jellies, fall apple cider and caramel apples.
Our u-pick includes sweet and sour cherries, Freestone peaches, apples and pumpkins. Please call ahead for details, seasons very from year to year. U-pick is weekends only from July through October with free tractor wagon rides in August, September and October. U-pick orchards feature dwarf trees, so no ladders! Visit our web site for ripening dates. Come visit us on the farm for a country experience.
Additional Information
Large farm market
Our specialty - sweet juicy Freestone peaches
Black sweet cherries
Sour pie cherries
Crisp juicy apples
Fall sweet apple cider and warm caramel apples
Great pumpkin patch
U-pick most weekends
Free tractor wagon rides weekends August-October
Orchard trails
Free large picnic area
Fresh air, sunshine and fun
Portions are handicap accessible, please call for details
No Upcoming Events Published By Fruit Acres Farm Market & U-Pick