Southwest Michigan dunes — our ancient treasure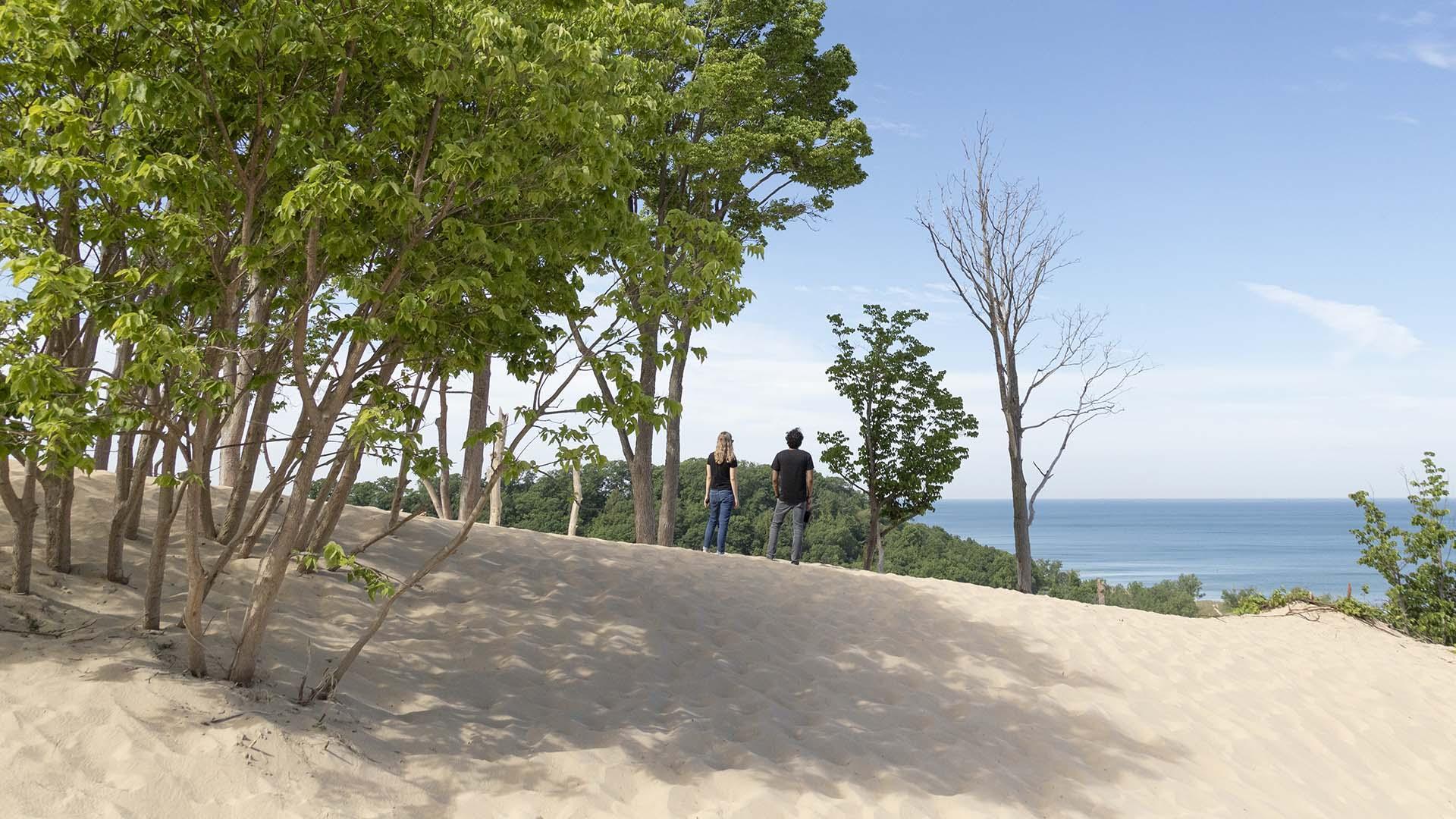 Dune destinations | Fascinating dune facts
Southwest Michigan's dunes are part of the largest freshwater dune system in the world. The state's dune system is so large that astronauts can see it from space! Here in Berrien County, you are never far from these massive hills of sand. They are visible as you drive I-94 between the Indiana state border and I-94 exit 22, John Beers Road/Stevensville. But it's far more amazing to see them up close at.
Dunes in Southwest Michigan
Warren Dunes State Park
Located at 12032 Red Arrow Hwy, Sawyer. This year-round park is our premier dune destination with nearly 2,000 acres of recreational fun along Lake Michigan. Its ancient dune formations tower up to 240 feet above the lake and offer spectacular views and exhilarating dune climbing, hang gliding (you'll need a permit), sandboarding and sand sledding. During the snowy months, you can sled, ski and snowboard these magnificent hills. This park has three miles of shoreline for in-season swimming and also includes a section that welcomes dogs. Learn more here.
Weko Beach & Campground
Located at 5237 Lake St., Bridgman. This beautiful beach's dunes extend from Warren Dunes State Park. The beach's 900 feet of Lake Michigan frontage is a popular place to swim, kayak and paddleboard as well as watch sunsets. While dogs are not allowed on Weko Beach, you can follow the beach's boardwalk and trail to the dog beach at Warren Dunes State Park. 
Grand Mere State Park
Located at Thornton Dr., Stevensville. If you want to enjoy some magnificent dune scenery with fewer people, come here. This 1,127-acre park features one mile of Lake Michigan frontage, trails and three inland lakes nestled behind the dunes. 
Silver Beach County Park
Located at 101 Broad St., St. Joseph. You can see small dunes on this popular beach as you splash in the water or walk to and from the South Pier. 
Tiscornia Beach
Located at 80 Ridgeway, St. Joseph. This 16-acre, family-oriented park provides access to the historic North Pier lighthouse and a walkway that is popular for fishing and watching sunsets. Small dunes rise behind the beach. 
Jean Klock Park
Located at Jean Klock Dr., Benton Harbor. This is a beautiful, lesser-used beach that offers views of the North Pier lighthouse, an observation trail up the dunes, marsh, interdunal wetlands and in-season swimming and sand play. 
Harbor Shores Resort
Located at 201 Graham Ave., Benton Harbor. Three of the holes on the public, 18-hole Harbor Shores Golf Course are perched on the top of a dune overlooking Jean Klock Park and Lake Michigan. It is the only Jack Nicklaus Signature course on Lake Michigan. One of the biggest challenges for golfers is not being distracted by the breathtaking view. Non-golfers can also enjoy the view by following the Jean Klock Loop of the Harbor Shores Fitness & Nature Trails. There is no cost to access it all year round. 
Grande Mere Inn
Located at 5800 Red Arrow Hwy., Stevensville. This cottage-style restaurant is perched on Covert Ridge, and while the dune view isn't as up-close as the sites above, it offers an amazing vista of the Grand Mere below. The windows on the west side of the dining room let you look across the dunes to Lake Michigan. This is a great place to watch our area's sunsets and enjoy Grande Mere's renowned tender steaks, tasty lake perch, fresh seafood and house-made bread and soups. 
Five fascinating dune facts
Dunes were built by the glaciers thousands of years ago. These large sheets of ice once covered Michigan and gouged out the basins now known as the Great Lakes. The glaciers carried sand and other materials that were deposited as the ice melted.
To make a dune you need four things: (a) dry sand (b) a means to move the sand, such as waves or strong winds (c) a land area to deposit the sand and (d) a blade of grass, driftwood, rock or tree that stops the sand. Over time the sand begins to mound up, higher and higher.
The dunes in Southwest Michigan are parabolic. They have a distinctive U-shape. Our dune areas have at least four areas: beach, foredunes (sandy, lower dunes), interdunal wetlands and backdunes (the higher, forested dunes). 
A blowout is a sandy depression in the dune. They are formed by the wind eroding patches of bare sand on dunes that have vegetation. 
Dunes are not stationary. They move, collapse and change shape as the wind blows over the surface of the dune. The wind lifts the small sand granules, then drops them. As the sand hits the ground, it causes other sand granules to jump up and be carried by the wind. 
While our dunes have been here for thousands of years, they will not continue to be here without your help. When you visit, stay on paths as much as possible. Take only pictures and leave only your footprints. And if you can, volunteer for beach clean-up and work days at the Michigan DNR site.