Fat Tire Biking in Southwest Michigan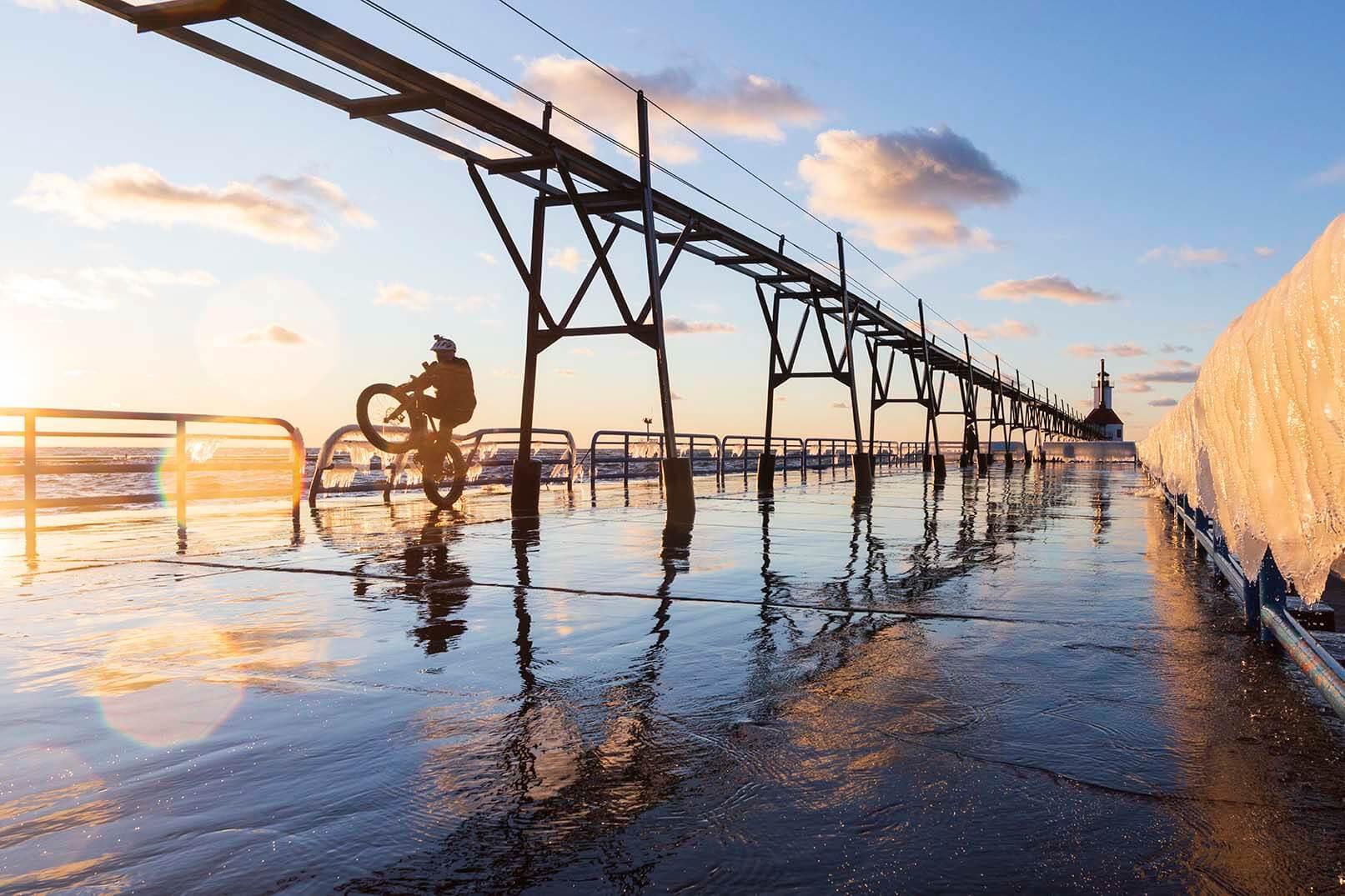 Fat tire bikes allow you to ride the trails all year long. Roam immaculate snowy forested paths, traverse the pristine snow-blanketed lakeshore and glide for miles down scenic trails. Fat tire biking will make you happier, healthier and more relaxed.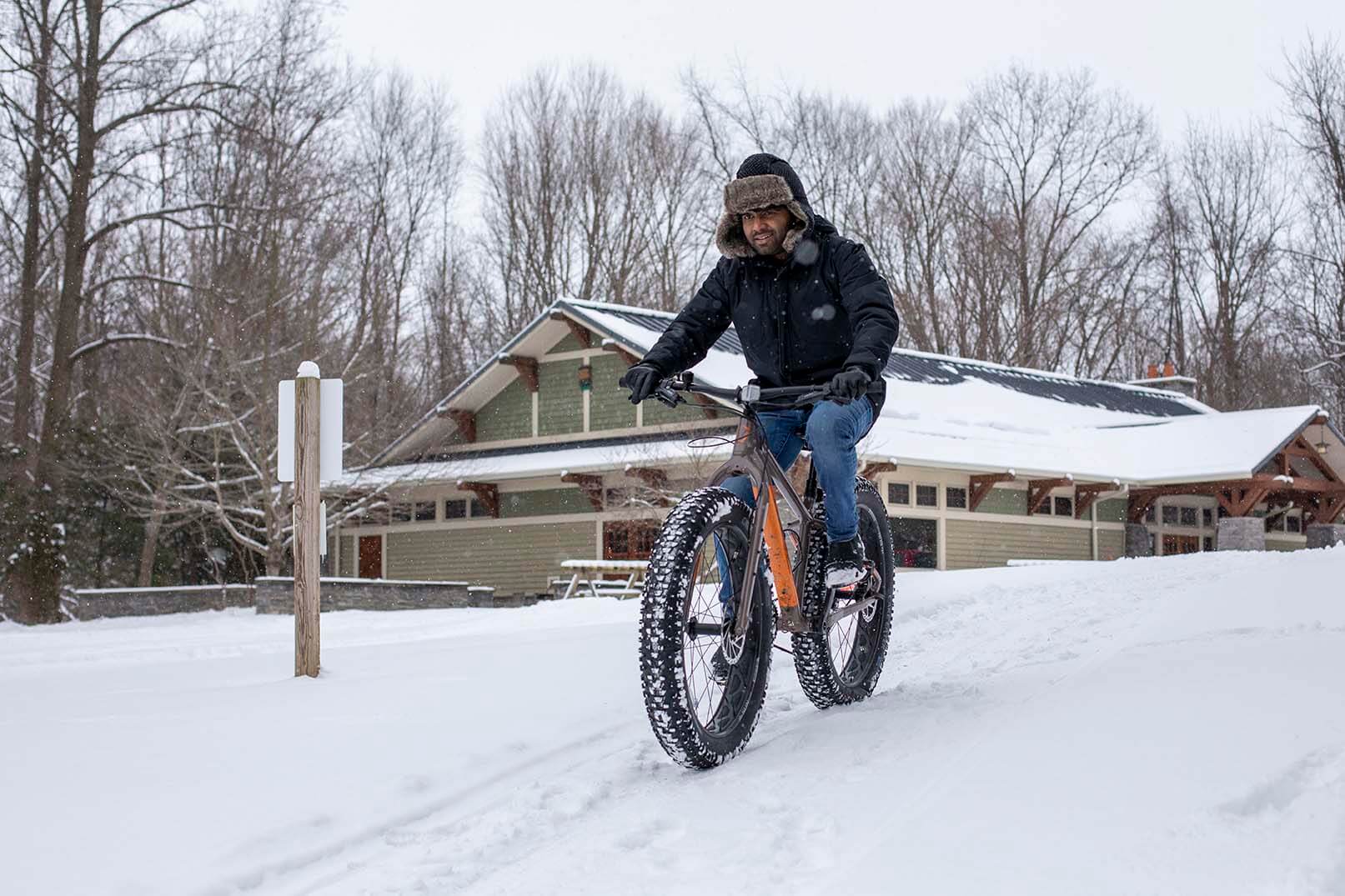 When compared to a traditional mountain bike, the improved grip and traction that the wide tires provide allow you to more easily tackle normally challenging terrain. You can conquer rocks, sand, dirt, mud, snow, slush and ice. Best of all, you can cover more ground than any other non-motorized means of human-powered transportation in the winter.
Since these bikes have wider tires and many only have a single gear you will need to use more muscle power. As a result, be prepared for some exertion, sweat and challenge. However, the stability of the wider tires can make it easier to learn than a bike with skinnier tires. As a result, with some practice, new riders will soon be delighting in a ride through the snow.
While riding it is normal to occasionally slide on snow and ice. It may feel a bit strange at first and you will likely fall a few times while learning. Because of this it is a good idea to start on soft snow to cushion falls. Also, choose wider trails with smaller hills to get a feel for the movement and control of the bike.
How well your bike will perform is directly related to the tire PSI. As a general rule, your tires will be at less than 5 PSI and if that does not feel right, try lowering the pressure. The "flatter'' the tires the more contact they have with the ground resulting in better traction. With some experimentation, you will get a feel for the ideal PSI for different conditions.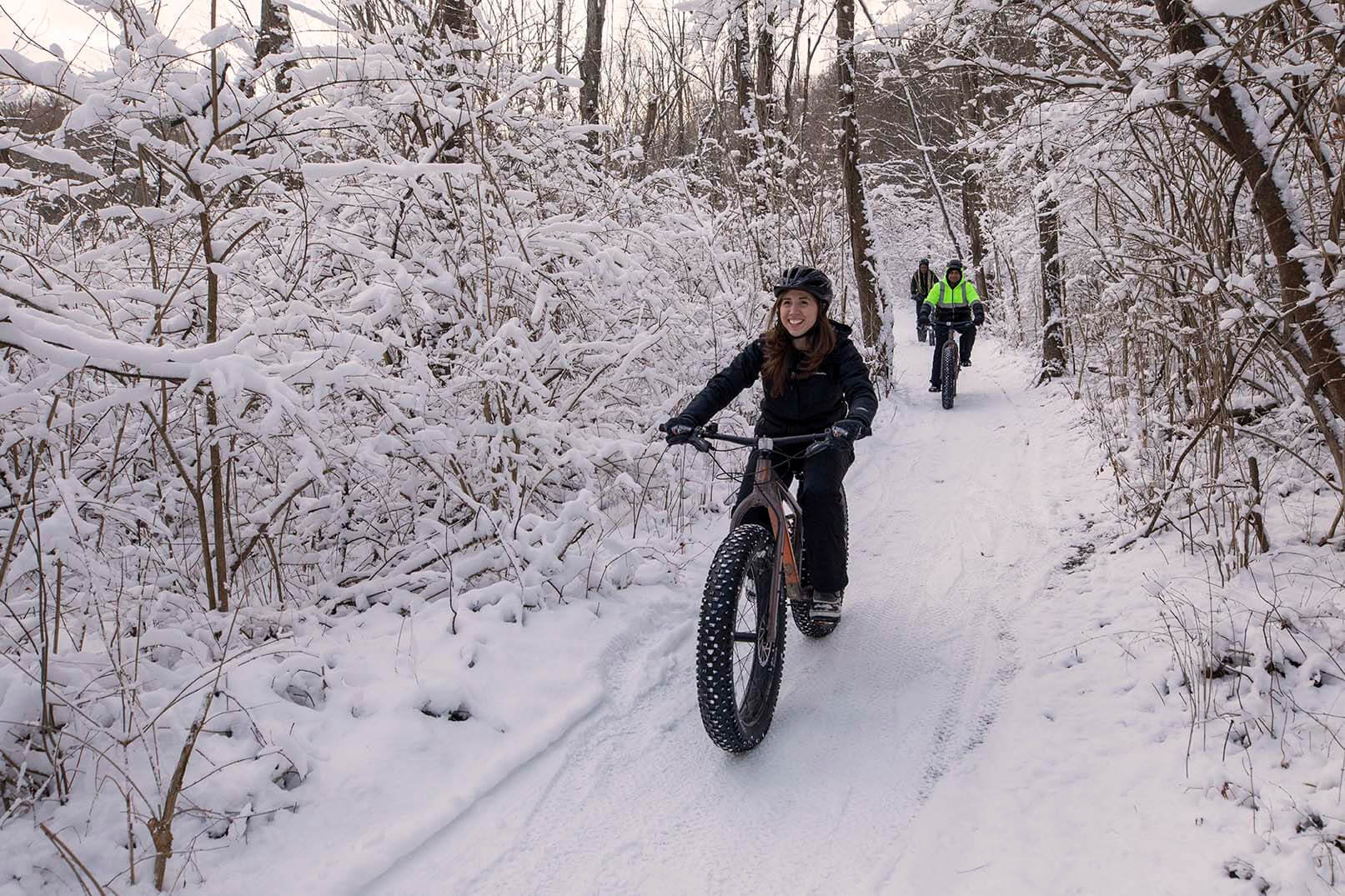 Like any winter sport, there's a balance to be found in your clothing choices. You will want breathable clothing and it is advisable to dress in layers to accommodate changes in conditions. For longer rides, be sure to pack extra clothing, snacks, water, cell phone, area and/or trail maps, flashlight, bike lights, compass, fire starter kit, pocket knife and an emergency blanket.
Be aware that some parks have specific trails for different sports while others have multi-use trails. Additionally, groomed trails often have rules regarding minimum snow depths, air temperature requirements, tire width restrictions and tire PSI stipulations. Always avoid trails used by snowmobilers and if you happen to end up on one, remember that snowmobiles have the right-of-way. When planning your ride keep in mind that the distances you will cover are likely going to be shorter than they would be on a mountain bike in the summer.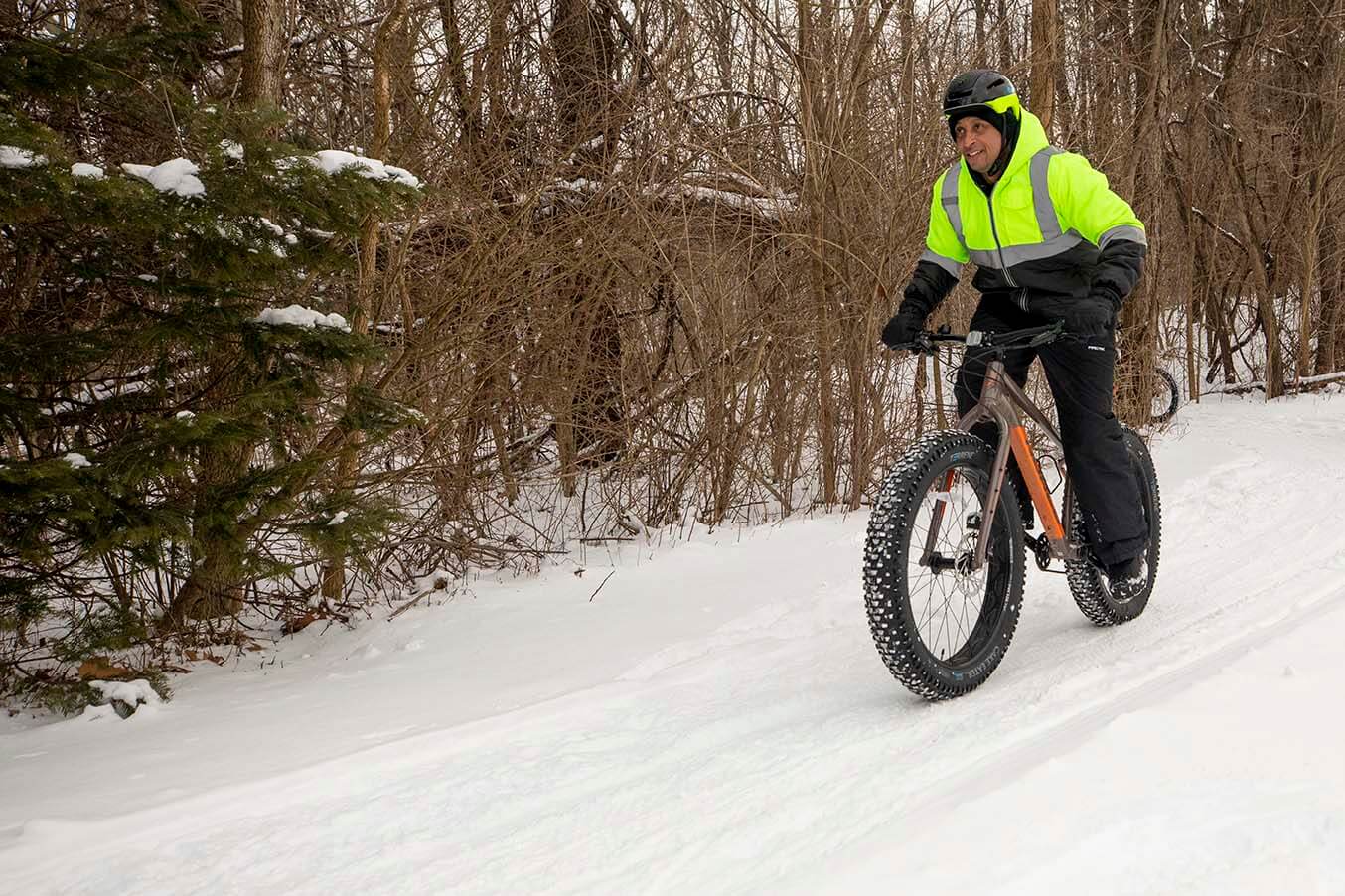 Unlike cross-country skiing or snowshoeing, fat tire bikes can travel across areas without snow. This allows for greater flexibility in traveling through both nature and plowed urban areas. As a result, the places that you can go to are quite vast. If you have the energy and skill this winter you could travel all across our tri-county area and explore vast distances along Lake Michigan's sparkling shoreline. For those looking for more leisurely or established trails these are our top five places to go:
Dr. T.K. Lawless Park: Miles of wooded trails and open year-round so you can enjoy riding all four seasons. FYI: a helmet is required for all cycling.
Andrews University Trails: Packed trails great for both beginners and experienced riders.
The John and Dede Howard Family Recreation Trail: This relatively short trail is great for beginners and provides great views and access to the Lake Michigan shoreline at Lions Park Beach and Silver Beach County Park.
Love Creek County Park & Nature Center: Rentals are available at this park that features a 3.5-mile beginning/intermediate level groomed trail.
Kal-Haven Trail Sesquicentennial State Park: Enjoy 33 miles of trail linking the city of South Haven to the city of Kalamazoo.
After a tiring day of cycling, relax and warm up at one of our Makers Trails locations. Enjoy tastings and delicious meals indoors or at their outdoor firepits, heated patios, private greenhouses or dome.
Extraordinary photo opportunities await you along Southwest Michigan's winter trails. We would love to see the memories you capture, please tag us in your photos! #swmichigan