Best outdoor winter tasting experiences in Southwest Michigan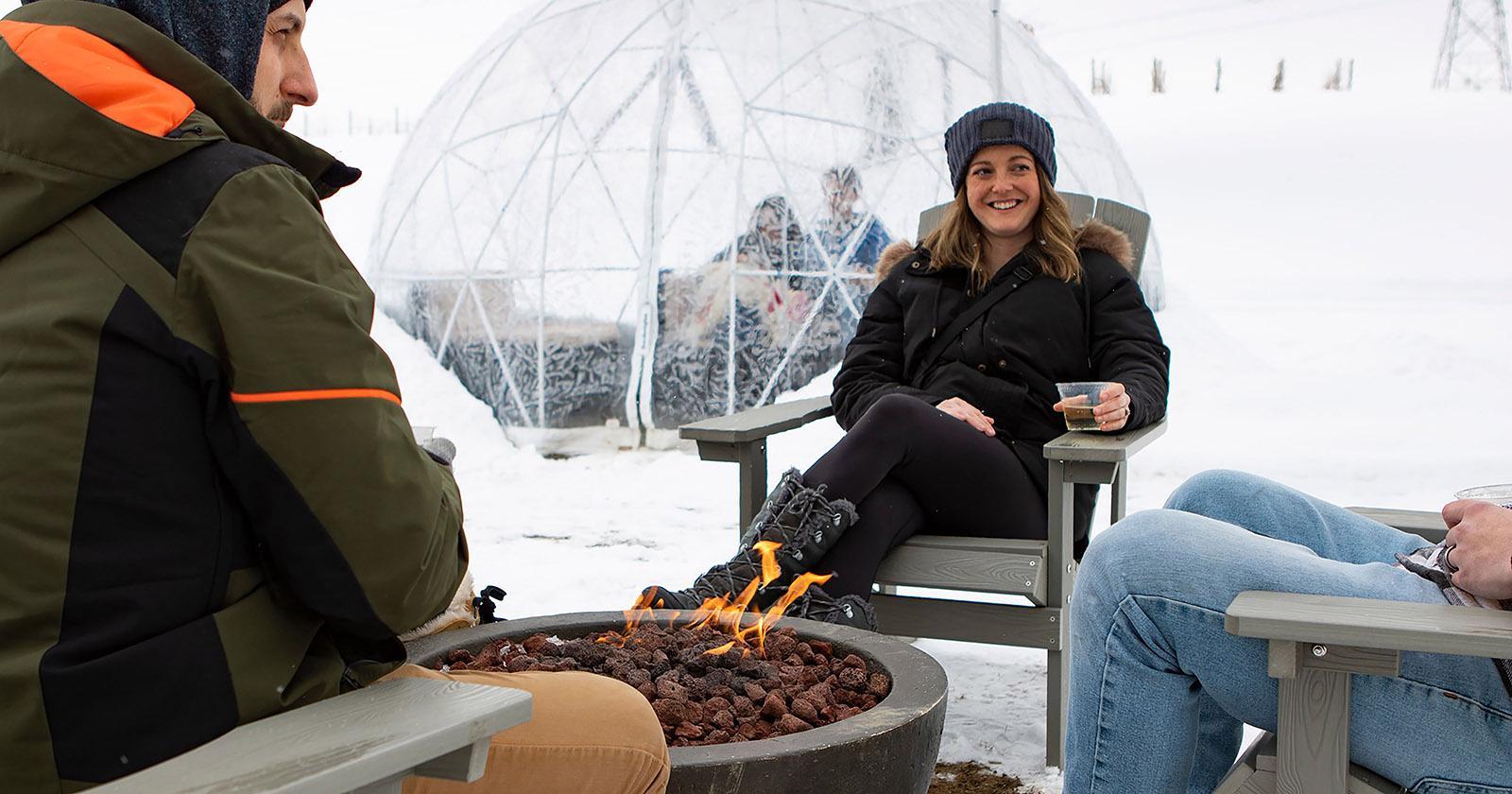 Wineries with igloos | Breweries with beer gardens | Nearby outdoor recreation | Three social districts | Outdoor restaurant experiences
Forget about hibernating this winter. Our Southwest Michigan wineries, breweries and distilleries along our Makers Trail offer warm, indoor places to taste craft beverages, each with unique ambiances. But what sets several stops along this Trail apart is tasting delicious hot and cold drinks in Mother Nature's picturesque outdoors!
It's magical sitting inside a private, heated igloo surrounded by soft glowing lights as you sip your favorite drinks, listen to music or play games as snowflakes dance overhead. Or laughing and talking around a crackling fire pit or gathering with friends in enclosed, heated patios looking out on vineyards or cheery lights.
Also, this time of year you can show your Makers Trail Passport and earn stamps toward cool prizes along the way! Below, check out the outdoor tasting destinations along the Trail, plus learn of a few outdoor dining venues that will make Southwest Michigan a favorite winter getaway tradition. We hope to see you in our sparkling wonderland soon!
Wineries with igloos and more
Round Barn Winter Village | Baroda
Round Barn Winery & Estate's Winter Village, sponsored by Honor Credit Union, is back on weekends for another Michigan winter season. This is the perfect place to enjoy a mulled wine or hot cocoa mixed with one of Round Barn's popular creams. And yes, the historic barn on this estate winery IS round!
Reserve a heated igloo for up to eight guests
Rent a heated igloo for up to two hours and share it with up to eight people. Choose from tasting flights, hot beverages, wines, mimosas, sangrias and luxury "pop-up winter picnic" options. Igloos are heated, but a bit chilly, so dress appropriately. You will have your own server, a table with seating, family and adult games and a blue tooth speaker to enjoy your favorite playlist.
Blazing firepits are available on a first-come basis
Bring blankets, dress for the weather and sip your favorite beverages around a firepit.
Hike through picturesque vineyards and woods to Tabor Hill Winery & Restaurant
Within feet of Round Barn's Winter Village are Mt. Tabor Trails. You can hike, snowshoe or cross-country ski for up to 3.5 miles in a winter wonderland to Tabor Hill Winery & Restaurant. Pick up your favorite beverage at Round Barn and enjoy it along the way. Then taste more wines at Tabor Hill where you can enjoy delicious indoor dining overlooking the snowy vineyards.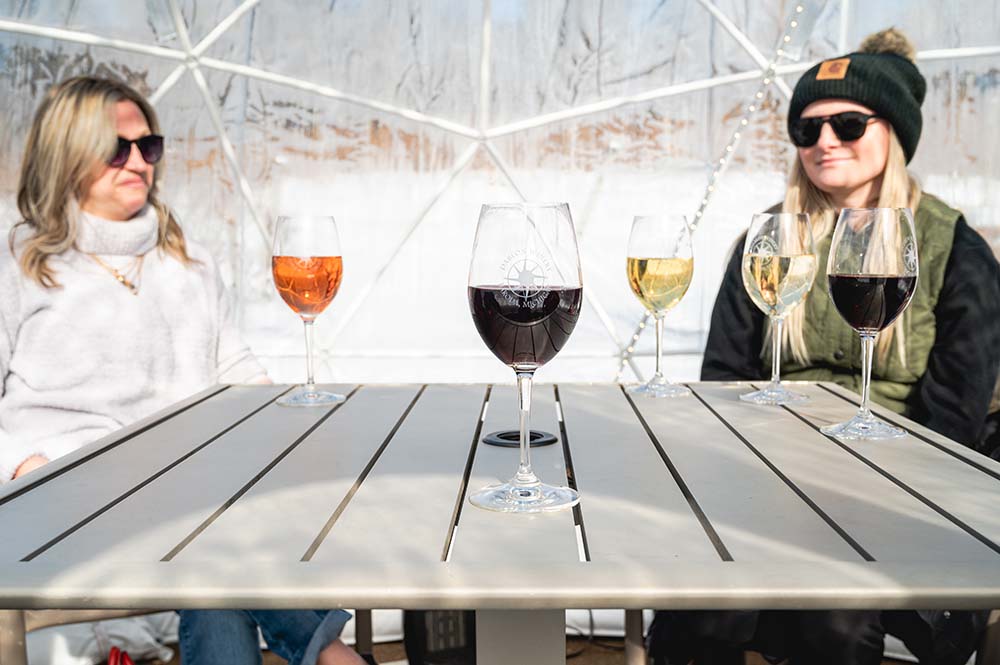 Dablon Winery & Vineyard | Baroda
Reserve one of the five private, heated igloos for 1.5 hours and enjoy the frosty vineyard views with up to six total guests. There are bonuses to coming to Dablon. On weekends they offer barrel tastings — you will be one of the first to try a new, not-yet-released wine for $10 a glass. On Sundays, stay to enjoy free music performed by regional talent in the tasting room. Plus, Dablon credits the cost of your igloo reservations toward your wine purchases. Igloo reservations are required — use the "Visit" tab on their website.
Hickory Creek Winery | Buchanan
You are welcome to bundle up and bring blankets and food to enjoy around the firepit while sipping mulled wine or other selections from the winery. Be sure to include ingredients and sticks for s'mores and toast marshmallows over the flames — this campfire treat pairs well with almost any wine on a wintry day.
Vineyard 2121 | Benton Harbor
Get some fresh air on Vineyard 2121's heated patio overlooking its vineyard and discover your favorite craft beverages from their beer, wine, cider, premium vodka and slushee selections. The patio is warm, but dress in layers to stay comfortable. Then head inside to fill up on their daily dinner specials.
Breweries with outdoor beer gardens and winter games
Arclight Brewing Company | Watervliet
Bundle up and sip your favorite sours, beers and sodas by the fire pit in the beer garden. There's often a pizza food truck outside Arclight's doors dishing up piping-hot, cheesy hand-tossed pies that complement all of their craft beverages.
Haymarket Taproom | Bridgman
When you are traveling along Lake Michigan's shoreline be sure to stop by this taproom housed in a former Michigan State Police post. Its beers are legendary in Chicago and you and your friends will have no problem finishing a six-pack and one of their talk-of-Southwest Michigan wood-fired pizzas in their large beer garden. The uncovered garden has four fire pits. Staff recommends bringing your own logs. Leashed dogs are welcome to join you around the fire. The brewery and beer garden are closed on Wednesdays.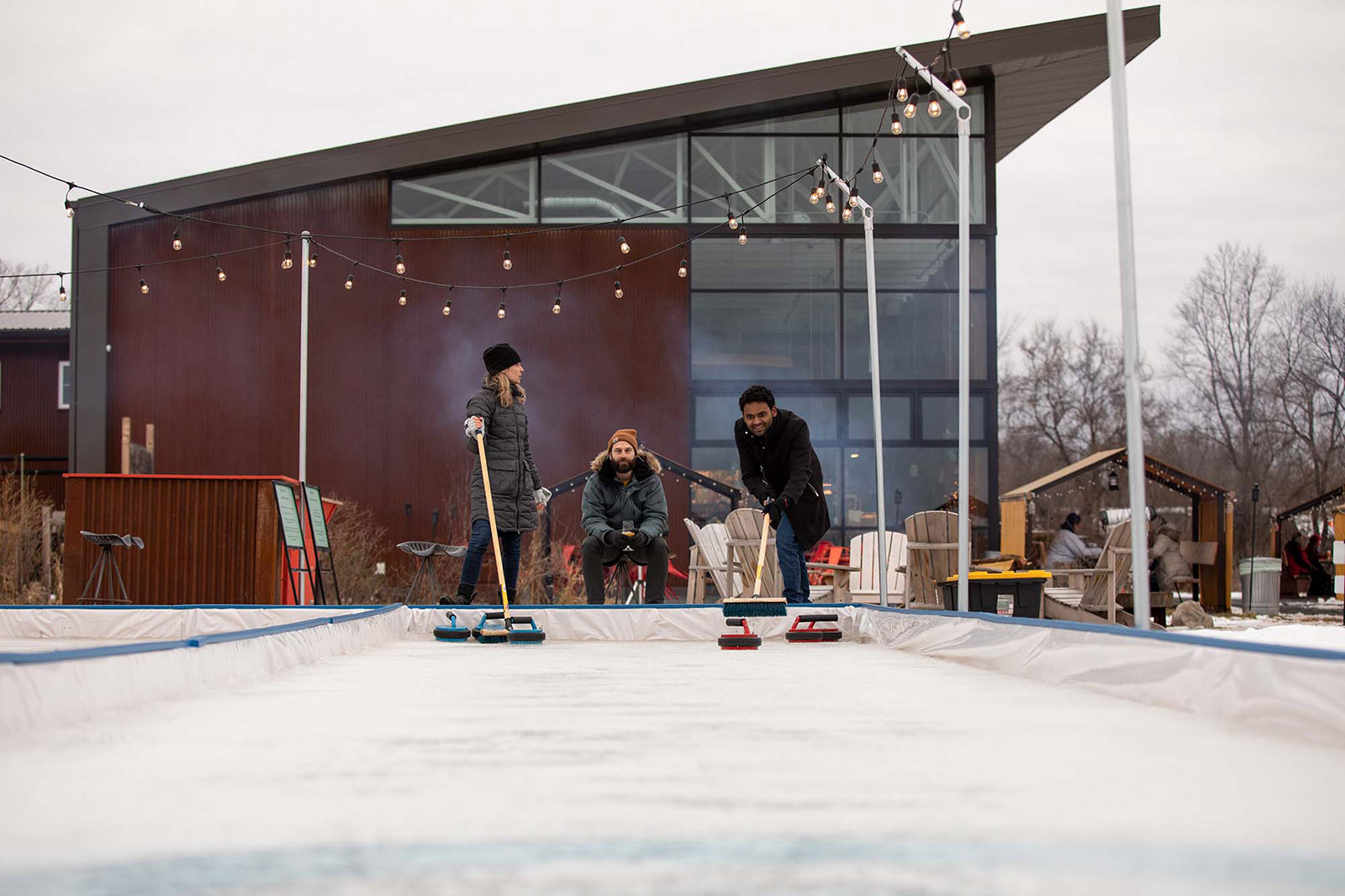 River St. Joe | Buchanan
This farmhouse brewery on the beautiful Flatwater Farms embraces winter so you can, too! They focus on organic and locally sourced ingredients (including growing their own hops) when making their beers and taproom menu selections. Outdoor seating around toasty fire pits is a great alternative to indoor seating and you will love the frosty hop field and farm views. But what makes this a standout winter destination is its one-of-a-kind River Rocks rink where you can play shuffleboard on ice. Visit their website to see how it's played and to reserve your time on the rink.
The Livery | Benton Harbor Arts District
Order your favorite hand-forged brew inside and take it and your spent-grain pizza outside to enjoy by the beer garden's fire pit. Then stroll around the Benton Harbor Arts District and discover the amazing talent at our local art studios and galleries. The District's parks are pretty to walk through, too. On select weekdays and weekends, this favorite local brewery features great live music, trivia and open-stage performances as well.
Combine outdoor winter activities with Makers Trail artistry
Not all of our Makers Trail destinations offer outdoor seating in the winter, but most are within a few minutes of gorgeous year-round trails that you can enjoy before or after your tasting experiences indoors.
Bring home your favorite craft beverages
Tasting indoors or outdoors along the Makers Trail will brighten any winter's day, but don't leave the good cheer at your destination. Be sure to bring home your favorite wines, beer and spirits to enjoy and share when you return home!
Two Southwest Michigan social districts make outdoor winter tasting experiences even better!
Have you ever visited a town with several restaurants and drinking establishments but didn't want to narrow your choice to one? That's not a dilemma in Southwest Michigan! Within the social districts in St. Joseph and Bridgman, you can purchase food and alcoholic drinks from participating businesses and consume them in outdoor common areas.
Think of these designated areas as one big food court. You can grab a drink while you wait for your seat at a restaurant, or come with a group and let each person choose their favorite, then reconvene to enjoy them outdoors. It's a great way to sip, window shop or just share laughs and conversation. Visit both social districts this winter!
Additional outdoor dining and drinking experiences in Southwest Michigan you won't want to miss
221 Main | St. Joseph
Their enclosed rooftop offers a bird's-eye view of downtown and beyond to Lake Michigan. Sit by the windows, enjoy the blazing fireplace and sip hot chocolate drinks or hot toddies or try whiskeys from one of the largest selections in the state — over 320 choices!
The Blackbird Waterhouse | Coloma
Housed in the last remaining resort building in the Paw Paw Lake area, it specializes in made-from-scratch food, a bar and growlers-to-go. They have a year-round outdoor patio (but no fire pit or heaters). Let the staff know in advance if you want to drink or eat outside.
Plank's Tavern on the Water | St. Joseph
Plank's is part of the Harbor Shores Resort experience. Call ahead for reservations if you would like to be seated on the outdoor patio so staff can have the stand warmers on when you arrive. You will enjoy looking out on one of the oldest harbors on the Great Lakes while sipping wines, beers and cocktails paired with scrumptious American food choices. If you are a fan of brunch, this is a local favorite.
RyeBelles | St. Joseph
For a premier view of Lake Michigan and the Light Up The Bluff light display, head to their enclosed rooftop patio. A wide selection of foods and beverages will satisfy everyone's desires around the table.
Schu's Grill & Bar | St. Joseph
Their heated outdoor seating is available throughout the winter months except on bitterly cold or blustery days. You will love the distant views of the St. Joseph River and Lake Michigan and the up-close views of Light Up the Bluff — a festive display of light displays held from December through mid-February. After enjoying your favorite drinks and foods (their classic baked potato soup and signature burgers are local picks), be sure to visit the downtown shops, walk along the bluff or make your way to Silver Beach to see the lighthouse and nature's amazing sand and ice formations.
Please share with us your favorite outdoor winter tasting experiences
Which of these experiences are you most excited to try this winter? Share your favorite tasting experience with us and other visitors by tagging us @makerstrail and @swmichigan on Instagram.