Fall activities for kids in Southwest Michigan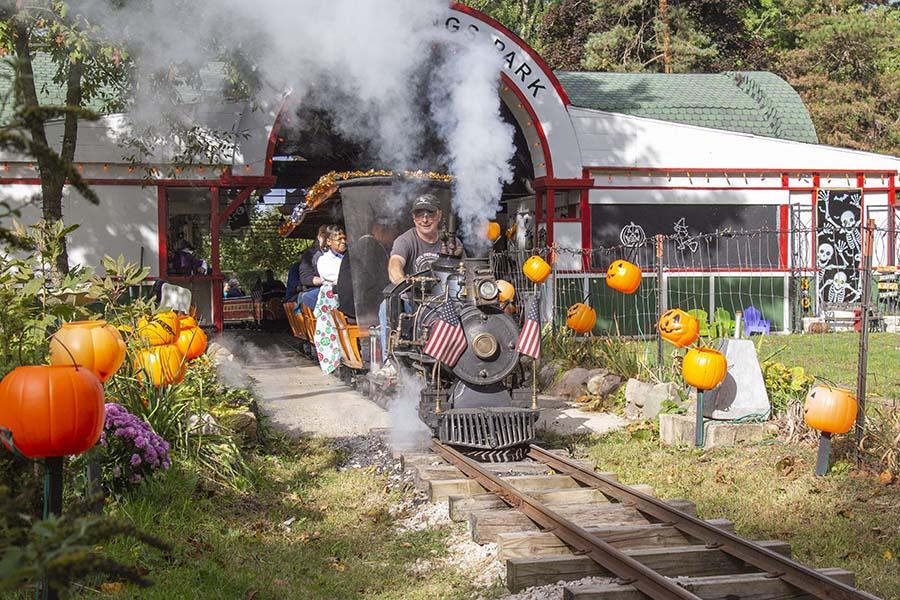 Fall is gorgeous in Southwest Michigan. The trees drench our landscape in scarlet, gold and fiery orange leaves. Daytime temperatures hover in the 60s in September and October, and there are bushels of outdoor and indoor activities to do with your toddlers to teens. So, pull on your sweaters and sweatshirts and let's make memories together!
Enjoy an exhilarating day outdoors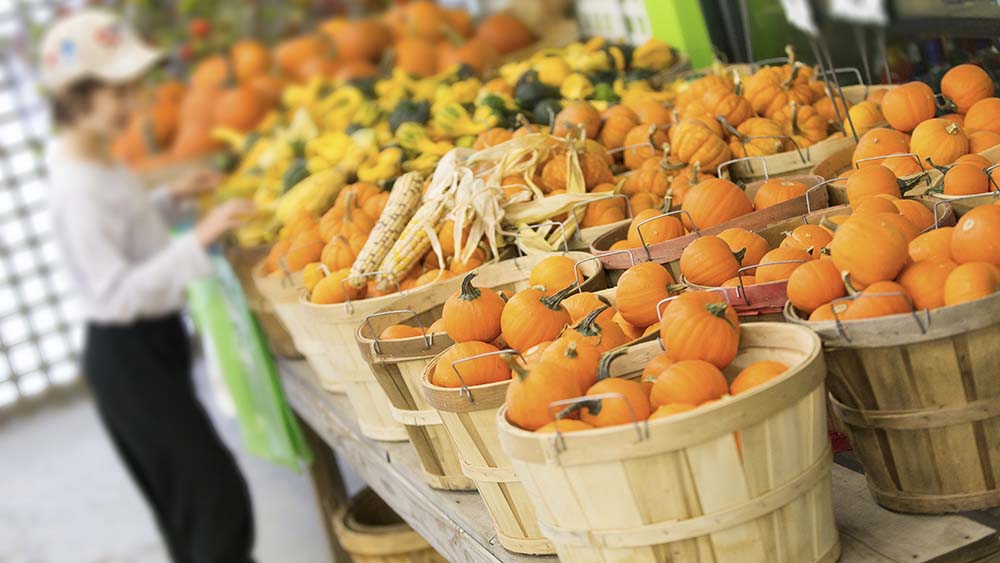 Bring home apples, cider, donuts, pumpkins and more!
Dozens of farming families would love to have you bring your kids to their farms this fall. Pick apples right off the branches or pumpkins in the fields. Fill bags with your favorite soup-making vegetables and herbs, juicy fall fruits and autumn decorations (including those hard-to-find bales of straw) when you stop by their farm stands or visit their booths at community harvest markets. Don't go home without devouring the freshest, best-ever donuts and sipping fresh-pressed hot or cold cider. Several farms offer hayrides, weekend festival fun and farm animals — including watching them milk the cows! A few family favorites: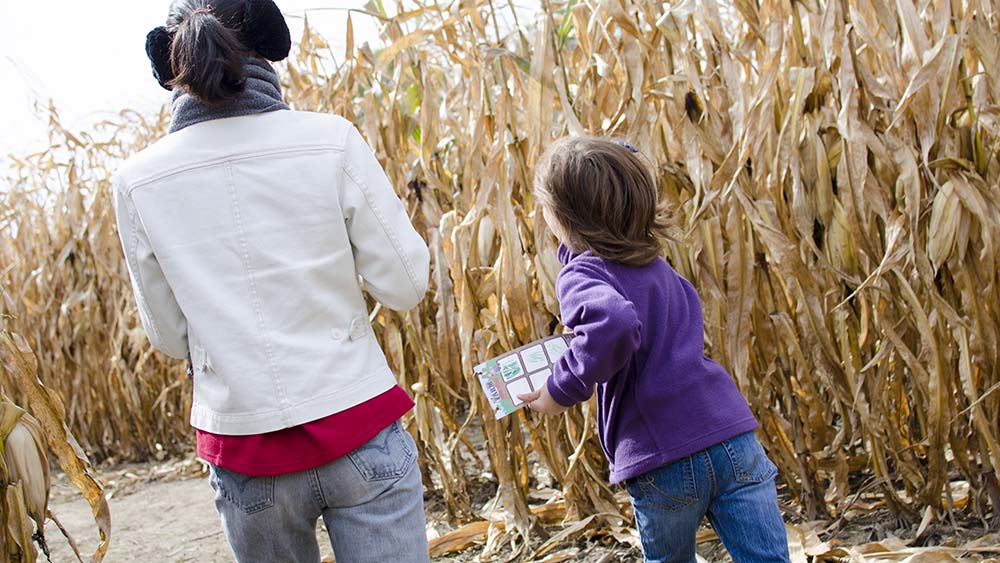 Twist and turn through Southwest Michigan corn mazes
Showing your kids where corn comes from is one reason to tackle a corn maze. But for pre-teens and teens, it's the sheer thrill of finding their way out of those towering, rustling stalks. Where to disappear – and reappear:
Come aboard the spook-tacularly fun Eden Springs Halloween Train
This is a not-so-spooky holiday favorite in Southwest Michigan. Bring the entire family to take an evening ride on the miniature trains at Eden Springs Park, Benton Harbor. The steam and gas-powered engines bring you through the decorated park for a small fee on weekends from the middle to the end of October. Check our events page for this year's train schedule and ticket prices.
If you or your teens are fascinated by paranormal activity, the park, formerly the House of David, is said to be one of Southwest Michigan's most haunted places.
Hike or bike beneath a canopy of brilliant leaves
For an ultimate autumn sensory experience with your kids, take a hike or bike ride on Southwest Michigan trails. Your kids will love watching the sunbeams stream through the gold and amber canopies, listening to the babbling streams and the swish-swoosh of fallen leaves beneath their feet, breathing in the sweet scent of ripening grapes in nearby vineyards and feeling a wooly caterpillar tickle their palms. Several of our sites offer fall programs. Fernwood has a Railway and Nature Adventure Garden that will delight your kids. Look through our trail guide, but here are a few of our made-for-fall trails:
Race or sandboard down towering dunes at Warren Dunes State Park
A unique fall experience in Southwest Michigan is calling out to your pre-teens and teens! Bring them to Warren Dunes State Park. This Sawyer, Michigan destination with its towering dunes and Lake Michigan beach frontage is on the Top 10 Things to Do list for Southwest Michigan.
All ages will have fun making their way to the top of these giant, shifting hills of sand, but 10 to 20-year-olds will thrill at racing or sandboarding down them again and again. It takes a lot of physical exertion to reach the top of 220 feet of soft sand, but oh are the views worth it!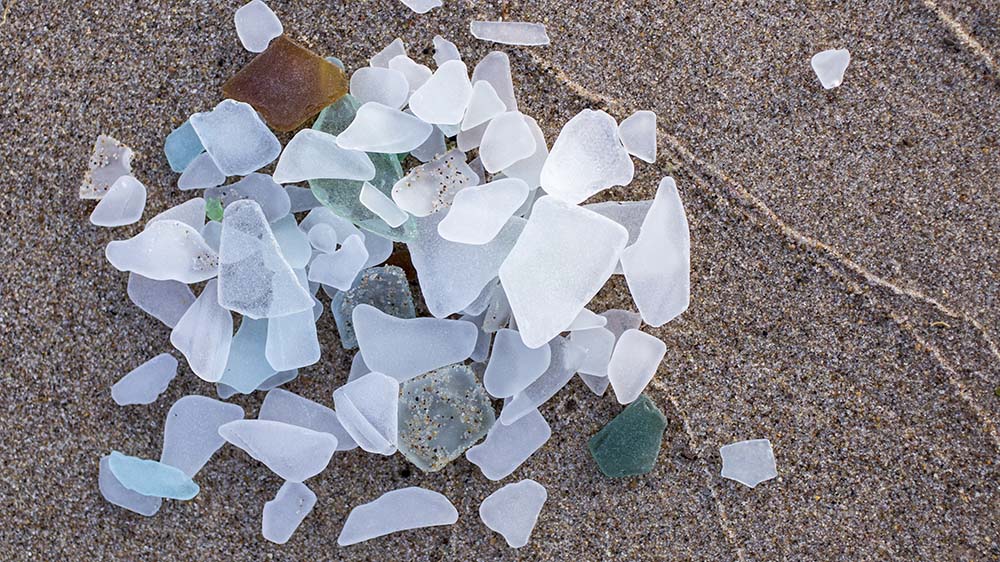 Hunt for ancient fossils, colorful rocks and beach glass
Two fresh-air activities that will delight even your smallest children are hunting for rocks and fossils and collecting beach glass. While you can easily fill your pockets with your treasures, bringing along buckets for each child makes carrying them easier.
Lake Michigan's shoreline is an amazing place for doing both activities, and when the waves surge in the fall, more rocks, fossils and smooth beach glass appear on the beaches. Here are two helpful blogs:
Scare the yell out of your gang at the Niles Scream Park
This haunted park is not just scary, it was named the #1 top haunted attraction in the country in 2021! It is the largest in the country, too, offering 44 acres of blood-curdling fear on weekends from early September to early November. This is definitely a destination for your non-squeamish pre-teens and even college-aged kids. The good news is, while you are choking back the screams, a portion of your admission fee is donated to local charities.
Niles Scream Park, Niles
Share memory-making moments indoors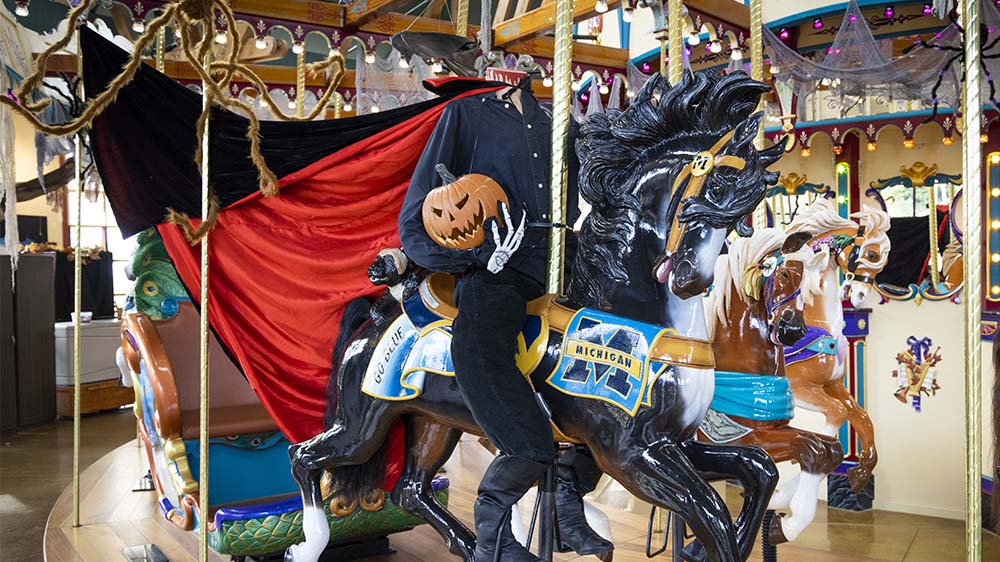 Ride the Silver Beach Scarousel — if you dare!
Sunshine or rain, this is a must-stop if you are in town on a fall weekend. The Silver Beach Carousel House goes all out with its Halloween decorations and themed music. Come in costume if you want — the 48 hand-carved and painted carousel figures and two chariots (one is wheelchair accessible) are wearing theirs! The concession stand has treats, too.
Silver Beach Carousel, St. Joseph
Watch them make fudge and dip caramel apples at Kilwins
Another fall treat destination is Kilwins in downtown St. Joseph. You will know you are close when the aromas of fudge and caramel waft toward you on a Lake Michigan breeze. If you time your visit just right, you can watch the staff pour the melted chocolate on the cool marble slabs or line trays with fresh-dipped caramel apples (they are big enough to feed at least two in your family!). This "Old-Fashioned Confectionery Shoppe" has lots of tasty sweets to pick from at their counter or on their shelves.
Kilwins, St. Joseph
Throw very sharp objects in Lumberjax
This isn't for everyone, but for those 10 years and older in your family, it may be just the fall activity to de-stress, challenge and exhilarate every fiber in your body. Spend 30 to 90 minutes flinging axes and knives at targets. This will earn you points on the cool parent scale.
Lumberjax Urban Axe Throwing, St. Joseph
Burn off energy at Slackers Family Fun Center
Now in a much bigger facility, Slackers is one of the easiest places to release energy when you can't be outdoors climbing mountain-high dunes. They have everything from new arcade games to bounce houses to laser tag and laser mazes. Let the fun begin!
Slackers Family Fun Center & Laser Tag, St. Joseph
Wow the kids with a beautiful Lake Michigan sunset before tucking them in for the night
While Southwest Michigan is certainly a great day-trip destination, it's even better when you can stay for one of our fall color sunset shows on Lake Michigan's horizon, then spend a night or two at one of our local hotels. Several lodgings offer indoor pools, game areas and breakfast. You will wake up tomorrow ready for more fall family fun!