Visit Galien River County Park for over-the-top marsh views — literally!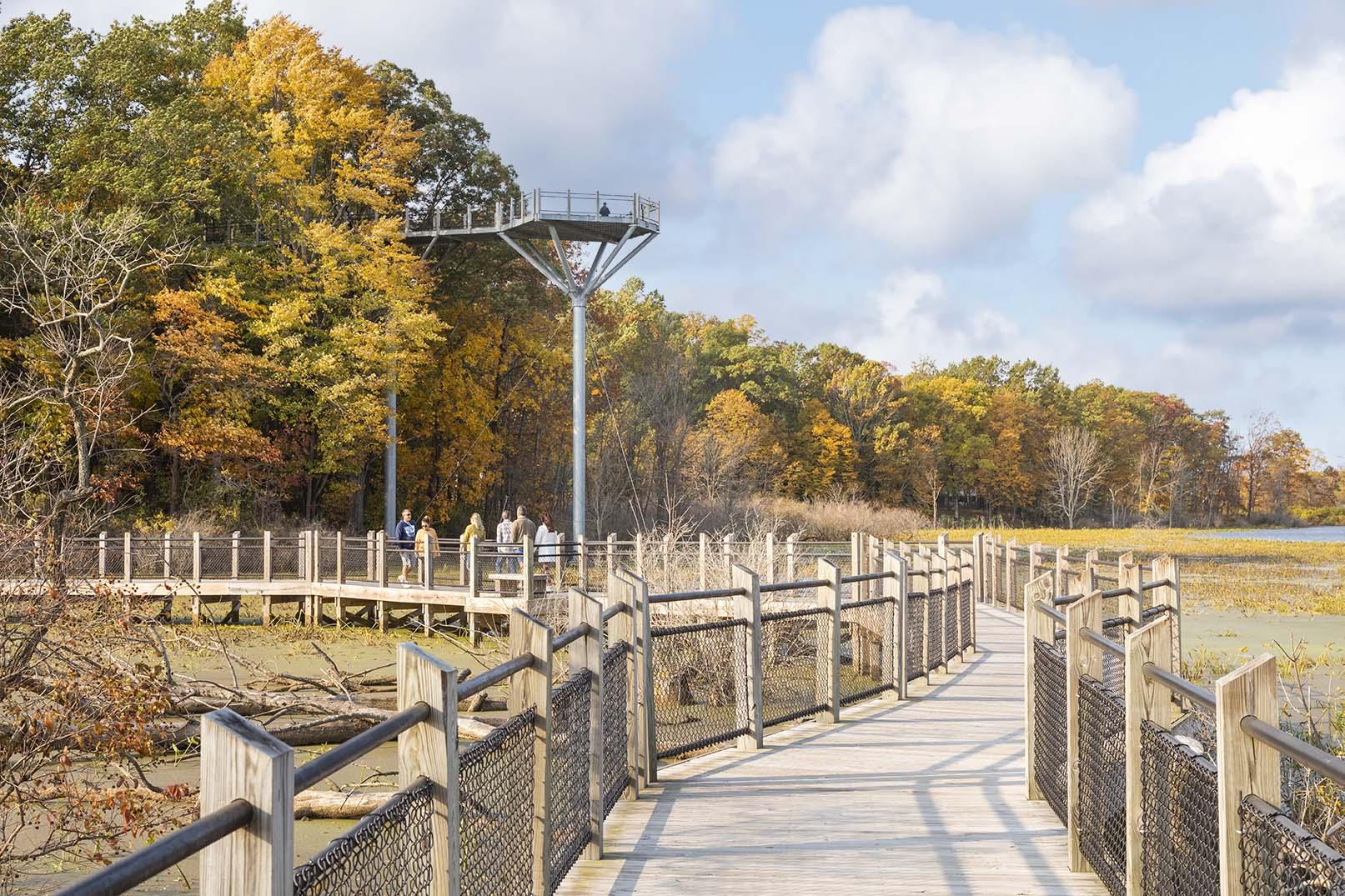 Two-plus decades ago, the Berrien County Parks and Recreation Commission acquired 86 acres of upland and wetland habitats along the Galien River in New Buffalo Township. Today, those acres comprise the Galien River County Park at 17424 Red Arrow Highway, New Buffalo. The wetlands are part of the New Buffalo Marsh — a Great Lakes marsh formed upstream from the river's mouth at Lake Michigan.
The park offers a unique hiking experience. It is designed to give you both an up-close view of nature as you virtually walk over the marsh water as well as a birds-eye view above the tree canopy. Add this to your must-dos in Southwest Michigan, especially during fall color season!
Hike the Galien River County Park's scenic trails 
In this quiet habitat, you can choose between hiking a traditional trail or two boardwalks.
1.4-mile Ridge Trail loops beneath a shady tree canopy
This dirt/gravel trail takes you through the woods, edged by steep ravines, to the wetlands and river. It is not ADA-accessible.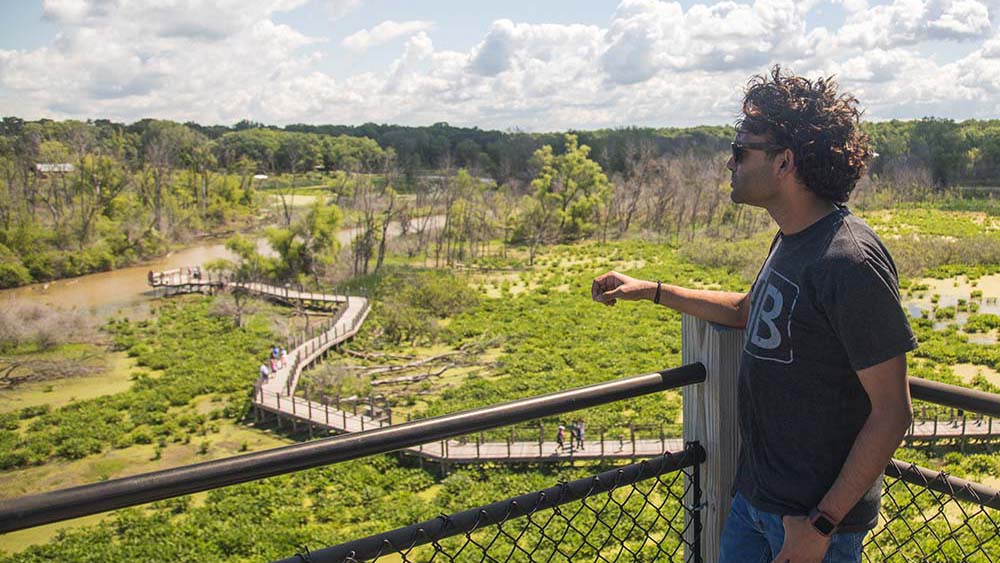 A 300-foot Canopy Walkway leads to a 60-foot-high Marsh Overlook Tower
This stroller and wheelchair-friendly boardwalk takes you above the treetops. You will be hard-pressed to find a more stunning, sweeping view of the New Buffalo Marsh than what you will see from the Overlook Tower. Well-worth the steps it takes to get here.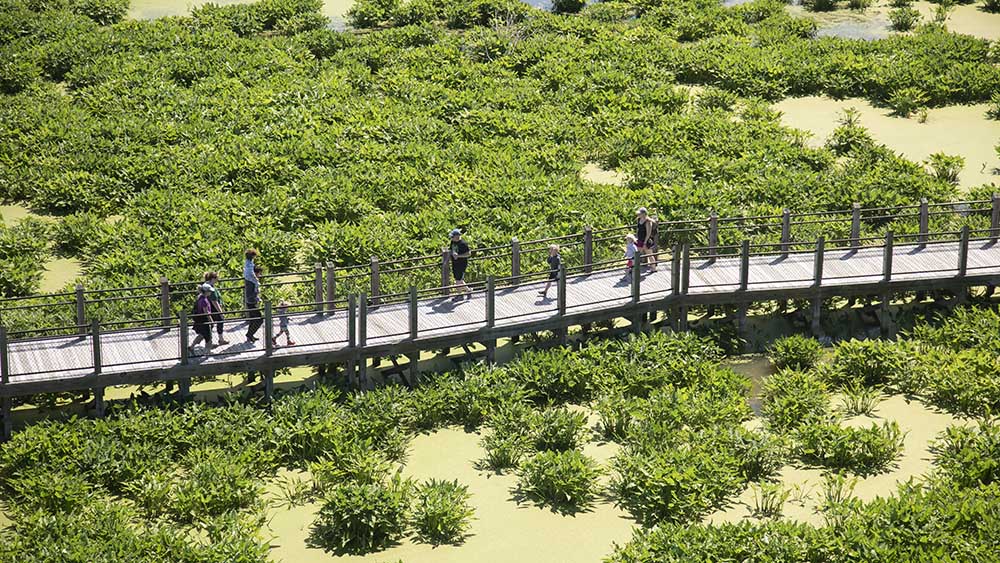 A 600-foot-long boardwalk offers a fishing platform and up-close wildlife viewing
For a closer encounter with the marsh, take this ADA-accessible boardwalk along the river. Bring your fishing gear to wet your line from the fishing platform. Common catches in the Galien River are steelhead, rock bass, largemouth bass and freshwater drum. 
From either of the two boardwalks, you can often see turtles, deer, birds and other wildlife, but this marsh-level boardwalk gives you closer views. The best time to see wildlife is early morning and early evening. 
Berrien County completed both boardwalk structures in 2014, thanks to the Pokagon Fund and the Michigan Natural Resources Trust Fund. 
Galien River County Park hours and fees. 
The park is open daily, from dawn until dusk. It is closed in the winter months due to safety issues with snow and ice on the boardwalks. 
The park is FREE and there is no charge for parking in the entrance lot, so come often! 
Keep pets at home
No dogs or pets are allowed in this park. Please check here for places to bring your pooch while visiting Southwest Michigan.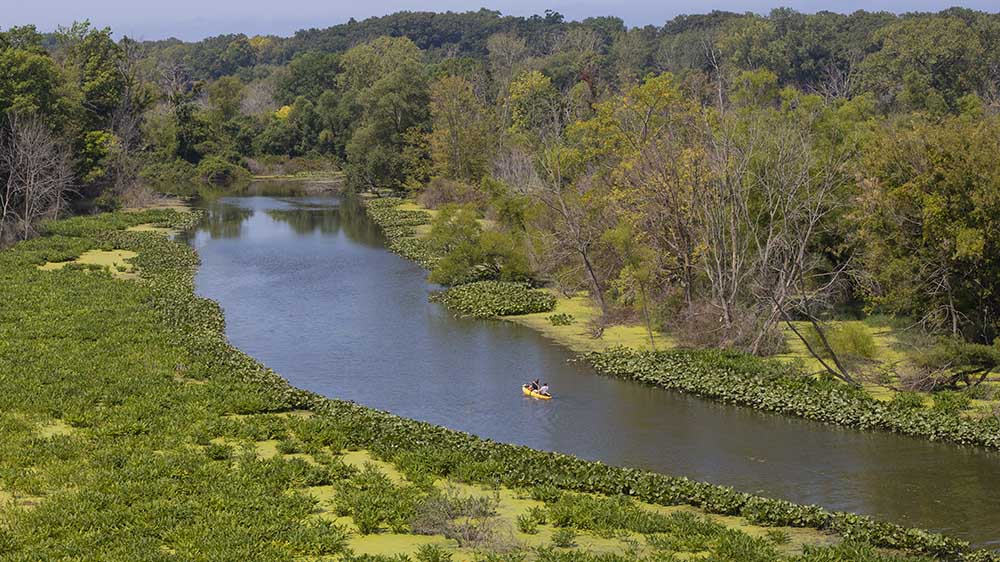 Galien River kayaking trips
While you cannot put in your kayak, canoe or paddleboard at Galien River County Park, you can enjoy paddling on the New Buffalo Marsh. There is a public launch area about a quarter-mile upriver from the park. Third Coast Paddling in New Buffalo also offers Galien River kayak and paddleboard rentals. They take you upriver near the park where you can paddle downriver to their rental location. It's another beautiful way to see this unique ecosystem in Southwest Michigan!
A fun side trip: Ghost Isle Brewery
After your park visit or paddling trip, stop down the road at Ghost Isle Brewery for good food and drinks! While you're there, ask about some of the rumored supernatural activity on the adjoining Ghost Island that gave the brewery its name.
Share your Galien River County Park favorite scenery and wildlife sightings
Other nature enthusiasts and visitors to the area will enjoy seeing the wildlife you spot and your favorite views in Galien River County Park. Please share your photos and tag us with #swmichigan.