Celebrating 10 Years of local craft spirit heaven: Journeyman Distillery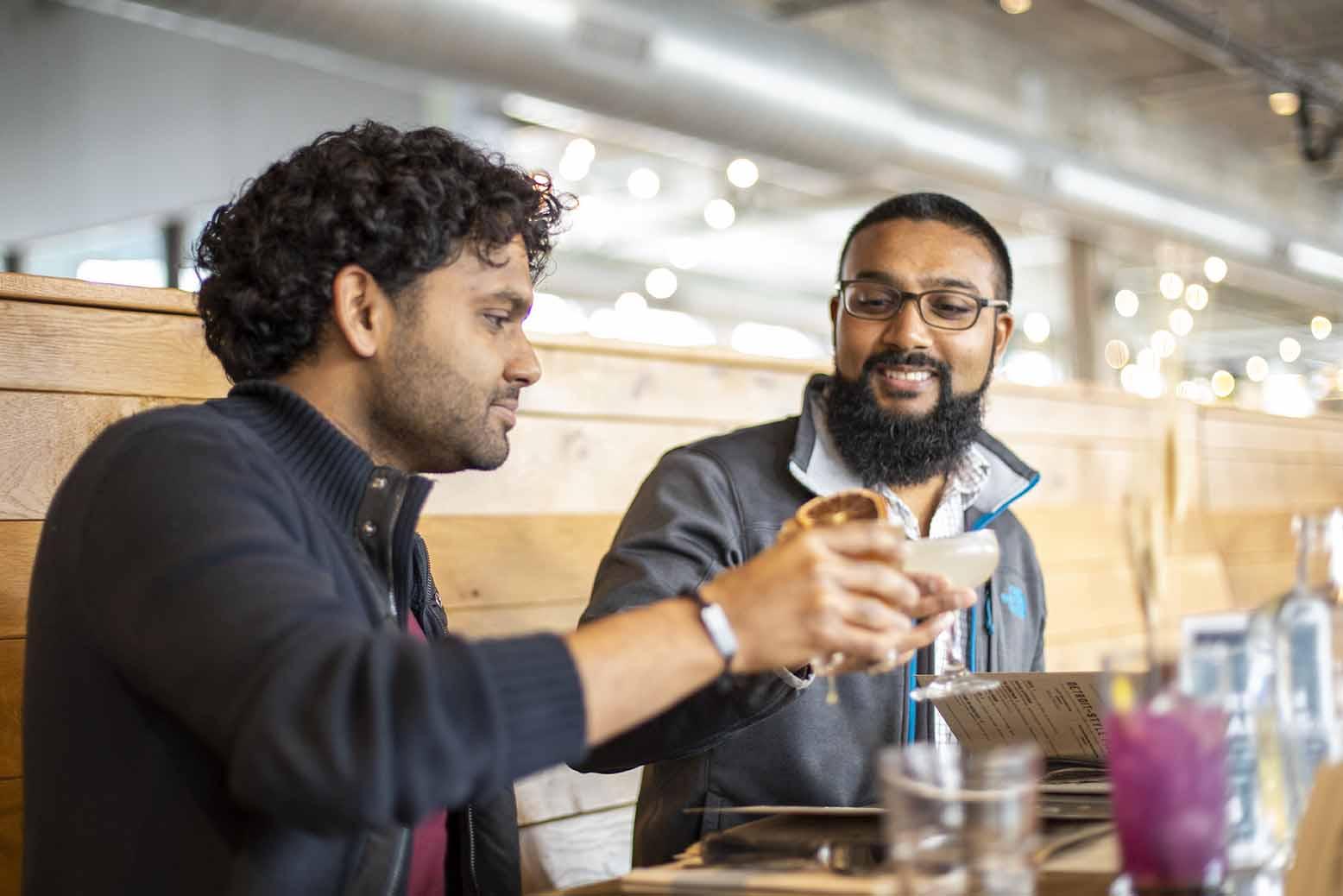 Oct. 8-10 | 10th Anniversary Celebration and World's Best Putter Contest | Journeyman Distillery | 109 Generations Drive, Three Oaks | Hours vary | $22 to play in World's Best Putter Contest
Over the past decade, from refurbishing the breathtaking 1883 EK Warren Featherbone Factory building to handcrafting a wide selection of sought-after liquors, Journeyman Distillery in Three Oaks has become a renowned staple of Southwest Michigan's craft spirit experience.
That‌ ‌wasn't‌ ‌always‌ ‌the‌ ‌case.‌ ‌Journeyman‌ ‌Distillery‌ ‌opened‌ ‌its‌ ‌doors‌ ‌in‌ ‌October‌ ‌2011‌ ‌without‌ ‌great‌ ‌fanfare.‌ ‌Through‌ ‌a‌ ‌purposeful‌ ‌approach,‌ ‌they‌ ‌have‌ ‌earned‌ ‌their‌ ‌many‌ ‌accolades.‌ ‌ ‌ ‌
"Not‌ ‌everyone‌ ‌is‌ ‌experimenting‌ ‌and‌ ‌creating‌ ‌certified‌ ‌organic,‌ ‌kosher‌ ‌and‌ ‌gluten-free‌ ‌spirits‌ made‌ ‌from‌ ‌local‌ ‌grains,"‌ ‌said‌ ‌Bill‌ ‌Welter,‌ ‌founder‌ ‌of‌ ‌Journeyman.‌ ‌"We‌ ‌live‌ ‌up‌ ‌to‌ ‌our‌ ‌name‌ ‌as‌ ‌trailblazing‌ ‌pioneers,‌ ‌taking‌ ‌the‌ ‌road‌ ‌less‌ ‌traveled‌ ‌to‌ ‌see‌ ‌where‌ ‌it‌ ‌leads."‌ ‌ ‌
This‌ ‌particular‌ ‌road‌ ‌has‌ ‌led‌ ‌to‌ ‌10‌ ‌years‌ ‌of‌ ‌delicious‌ ‌success.‌ ‌ ‌
Today, Journeyman‌ ‌Distillery‌ ‌is‌ ‌a‌ ‌carefully‌ ‌crafted‌ ‌experience bringing ‌joy‌ ‌to‌ ‌all‌ ‌sorts‌ ‌of‌ people.‌ ‌
While visiting, enjoy:
Historical‌ ‌views‌ ‌of‌ ‌the‌ ‌repurposed‌ ‌EK‌ ‌Warren‌ ‌Featherbone‌ ‌Factory‌ ‌
Up-close‌ ‌tours‌ ‌of‌ ‌the‌ ‌distilling‌ ‌process‌ ‌
Tasty‌ grub ‌at‌ ‌the‌ ‌Staymaker‌ ‌restaurant‌ ‌
Welter's‌ ‌Folly,‌ ‌a‌ ‌30,000‌ ‌square‌ ‌foot‌ ‌putting‌ ‌green‌ ‌
Gorgeous‌ ‌event‌ ‌spaces‌ ‌for‌ ‌any‌ ‌gathering‌ ‌
Last‌ ‌but‌ ‌most‌ ‌importantly,‌ ‌the‌ ‌heralded‌ ‌spirits‌ ‌ ‌
Join‌ ‌Journeyman‌ ‌in‌ ‌‌celebrating‌ ‌their‌ ‌10-year‌ ‌milestone‌ ‌this‌ ‌weekend‌.‌ ‌There‌ ‌will‌ ‌be‌ ‌live‌ ‌music,‌ ‌barrel-aged‌ ‌cocktails,‌ ‌firepits‌ ‌ablaze‌ ‌for‌ ‌when‌ ‌the‌ ‌night‌ ‌grows‌ ‌dark‌ ‌and‌ ‌putting‌ ‌on‌ Welter's‌ ‌Folly.‌ ‌
If‌ ‌you‌ ‌can‌ ‌only‌ ‌make‌ ‌it‌ ‌to‌ ‌one‌ ‌day‌ ‌over‌ ‌the‌ ‌weekend,‌ ‌Saturday‌, Oct. 9, ‌is‌ jam-packed‌ ‌full‌ ‌of‌ ‌fun:‌ ‌
World's‌ ‌Best‌ ‌Putter‌ ‌With‌ ‌The‌ ‌World's‌ ‌Best‌ ‌Putters‌ ‌
Putt‌ ‌your‌ ‌money‌ ‌where‌ ‌your‌ ‌mouth‌ ‌is‌ ‌and‌ ‌compete‌ ‌for‌ ‌a‌ ‌chance‌ ‌to‌ ‌win‌ ‌the‌ ‌title‌ ‌of‌ ‌"World's‌ ‌Best‌ ‌Putter."‌ ‌You‌ ‌must‌ ‌enter‌ ‌by‌ ‌the‌ ‌end‌ ‌of‌ ‌the‌ ‌day,‌ ‌Oct.‌ ‌7.‌ ‌They‌ ‌will‌ ‌post‌ t‌ee‌ ‌times‌ ‌on‌ ‌Oct.‌ ‌8.‌ ‌Putting‌ ‌is‌ ‌open‌ ‌to‌ ‌all‌ ‌ages,‌ ‌but‌ ‌entrants‌ ‌21‌ ‌and‌ ‌over‌ ‌will‌ ‌receive‌ ‌complimentary‌ ‌Journeyman‌ ‌Spirit‌ ‌tastings.‌ ‌Tee‌ ‌times‌ ‌will‌ ‌be‌ ‌paired‌ ‌randomly‌ ‌between‌ ‌9‌ ‌a.m.‌ ‌and‌ ‌4‌ ‌p.m.‌ ‌on‌ ‌Saturday.‌ ‌Find‌ ‌more‌ ‌details‌ ‌‌here‌.‌ ‌
Revel‌ ‌in‌ ‌‌The‌ ‌Edgar‌ ‌Willbury‌ ‌Experience‌
Local‌ ‌Three‌ ‌Oaks‌ ‌rockers,‌ ‌The‌ ‌Edgar‌ ‌Willbury‌ ‌Experience,‌ ‌will‌ ‌perform‌ ‌from‌ ‌7-9‌ ‌p.m.‌ ‌Enjoy‌ high-energy‌ ‌rock-n-roll‌ ‌covers‌ ‌while‌ ‌raising‌ ‌a‌ ‌glass‌ ‌to‌ ‌Journeyman.‌ ‌ ‌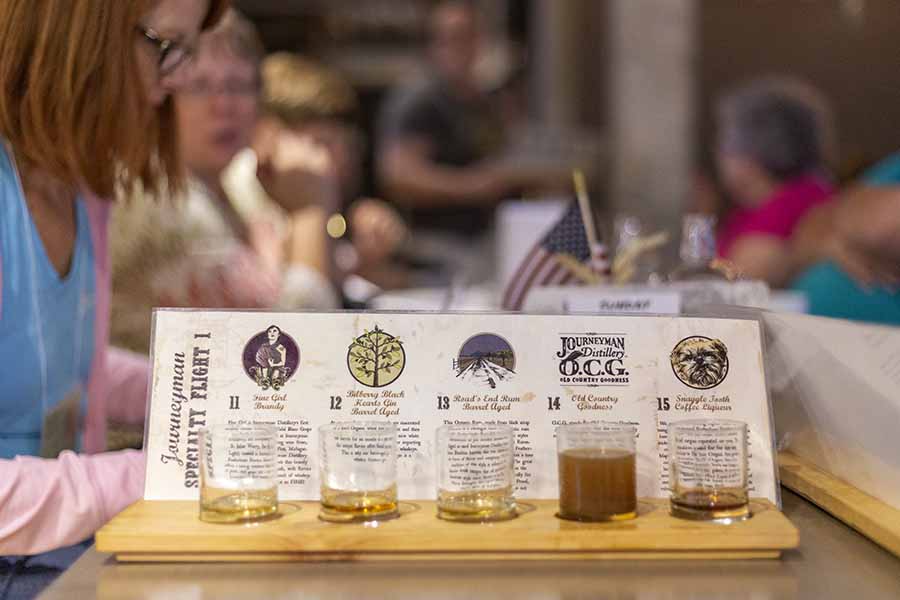 Cheers‌ ‌to‌ ‌Journeyman‌ ‌Distillery‌ ‌on‌ ‌their‌ ‌10th‌ ‌anniversary!‌ ‌Cheers‌ ‌to‌ ‌10‌ ‌more‌ ‌and‌ ‌beyond!‌