Spring Break Fun for the Family in Southwest Michigan
Although Spring hasn't officially sprung, it's close enough to start planning for its arrival. And there's no better way to celebrate the return of warmer weather than a spring break trip. If you're searching for the best spring break destination for families, look no further than Southwest Michigan. An area known for hospitality and outdoor adventure, this piece of paradise on the sunset coast is brimming with family-friendly fun.
Family-friendly spring break ideas
Coming up with ideas for you and the family to do together can be a challenge. Luckily, here in Southwest Michigan, we have plenty of activities to keep everyone happy during spring break.
EXPERIENCE THE GREAT OUTDOORS
Surrounded by woods and water, Southwest Michigan is a nature lover's dream. As the last vestiges of snowfall are melted by the sun, a natural playground emerges with limitless options to explore. If your family prefers to get outside for spring break, check out these fun spots to enjoy the fresh air and expend some energy.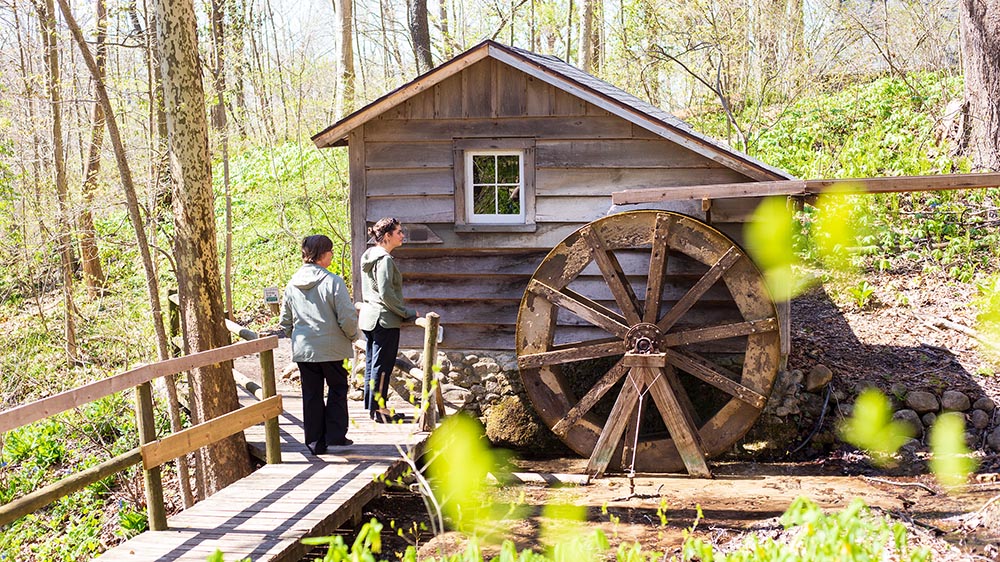 FERNWOOD BOTANICAL GARDEN
Stretching across 105 acres on the banks of the St. Joseph River in Niles, Fernwood Botanical Garden & Nature Preserve encompasses ten separate ecosystems. It is home to many flora, fauna, and wildlife. With miles of hiking and walking trails, families can spend the entire day exploring under the canopy of trees. The sights and sounds of nature abound in this picturesque location with a reconstructed prairie, an arboretum and cultivated public gardens. Sign up for the Bird Illustration class on March 18 or take a guided Spring Scavenger Hunt on March 21, 22, or 23 to find new spring blooms throughout the property! Spring is the perfect time to visit Fernwood, and the family will love bird viewing and exploring the vast library in the Sims Education Center. Stop in the Fernwood cafe after your hike to refuel on their fresh cuisine and browse the nature and garden themed gift store to find fun items on your way out.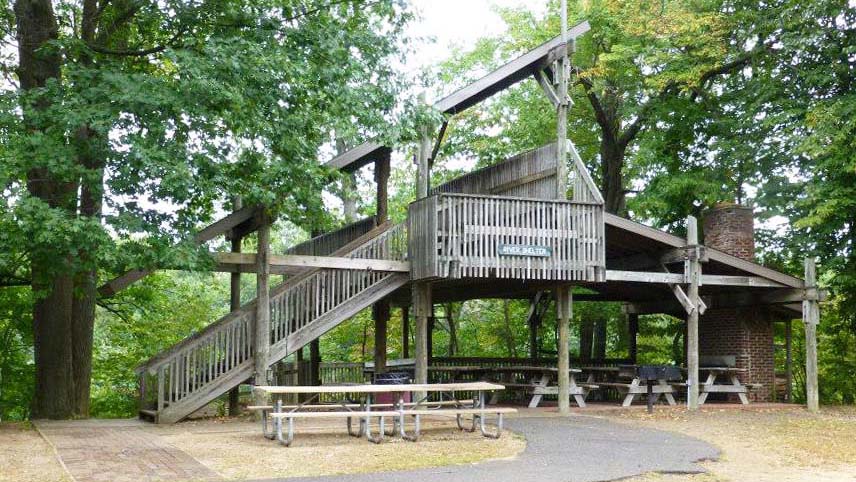 MADELINE BERTRAND COUNTY PARK
Another spot on the list of fun family places to go for spring break is Madeline Bertrand County Park. A local favorite, this outdoor oasis includes groomed hiking and biking trails through pine and oak forests. One of the park's most popular features is an 18-hole disc golf course, complete with challenging turns and long fairways. No need to worry if you don't own discs, rentals are available at the visitor's center for the whole family. After a little healthy competition on the course, the kids can enjoy some free time on the playground structure while parents unpack lunch in the scenic picnic area.
DISCOVER FUN, EDUCATIONAL ATTRACTIONS
If your idea of a fun family spring break includes interactive learning cleverly disguised as play, then these attractions are just the ticket.
CURIOUS KIDS' DISCOVERY ZONE
With the shores of Lake Michigan in sight, the Curious Kids' Discovery Zone is a must-stop for exploratory fun. Located in the Silver Beach Center, this space is geared for ages 1-10, but all are invited to come "play, learn, and be curious!" The kids will love the Lake Michigan Water Table, where they can sail handmade boats through the lake currents and lock system. Another favorite exhibit is the 25-foot Lighthouse Tower, encouraging little visitors to climb the wave steps to the top and gaze out the window to catch a peek of Lake Michigan. And check out Recollections, a wall-sized dance exhibit where light and color mimic your movements on the screen. If you have little ones in the family, the Toddle Beach exhibit offers a gated area for ages four and under to experience and explore a fun house and steer a boat onto shore.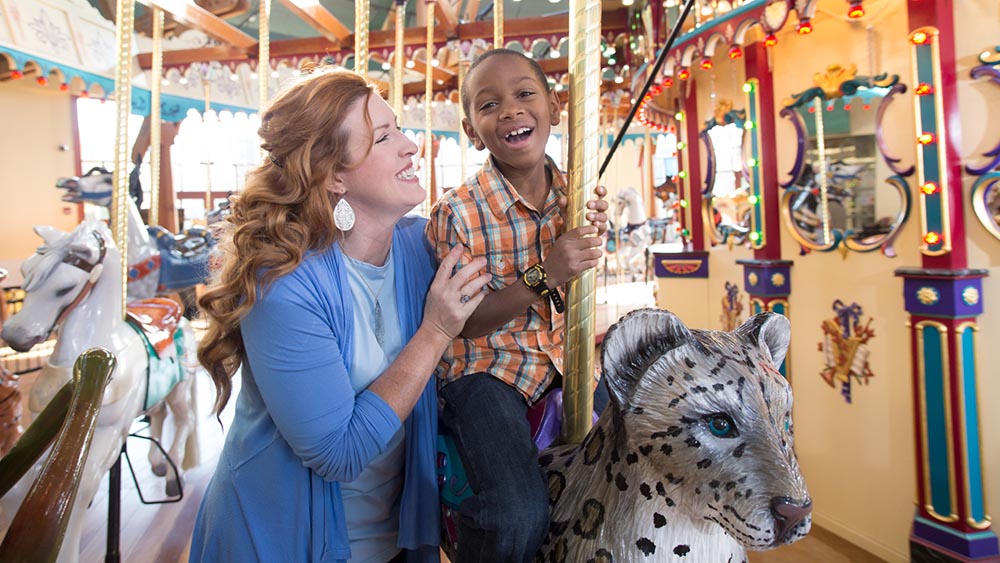 SILVER BEACH CAROUSEL
Since you're already at the Silver Beach Center, you might as well add the Silver Beach Carousel to your list of fun family places to go for spring break. In 1910, a three-row carousel was brought to the Silver Beach Amusement Park along the shores of Lake Michigan. Immensely popular with park visitors, the carousel was in operation until the park shut down in 1972. A few decades later, The Silver Beach Carousel Society brought a new, hand-carved and hand-painted carousel to St. Joseph, and kids of all ages now enjoy the ride with 48 carousel figures and two chariots. The twinkling lights, cheerful sounds of the organ and welcoming aroma of popcorn and other sweet treats all add to the fun.
GET CREATIVE WITH THE FAMILY
Perhaps you're searching for family spring break ideas that involve an artistic sensibility and flair for creativity. Check out these hot spots for unique art experiences, and take home a handmade souvenir.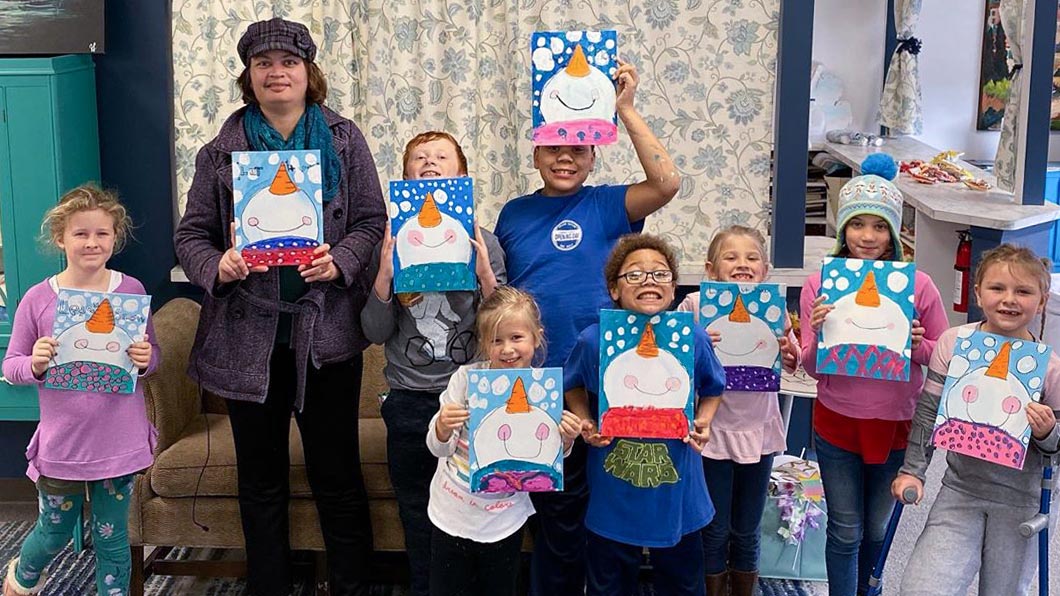 JLN STUDIO
A thriving art studio in Stevensville, JLN Studio offers a wide range of art classes and workshops for all ages. Check out the family-friendly painting classes scheduled throughout the spring months, and register for the Kids Bunny Painting class on March 18. Owner and artist Julie Nitz also offers Art Kits for parents to pick up that include all the supplies needed to create unicorns, lighthouses and sharks from the comfort of home. Paired with step-by-step video tutorials, kids can develop their artistic expression while creating works of art!
WATER STREET GLASSWORKS
Located in the Benton Harbor Arts District, Water Street Glassworks is a must-see attraction. Offering classes in the glass and metal arts, exhibitions, and events for all ages, visitors can sign up to make glass creations like mosaics, beads, or sun catchers. Guests are encouraged to experience a fiery new side of themselves at Water Street Glassworks while learning to blow or cast molten glass, weld and hammer metal, form glass beads over a torch, or create a colorful expression of themselves. And for those who'd rather watch than do, simply stop by to peruse the gallery and watch expert glassblowers working at their craft.
BURN OFF EXTRA ENERGY
Wondering what to do with all that unstructured time and unspent energy? Channel that springtime excitement into physical fun and check out these places where bouncing, jumping, running, and playing is not only accepted, but encouraged!
THE LITTLE THINGS PLAY CAFE
If you're looking for a place your children can explore and develop while you remain caffeinated, The Little Things Play Cafe deserves a spot on your Spring Break plan. Launched to promote connection and support for children and their caretakers, The Little Things Play Cafe delivers on the idea that it takes a village to raise a child and offers an indoor playground for adults and their active toddlers. Owners Erik and Britt Webb created an open, family-friendly space filled with unique and safe indoor activities for your little ones, including wooden climbing structures and plenty of room to roam. The play areas reflect the Montessori-inspired concept of open-ended options to spark creativity. Adults can enjoy locally sourced coffee within this comfortable atmosphere as they connect and chat with their kids close by.
SLACKERS FAMILY FUN CENTER
Playing isn't just reserved for the little guys, and Slackers Family Fun Center in St. Joseph offers attractions even your big kids will love. Featuring indoor bounce houses, laser tag, laser maze, arcade games, and more, Slackers provides fun opportunities the whole family can enjoy. It's the perfect place to spend a rainy day and the instant cure for afternoon boredom. And with affordable prices, you can have a great time without busting your spring break budget.
ENJOY A SCOOP
Is it really Spring Break if you don't indulge in a few extra calories with a cherry on top?
OINK'S DUTCH TREAT
End your day of family fun with a sweet surprise stop at Oink's Dutch Treat in New Buffalo. Welcoming families to Harbor Country since 1987, visiting this ice cream and yogurt shop is a long-standing tradition for many of the area's annual visitors. While waiting for your scoop of Cotton Candy Twist or Nana's Banana Pudding, peruse around the highly decorated shop covered from floor to ceiling with thousands of pig and nostalgic ice cream memorabilia. The experience is truly a delight for all five senses!
Spend Spring Break in Southwest Michigan
Enjoy the fresh air outside, discover fun places to play inside, awaken your inner artist, and satisfy your sweet tooth with this spring break itinerary built for the whole crew. With so many options for family fun, you can't go wrong with spending spring break in Southwest Michigan.