Kitesurfing and kiteboarding in Southwest Michigan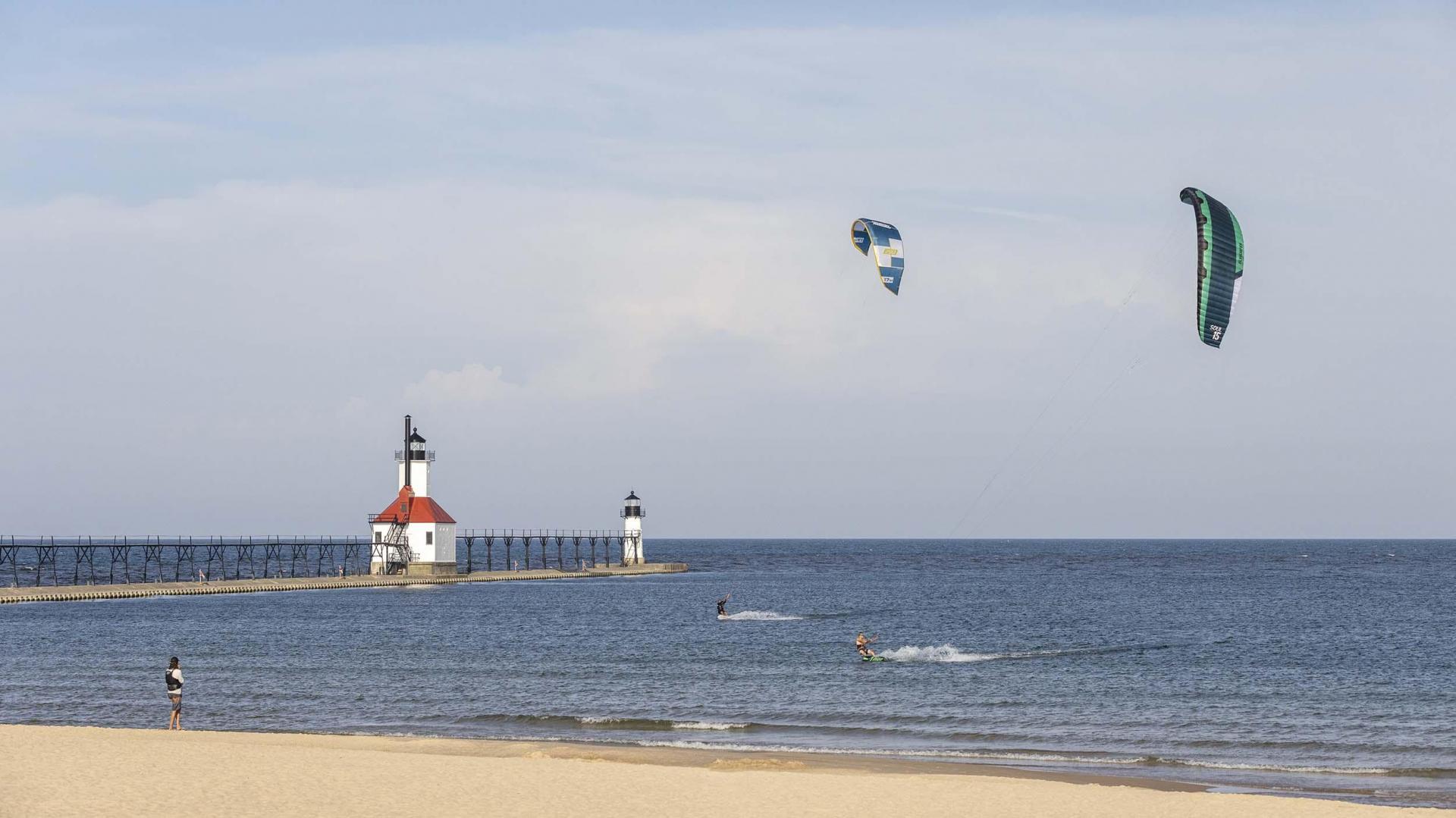 By Rusty Malkemes
The Great Lakes provide a unique opportunity to enjoy various water sports year round. Dropping into a wave and cruising down the line while surfing is such an exhilarating feeling. Kiteboarding and kitesurfing are an adrenaline rush as you're literally harnessed to the wind with the ability to race across the water and fly through air. No matter your interest, there are plenty of ways to get out on the water to kitesurf in Southwest Michigan. Here's all you need to know!
The difference between kiteboarding and kitesurfing
While the two sports are very similar, kiteboarding uses a twin tip board to ride on open water while kitesurfing uses a directional board to ride waves.
The right conditions for kiteboarding
We get winds and waves all around the Great Lakes. St. Joseph and Benton Harbor have a few nice spots for both kitesurfing, kiteboarding and surfing with the right conditions. For smooth flat water kiteboarding conditions, a 15-20 mph southwest wind is great at Tiscornia Beach. At Silver Beach, a strong northwest or north wind direction coming down the lake will build waves in as little as 6-12 hours and, if that wind lightens up and switches to a northeasterly direction, the waves will be cleaner with the light offshore wind. These are just examples of what would be considered good days.
Although the water is more inviting during the summer months, we actually get better wind and wave days in the fall. You can surf consistently through late fall, winter and early spring —as long as there isn't too much ice on the beach or in the water that would inhibit a safe entry and exit. The conditions on the Great Lakes can be fickle for good-sized, quality waves. If the waves aren't that great, but the wind is good, kiteboarding offers another way to get on the water. Kiting is a little more limited in the winter. If it's cold enough to form ice on the kite lines and safety release mechanism, then it's not safe to go out.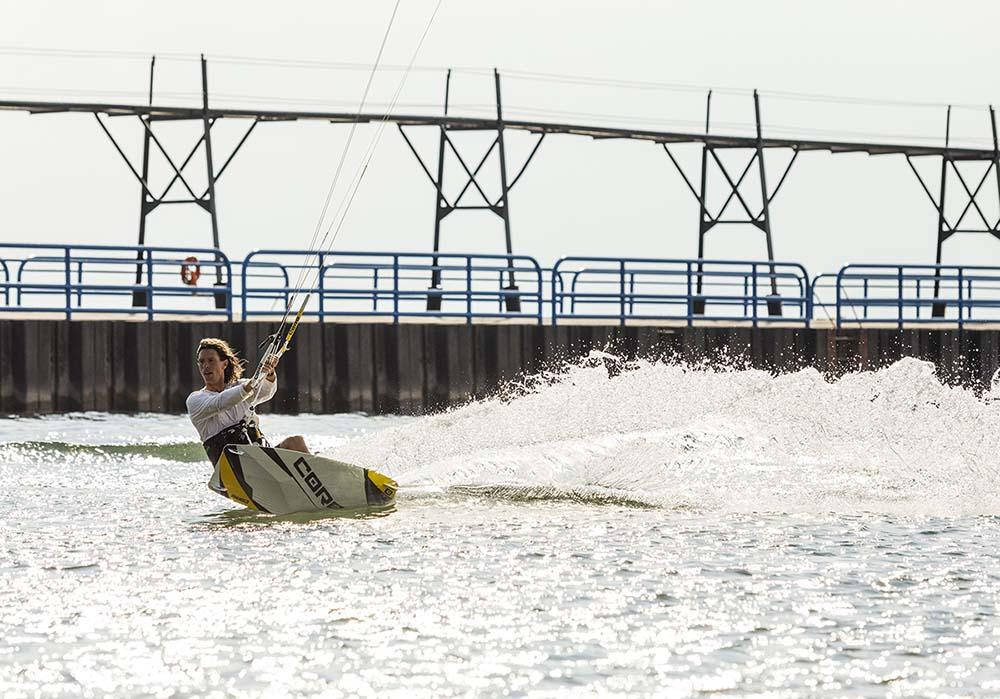 Tips for getting started
No matter which way you decide to get out on the water, there are some things to consider before you head out.
Take lessons
Most people will be able to catch a wave and stand up within their first surf lesson. Kiteboarding requires some practice flying the kite on the beach and learning self-rescue techniques. For example, if your kite were to crash while on the water and you are unable to relaunch it, you need to understand how to make it back to shore safely. So it's pretty common to take a few lessons before you are actually getting on the water and riding.
Always kite within your abilities
Kiteboarding and kitesurfing require proper rigging of the equipment as well as certain conditions. You can get injured or injure others if you don't take care and practice properly. The community of riders is always willing to help out, and it's important to keep it that way so we can enjoy riding today and the next.
Buddy up
No matter your experience level, it's always good to have a buddy —even if it's a friend watching from the beach. Safety first!
Helpful resources
There are several helpful local resources for getting started. To learn more about forecasting waves, head over to Third Coast Surf Shop's website. There you can get the basics of how waves are formed on the lakes and also view a wave report that is frequently updated. Third Coast Surf Shop also provides lessons and gear, and the team is always willing to offer help and suggestions.
If you are interested in kiteboarding lessons, check out www.stokeriders.com. Tyler, the owner, serves a wide area from Chicago to Southwest Michigan. He's a patient instructor and will help you get your skills down so you can start riding safely.
About the author
Rusty Malkemes has been surfing the Great Lakes since 2006 and started kiteboarding in 2017. He is a commercial photographer by trade. When he is not working or spending time with family, he is looking for any way to get on the water.