Color your day with Southwest Michigan's murals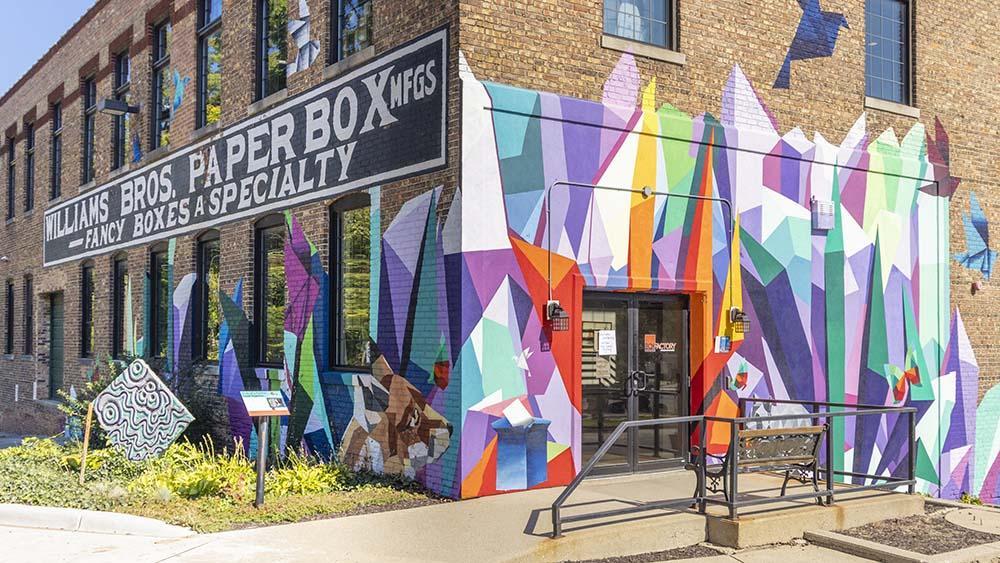 When you're hoping to paint the town, go instead to the towns that are already painted. Southwest Michigan's murals cover these lakefront communities! We are fortunate enough to have brushstrokes and painted personalities from renowned artists across the world right here. Put on your walking shoes and check out the stories these walls tell!
St. Joseph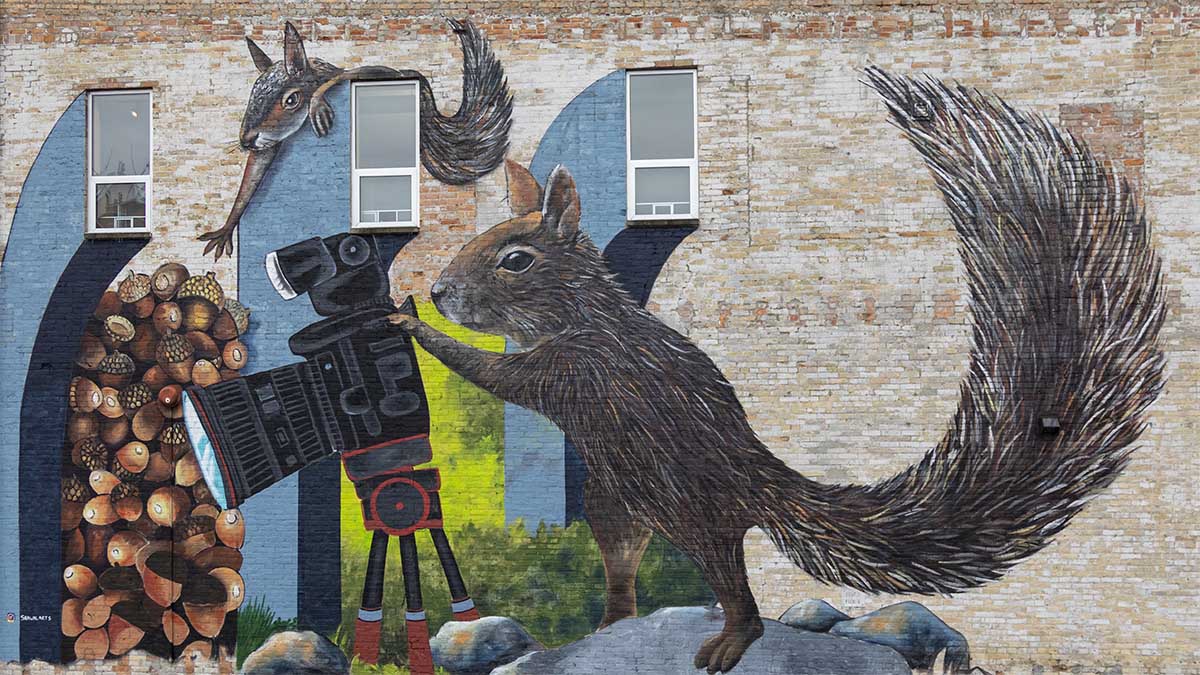 Holt Bosse Squirrel Mural
This Midwestern mural is nuts enough that you have to see it to believe it! In 2019, advertising agency Holt Bosse partnered with the St. Joseph Today information center to fund a piece of art that isn't squirreling around. This masterpiece created by Minneapolis-based artist Shawn McCann invites you to have your photo taken by a squirrel on the corner of State and Port Streets. How often can you say that? Be sure to stop and capture that moment and share it with us using #swmichigan!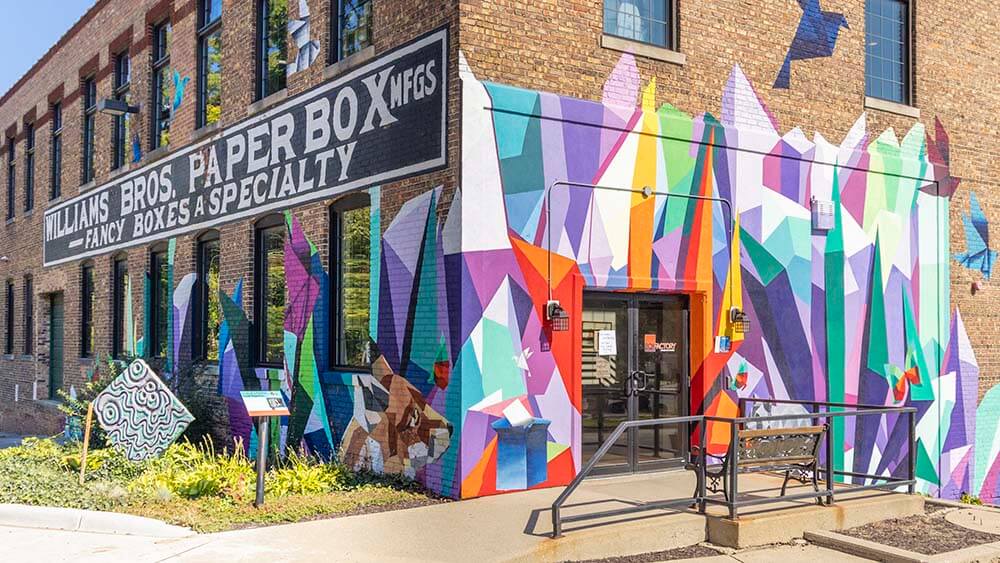 Box Factory for the Arts Mural
The façade of the Box Factory for the Arts on Broad Street in St. Joseph takes flight under the artistry of St. Joseph artist Kimberly Woods. Her mural design "Birds of a Feather, Flock Together" wraps the sides and front of the building in a colorful mix of flora and fauna. Minneapolis artist Shawn McCann also helped out. Before it was a gathering place for the community's artists, the Box Factory was in the paper business. Paying homage to that, Kimberly chose origami birds for the mural to mimic that history as they evolve and take flight into something colorful and new.
Wood, who works in a variety of media, has been a regular participant in the local Chalk the Block events. As an international street artist, she has taken part in many festivals, in many states, including the Coloured Earth Festival in Halifax, England, and the Sarasota Chalk Festival in Florida.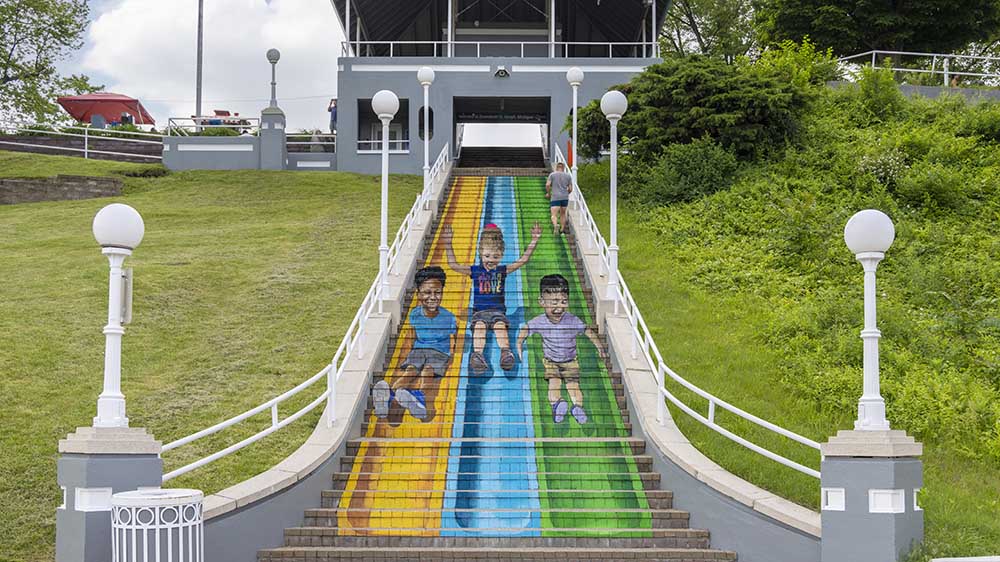 Staircase mural 
Lake Street Staircase, St. Joseph
You can sometimes find a mural painted onto the stairs leading visitors below the bluff off of Lake Street. These murals are usually temporary and painted during early summer. They are perspective pieces so you need to see them from the bottom! Previous paintings include children riding down a slide and butterflies.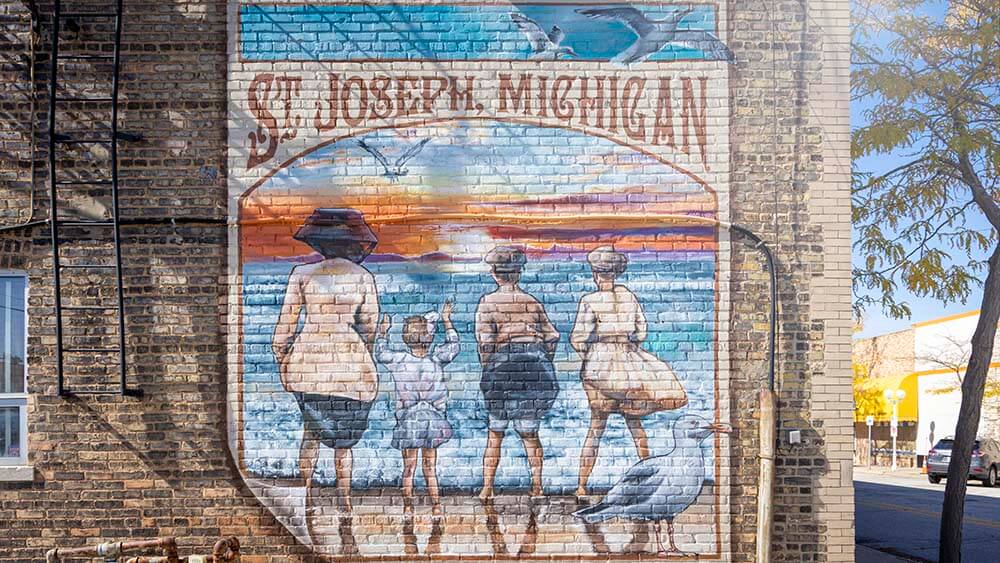 Shoreline alleyway mural
The back of the St. Joseph Today visitor center allows a lens into the city as it was decades ago. Houston-based artist Anat Ronen spruced up the alley wall that faces Main Street with a mural showing a family visiting Silver Beach dipping their toes in the water. The art-deco-style painting was inspired by South Shoreline posters from years ago.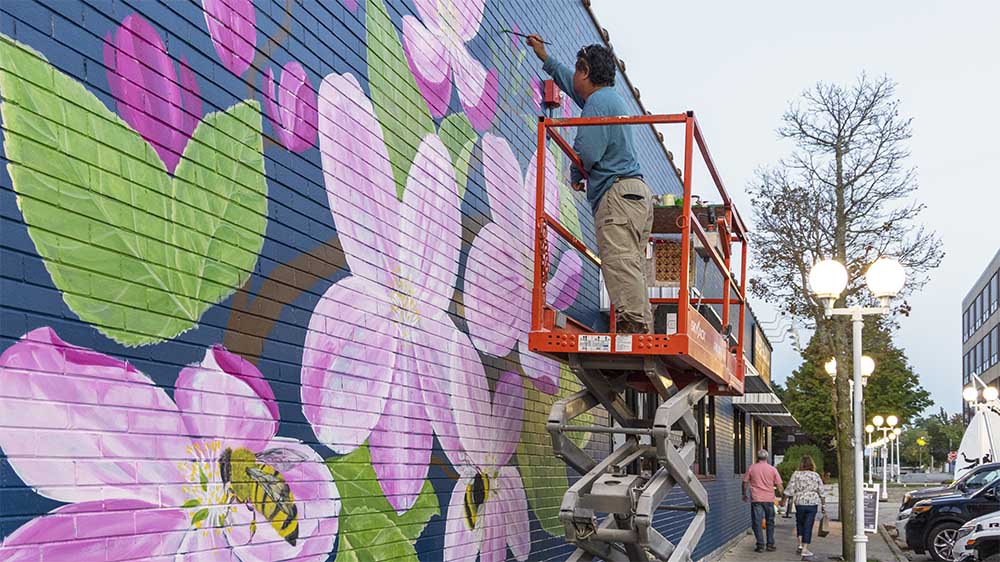 Silver Harbor Brewing Company Mural
Bees can be seen buzzing above pink flowers on a blue backdrop on Silver Harbor Brewing Company's mural. The simple, but inviting image was crafted by Florida-based artist Kumpa Tawornprom.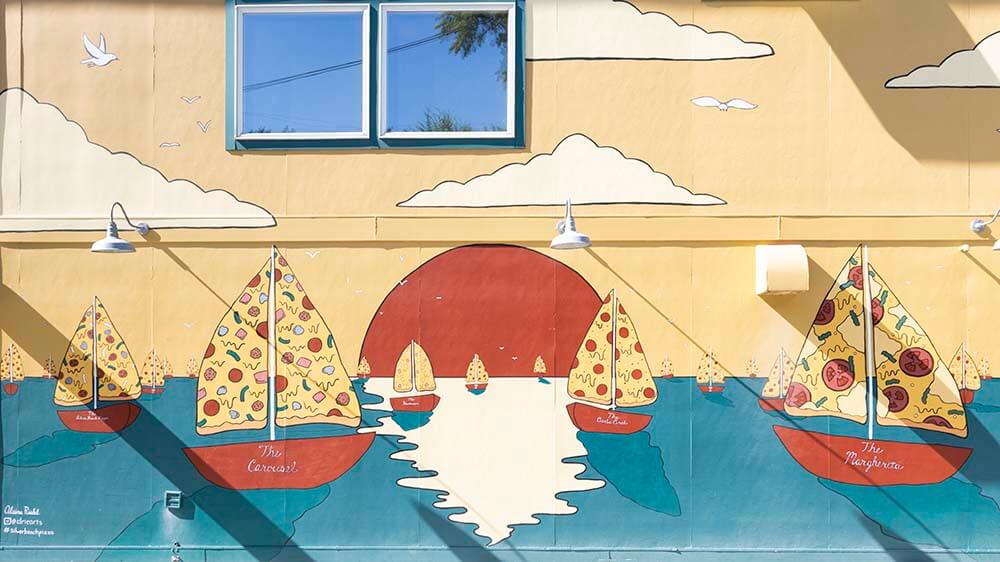 Silver Beach Pizza mural
This unique mural will get you hungry and kick your creativity into gear! Featuring sailboats and Silver Beach pizzas, this mural serves up a slice of life in St. Joseph. But here's the twist: the pizza slices are the sails. The mural also features dragons with pizza for wings.
Benton Harbor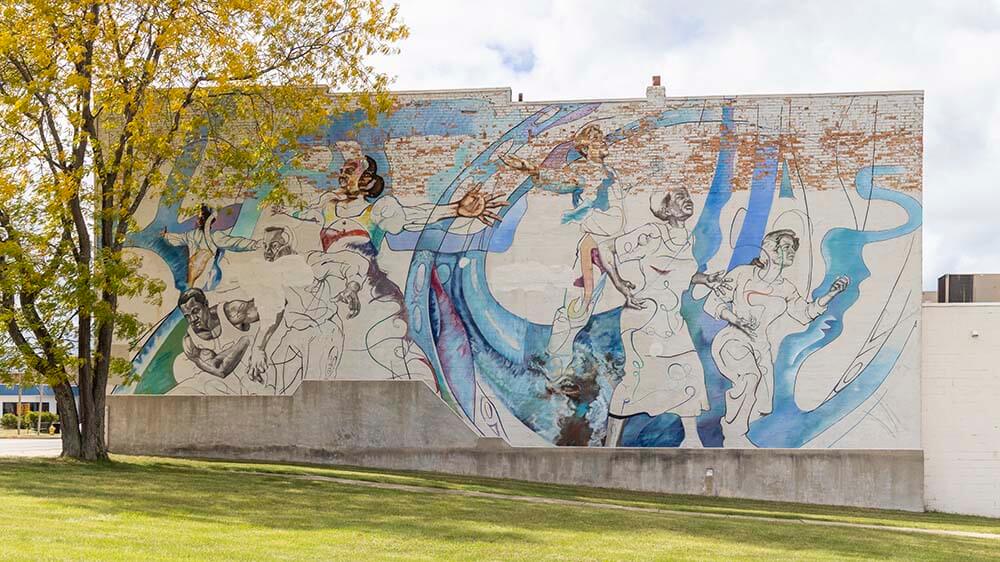 State of Progression
Corner of Water and West Main Streets, Benton Harbor
Painted in 1997 by Marcus Akinlana, State of Progression is an unfinished mural with a lot to say. Per Akinlana's website: That year, Benton Harbor's murder rate was one of the highest in the country despite only having a population of 10,000 people. To bring some positivity to their hometown, two men commissioned a mural to increase community involvement. State of Progression was a community-based acrylic mural created in collaboration with the people of Benton Harbor and fabricated with START youth apprentices and community members.
However, it proved challenging to make, as Akinlana had to overcome the contention between fighting factions in the community to create this piece. Benton Harbor was at the time struggling with corruption, racism and poverty. At one point, Akinlana's family was threatened to prevent him from finishing the piece. While this piece was unable to be finished how Akinlana intended, it stands as a testament to the dangers of creating revolutionary works of art.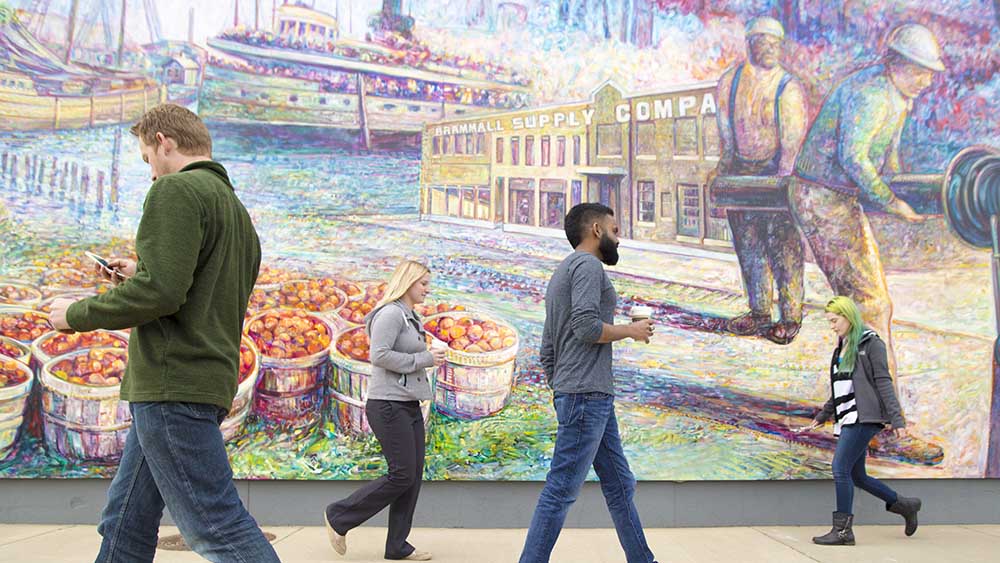 Brammall Supply Company mural
196 Water Street, Benton Harbor
This colorful mural tells the story of Benton Harbor's golden age — a port city bustling with people, agriculture and trade.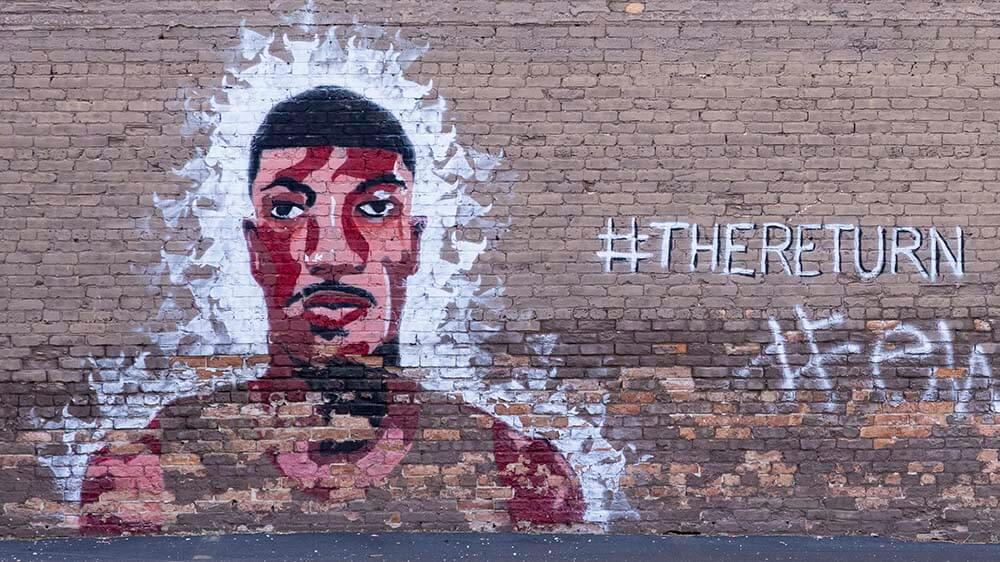 Derek Rose mural 
Corner of West Main Street and Colfax Avenue, Benton Harbor
NBA player Derrick Rose was tagged by an unknown graffiti artist years ago on this vacant Benton Harbor building. Next to it is a hashtag, "#TheReturn." The mural's meaning has been debated for years as the artist has never come forward. Some believe it is a reference to Derrick Rose's return to the court after his first round of injuries, but it hasn't been confirmed.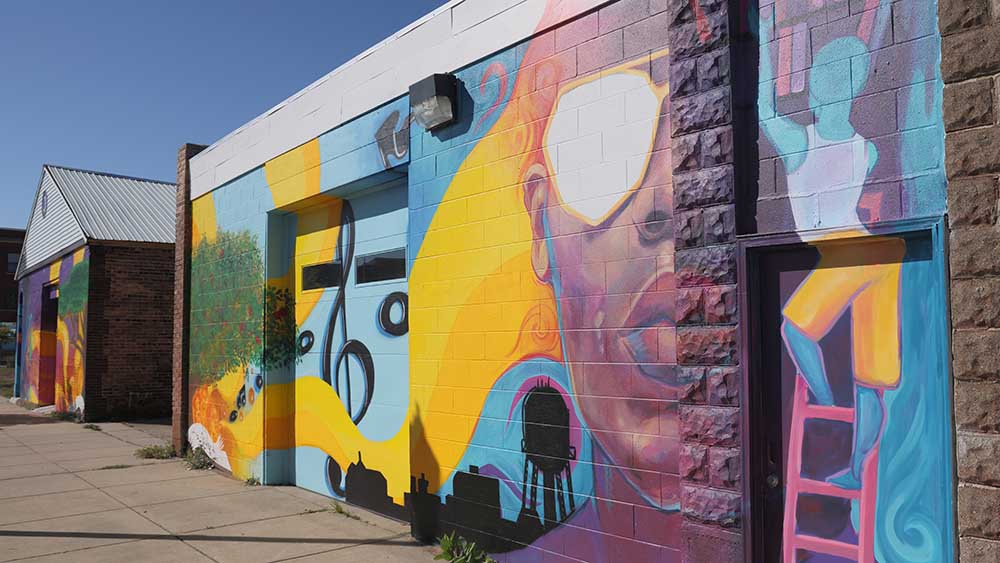 The Livery
Painted by Dorothy Jean Carter, Megan Canon and Dean Campillo, this mural spans two buildings that are part of The Livery. These bright, vibrant colors tell the story of Benton Harbor and African American history with a timeline progression. A beautiful woman represents the ancestors who lived in Benton Harbor years ago. Her headdress transitions into a library, symbolizing the knowledge of the people who came before passing it on to the present-day people of Benton Harbor. Fruit trees, sunrises, music notes and other facial portraits are also painted onto the mural. All of which pay homage to the area today.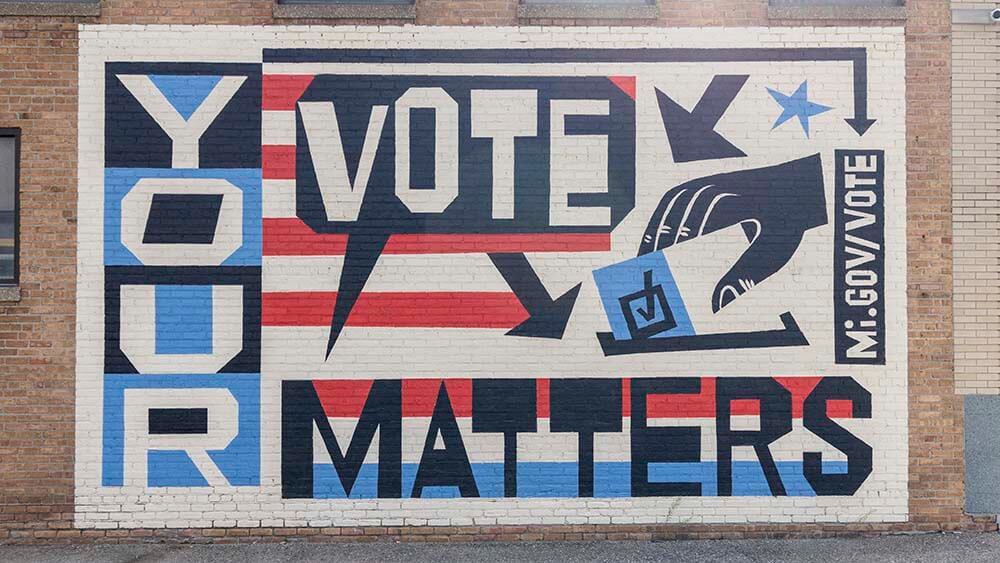 ACLU Vote mural
133 E. Main St., Benton Harbor
This mural was one of eight murals painted across Michigan encouraging people to vote. They were all sponsored by the American Civil Liberties Union of Michigan and over 100 nonpartisan partner Michigan organizations. That's not its only purpose, though. The mural is also meant to serve as a conversation starter for community members about voting rights. At the time, there was especially a focus on voting early via absentee ballots. Detroit-based artist Jesse Kassel painted the patriotic mural.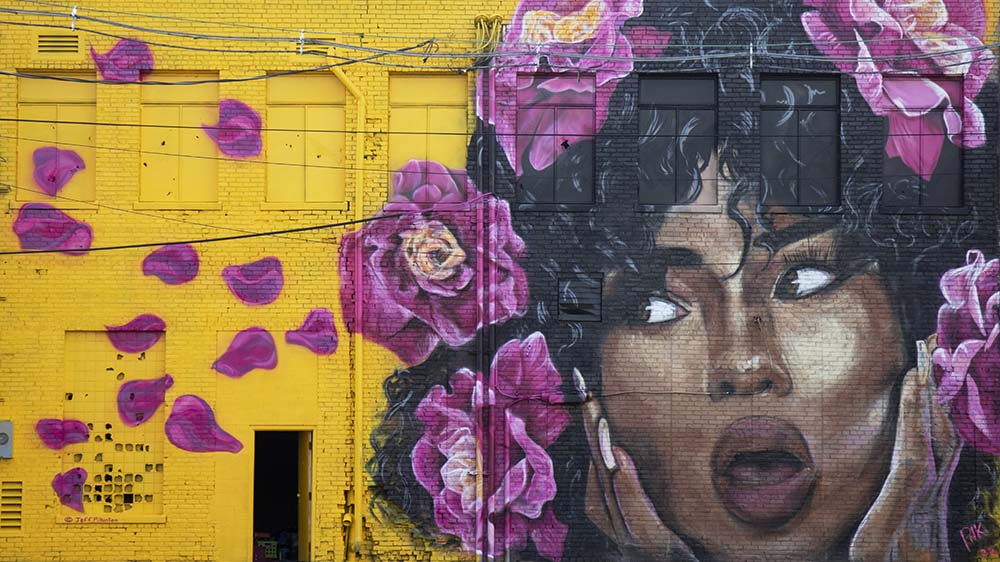 Cornerstone Alliance & St. Joseph Today mural
This beautiful mural depicts a woman on a yellow background with vibrant, pink flowers around her. It was painted by Indiana-based artist Jeff Pilikinton, a regular Chalk the Block artist. The mural, which is on the back of the building, is visible from West Wall Street between Pipestone Street and Colfax Avenue.
Baroda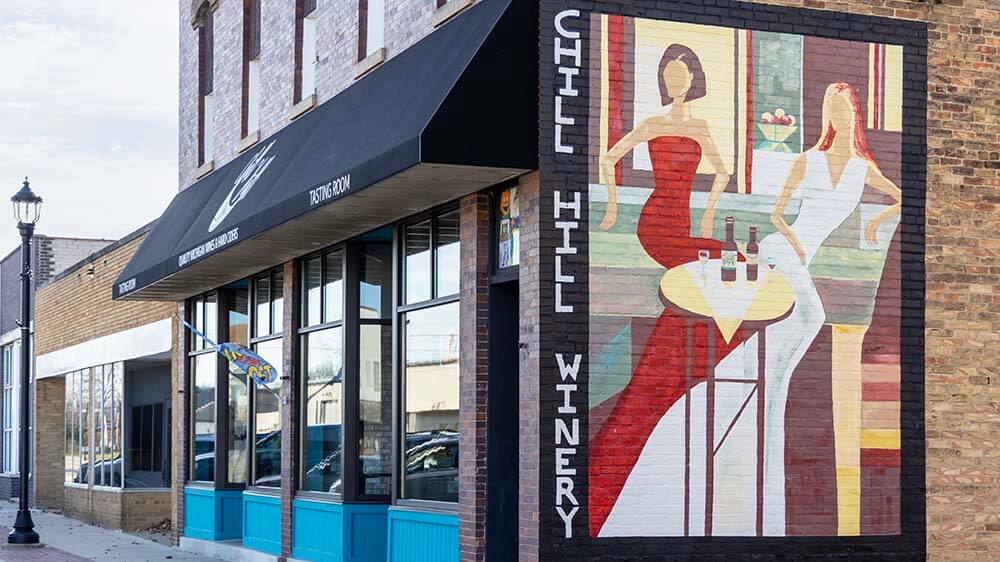 Chill Hill Winery mural
As you drive through beautiful downtown Baroda, you'll see a mural of two ladies chillin', dressed in red & white, enjoying a bottle of wine. It's in the alleyway next to Chill Hill Winery!
South Haven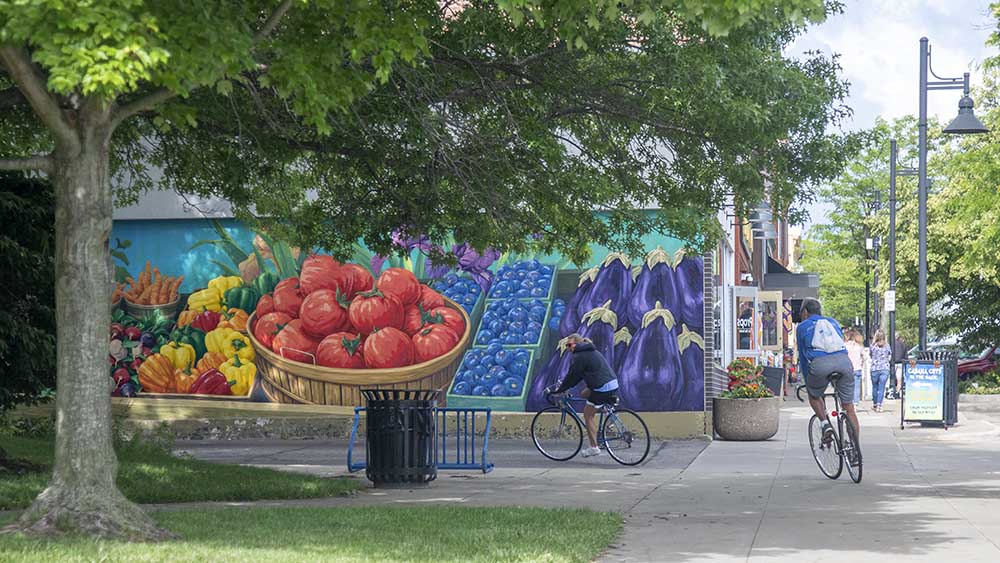 Farmers Market mural
This Farmers Market Mural by artist Conrad Kaufman colorfully displays the bountiful supply of produce buyers can find in Van Buren County. You can find it near Dyckman Park in downtown South Haven facing the farmers market.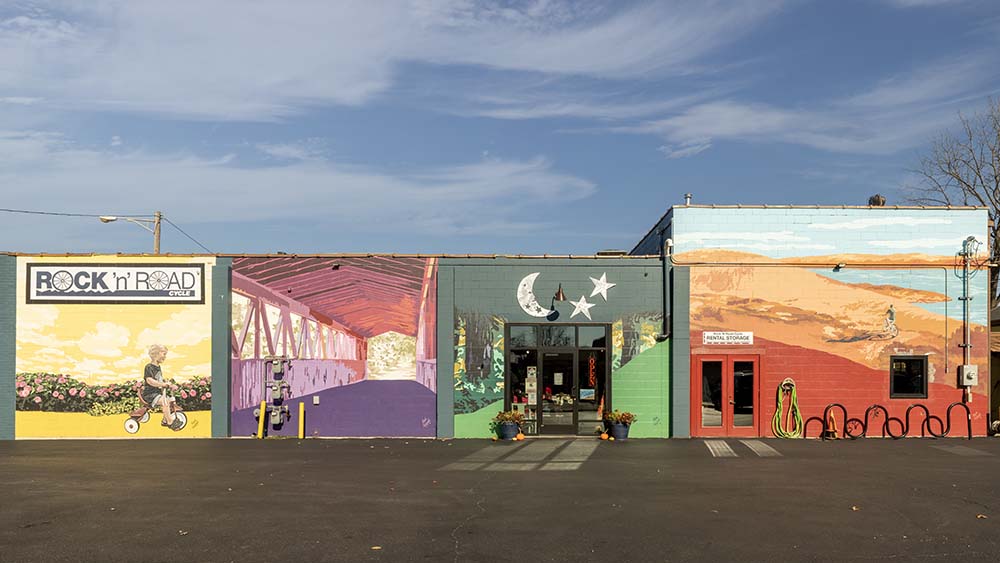 Rock n' Road Cycle mural
Inspired by her nephew, artist Kayla Wyszynski-Ridley painted the first mural of the South Haven Area Mural Project outside of Rock n' Road Cycle. The mural depicts a young boy playing on a tricycle in front of flowering bushes.
Niles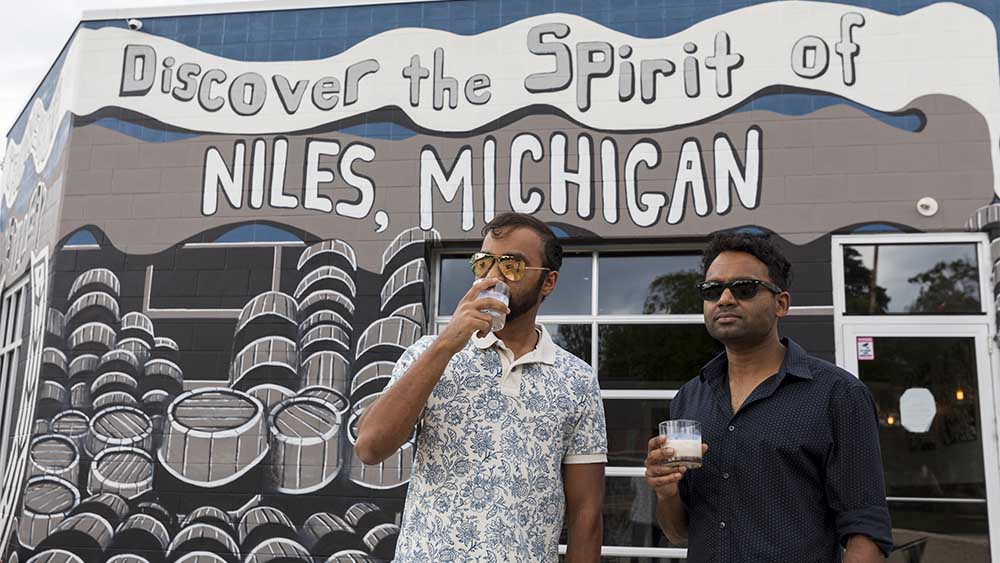 Iron Shoe Distillery
Indiana-based artist Chris Stackowicz's handiwork transformed this old muffler shop into a catch-your-eye distillery when it opened in 2018. He wanted the mural to tell a story about what is happening inside the blue-walled business which distills its own creations daily.
Black, white and gray bags of grain, wheat and barrels come together with a larger-than-life antique stills — the silver mechanism responsible for distilling spirits. Iron Shoe Distillery's horseshoe logo is proudly presented on the painting, too. If you're an art lover, you may find one portion of the mural to be familiar. Stackowicz gave Caravaggio's painting "The Calling of St. Matthew" a new twist with sunlight pouring through a window onto a pile of grain bags. At the very top of the mural, large lettering says, "Discovering the Spirit of Niles, Michigan."
You also can see Stackowicz's work on buildings in New York City, Chicago, Los Angeles, Greece, Turkey and Russia.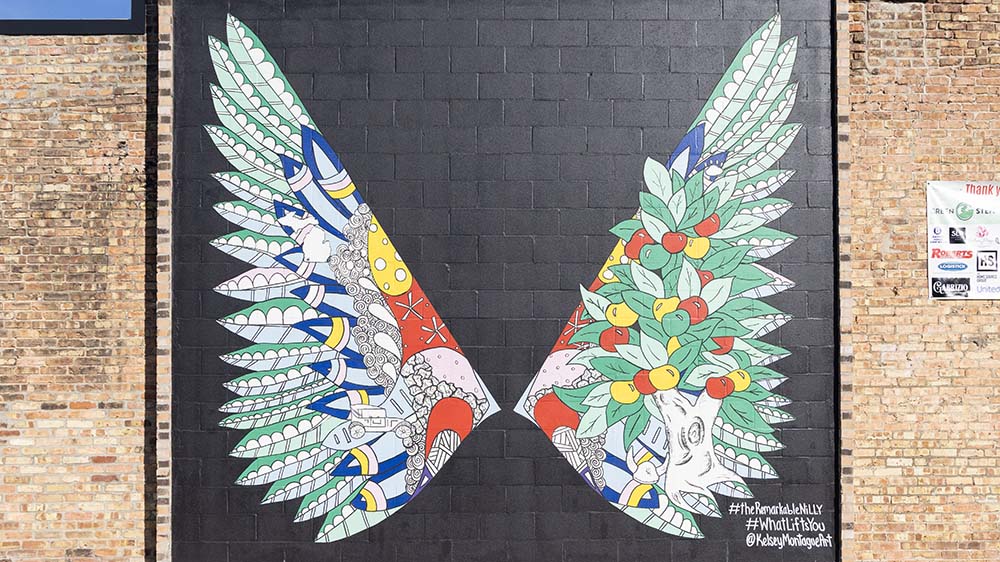 What Lifts You
Muralist Kelsey Montague is known for painted wings that have spread across the country. Niles, Michigan, now makes the list. The wings painted at 218 N. Front St., was made with the help of many sponsors, including Remarkable, INC. — a philanthropic nonprofit focused on Niles.
The wings are part of a movement called #WhatLiftsYou. In a blog post on her website, she said, "Making wings is not just drawing for me, it's my way of showing the world love and giving something I love so much to others. Wings have always been a special part of my life. From my Grandpa who used to paint them, to my mom who knows every single type of bird there is. Wings are pure love for me and making them out of love for others has in return given me my own pair of wings."
Previously, Montague painted wings in Nashville for Taylor Swift's album announcement in 2019. New York City, Los Angeles and Seattle are among other Montague mural locations. Take your photo in front of the wings and use #WhatLiftsYou.
Berrien Springs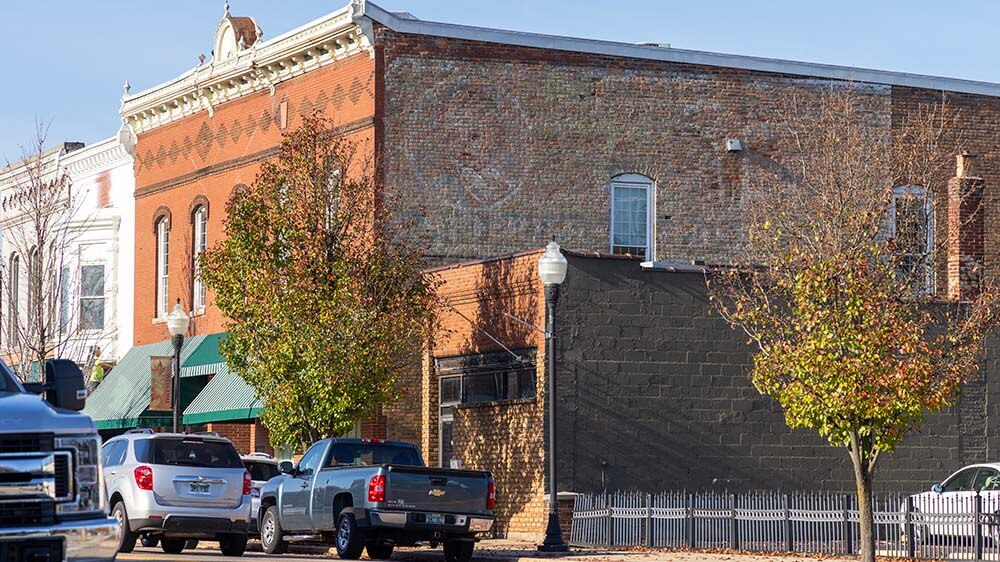 Kreamo advertisement
107 E. Ferry St., Berrien Springs
This brick wall artistry is not so much a mural as it is a blast to the past. An old Kreamo bread buns advertisement remains, although faded, on the side of a building in Berrien Springs. Because of its placement, you'll be able to snap a photo of it but not in front of it. The best viewing is from the Hardings parking lot. 
Bridgman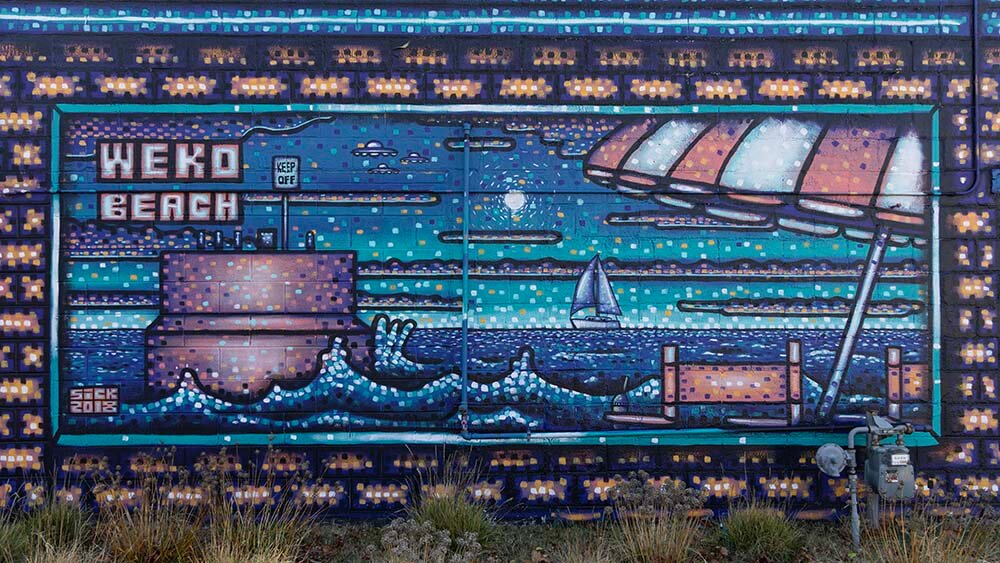 Bridgman Body Shop mural
This mural has such vibrant colors and a funky, cartoon-esque design, you'll be shocked to find out it is actually a body shop! These fun colors outline the door and windows, but give the local business a quirky look. 
Sister Lakes
Bed-no-Breakfast Resort murals
92811 County Road 690, Dowagiac
Dowagiac artist Sharon Ott painted several murals at the Bed-no-Breakfast Resort. Each of them was done with exterior house paint so it can withstand the elements. These Sister-Lakes-themed paintings show off the beautiful nature surrounding the area, including Ott's favorite character, a large, sunset-winged, green butterfly peeking out from behind the green leaves of a pink flower. Ott also painted the resort's pontoon boat, garage door, a neighbor's garage door, interior resort rooms and two mailboxes. These paintings are all done in Ott's version of anime style.
Cassopolis 
Sanctuary and Deliverance 
139 N. Broadway St., Cassopolis
The mural Sanctuary and Deliverance painted by area artist Ruth Andrews visualizes the Crossing of the Ohio.
In August 1847, armed slave catchers from Kentucky galloped into Southwestern Michigan, attacking Quaker farms in Cass County and rounding up nine runaway slaves. Free Black people and Quakers in the area surrounded them. The groups traded angry threats. Trying to head off violence, the Quakers convinced the Kentuckians to go to Cassopolis, the county seat, for a legal decision.
There, the raiders were indicted for trespassing, assault and battery and kidnapping. The court commissioner who heard the case then ruled that because the Kentuckians lacked a certified copy of Kentucky laws showing that slavery was legal, the fugitive slaves should be freed. A group of 45 Black people, including the nine captured fugitives, then fled to Canada.
In preparation for this historical mural, Ruth Andrews and artist George Purlee met at Chain Lake Baptist Church. Local residents and their families reenacted a boat or skiff crossing the Ohio River at night to help the artists visualize the scene. 
Fred Atkinson Chevy dealership mural
120 N. Broadway St., Cassopolis
Ruth Andrews, the same artist who painted the Kentucky Raid mural on Broadway Street and Dowagiac's Orphan Trail mural, restored the mural on the Cass County Building. Originally painted by Dowagiac artist Jerry Schlundt in 2007, the mural depicts the 1950 Fred Atkinson Chevy car dealership that used to be housed in the building. Its wrap-around design was painted with cars, trucks, salespeople and customers, with many details snuck in to represent Cass County.
Welcome to Cassopolis
Corner of State and Broadway Streets, Cassopolis
This mural welcomes you to the Village of Cassopolis, quite literally. Placed as you enter town, the mural reads, "Welcome to Cassopolis" — wording that is wedged between images of Stone and Diamond Lakes on a cloudscape. The piece of art is meant to appear as a giant streetscape when visitors take a photo in front of it, artist Chris Stackowicz said.
Buchanan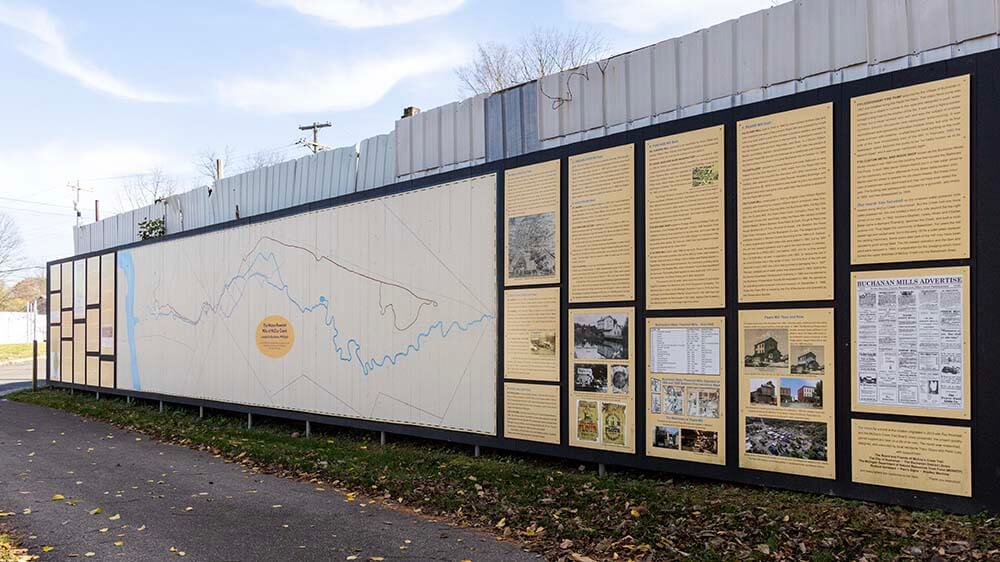 McCoy Creek Trail mural
W. Smith St. and S. Oak St, Buchanan
At over 10 feet tall, this mural took four years to create! Long-time Buchanan residents Tracy Dippo and Peter Lysy worked on the piece together. The artwork greets people at the head of the McCoy Creek Trail to share its history. It focuses on the importance of the McCoy Creek and the water mills that harnessed its power back in the day to bring industry and community to the area. On either side of the mural map are several panels featuring text and photographs depicting the history of Buchanan and McCoy Creek.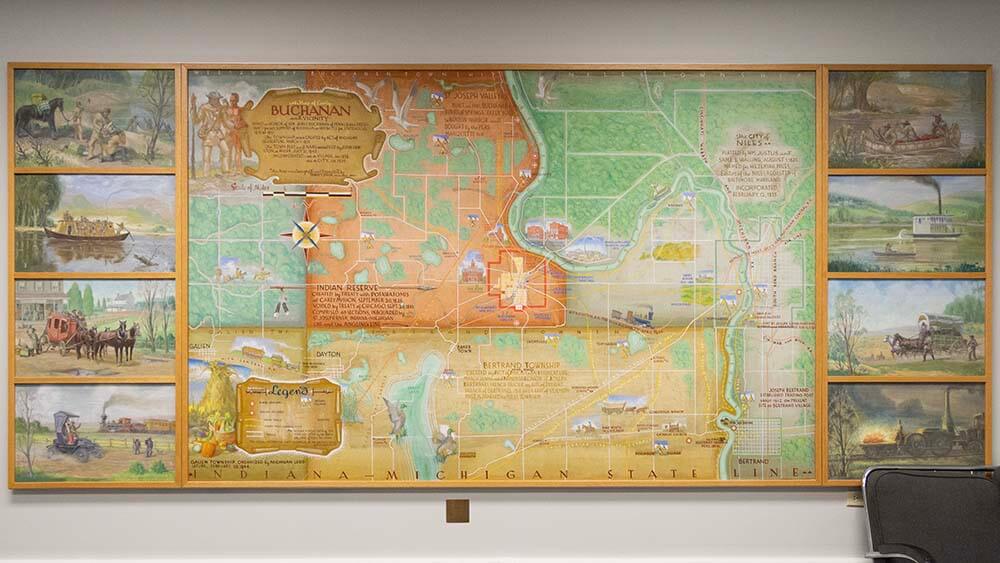 Buchanan District Library
Telling the story of local Buchanan history in this mural came with help from the University of Notre Dame. Professor Stanley Sessler, who was head of the University's art department, helped to create a guide map and painted the actual mural itself onto panels that were transported to Buchanan. The mural is placed in the library's archives room, but it is worth taking a peek inside!
It depicts Buchanan as it was during the first generation of the community. It was a time when wooden manufacturing was at its height and pioneer railway trains and covered wagons were the only transportation. Filled with information, this mural is an oil on canvas glued to the wall, educating generations of Buchanan for years to come.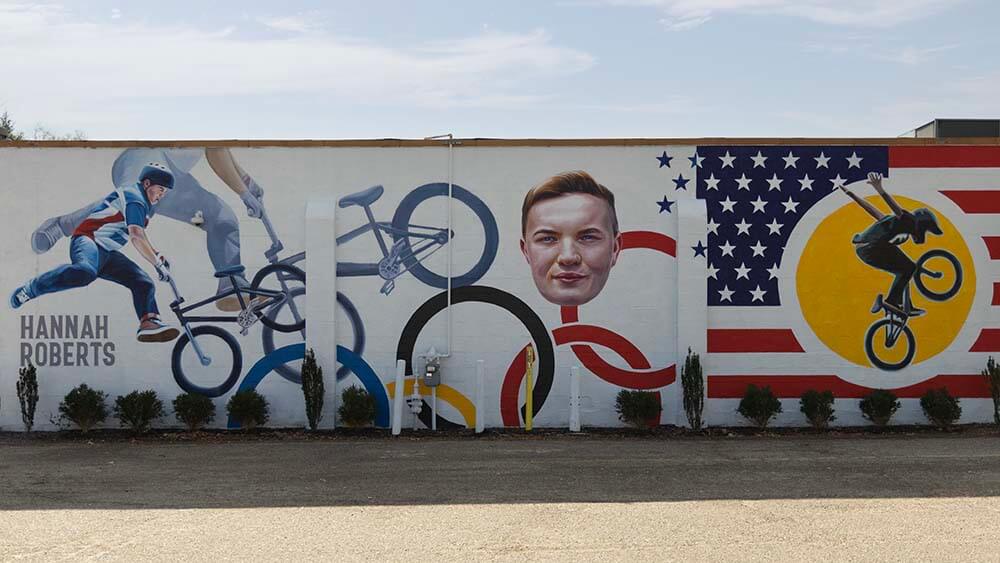 Buchanan BMX World Champion mural
In 2020, Buchanan locals gathered for a watch party as one of their own, Hannah Roberts, competed in the summer Olympics. She won the silver medal in addition to her BMX World Champion titles in 2017, 2019 and 2021. During the watch party, talks of a mural began and were put to paint in 2022.
Designed and painted by Jeff Zimmermann, known for large public artworks both nationally and internationally, the mural shows Roberts completing a 360-degree tail whip. She was the first woman in the world to do so in competition. The mural is on the north wall of the Honor Credit Union. Come see for yourself and celebrate a local legend!
Take the mural tour!
Can't decide where to start? Take our mural tour. Download the Visit Southwest Michigan app or visit our website and click the "Plan your trip" icon in the lower right corner for a seven-stop mural tour of Southwest Michigan!