guide to pet friendly fun from those in the knowThe insider's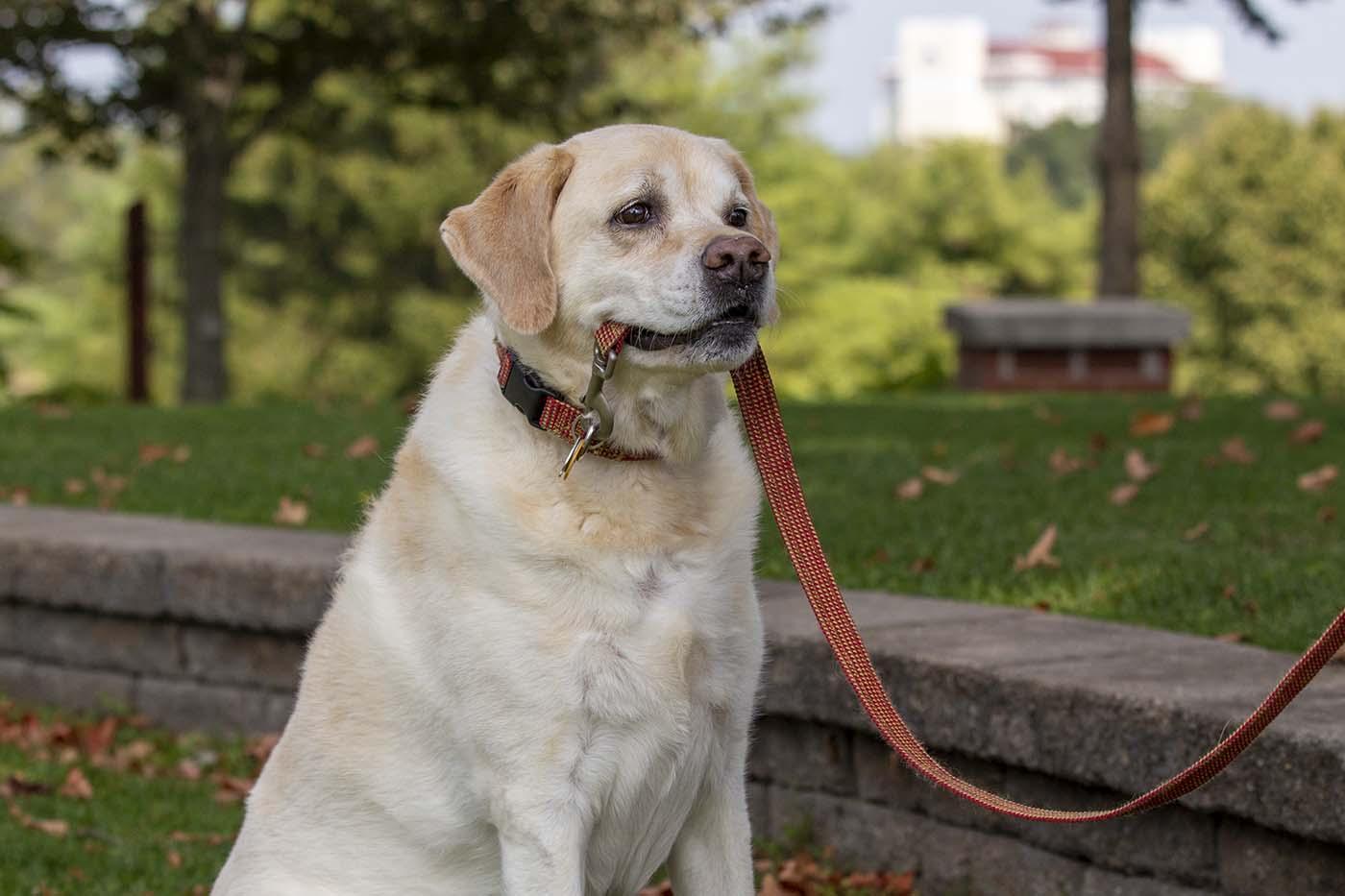 With fall here and the holidays right around the corner, talk at the office turned to our favorite events, traditions and local spots to enjoy with our pets. Read on to discover why our region gets a five-paw rating from those in the know. Southwest Michigan Tourist Council staff Vicki Dunlop and Snowman, Brandi Tucker and Zelda, and Marcy Simpson and Lola share their tips on the best of the Southwest for pets and their people.
Look for this decal
Marcy says as you are traveling in Southwest Michigan, watch for this decal displayed on business doors or windows. As soon as she spots the paw, she knows instantly that Lola is welcome. She says owners may have special considerations as to whether your pet can come inside or needs to hang outdoors with you, so ask when you arrive.
Lodging
Vicki tells us that Southwest Michigan offers a full range of pet friendly hotels for everyone from single travelers to large families. Whatever you are looking for, Vicki tells us that there is an ideal fit for your needs. The Candlewood Suites and Baymont Inn and Suites in Stevensville provide roomy accommodations near state parks. Or stay right downtown St. Joseph and walk to local beachside trails from The Silver Beach Hotel. Benton Harbor hotels such as Staybridge Suites and the Country Inn & Suites are located between recreational activities and farm markets.
What pet doesn't love spending time out in nature? Brandi recommends the KOA Campground near South Haven. It is a favorite destination for those who appreciate waking up in a lovely country setting. Your options include cabin, tent or RV camping. Brandi tells us that the KOA welcomes all pets, with no breed restrictions — AND pets can play off-leash at the campground's K9 pet park. Certainly a plus for Brandi's German Shepherd, Zelda! There is no charge for pets staying with their owners in their own RV or tent. Pets are allowed in the rustic cabins for a flat fee of $25.
Sandy paw prints along the shore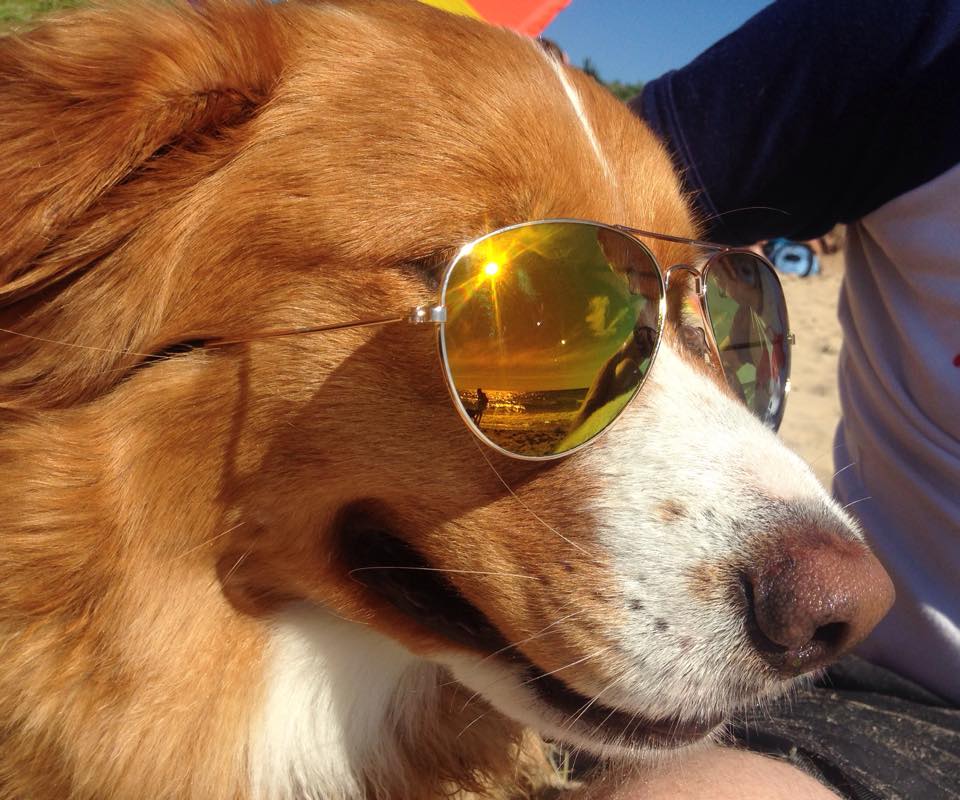 When Zelda needs to cut loose, Brandi, a Bridgman native, enjoys spending time near Warren Dunes State Park. Maximize your fun by exploring adjacent parks along the shoreline with your pet. Brandi advised us of her favorite route, "I take Zelda to the northernmost end of the Warren Dunes beach area, where she can play in the water. From there we can follow a boardwalk trail that connects to Weko Beach." The boardwalk offers stunning views from the dunes. Pets can play in the water at the north end of Warren Dunes beachfront and on trails. Please note that they must be leashed in all areas of the parks and beach.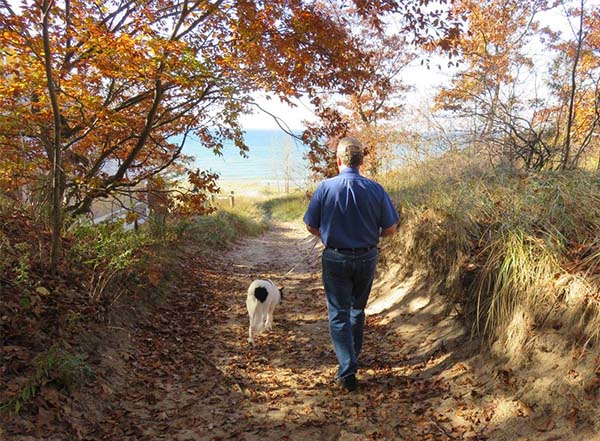 When Snowman needs a romp in the sun and waves, Vicki recommends Roadside Park in Coloma. "We take our beach bum there several times a year in most seasons." From the parking lot, follow a lovely wooded trail over the dune and discover the perfect little beach for dogs who enjoy sinking their paws into the sand. Doggie clean-up bags are provided as well. Pets must be leashed on the trail and beach.
Beyond beach season, Marcy looks forward to walking her dog on the South Pier at Silver Beach in St. Joseph, where Lola can listen to squawking seagulls. "She always enjoys the fresh air along the pier, especially when the catch of the day tickles her nose." Across the river channel on the North Pier at Tiscornia Park, the Heritage Museum & Cultural Center of St. Joseph offers lighthouse tours (Fridays and Saturdays from Memorial Day through Labor Day). While pets are not allowed up into the lighthouse, your dog will love the activity along the pier and will likely be the center of attention.
Roam picturesque parks
Brandi tells us that Zelda's top pick is Riverview Park in St. Joseph. This sprawling park boasts dazzling fall colors along wooded trails, as well as open fields perfect for chasing a Frisbee. Take time to enjoy the meandering river frontage with splashing ducks and other wildlife that will surely interest your pet. Note that while this peaceful park is rarely crowded, pets need to stay on a 6' leash. Brandi notes that most of the parks in Berrien, Van Buren and Cass counties permit dogs as long as they are on a leash 6' or shorter.
Get your dog paddle on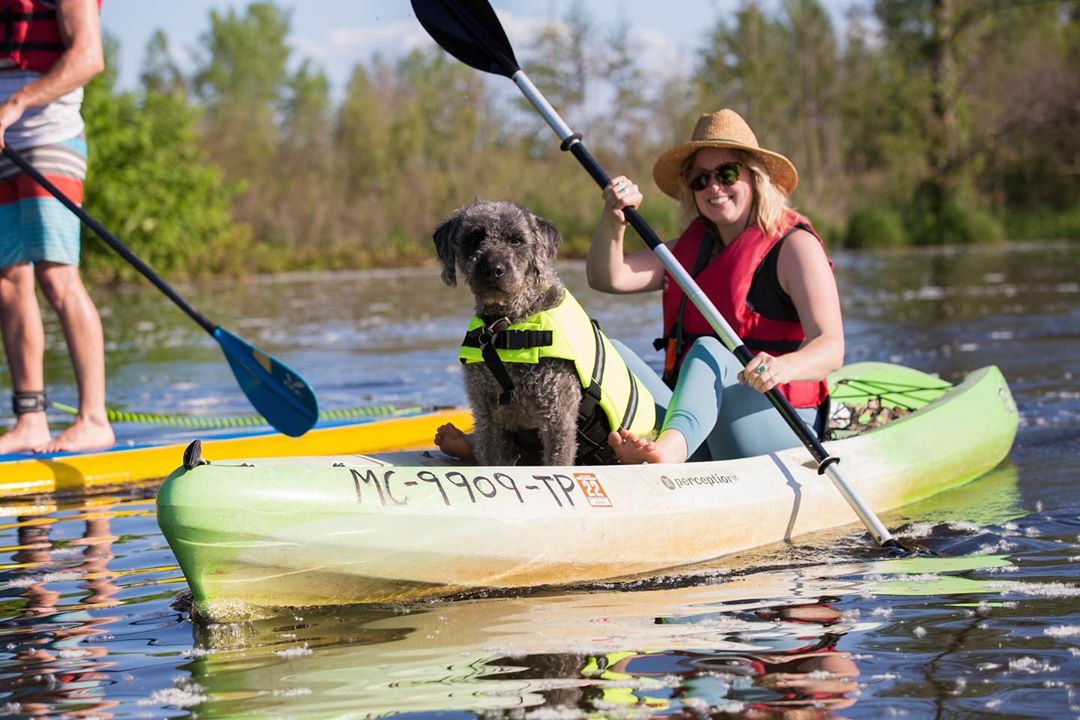 For the sporty set, Brandi suggests Third Coast Paddling & Kayak Rentals. Owner Erin Gerard welcomes pets and the Paw Paw River location in Benton Harbor is open on weekends throughout September. Dogs will enjoy a gentle glide while getting up close and personal with swans, muskrats and leaping fish.
Puttin' on the dog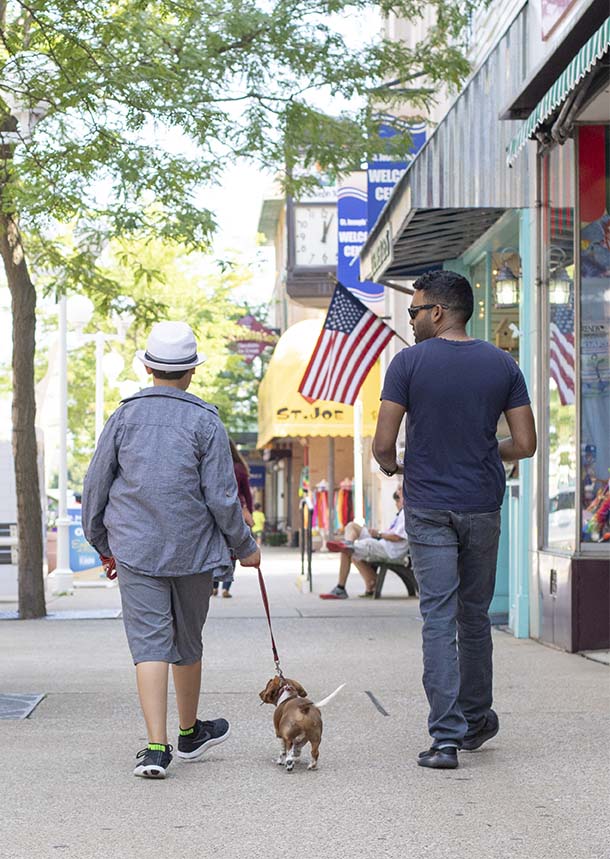 Marcy encourages visitors to make the pet-friendly St. Joseph Today Welcome Center their first stop when they arrive in town. Pick up detailed brochures and maps of the area and then browse unique shops with your best friend in tow. Many of our family-run local businesses will roll out the red carpet for your pet, while others have their own pets to greet you!
To enjoy your time to the fullest, Marcy reminded us of a few general guidelines to keep everyone happy and healthy; please make sure that your pet is friendly around people, up to date on vaccinations and kept on a 6' or shorter leash. Keep in mind some of the shops prefer smaller pets only, so it's a good idea to check for signage or ask before entering. Marcy's dog Lola enjoys plenty of attention when they shop the quaint downtown area. "One of our favorite traditions is visiting FuzzyButz for homemade birthday treats and a new gift every year on Lola's birthday," said Marcy. Below are some favorite stops:
Bound For Freedom
Lana's Boutique
Moxie's Boutique
Oh my Darlings (also a South Haven store)
Purely Michigan
The Candlestick Maker
The Lazy Daisy
Vicki adds that an honorable mention goes to Ed Bennett at The Candlestick Maker who welcomes all dogs — especially mutts! Ed knows all of the dogs in the area and keeps track of furry friends around town. Like several other merchants, Ed always makes sure to leave a water bowl at the door for thirsty travelers.
Unique local experiences
Vicki and Snowman enjoy exploring the growing Benton Harbor Arts District to check out what's new. While there, they always enjoy visiting with Tom Ives at 3 Pillars Music. Tom welcomes pets and his dog will likely be there to greet you when you arrive.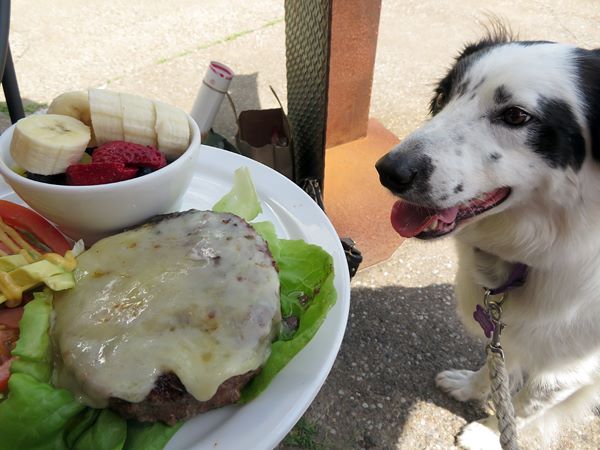 When it's time for a treat, Vicki and Snowman head for the Mason Jar Cafe. Dogs enjoy making the scene on the large outdoor patio area, while their people tuck into delicious locally-sourced food. Treats and water bowls provided.
Another favorite stop for Vicki and Snowman is Crystal Springs Florist and Greenhouse. Vicki says that it's especially nice to browse indoors in the wintertime, while a happy time is had by all during the Spring Open House. She enjoys meandering through the greenhouses and perennial gardens with Snowman. "It's nice to wake up his nose to spring smells and start thinking about warmer days ahead," Vicki tells us.
Drink in the harvest with your best friend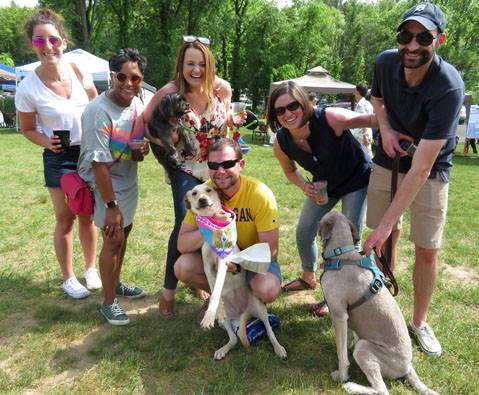 Marcy looks forward to fall harvest season at the local wineries. She and Lola love relaxing on the outdoor patio or covered porch at 12 Corners Vineyards. Marcy enjoys sipping award-winning wines, while Lola takes in the changing colors and crisp breezes from the top of a sloping hill.
For a lively time with your best friend, Marcy tells us that Round Barn Winery, Distillery & Brewery offers some unique options. You and your pet can enjoy the Jammin' in the Vineyard concert series during fall weekends at the estate in Baroda.
Festivals and activities deliver year 'round fun
Vicki reminds us that every season holds something special for pets and their people. Dogs are welcome at the Farmers Market along the bluff in St. Joseph during the summer and fall. She and Snowman make a point of attending the Doggie Hayride fundraiser each fall at Fruit Acres' U-Pick, where it's all paws on board for a good cause. "It is a fun time joining other pet-lovers with their dogs while proceeds are split between different animal groups."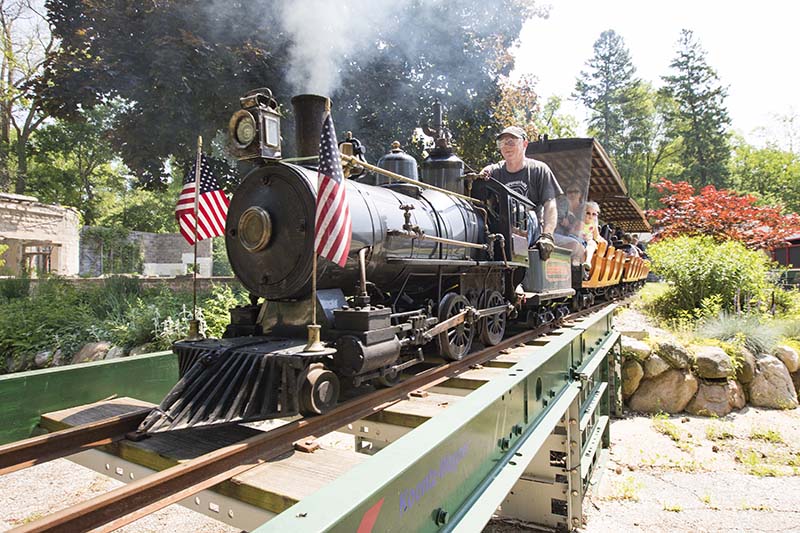 For pet friendly fun with a side of history, check out Eden Springs Park at the House of David. The lovely terraced garden area is a relaxing place to spend time in warm weather, while fall brings Halloween train rides pulled by the 1904 Cagney steam engine. Last year, Vicki and her dog had fun on the miniature railway that is decorated with pumpkins, ghosts and decked out in harvest season color. "It was wonderful! It is evident that much work went into making it a festive atmosphere for all." The park also offers train rides from Memorial Day to Labor Day and during the Christmas season as well.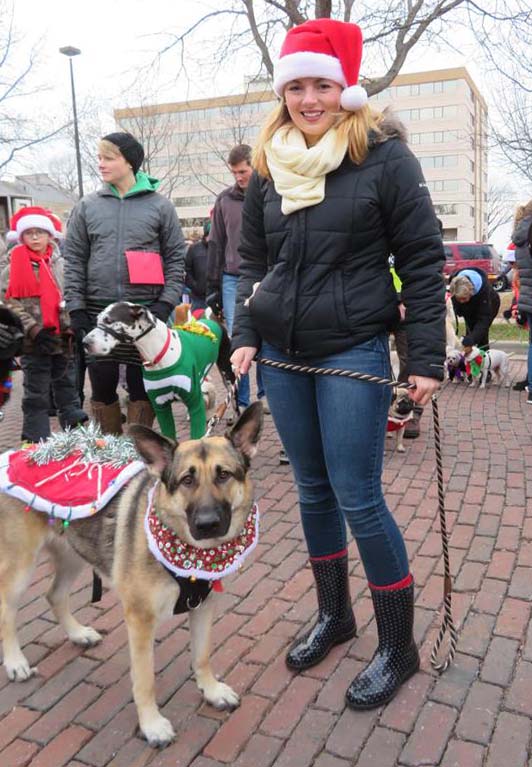 A seasonal favorite for Vicki, Brandi and Marcy that comes highly recommended is the Reindog Parade in St. Joseph that takes place every December. The parade is open to anyone who wants to join in the fun — and costumes for four-legged friends are encouraged! Dogs are showered with attention as they prance like a herd of miniature reindeer down State Street ahead of the vintage fire engine carrying Santa into town.
After the parade, stroll along the bluff to Animal Aid's Christmas Open House at the St. Joseph public library. Typically a no-pet zone, the library gets into the holiday spirit hosting this festive fundraiser and adoption event, downstairs in the children's department.
Learn more:
Check out our Pet friendly Guide for more information about where to visit, rules, beach and park locations, lodging, safety tips and much more.