Top 14 Breweries In Southwest Michigan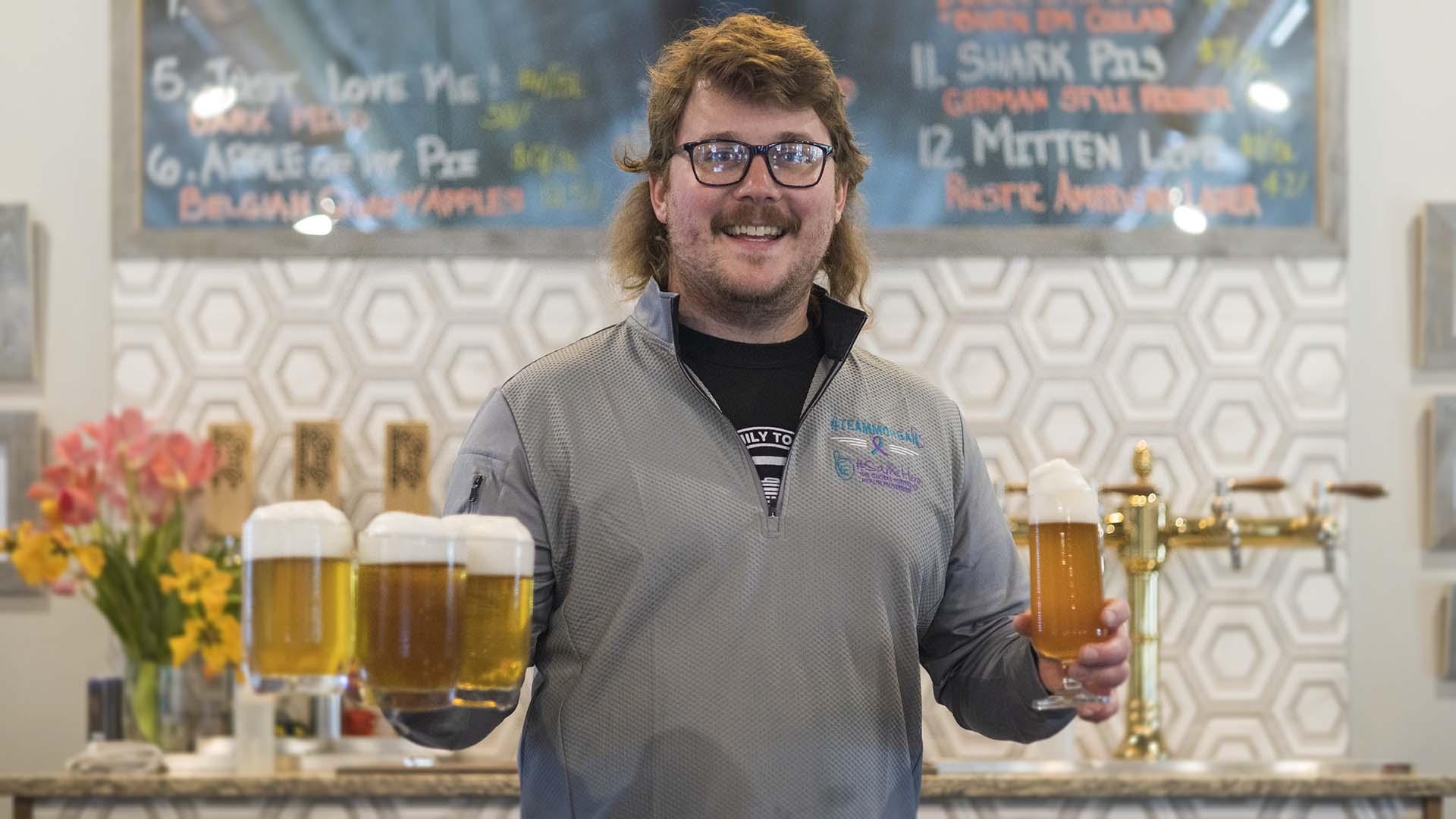 "Good people drink good beer," journalist Hunter S. Thompson famously opined. We couldn't agree more. Fortunately, here in Southwest Michigan, there is no shortage of phenomenal craft beer.
Southwest Michigan's craft beer scene continues to grow, with no signs of slowing down. There's a beer for every palate, and in much the same way, there's a brewery for every audience.
From the spacious taproom and host of event options that Watermark Brewing Company provides, to the farmhouse setting, brewery tours, and rustic-chic decor of River St. Joe, Southwest Michigan's breweries are as diverse as they are similar. From the casual brew enthusiast to the serious beer geek, and from families to first dates, Southwest Michigan's breweries offer something for everyone.
We've done the legwork, so you can get to the good part: enjoying incredible local craft brews. Here are our picks for the Top 14 Breweries in Southwest Michigan.
ARCLIGHT BREWING COMPANY
Watervliet, MI
Arclight Brewing Company, Watervliet's first and only craft brewery, has never been afraid to push the envelope. Yes, you'll find excellent iterations of traditional styles here, flagships such as Arclight Cream Ale and Citrasun Summer Wheat.
Take a peek at Arclight's seasonal offerings, though, and you'll find mind-blowing, mouth-watering experimental beers such as Tlilxochitl Double Dry Hopped Vanilla Milkshake IPA. Fans of sour ales will swoon for Arclight's Soursmith Series, boasting flavors like Black Raspberry and Mango. Arclight also offers a fantastic craft soda lineup, from Rock & Rye to Root Beer.
Arclight's taproom features community seating and an industrial vibe. The brewery doesn't serve food, but you're free to bring your own or order from one of Arclight's rotating food trucks!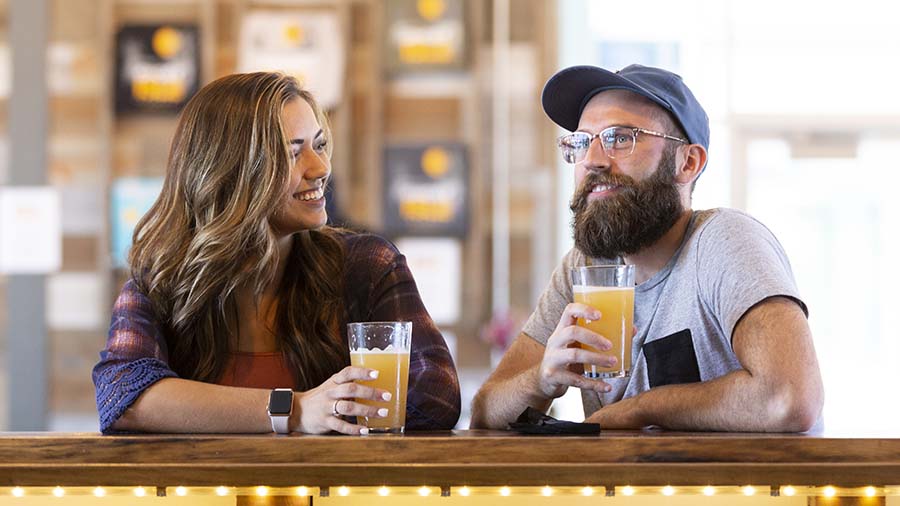 GHOST ISLE BREWERY
New Buffalo, MI
Come for the views. Stay for the brews. Ghost Isle's New Buffalo taproom is situated on 156 gorgeous acres, which have been designated "critical wetlands" by the State of Michigan.
Grab a seat and a pint of Stoner's Paradise, a New England-style low-ABV IPA that's juicy and eminently sessionable. Or, try a Lady Bluebird, a light-bodied, dark-colored Schwarzbier that's bursting with malts. Feeling the heat? Order a pint or two of Latitude Change, a mojito-inspired summer seltzer with lime zest and mint that's guaranteed to refresh.
Ghost Isle's taproom also boasts an enormous patio with frequent live music, an ideal destination for long summer afternoons. Its sleek yet rustic interior is the perfect setting for a beer on those cold winter nights.
HAYMARKET TAPROOM
Bridgman, MI
Variety is the spice of life, they say. This adage could well be the mantra of Bridgman's Haymarket Taproom. Boasting 20+ constantly rotating taps of innovative brews, Haymarket doesn't know the meaning of the word boring.
From huge barrel-aged beers to Doppelbocks to unusual hard seltzer offerings, Haymarket's brews run the gamut of beer styles. Standouts include Cool Your Jets Cold IPA, Blood Orange Blonde, and Clare's Thirsty Ale, a barrel-aged Bourbon imperial stout with raspberries that proves you should always drink your dessert.
Haymarket is also renowned for its unbeatable wood-fired pizzas. The brewery offers nine selections, including vegetarian options, that are the perfect complement to their house brews. Next time you're in Bridgman, don't miss Haymarket's world-class taproom, fire pits, and, of course, incredible beer.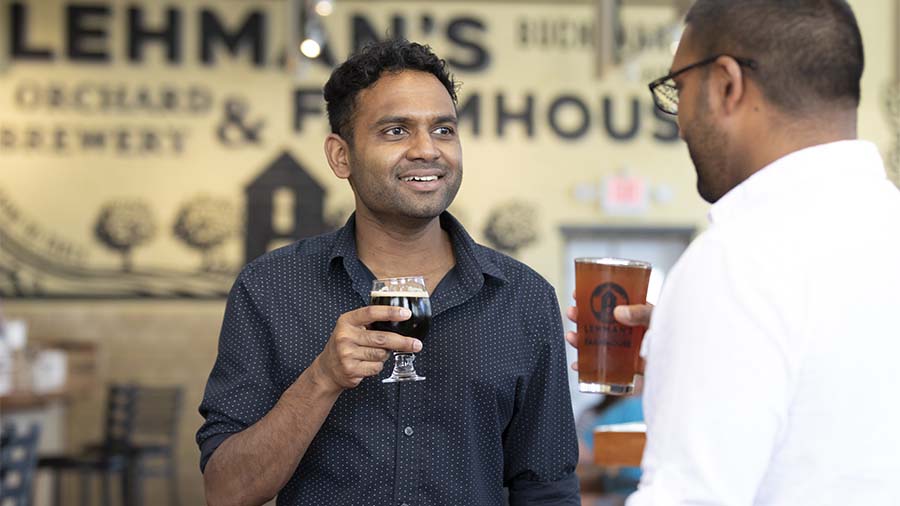 LEHMAN'S FARMHOUSE
Buchanan, MI
If you're looking for barrel-aged beers, look no further than Lehman's Farmhouse. Besides the cider, wine, and spirits this Swiss Army Knife of an establishment creates, Lehman's is renowned for its extensive barrel-aging program. Choose from boozy offerings such as an Aged Scotch Ale, a Bourbon Barrel American Barley, a Bourbon Barrel Coffee Stout, and more. These brews are often higher than 10% ABV, so as always, drink responsibly!
In the mood for something a little more sessionable? Lehman's also offers a classic lineup of beers, including a Kolsch, Hefeweizen, and three different IPAs!
Since 2017, Lehman's has been crafting delicious products, most of which come directly from their orchard or the Southwest Michigan area. Lehman's Buchanan taproom is the perfect place to try a flight of Lehman's brews, order a phenomenal pizza, and check out a constantly rotating selection of seasonal beers!
NILES BREWING COMPANY
Niles, MI
Niles Brewing Company is as small-town as it gets. Specializing in unique, small-batch beers, this nanobrewery proves that even small breweries can do big things. Prepare your taste buds for an onslaught of creativity, from the juicy, fruit-forward flavors of Codename: Riddle IPA to the sweet, boozy honey notes of Trojan Horse Mead, Niles Brewing has, in just a couple of short years, built an outsized reputation for quirky deliciousness.
If these offerings don't sound creative enough to you, delve into Niles Brewing's Wow Series. Designed to push creative boundaries, Wow beers attempt to cram as much flavor as possible into a single pint. With constantly rotating varieties, such as Grape and Fruit Punch, Wow Series beers drink more like a soda/beer hybrid than anything else, and are undoubtedly some of the most unique beverages available in Southwest Michigan.
Niles Brewing Company also offers several guest taps from the likes of Bell's, Prairie Artisan Ales, and Smooj. Check out their small taproom in the heart of downtown Niles, and attend an event such as Trivia Night or Yoga & Mimosas!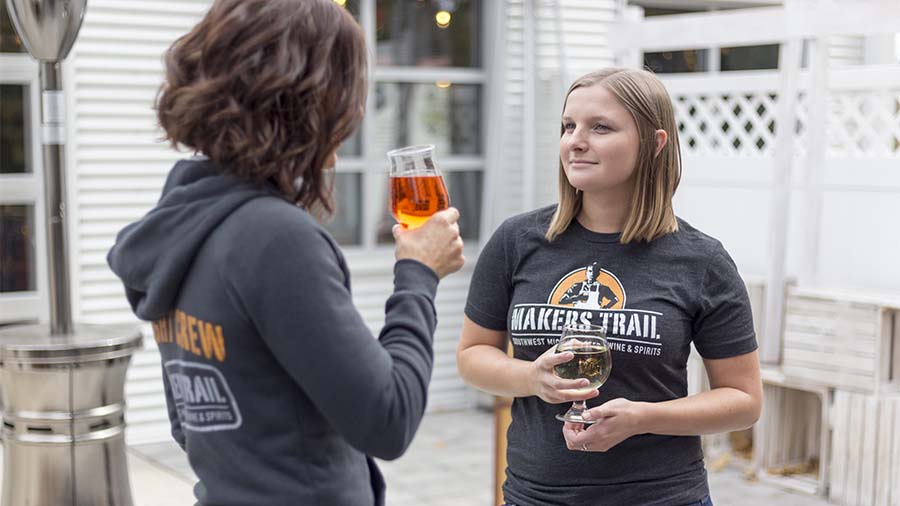 NORTH PIER BREWING CO.
Benton Harbor, MI
Located less than two miles from beautiful Lake Michigan, North Pier Brewing Company offers a sizable array of handcrafted brews. North Pier specializes in both hoppy and bright styles, with a couple of notable exceptions: the dark yet surprisingly light-bodied Old Shuck London Porter, and The Conjurer, a Belgian Golden Strong Ale that clocks in at a deceptively smooth 8.7% ABV.
Don't miss Oh My Guava, a crisp Kolsch packed with (you guessed it) guava, and Costa Norte, a Mexican-style lager that tastes like a beach day in a glass.
Visit North Pier's spacious taproom and outdoor beer garden in Benton Harbor, which also offers cider, cocktails, and wine. Tasting is believing!
RIVER SAINT JOE
Buchanan, MI
One couldn't ask for a more beautiful setting for a brewery than that of the agrarian grounds of River Saint Joe. This brewery's mission statement is just as beautiful as its surroundings: sustainability, community, and supporting the local food system are the hallmarks of everything River Saint Joe does.
Of equal importance? This humble farmstead brewery makes world-class beer. Borrowing from European farmhouse brewery traditions while embracing the best attributes of American beer, River Saint Joe brews generously hopped IPAs, mixed-culture sours, crisp summer quenchers, and everything in between. Don't skip standouts like Summer Saison and Scythe Imperial Stout, the latter of which boasts notes of bourbon and vanilla and clocks in at 10.5% ABV.
River Saint Joe's taproom/restaurant also offers a plethora of elevated culinary fare: from Lentils Lorna to Balsamic Mixed Berries, its menu offers anything but typical brewery food. Plus, on select Sunday mornings, you can tour River Saint Joe! The tour includes information on the history of the brewery, its sustainability efforts, and plant-to-pint brewing and hops yard practices.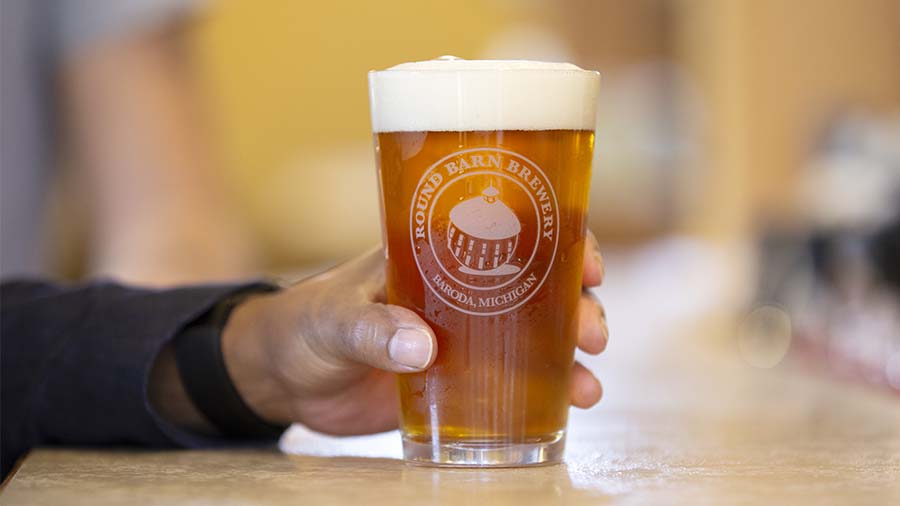 ROUND BARN BREWERY
Baroda, MI
You might know Round Barn for its wine. Or its spirits. Or its namesake round barn. But if you haven't gotten to know it for its beer, you're missing out! With over 30 years of fermentation experience, Round Barn crafts a lineup of award-winning beers worthy of your attention.
Noteworthy brews include Oronoko Cocoa, a chocolate stout that's as much fun to say as it is to drink, and Indecision Amber, a perfectly balanced malty ale for when you can't decide on what to imbibe. This year alone, Round Barn has 22 new craft beers slated for release, so come back often and check out what's new!
Round Barn Brewery & Public House is in Baroda, but Round Barn beers are also available at its Baroda winery and Union Pier tasting room. Don't forget to join Round Barn's Mug Club and start drinking beer with benefits!
SEEDZ BREWERY
Union Pier, MI
Located in Union Pier, Seedz Brewery is an agriculturally driven brewery that uses as many locally sourced ingredients as possible. Known for its dedication to pairing each beer with its proper glass to optimize flavor, Seedz brews nuanced beers that deserve ample recognition. The Cut, a German-style pilsner, could go head-to-head with any pilsner from the Old Country, while Unfamiliar Faces, a slightly hazy oat and spelt pale ale, is a malt-driven wonder balanced by locally grown hops.
Seedz opened its doors in February 2021, but don't let its relative youth fool you: this brewery crafts exquisite beers that belie its age. Seedz doesn't offer food, but you're welcome to bring your own while you quaff a pint or two of its beautiful, delicate lagers and ales.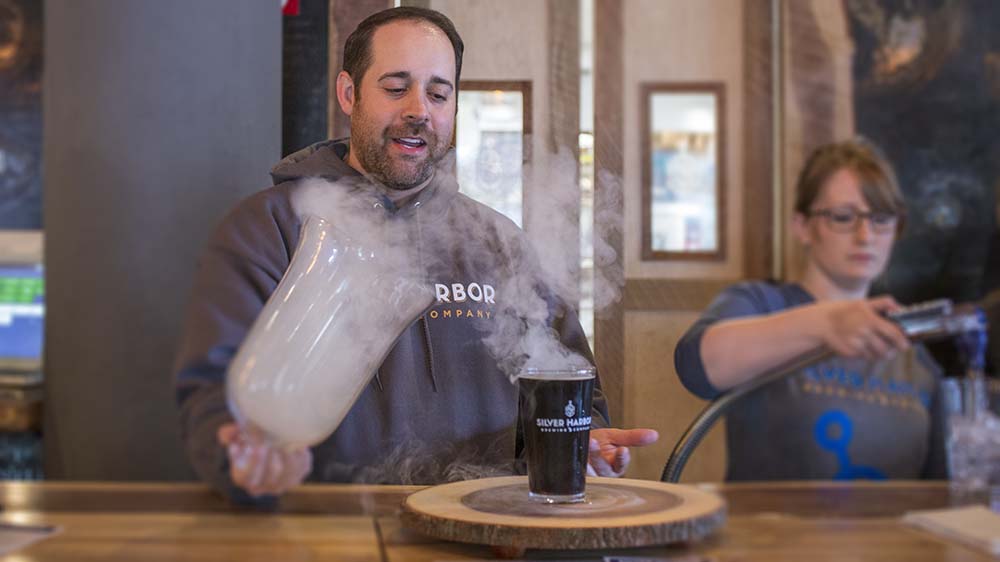 SILVER HARBOR BREWING COMPANY
St. Joseph, MI
Silver Harbor Brewing Company's tap list reads like a who's who list of beer styles: from fruited sours to imperial oatmeal stouts to Irish red ales to Baltic porters, Silver Harbor does it all, and does it all very well.
Standout brews include Happy Accidents, a Bob Ross-approved smoothie-style sour replete with Graham crackers, cinnamon and peaches, and Shipfaced, a bottle-aged 12.6% ABV English barleywine that took home a gold medal at the 2017 Great American Beer Festival.
Also, don't miss the world's first live smoked beer! Silver Harbor starts with a pint of Kumbaya Brown Ale, puts the pint in a glass chamber, and injects hickory smoke into the chamber tableside, infusing the beer in the process and creating quite the experience for both your eyes and your taste buds.
Besides serving some of the best beer in Southwest Michigan, Silver Harbor's gorgeous, wood-laden St. Joseph taproom also offers a variety of tasty flatbreads, salads, wraps, and sandwiches, including vegetarian and vegan options. Silver Harbor also serves ciders, wines and cocktails. If you haven't done so already, put this brewery on your must-visit list!
TAPISTRY BREWING COMPANY
Bridgman, MI
Tapistry Brewing Company combines artistry with chemistry to create technically sound craft beers that are not only excellent iterations of their respective styles but also downright delicious. The brewery boasts 20 taps, featuring mainstays such as Udder Envy, a sweet, tasty milk stout, and Ski Bum, a crisp pilsner that's as delicious on the beach as it is on the slopes.
Don't miss Tapistry's Motorbreath, a boozy monster of a stout that pours at 12.5% ABV, or their lineup of seltzers, including Key Lime, Mango, and Pineapple!
Tapistry's Bridgman location boasts a front patio, a three-season beer garden, and a cozy taproom serving tasty smokehouse sandwiches. You'll also find a vast selection of 4-packs to go. Besides beers, Tapistry also distills an array of artisan spirits, including four whiskeys, two gins, and two vodkas. Tapistry's spirits are currently only available at the taproom, giving you yet another reason to head to Bridgman!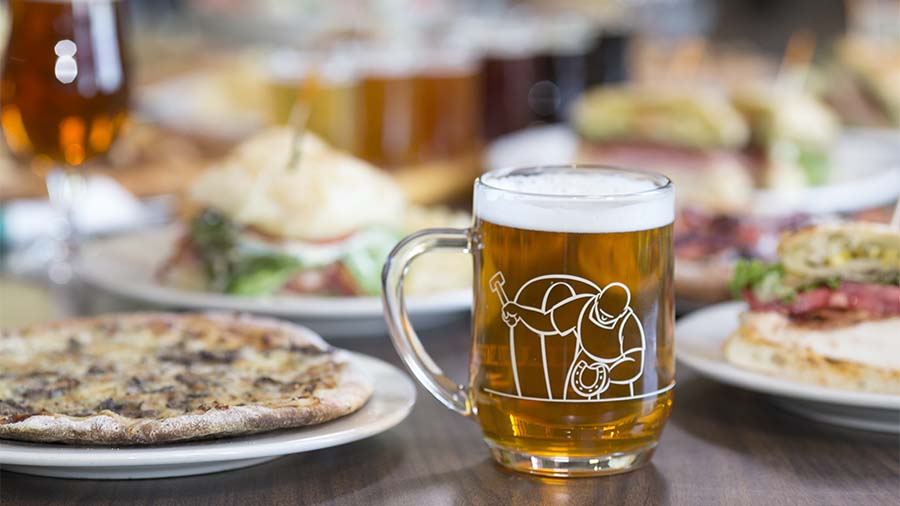 THE LIVERY
Benton Harbor, MI
Since 2005, The Livery has been a mainstay of the Southwest Michigan craft beer scene, hand forging delectable beers at their Benton Harbor brewery. The Livery nails a bevy of classic styles, from Lotus, a balanced, juicy pale ale brewed with Citra and Mosaic hops, to Turned Clouds, a lightly hopped American wheat ale.
If you're looking for something a little more experimental, try 16th Anniversary, a chocolate cake pastry stout worth celebrating, or Blackberry Rhubarb Spontaneous Combustion, a wild ale that you'll, well, go wild for. The Livery also offers several ciders, meads, and seltzers, including Black Lily, an oak-aged cyser (a mead fermented with apple juice) infused with both red and black raspberries.
The Livery's vibrant taproom offers a wide selection of delicious pizzas, salads, and sandwiches, and hosts live music almost every weekend! Come in for a pint, enjoy a concert, and leave with a growler or howler to go!
TRANSIENT ARTISAN ALES
Bridgman, MI
Transient Artisan Ales, Tapistry's next-door neighbor in Bridgman, offers a tap list replete with both timeless styles and experimental beers, all of which are crafted using local ingredients and fruits. Some of our favorites include Helplessly Hopping, a double dry-hopped imperial IPA, and Broatmeal, a silky smooth oatmeal stout on nitro. Seltzer fans will love Transient's Mid Air, a strawberry daiquiri-inspired hard seltzer.
You simply can't visit Transient's taproom without trying at least one of its barrel-aged beers, as well. Barrel Aged Sam is a gargantuan yet sultry imperial stout aged in maple bourbon barrels with vanilla beans and marshmallows. Its cousin, Barrel Aged Peso, has spent serious time in agave, chocolate whiskey, and maple bourbon barrels, and is infused with toasted pecans and cacao nibs.
Don't have much time? Just passing through? Transient also offers convenient online ordering and curbside pickup. Either way, head to Bridgman and see what's on tap at Transient because, as its name suggests, this brewery is constantly rotating its lineup of fantastic craft beers!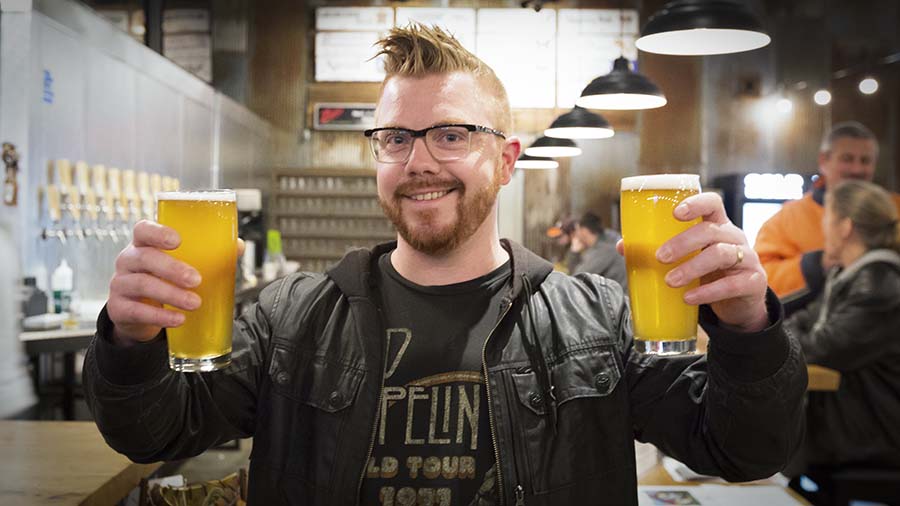 WATERMARK BREWING COMPANY
Stevensville, MI
If you want to make an evening out of a brewery visit, look no further than Stevensville's Watermark Brewing Company. From its massive patio to its live music stage, from board game nights to Thursday night social bike rides, there's always something going on at Watermark. Heck, you can even reserve Watermark Solarium, the brewery's new event space, and get married there if you'd like.
Not only does Watermark deliver when it comes to entertainment, but it also brings the goods with its award-winning tap list. Watermark is unafraid to experiment, hitting home runs in a variety of craft beer styles. Standout brews include Bunk Bed Confessions, an imperial stout with orange peel, cacao nibs, and vanilla that evokes memories of those ubiquitous Christmas orange chocolates, as well as Hurricane Squeeze, a grapefruit-infused IPA that is your new favorite summer beer. Be sure to try Tiny Creatures, as well: this foeder-aged golden sour ale is loaded with beet juice and sumac and is quite unlike any other beer on the planet.
Hungry? Watermark offers a rotating roster of food trucks, from BBQ to tacos to Cajun-style.
Map out your brewery flight path with our free Makers Trail app
There you have it: our Top 14 Breweries in Southwest Michigan. We couldn't pick a favorite, since we love each brewery for different reasons, but maybe you can! We invite you to visit each and every one and decide for yourself. You can map out your brewery flight path using the free Makers Trail app or by picking up a printed map at any Makers Trail location. Then, between fall and mid-April, pick up a Makers Trail Passport. With each brewery you visit, you'll collect stamps and earn rewards!