Take a Flip Flop Art Tour in Southwest Michigan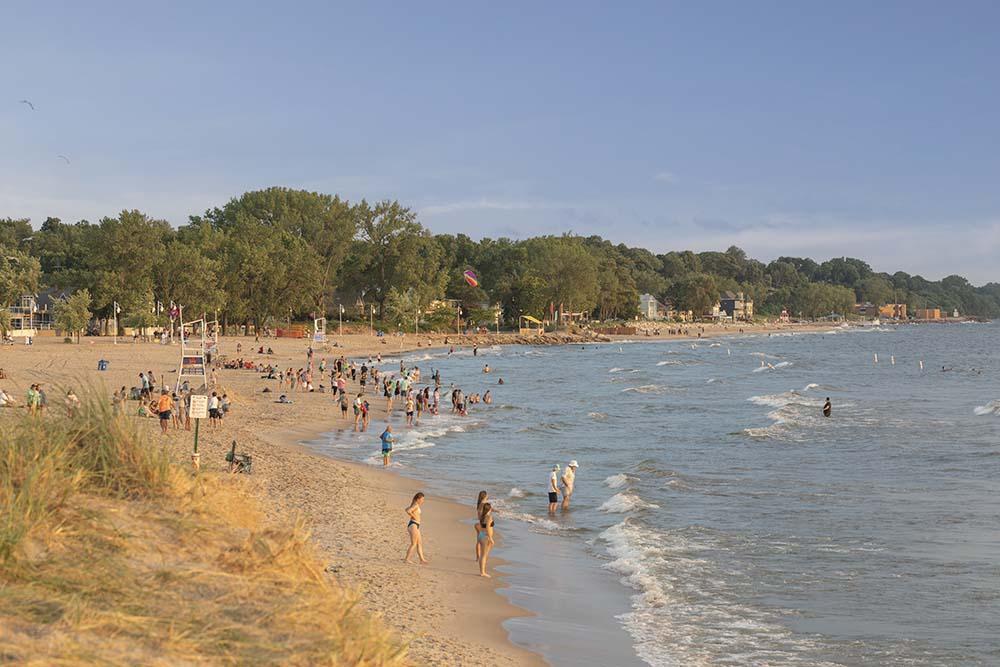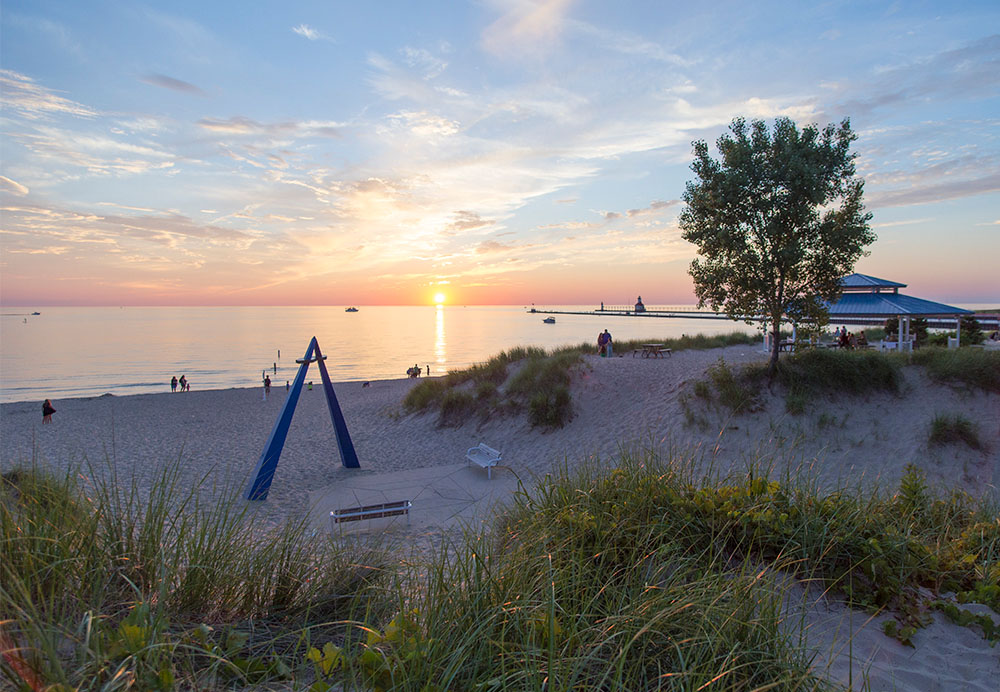 What do Despicable Duck, Abundant Happiness and And You, Seas have in common? They are all part of the impressive outdoor art collection you can admire while walking in flip flops around Southwest Michigan. Casual wear is definitely acceptable as most of this area's art venues are in tree-lined parks and along sandy beaches. And don't mistake this for adult-only fare. There's lots of art to spark children's imaginations and you're never far from a sweets shop to reward your family's cultural adventuring.
Here are a five flip flop friendly tour suggestions:
Flip Flop Art Tour #1: Harbor Country. Cross the Indiana border into Southwest Michigan and you'll see why so many artists have taken up summer residences in the Lake Michigan resort towns that make up Harbor Country. The gorgeous landscape in this corner of Michigan begs to be preserved in art, so it's no surprise that nationally acclaimed sculptors have used it as a backdrop for their work.
For this tour you'll need a car to get from town to town, but once on site you can see the art up close on foot. 
Visit Dale Roger's Away, a stainless steel masterpiece on New Buffalo City Beach (Whittaker St).
Be awed by renowned artist Harry Borgman's sculpture Psyche, in his hometown of Sawyer.
Faust by John Suave and Eve's Awareness by Terry Hewlett are on loan through this year and can be seen at the New Buffalo Township Hall (17651 US-12).
The Chikaming Township Hall (13535 Red Arrow Highway, Harbert) features Five Ships by Eric Shaw.
New Buffalo High School (1112 E Clay St.) is home to Symphony by David Skora
Three pieces by William Anderson/Andy Gatenbein, Terry Karpowicz and Stephan Hokanson are downtown in the Three Oaks Sculpture Garden.
A sure delight for children is the comical Dewey by Robert Cordisco displayed outside the New Buffalo Public Library (33 N Thompson St.)
Flip Flop Art Tour # 2: Off the Beach Path. Dowagiac, located in Cass County, is a favorite vacation destination with its nearby recreational lakes, pick-your-own farms and wineries. One of its many year-round gems is its collection of 13 pieces of outdoor art, most viewable downtown by foot between M-62 and Main St. 
Flip Flop Art Tour #3: Splishin' and a Splashin'. Art is definitely bubbling up in St. Joseph this summer. The annual public art event draws thousands downtown to see sculptures painted by regional artists. This year you'll find BIG fellas that are cute and artsy and chubby — 20 duckies (including Beth Mandarino's Despicable Duck), froggies and whales, plus two tubbies that will delight all ages. Several summer activities, a free Whirlpool Compass Fountain and numerous family-friendly beaches to splish and splash in, plus lots of delicious places to satiate your hunger and quench your thirst — make this a memorable art experience.
Flip Flop Art Tour #4: Guided Walks. Seeing art by foot is easily done in very walkable St. Joseph. On July 24, Aug 7, Aug 21 and Sept 4, Krasl Art Center hosts several guided Sidewalk Heritage Art Tours, that start at 1 p.m. at the St. Joseph Today Welcome Center, 301 State St. It's a great way to learn more about the sculptures and monuments in this Victorian-era community including the 1872 Maids of the Mist fountain which was built for the Chicago Inter-State Industrial Exposition and brought here in 1891 as well as the 1898 Firemen's Monument, the city's first monument to be lighted by electrical fixtures. After the guided tour, visitors will find more sculptures below the bluff in the Margaret B. Upton Arboretum along the St. Joseph River as well as on Silver Beach where the nationally renowned sculptor Richard Hunt's And You, Seas is permanently displayed near the South Pier.
Switch-to-Golf-Shoes Art Tour # 5: Harbor Shores. You'll have to change from your flip flops to golf shoes and a cart to see the 18 sculptures on one of Michigan's premier public courses, Harbor Shores in Benton Harbor. This 18-hole, Jack Nicklaus Signature Golf Course is lauded for its diverse terrain and dramatic design. Each tee marker is a sculpture created by metal sculptor Josh Andres and glassblower Jerry Catania who have studios in the Arts District in Benton Harbor.
Before heading home, slip back into your flip flops to take in the artwork displayed at nearby Jean Klock Park (within yards of Harbor Shores holes 7, 8 and 9). The Lake Michigan beach pavilion showcases the glass mosaics created by six teenagers in the Water Street Glassworks Fired Up! after-school program. After enjoying the artwork and creating personal sand sculptures along the shore, drive into the Benton Harbor Arts District (7 minutes away) to have a refreshing treat at Water Street GelatoWorks. Your indulgence will support the Fired Up! program and keep the arts alive for future generations.
Outdoor art is just one venue for artistic inspiration in Southwest Michigan. For a list of galleries and museums, many with opportunities to meet the artists and take classes, explore the art-museum page on the Southwestern Michigan Tourist Council site.