Outdoor art sculptures in Southwest Michigan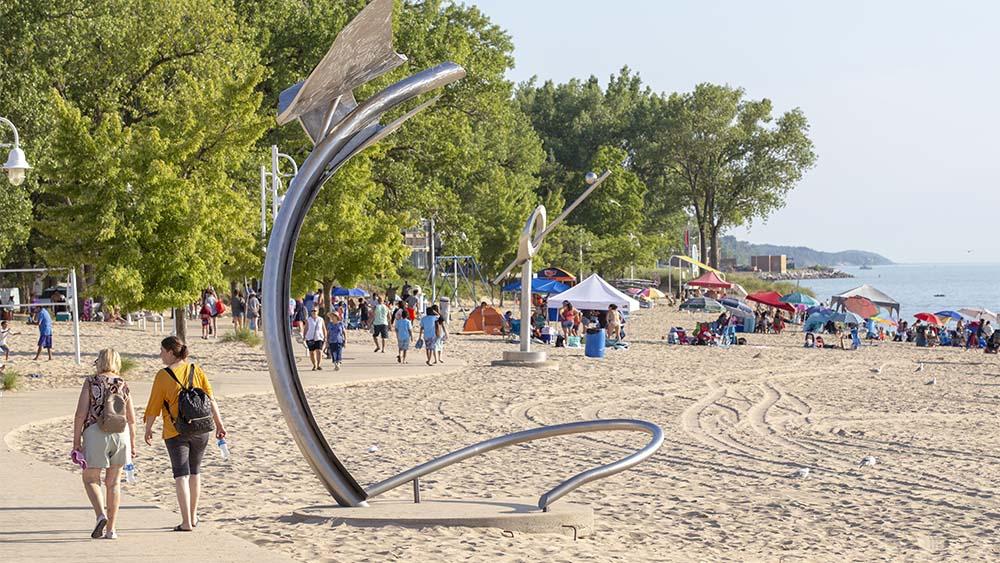 Southwest Michigan visitors don't have to compromise spending a nice day outdoors to see artistic creations. In fact, if you walk long enough, you can do both by visiting our outdoor art sculptures! You may have passed by before without noticing, but some of these sculptures have been around for decades. The embodiment of someone's creativity, a tribute to a deeper meaning — just part of your normal walking route around town. We encourage you to stop, take in the art and learn more about these sculptures. Here are just a few places to start out.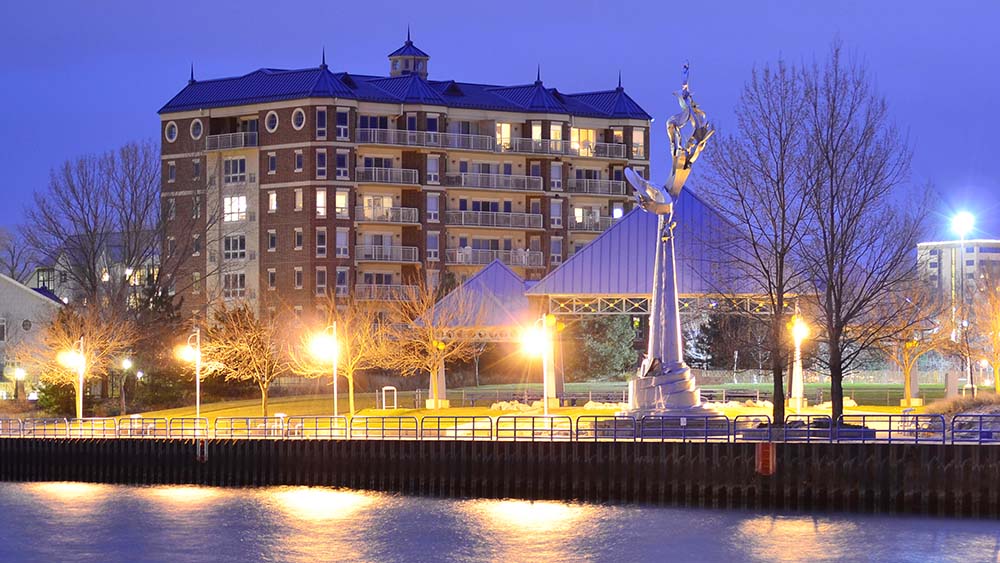 Richard Hunt Sculptures
And You, Seas
As you walk behind the Shadowland Pavilion toward the South Pier on Silver Beach, you've likely seen a towering, silver sculpture. You may have thought it was neat, hopped on and took a photo standing on the platform and walked away around its circular base without reading more about the masterpiece. Let us be the first to encourage you to go back and admire it again!
The sculpture, named "And You, Seas," was crafted by world-renowned sculptor Richard Hunt. You can learn more about the Chicago native on his website. Among other accomplishments, he has singularly made the largest contribution to public art in the United States. The Smithsonian Institution has named him to be the preeminent metal sculptor on the globe of our time. His career includes over 150 public sculpture commissions across the country in prominent locations — not to mention the number of major art awards he has earned, solo exhibitions he has held and public museums his work is featured in globally. We consider ourselves incredibly fortunate to have three of his works in St. Joseph and a satellite studio in the Benton Harbor Arts District.
The welded stainless steel sculpture was commissioned by Krasl Art Center and the Berrien County Department of Parks and Recreation in 2002. Parallel to the sculpture is the line in the water where the St. Joseph river meets Lake Michigan. The sculpture is anchored over 40 feet deep! Over the years, it has survived storms and gusts of wind up to 100 miles per hour. "And You, Seas" comes from the title of a 1951 St. John Perse poem in which the poet declares his love and perhaps mystic marriage to the sea.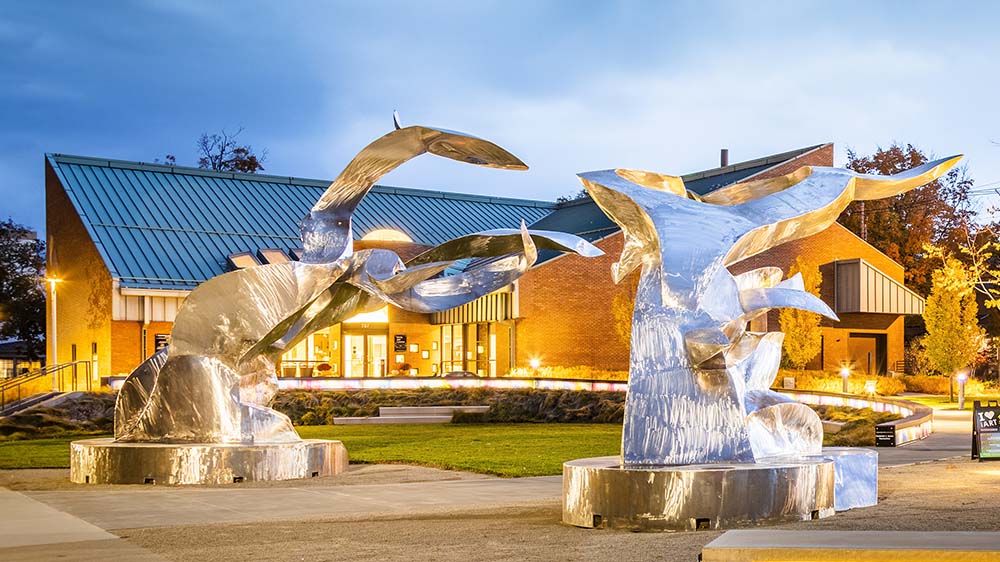 Rising Crossing Tides
Rising Crossing Tides, on the plaza of the Krasl Art Center, is another Brilliant work of Richard Hunt. It serves as a gateway to the Krasl Art Center. The twin spires of Rising Crossing Tides reach as high as 22-feet into the air and weigh a combined total of 24,000 pounds. Based on Hunt's original design, the pieces were crafted and welded at K&M Machine-Fabricating of Cassopolis.
Benton Harbor Satellite Studio
Richard Hunt once had an active satellite studio in the Benton Harbor Arts District. He opened it as part of the Cornerstone Alliance Community Renewal Through the Arts Program. Some of the greatest sculptures to exist across the world may have been brainstormed and workshopped right here in Southwest Michigan!
Krasl Art Sculpture Tour
Richard Hunt's aren't the only masterpieces in and around St. Joseph. Krasl Art Center's self-guided sculpture tour takes you all across town to find over 40 other sculptures. They all range from abstract pieces to colorful works and even an interactive claw-machine-esque piece in the Benton Harbor Arts District! You can use the map below to locate and learn more about each creation.
Krasl Art Center Sculpture Tour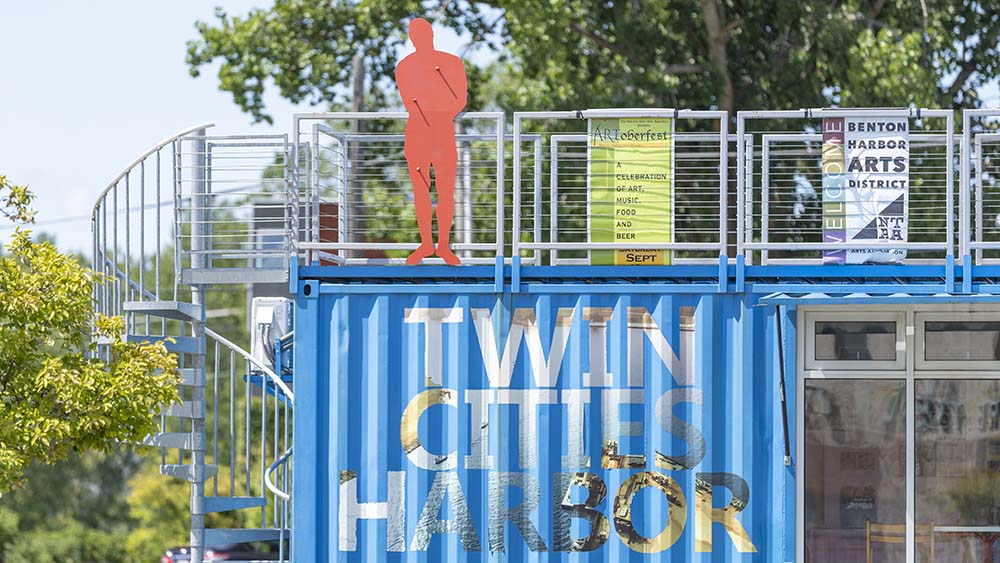 I Am the Greatest sculptures
John Sauvé installed his vibrant, orange sculptures in the City of Benton Harbor and the City of St Joseph. The project consisted of 16 sculptures, which are located on the rooftops of historical buildings and throughout the two cities. These sculptures create a metaphor for working through adversity and inspires the viewer to take notice of their surroundings and encourages people to look around. The sculptures have been around for over 10 years — see how many you can spot!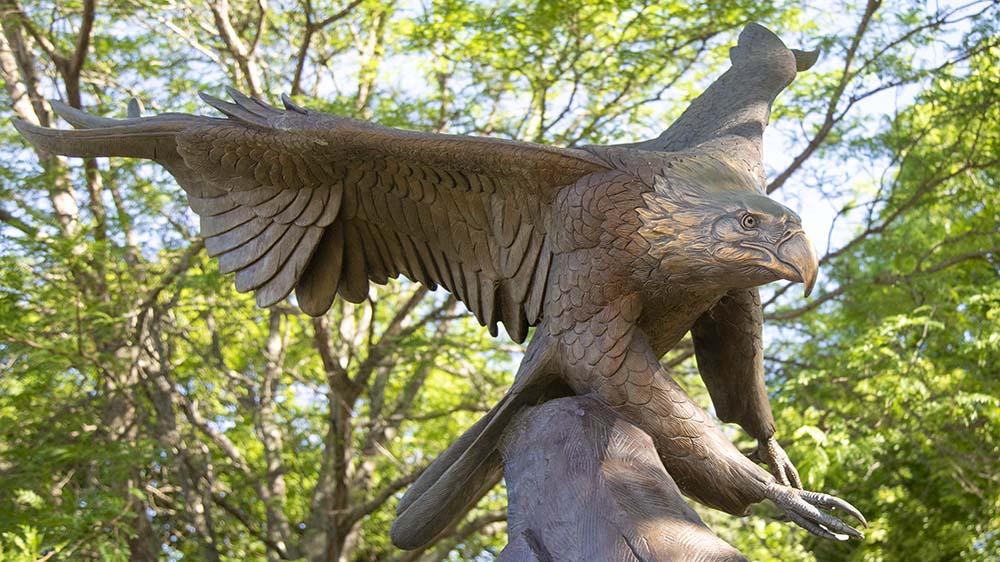 Dowagiac Sculpture Tour
Once you check out the art in St. Joseph and Benton Harbor, we recommend you stop by another Southwest Michigan town — Dowagiac. There are 15 works of art created by world-renowned sculptors. These works came about when the Dowagiac Dogwood Fine Arts Festival began pairing sculptors with local donors in 1995. The result was a commissioned, unique, creative and original piece. Learn more about these sculptures on the City of Dowagiac website.
Fernwood Sculpture Park
Sculpture Fernwood, an outdoor sculpture exhibit placed throughout the grounds at Fernwood Botanical Garden in Niles, is curated by Father Austin I. Collins, CSC, Professor of Sculpture in the Department of Art, Art History and Design at the University of Notre Dame.
Aside from the ten sculptures in Sculpture Fernwood, you will find two other sculptures on Fernwood's grounds. John and Mary Ann Butkovich of South Bend donated Aviary, a kinetic sculpture created by Fritz Olsen, an artist from Sawyer. Aviary is on exhibit in the entry garden outside the Visitors Center. Another Olsen sculpture, Sheltered Heart, is on exhibit as part of Sculpture Fernwood. Learn more about Sculpture Fernwood.
South Haven Sculptures
South Haven is home to eight sculptures in its downtown area. What makes these sculptures so special? Each of them is created by a Michigan artist! The artists were challenged to convey in a unique way how they interpret the natural landscape that defines South Haven and the Southwest Michigan coast. The results feature hummingbirds, sailboats, dunes, sun and more. You can learn more about each sculpture and its creator on the South Haven Arts website.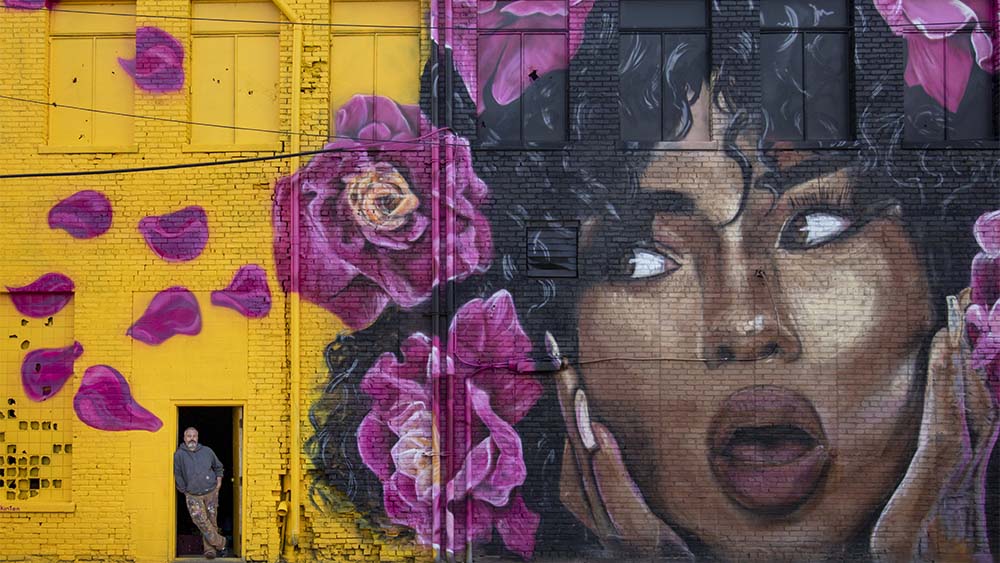 Tour our murals, too
If you like our sculptures, you should see our murals! Spend a couple hours of your day taking photos of the murals that pay homage to our region, history and rich culture.
Plan your sculpture viewing trip today!
Not only does Southwest Michigan have many sculptures but so many other art galleries and performance art experiences. Plan your trip today and check out our Creative Connections game to enjoy the arts and earn fun prizes.