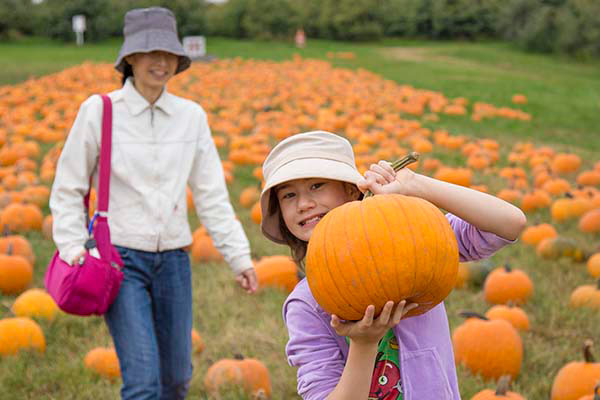 Still need to carve your jack-o-lantern for Halloween? Need uncarved pumpkins in various sizes to decorate your porch or lawn? A gourd for each of your Halloween party attendees to paint? Come to Southwest Michigan! There are several places offering a selection of locally grown pumpkins in their patches and farm markets.
Below are tips on how to pick the best pumpkin and where to get them.
Pick a pumpkin that is firm all over (no soft spots). Mushy is not good for carving or cooking.
Choose one with a hard, firm handle. (a) It makes it easier to carry it out of the field to your car and (b) you want to be able to lift the lid to put the candle in after it is carved. Look for dark green or black stems. If the handle bends or breaks off, choose another pumpkin. However, if the handle-less pumpkin is still your favorite, take it home and instead of cutting the hole at the top, cut it at the bottom. You can then place your pumpkin over the candle or light source.
Go with orange all over.

If you want a traditional pumpkin (there are lots of other color choices), pick one that is orange from top to bottom.

Leave the blemished pumpkins in the field or at the farm stand. Even small spots may mean a bug has burrowed its way inside. You really don't want to reach into a bug-infested interior to pull them and the guts out.
Watch for frost damage. Frost on the pumpkin sounds poetic, but it's not good if you plan for your choice to last through the Halloween display days. Look around the top of the pumpkin. If it is dull or discolored, leave it behind. It'll likely become food for area livestock.
Round or oval pumpkins have their advantages. (A) They are easier to carve and (B) typically have more seeds inside for roasting. Yum!
Pick a pumpkin with an easy-to-carve surface. That's not to say that a bumpy or lumpy pumpkin should be avoided. Those have personality. But you do want one with a flat bottom so it is not tipsy once you light the candle inside.
Tap your choice before buying it. If you plan to cut through the walls of the pumpkin, tap it. If it sounds hollow, bring it home. However, if you are planning on cooking it not carving it, go for the thicker walls. More flesh to add to your soups and baked goods. Bakers' Advice: do not plan to eat your jack-o-lantern after you carved it – most pie bakers will tell you the flesh of carved pumpkins is too stringy.
Be safe with young children. Hand them a paintbrush or marker, not a knife. Most kids (and their parents) are quite happy to paint their pumpkin rather than reach in and pull out the stringy, slimy fibers and slippery seeds or to try to follow a hand-drawn, intricate design with a knife. Admittedly, painted pumpkins don't give off the eerie glow of a carved pumpkin.
Bring a wagon. If the farm stand or pumpkin patch doesn't offer one, bring your own (collapsible wagons are great). Your back will appreciate it and there's less likelihood your prized pumpkin will smash if gravity wins on your way to your vehicle.
Where to find that perfect pumpkin in Southwest Michigan: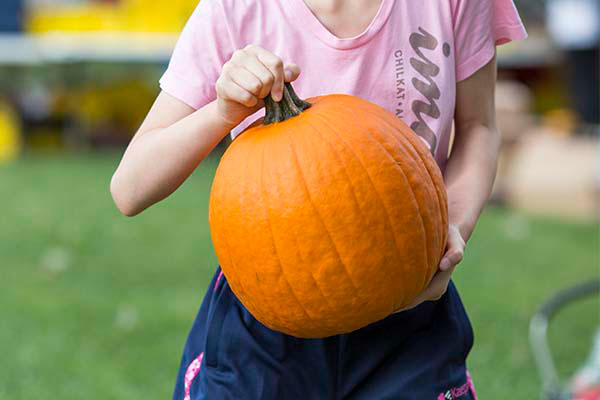 Big Dan's U-Pick 'em in Hartford has small pumpkins for $1, medium for $3, large for $5 and extra-large for $7. Wagon rides on weekends take you out to the patch to pick your favorite. Their market also has flavorful pie pumpkins for $1 plus a good selection of ornamental gourds and Indian corn for fall decorating. It's a good place to pick up your favorite apples and autumn squash, too!
Bob's Barn Farm Market & Bakery in Coloma has a selection of pumpkins and mums for fall decorating. Don't leave without a pumpkin roll or two and one or more of their fresh-baked turnovers, fruit pies, quiche and croissants – they know how to make a very flaky crust.
Fruit Acres Farm Market & U-Pick in Coloma is open a few more days in October. Home to huge carving pumpkins (only $5.99), plus other sizes, too. Pick from 10 kinds of gourds, fall squash and pie pumpkins while you are there! Round out your carload of fresh produce with 11 kinds of apples, freshly pressed sweet apple cider, caramel apples and much more.
The Jollay Orchards Farm in Coloma is one of the most family-friendly farm experiences in Southwest Michigan. These folks love Halloween and host a Harvest Festival every weekend from 10:30 a.m. to 6:30 p.m. Besides finding pumpkins in every size imaginable in Jollay's 10-acre patch, your family can enjoy a Bounce Town of inflatables, fishing pond (they supply the poles), cornfield maze, haunted house, caterpillar crawl, playground and a hayride to the apple orchard and pumpkin patch. One admission price covers all of the above: children and adults, $8.75; senior citizens (65+), $2; Under age 2, FREE. On-site market offers cider, fruits, vegetables, pies, cookies and dumplings, jams, jellies, baking mixes and many more basket fillers.
Nye's Apple Barn in St. Joseph is one of the easiest pumpkin places to reach in Southwest Michigan. Immediately off I-94 Exit 27, this 45-year-old farm stand has a great selection of orange and white carving pumpkins, pie pumpkins, plus orange and white mini pumpkins. They also carry a variety of ornamental gourds, including apple and swan varieties. Plus, they can add freshness to your favorite autumn recipes with their winter squash varieties including acorn, butternut, butter cup, Turks turban, carnival, white acorn, and sunshine.
Piggott's Farm Market & Bakery in Benton Harbor is open until Oct. 31. Stop by to find a homegrown pumpkin. Everything at the market, including pumpkins, cider, apples, pies and donuts are now on sale for 30% off until Halloween.
Stover's Farm Market & U-Pic in Berrien Springs is easy to spot on M-139 with its Big Red Barn and smiling round bales of hay. There are lots of pumpkins to pick from plus a variety of apples, squash and more. The Stovers encourage you to take your time, enjoy the farm, hunt for arrowheads and look for wildlife while you are there.
Water Street Glassworks in Benton Harbor offers a beautiful alternative to the field variety. From now until Nov. 10 you can pick a "ripe" blown glass, original pumpkin (or two or three) from their patch in the Dorris Akers Gallery. These pumpkins, each created by a team of artists, are great for starting a collection (new ones are blown every year), making an artsy display for Halloween through Thanksgiving that you can pull out year after year or bringing as a gift to your holiday gatherings or weddings. 100% of your purchase will go to this non-profit organization.
Happy pumpkin hunting!